Best New Jersey Arcades To Visit with Kids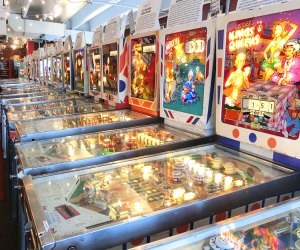 9/27/22
- By
Alison Reiser
A good New Jersey arcade can offer family-friendly diversions for all ages. Mom and dad can wax nostalgic over their youth, while kids can school the old folks on newer technology. At these indoor fun spots, kids and their parents can enjoy vintage attractions like skeeball, Donkey Kong, Asteroids, Space Invaders, Ms. Pac-Man, air hockey, and pinball—plus check out new games, updates of old faves, and even virtual reality adventures.
We've rounded up a few of the best arcades in New Jersey, from Game Vault in Morristown to the Silverball Museum Arcade in Asbury Park, where you can have fun and lose track of time together.
Check out our Guide to Indoor Play Spaces for New Jersey Kids for more great entertainment ideas.
Subscribe to our newsletters to get stories like this delivered directly to your inbox.
1. The Funplex – East Hanover and Mt. Laurel
Both locations of the Funplex have more than 100 forms of entertainment to pick from, including traditional video games, cranes, prize, and ticket redemption games, virtual reality activities, and a midway area. To make sure nothing gets stale, management teams from each arcade meet weekly to discuss what's popular, what's not, and what needs fixing or updating. New games are added, and tired games are rotated out. Current hits with kids include New Big Wave Air Hockey (featuring LED lighting and a curve feature that makes the game board a bit more challenging), BlackBeards, and Ticket Circus. Lane Master gives the old, familiar skeeball a digital update and blends the game with fantasy bowling. Cruising Blast, another oldie, has been updated with new races. Meanwhile, we're told older kids and adults alike are currently crazy about the Virtual Rabbids virtual reality ride and the Injustice arcade game, featuring characters from Marvel Comics. A rewards card gives players bonus credits; the more you buy, the more you get.
2. Yestercades – Red Bank, Somerville, and Westfield
Classic consoles and pinball machines share space with more modern games at this mini-chain. Each of the three locations hosts more than 100 games from the 1970s, '80s, and '90s. Period music and decor help create an atmosphere where young gamers can see how their parents had fun before cell phones. Older gamers can renew their skills at Donkey Kong and Asteroids, then reminisce as they show their kids what portable entertainment used to look like. Yestercades' collection includes the original Nintendo Entertainment System, Atari, the full line of Xbox systems, Game Boy, Sega Genesis, and Wii. A gaming library is stocked with popular titles to pick from. All games are set to free-play mode, and visitors chose either hourly or daily game cards.
RELATED: Best New Jersey Roller Skating Rinks

Parents enjoy playing old-school arcade games at Game Vault in Morristown.
Parents can take a walk down memory lane at Game Vault, where Mario, Q-Bert, Frogger, Space Invaders, Star Wars video games, and 23 pinball machines have found a home inside a converted, century-old bank. Adding to the funky atmosphere, some of the games—including a pinball called Safe Cracker—are actually in the bank's vault. The oldest pinball here is Amigo, dating back to 1973. The oldest video game, Gun Fight, dates to 1975. Everything is set to a free-play mode, and visitors pay for the amount of time they want to play, with blocks ranging from a half-hour to five hours. While older guests will remember many of the original vintage games, younger players will recognize characters in those games from their later appearances as toys or on the big screen.
Many of us head to the Jersey Shore in the summertime, but Jenkinson's strives to make Point Pleasant a year-round destination. The family-owned company operates four arcades on the boardwalk, with three open year-round: the South Arcade, Pavilion Arcade, and Frank's Fun Center. The South Beach Arcade, which features a "7D Dark Ride," is open from February through October. No matter when you visit, the seaside location adds to the enjoyment of these fun centers, which feature video games, skeeball, cranes, basketball, and more. Need another reason to visit in the off-season? Head over to the Jenkinson's Aquarium.
RELATED: Laser Tag and Paintball Spots to Enjoy in New Jersey With Kids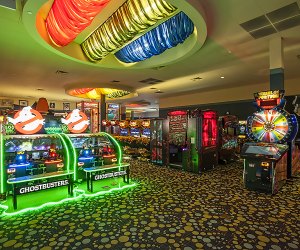 Play classic games like Ghostbusters and Wheel of Fortune at iPlay America.
This mega-play space is an arcade and more, with nearly four acres of indoor rides, games, and other attractions. At iPlay, more than 250 games share space with a two-level laser tag, a go-kart track, the largest indoor ropes course in New Jersey, and even a roller coaster. Younger guests can check out small-scale rides, including a mini-carousel and swing ride. Popular new consoles blend with classic favorites—and there are several units of many games, so guests don't have to wait to play. Cranes and other redemption games offer a thoughtfully selected variety of prizes from low- to high-end. Gamers can purchase cards with finite credits or a four-hour, unlimited play pass. There are many activities, games, and party packages for all ages here.
This shrine to classic pinball has more than 600 games in rotation, some dating back to the 1950s. Parents (and grandparents) of a certain age will surely recognize some of the themes: Captain Fantastic, Evel Knievel, Eye of the Tiger, Charlie's Angels, and Kiss, to name a few. At Silverball, gamers can also play some of the classic consoles that paved the way for today's games: Centipede by Atari (1980); Donkey Kong by Nintendo; Centaur by Bally, Gorf and Galaga by Bally Midway (all 1981); Tetris by Atari (1984); and more. The retro vibe here fits perfectly with Asbury Park's renewal as a hipster retreat by the beach. No need for any coins here, the games are set on free play. You pay for the time block you want. Non-playing spectators can pay just $2.50 to hang out.
Unless noted, photos courtesy of the venues/arcades