27 Spring Day Trips from Long Island for Families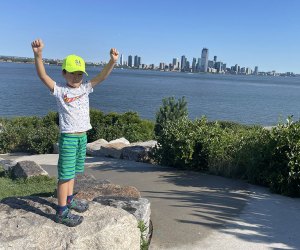 3/10/23
- By
Thien August
We've found 27 ideas for a spring day trip from Long Island, a perfect time to escape now that the weather is warming up and we have more daylight hours to work with.
Living on Long Island, we're lucky to have so many amazing parks, attractions, and quaint seaside towns for springtime day trips. We're also lucky to be within driving or ferry distance of New York City, Connecticut, and New Jersey. These areas offer even more fun and exciting experiences for the whole family.
Find more inspiration in our Spring Fun Guide and our Day Trips and Getaways Guide.
The springtime day trip destinations we highlight might take anywhere from one to three hours (or more) of travel time, depending on where on Long Island you live. Be sure to factor in extra time to allow for traffic.
Spring Day Trip Destinations for Families on Long Island
1. Long Island's East End
Pack your bikes and head to Greenport, where you can take a ferry to Shelter Island. Water sports more your thing? Kayak rentals are available on the island.
2. Destination Playgrounds On Long Island
Take a road trip to a park or playground you haven't explored. Our list of Long Island's best playgrounds is a great starting point.
3. Park or Nature Preserve
Pack up the kids and head to a nearby nature center. Caumsett State Historic Park and Preserve in Huntington is one of our favorites. Another nature-inspired outing: Visit one of Long Island's beautiful botanic gardens and arboretums.
RELATED: Family-Friendly Hotels for a New York Staycation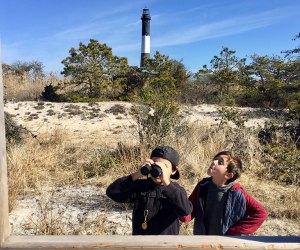 A trip to Fire Island Lighthouse is especially fun before the tourist season begins. Photo by Jaime Sumersille
4. Fire Island
Spring is a great time to see Fire Island and its lighthouse before both get overcrowded with summer tourists. Enjoy a relaxing visit walking the boardwalk and collecting shells on the beach.
5. Old Bethpage Village Restoration
Take a road trip to one or more of these great Long Island historical sites, like Old Bethpage Village Restoration, which reopens Friday, April 7.
6. Long Island's Farms
The new season brings wine tastings, fresh flowers for Mother's Day, strawberries, and great museums.
7. Explore a New Town
Why make things complicated? Pick a charming community on Long Island and spend the day exploring. We have the lowdown on things to do in Port Washington, Rockville Centre, Riverhead, Sag Harbor, Sayville, and more.
8. Adventureland
There's no need to travel far for thrills. Adventureland has increased guests' adrenaline for over 60 years. The park opens for the season on March 25.
RELATED: Family-Friendly Hiking Trails on Long Island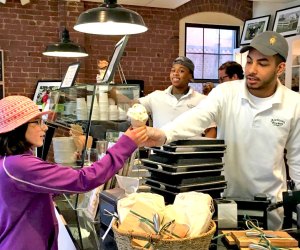 Arethusa Farm Dairy serves delicious ice cream for a springtime treat. Photo courtesy of the Arethusa Dairy
Spring Day Trip Destinations to Connecticut
9. Bridgeport
If you must leave LI, hop aboard the Port Jefferson ferry for a scenic ride to Bridgeport, Connecticut.
10. Mystic
Alternatively, consider traveling by ferry from Orient Point to New London, where the trip is half the fun. Enjoy a getaway to nearby Mystic, Connecticut, where you can experience a quaint seaside town and the largest maritime museum in the country.
11. New Haven
Getting a pie at Frank Pepe's in New Haven is worth the drive (or ferry ride), but do save time to stop for ice cream at Arethusa Farm Dairy.
12. Hiking Trails in Connecticut
Take a hike to see some amazing waterfalls in the Nutmeg State.
RELATED: Fun Spring Activities for Long Island Kids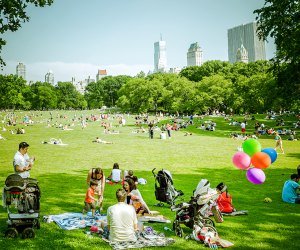 Central Park is stunning in the early spring sun. Photo by ep jhu via Flickr
Day Trip Destinations in New York and New Jersey
13. Central Park
Explore all these fun finds in Central Park, visit the Central Park Zoo, or embark on a tour of the park's top playgrounds.
14. New York City Museums
Check out these famous cultural spots. See if your local library has free family passes to the American Museum of Natural History, the Guggenheim, the Children's Museum of Manhattan, and others.
15. Queens
With eight playgrounds, a zoo, a botanical garden, museums, and much more, Flushing Meadows Corona Park in Queens offers more activities than you can do in a day.
16. Jersey Shore
Sometimes overshadowed by other Jersey Shore beach towns, Point Pleasant, New Jersey is a great springtime destination for families. Jenkinson's Boardwalk has rides, games, and an aquarium.
RELATED: Nature Centers Sure to Delight Long Island Kids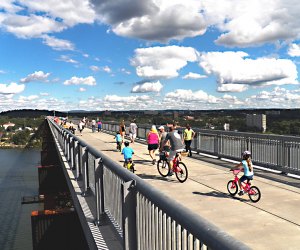 Enjoy panoramic views of the Hudson Valley on the famous Walkway Over the Hudson. Photo by Fred Schaeffer for Walkway over the Hudson
17. Hudson Valley
Catch sweeping views of the Hudson Valley on the Walkway Over the Hudson. This 1.3-mile pedestrian bridge is open year-round, but spring is a wonderful time to experience this easy hike.

Catch brick fever at Legoland New York. Photo by Diana Kim
18. Legoland New York
Got a kid with bricks on the brain? Legoland Discovery Center in Westchester is the place to be with its Ninjago City Adventure exhibit, building stations, movies, rides, and impressive Lego structures. For even more fun, travel to the Hudson Valley to visit Legoland New York. At 150 acres, it's the biggest Lego park to date.
RELATED: Botanical Gardens and Arboretums on LI for a Family Day Trip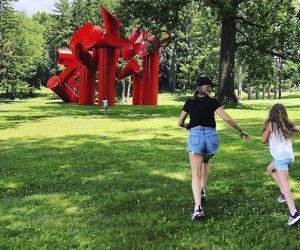 Prepare to be awestruck by the artwork at Storm King Art Center upstate in New Windsor. Photo by Jenn Terra
19. Storm King Art Center
Book your tickets in advance to experience art as a family at Storm King Art Center in upstate New Windsor. Pack a picnic and take in over 100 sculptures at this massive outdoor space.
20. Coney Island
Coney Island welcomes visitors as early as April. Although it might not be warm enough to swim at the beach, there are plenty of attractions, including Luna Park, Deno's Wonder Wheel Amusement Park—the park's season opening date is March 31—and the New York Aquarium.
21. Randall's Island
The park has lots of kid-friendly activities and places to explore.
22. Governors Island
While we are thinking about NYC, why not check out the transformed Governors Island? Enjoy Slide Hill, the Granite Scramble, an adventure playground, and more.
23. The Bronx Zoo
The Bronx is perfect for animal and nature lovers. Check out the New York Botanical Garden. The Bronx Zoo's Wednesday admission is a pay-what-you-wish donation, making a family zoo trip more affordable. Tickets for this discount day must be made online in advance and are released at 5pm the Monday before.
24. Six Flags Great Adventure
Thrill-seeking families should head to Six Flags Great Adventure in New Jersey, which reopens Saturday, April 1.
RELATED: The Best Long Island Playgrounds for Toddlers

Take a ferry to the Statue of Liberty. Photo by Jess Laird
25. Statue of Liberty
The Statue of Liberty Museum has lots of interactive exhibits and touchable artifacts for kids.
26. Long Island City
Visit Socrates Sculpture Park in Long Island City. Kids and adults can enjoy the beautiful park, sculpture events, and activities, all of which are completely FREE.
27. Diggerland
Dig with an excavator, drive a dump truck, and more at Diggerland USA in Southern New Jersey. The venue also recently opened a water park.
Originally published in April 2018, this post was updated in March 2023.