Six Flags NJ: An Amusement Park with Big and Little Thrills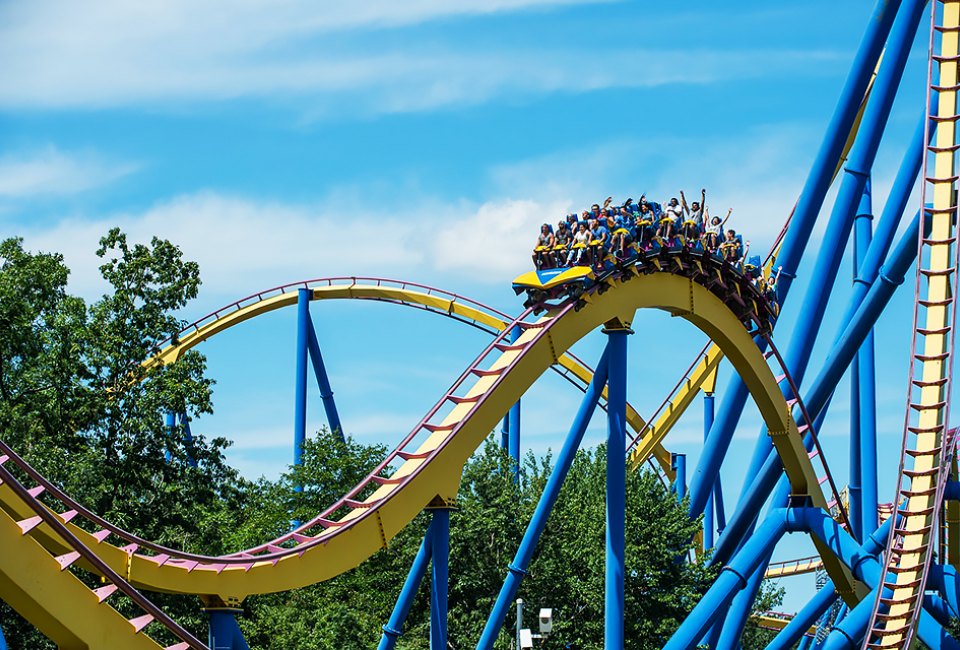 8/2/18
- By
Kaylynn Chiarello Ebner
Braving the thrill rides at Six Flags Great Adventure & Safari in Jackson, NJ, is practically a rite of passage for kids who live in and around the Garden State. Perhaps for this reason, I wasn't 100-percent sure my young children (ages 2, 5, and 7) were old enough to fully enjoy it—but we decided to test the waters. And as I did my planning, I realized, "Holy cow! There's a ton of things to do at Six Flags!"
New Jersey's largest theme park, Six Flags is known for heart-dropping roller coasters like Nitro and Kingda Ka (the world's tallest coaster)—but there are also plenty of attractions geared toward the smaller set and those who enjoy tamer thrills. You can see zebras, giraffes, and other cool creatures on the Safari Off-Road Adventure; ride the Porky Pig Ferris Wheel in Bugs Bunny National Park; make a splash on the Saw Mill Log Flume; and much, much more. You also might want to set aside another day for Hurricane Harbor, Six Flags' massive water park.
Read on for details of our visit, along with tips for making your trip super-fun for kids of all ages.

Start the day with a smile on the sweet carousel.
Six Flags 101
Six Flags is enormous: at 510 acres, the theme park combines a Safari Off-Road Adventure, animal encounters, rides for all ages, games, live performances, and more. Within the same complex is Hurricane Harbor, a large waterpark that requires separate admission and probably a separate day to explore. For the main theme park, you'll want to plan ahead (and wear comfy shoes) to make the most of your day. I highly recommend downloading the park's free app. It's invaluable for helping you navigate the park.
General parking is $25, and once you make your way to the gate, you'll pass through metal detectors and x-ray baggage scanners. (Don't even think about bringing food or beverages; they're not allowed). Next, you can buy day passes or skip the lines (and save money) by buying them online. If you buy ahead, check out the packages; you can prepay for dining options, parking, tours, and flash passes, which let you jump the line on certain popular rides. Note that memberships and season passes also seem like the best deal if you plan multiple trips. Kids under 3 can enjoy the park for free.
Once inside, you'll immediately find stroller rentals, locker rentals, and a huge water fountain from which the park starts to branch out into groupings of various attractions. (This area is the perfect meeting spot in case you get separated.)
RELATED: 15 Awesome Water Parks for New Jersey Kids and Families

You'll be transported to the savannas of Africa on the Safari Off-Road Adventure.
Stop #1: Safari
We made the Safari Off-Road Adventure stop #1 for three reasons: the lines for this popular ride get super long later in the day; the whole family can enjoy it together; and the animals are more likely to be out and about in the morning. If you grew up in NJ, you might remember driving through the Safari. These days, individual cars aren't allowed; instead, you'll board an open-air truck that has about six rows, each sitting five people across. Kids under 42" can't sit on the ends, and some trucks are wheelchair accessible.
A tour guide narrated our group through the 350-acre ride, where the animals roam free. Some wandered very close to our truck; we literally could have reached out and touched a zebra, though of course you must keep your arms in the vehicle. Note that anything dropped on the ground cannot be retrieved, so leave toys and lovies back in the stroller!
About halfway through the 40-minute ride, you'll have a chance to disembark at Camp Aventura. Warning: you'll first have to pass through the gift shop, where there are about eight displays of some pretty cool reptiles and snakes. Outside, there are a few more small animals, three small animal-themed slides, bathrooms, a zip line (extra fee), and giraffes that you can feed certain times of the day (extra fee).
Note that there are ways to upgrade your Safari experience with private encounters, feedings, and even sleepover events on some days. But even the very unique "basic" experience is one that cannot be missed if anyone in your family is an animal lover. My kids were totally charmed by it.
RELATED: Great Amusement Parks for Preschoolers and Toddlers in New Jersey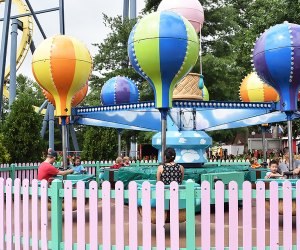 The colorful hot-air balloon ride is perfect for young visitors.
Rides for Little Ones
Not far from the Safari is the Bugs Bunny National Park area, which is perfect for preschoolers and anyone who enjoys the tamest rides. You'll find a small Porky Pig Ferris wheel, a hot-air balloon ride, a small merry-go-round, airplanes, some water sprayers, and more. While young ones must be able to walk and support their own bodies on rides, about four or five attractions in this area have no height required and are perfect for toddlers (with an accompanying adult); some rides require children to be at least 40-42" tall. Still, this was the most successful area for my 2-year-old!

Little kids can get the thrill of a freefall on the Jumpin' Joey.
Another similar grouping of attractions is the Safari Kids area, which had both tame rides and "tame-ish" rides. I loved this area for our five-year spread of kids. While my littlest one rode a tame balloon lift, my boys did back-to-back Jumpin' Joeys rides, on which kids experience a mild freefall and bouncing. There's also a Road Runner kiddie roller coaster, Safari car rides, Taz's Tornado swings, a platform lift/swing, and more. The Skyway gondola cars also looked super fun, though we had to move on.
Overall, there's plenty to do for little ones, though much of the theme park is quite sunny and pretty hot in the summer months. Check out the live shows and animal shows throughout the day for a chance to sit and cool down; some seating areas are shaded.
RELATED: Best Jersey Shore Beaches for Families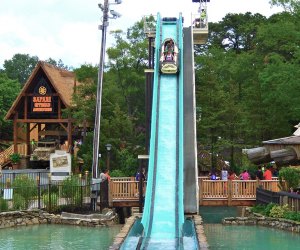 The Saw Mill Log Flume is a great ride for the whole family. Photo by Sarah Lou via Flickr
Ready for More Adventure?
For kids ready for the next level of thrill, I highly recommend the Saw Mill Log Flume. There's no height requirement, and much of the ride is pretty tame, though there's a fast slope and big splash at the end. Expect to get wet; my kids took the ride a few times and then changed into dry socks, and there are coin-operated blast dryers available as well.
Six Flags also has several rides with no or minimum height requirements for kids ready for a little thrill; these include the Runaway Mine Train (another of our faves!), the Harley Quinn Crazy Train, the Enchanted Teacups, Congo Rapids (another wet one), and the Buccaneer rocking ship.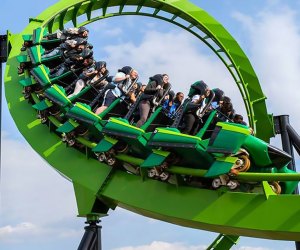 If you're up for a mega-thrill, then the stand-up Green Lantern coaster is for you. Photo courtesy of the park
Calling All Daredevils!
Older kids (and their parents) who love a good coaster will be thrilled with the offerings at Six Flags. Many following a DC comics theme, you can ride 50 mph on Batman: The Ride, experience a 114-foot loop on Bizarro, drop 21 stories on Nitro, fly through the air on your belly on Superman: Ultimate Flight, or experience the crazy 4D Joker coaster as your seat independently tumbles while the coaster twists and turns. There's even a stand-up coaster called Green Lantern. New for 2018 is Cyborg Cyberspin, which spins and tumbles on three axes as the ride lifts into the air.
These rides are totally worth trying Six Flags's Kid Swap program. The whole family will wait in line together. Once you're at the front of the line, one adult rides, while the others wait on the side. After the ride, the first adult waits with the non-riders, while adult #2 takes his/her turn. How awesome is that?!
Time to Eat
The park has the usual fare you'd expect at a theme park, but I won't mince words. The food is pretty darn pricey. Still, we enjoyed lunch at Best of the West, and especially appreciated sitting outside immediately next to the Log Flume. It felt like we didn't had to take a break from the fun to eat. And the food was actually quite good.
After about five hours in the sun, my kids were pooped and ready to say goodbye. Meanwhile, my husband and I are already envisioning booking a room at a local hotel and heading back for a two-day family trip—next time with Hurricane Harbor in the mix!
Unless noted, photos by the author.
Places featured in this article:
---
Six Flags Great Adventure & Safari