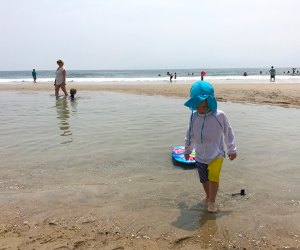 Best Jersey Shore Beaches for Families: Sandy Hook to Cape May
Editor's note: We are in the process of updating this post to reflect the 2021 beach season rules. In general, the Jersey Shore season opens Saturday, May 29. Check with your local beach for beach tag information, social distancing rules, and capacity limits before heading out.

Make your New Jersey kid a beach baby and go "down the shore." New Jersey boasts 130 miles of shoreline and some of the prettiest beaches anywhere. Whether your family is looking for a busy boardwalk with children's rides, a beachside water park or sprinkler playground, towering lighthouses, toddler attractions, or something a bit quieter, the Jersey Shore has it.
We've rounded up 10 of our favorite Jersey beaches, from a national park on the northern shore down to the busier southern beaches of Cape May and Atlantic City. So pack the car (and the kids) for a beach day trip or a long weekend—the summer possibilities are endless. And for more beach fun, check out our Jersey Shore Family Guide, including a roundup of our favorite boardwalks.
Sign up for our FREE newsletters to get posts like this delivered to your inbox.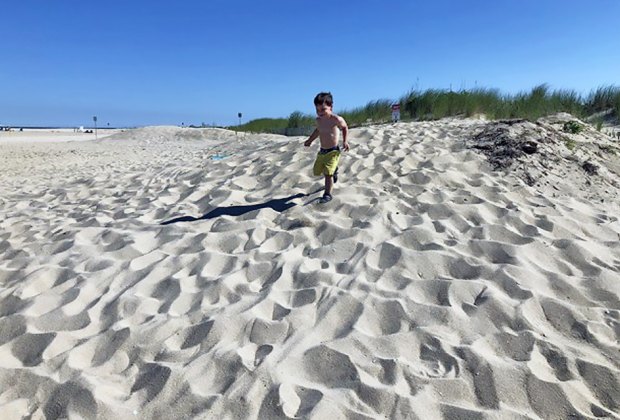 Running down the dunes is just as much fun as playing in the water at Sandy Hook! Photo by Louise Finnell
Campground and picnic-barbecue areas at Sandy Hook are currently closed due to coronavirus. The park and associated parking lots are limited to 50% capacity and visitors are limited to a two hour stay to allow others to utilize the parks. The NJ State Parks Facebook page regularly updates which parks have reached capacity so be sure and check there before heading out. Also note that masks should be worn while using park facilities, such as the restrooms and parking lots and other crowded areas.
Sandy Hook is a seven-mile stretch of beach and a national park all in one. Spend the day fishing, swimming, bird-watching, or simply lying out in the sun—all while in view of the Manhattan skyline! It's easy to access from NYC: take a 30-minute ride on the Seastreak ferry (it runs Sandy Hook service all summer long), and then hop a complimentary ferry straight to the sand. A word of caution: space is limited, and when Sandy Hook reaches capacity for the day (which it often does on weekends in the summer), the gates are closed. Get there early, and always call ahead. While visiting Sandy Hook, grab some seafood in Atlantic Highlands, where there are many fantastic restaurants. Or try out the food trucks that set up shop in the parking lots near the beach.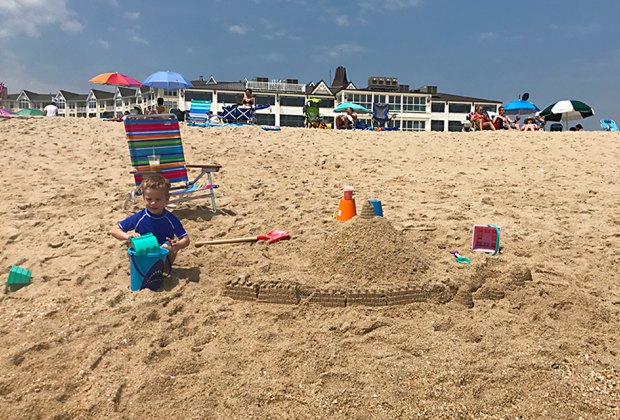 Set-up camp for the day at Long Branch. Photo by Rose Gordon Sala
Households/groups are capped to 10 people. Once social distancing guidelines can no longer be maintained due to the number of visitors, access points to the beach will be closed. Masks while entering/leaving the beach are recommended. Long Branch has extended its season and remains open until Wednesday, September 30. Lifeguards staff the beach weekdays, 10am-5pm; weekends, 9am-5pm.
Long Branch is one of the largest towns on the Jersey Shore. It boasts expansive beaches, and the waterfront has undergone a big facelift in the past few years. Enjoy the boardwalk, great restaurants, shopping, and much more. One of the new developments on the boardwalk is Pier Village, home to more than 30 shops and restaurants including favorites like McLoone's Pier House and Rocky Mountain Chocolate Factory. There are multiple entry points to the beach, including at Seven Presidents Oceanfront Park, which is a low-key section of the beach with a playground, clean bathrooms, showers, decent concessions, and no amusement rides, the latter of which we'd sometimes like to avoid to just hit the sand.
Find more things to do in the shore-side Monmouth County region with our article highlighting all the area's best kid play spaces.
RELATED: Best Free Beaches in New Jersey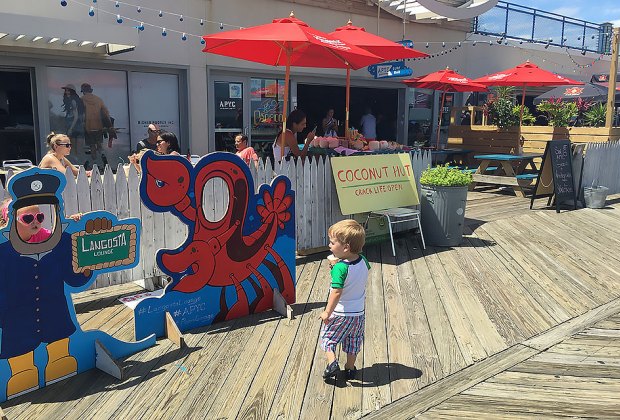 The Asbury Park boardwalk has cool stuff for kids and grown-ups. Photo by Rose Gordon Sala
Daily beach passes can be purchased from the town website's app starting at 6:30pm for the following day only. A limited number are available. Season passes are not being sold in 2020. Asbury Park has extended its beach season through Wednesday, September 30, and lifeguards are on duty daily.
Asbury Park has gone through a lot of changes over the past several years, but it has definitely cemented its cool cred with events like the Sea.Hear.Now music festival in September and the opening of the Asbury Hotel. The boardwalk has gotten so popular that it has its own website. Check out family-friendly activities like the Asbury Splash Park, Asbury Eighteen mini-golf, and the Silverball Museum Arcade (filled with playable pinball machines!), or get creative with the kids and take them to the "Jersey Shore's first public-access hot glass studio," Hot Sand. If you get hungry, the boardwalk is peppered with great eats like The Crepe Shop, Langosta Lounge, and Pop's Garage, as well as funky food trucks.
RELATED: Best Lake Swimming for NJ Families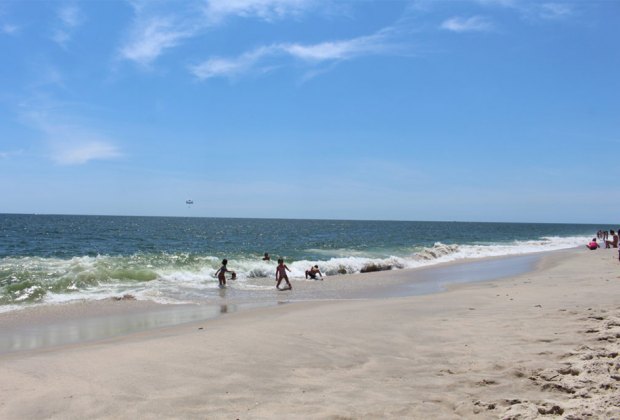 Point Pleasant Beach, popular for amenities like chair rentals and amusement rides. Photo courtesy of Jenkinson's
Beach access passes are required at all times from June 20 onward and can be purchased on the town website.
Between the beaches of Monmouth County and the craziness of Seaside Heights lies a nice little stretch of beach in Point Pleasant. There are several major beaches that comprise the area, and Jenkinson's is probably the most famous of the bunch (and the biggest). Not only are there beaches to explore, but the boardwalk area is host to many other kid-friendly amusements like Jenkinson's Aquarium, an arcade, and its host of amusement rides, including a whole section that's just right for toddlers and preschoolers, as well as a ropes course. Click here for a full listing of prices.
You can rent beach chairs and umbrellas right on the beach at Jenkinson's. You'll find four paid parking lots located nearby on Ocean Avenue between Broadway and Arnold Avenue, and a large metered lot on Arnold Avenue, but parking is going to cost you. Arrive early to snag the very limited on-street parking in the neighborhoods off Ocean Avenue, but make sure you are parking in a legitimate spot; the cops in Point Pleasant beach hand out A LOT of parking tickets during the summer. Other beaches include Martell's, Risden's, Maryland Avenue, and Bradshaw's. Read more about Point Pleasant beaches here.
The beaches are open on Long Beach Island but do require passes to access. Some access points require masks when entering/leaving the beach. Maintain safe social distancing.
This 18-mile long barrier island offers a stretch of beautiful white sandy beaches that are ready for your family to explore. There are five boroughs and 17 towns that make up LBI, and it can only be accessed by driving over the Barnegat Bay Causeway. Barnegat Lighthouse or "Old Barney" is located at the north end of LBI. This 150-year-old lighthouse offers panoramic views of Island Beach, Barnegat Bay and LBI. Only one town on the island has an amusement area, and there is no boardwalk, but your kids will find plenty to keep them amused, like the Victorian-themed Fantasy Island Amusement Park in Beach Haven. Plus, there are family-friendly events all summer long, from free concerts to children's movies at the local library on rainy days. Check out the list from the Long Beach Township alone! There are several different beach areas from which to choose; see pricing and details here.
Find more great New Jersey lighthouses in our roundup.
RELATED: 15 Awesome Water Parks in New Jersey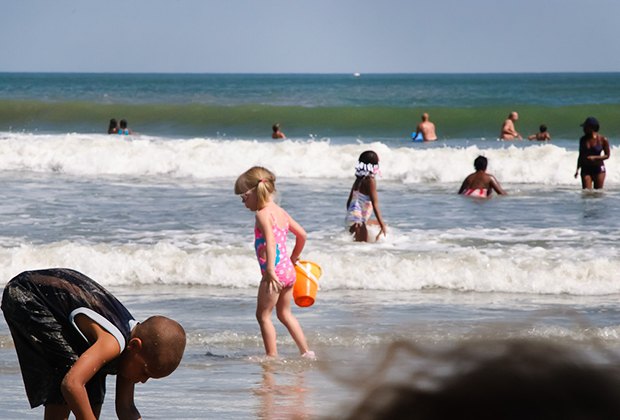 Play in the surf on the five-mile stretch of Atlantic City beach. Photo by Peter M. Logan via Flickr
Designated beaches are now open. Public restrooms remain closed; however, there is access to porta-potties. Check the AC's travel advisory website for up-to-date information.
With casino gaming, spas, concerts, great restaurants, ocean, a seven-mile boardwalk, golf, water sports, and shopping—Atlantic City truly has something for everyone in the family. The five-mile-long beach is FREE and offers restrooms, changing rooms, outdoor showers, and lifeguards from 10am – 6pm For those looking for all the amenities and plenty of entertainment, AC is the spot. It has one of the largest Fourth of July fireworks displays in the country, and the fun doesn't stop there. We enjoyed a long weekend with the kids here not long ago and hit up the Bally's Beach, Ripley's Believe It or Not, and the double-decker carousel and kiddie rides at Steel Pier.
Parking is metered and the limit is three hours, so you may need to move the car, unless you stay at one of the hotels on the boardwalk. Those visiting from the Philadelphia area and parts of South Jersey have access to a quick, direct train ride via NJ Transit.
RELATED: 10 Great Beachfront Playgrounds in New Jersey

Tents and canopies are not allowed on the beach between First and 10th Streets, and the aqua center is closed. Visitors must maintain social distancing and are encouraged to wear masks in crowded areas. The amusement park on the boardwalk is currently closed.
Just south of Atlantic City lies picturesque Ocean City, with eight miles of wide, soft, sandy beaches with ocean and bay shorefronts; a two-and-a-half-mile boardwalk that's bicycle-friendly; and plenty of amusement park rides and more family fun. There's a reason it's known as "America's Greatest Family Resort." Check out Gillian's Wonderland Pier for amusement park rides and mini-golf; Playland's Castaway Cove, which recently got an updated roller-coaster; or the OC Waterpark for cool water slides and some non-saltwater splashing. Wind down your busy beach day with the Ocean City Pops at the majestic, 1920s-built Ocean City Music Pier. Free family events are on tap all over the town on Thursdays.
Note: Ocean City is a "dry" town, meaning no alcohol is served or sold here, which keeps it extra family-oriented. (Those in the know head to nearby Strathmere or Marmoa to pick up booze.)
While the beaches are open, amenities are limited, such as playground equipment at area parks. Check the Wildwoods township website for the most up-to-date information.
The Wildwoods, a short drive north of Cape May, is generally less expensive and packs in a lot of boardwalk entertainment, making it popular among families from New Jersey, nearby Philly, and elsewhere. It's made up of three towns: Wildwood, North Wildwood, and Wildwood Crest. You'll find terrific beaches, all of which are FREE to enter (a rarity in Jersey), as well as Morey's Piers, which offers distinct, mini amusement parks at each of the piers—like kiddie rides at Surfside Pier and thrill rides at Adventure Pier—plus two (!) beachside water parks: Raging Waters and Ocean Oasis. The area hosts cool family festivals year-round, including a Fourth of July fete, sand-sculpting contest, and a Boardwalk Bunkdown overnight camping for families, to name just a few highlights. The atmosphere here is pure Americana fun, from riding the boardwalk tram to eating burgers at its Doo Wop–era diners and staying at one of the colorful hotels and motels that dot the towns.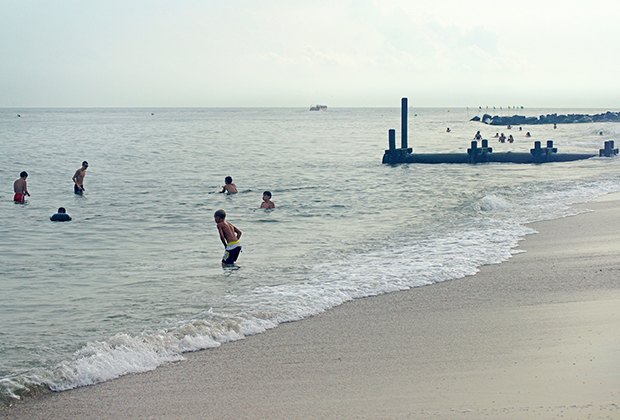 Cape May is as renowned for its beaches as it is for its pretty, historic town. Photo by Allie_Caulfield via Flickr
While the beaches are open, do note that social distancing is required. The restrooms and benches on the Promenade remain closed.
Cape May is the last stop on the Jersey Shore, and boy, does it end with a bang. The pretty and historic Victorians and downtown, plentiful B&Bs, serene beaches, and wildlife make this area perfect for families or a parents' getaway. You can choose from a number of beaches, oceanside or bayside, including the popular Cove or Decatur Street. Poverty Beach is a favorite with locals and tourists alike, as is Broadway. You'll find comfort stations (read: bathrooms), restaurants, and shops all along the beaches adjacent to Beach Avenue. Read more about the individual beaches here. There are plenty of non-beach activities, too. Watch the sun set over the Delaware Bay, grab a ferry (or the trolley!), whale-watch or bird-watch, climb to the top of the lighthouse, or just pedal around town. Kids will enjoy the FREE Cape May County Zoo, a picnic at the Cape May State Point Park (also free), or the Cape May-Lewes Ferry to Lewes, Delaware. Enjoy the state's biggest annual strawberry festival in June and other seasonal entertainment all summer long. You'll find shopping and upscale dining, as well as casual beach eats, arcades, and mini-golf—but head to Wildwoods if the kids are hungry for amusement rides.
Read more about our favorite Cape May places to play with the kids.
Know Before You Go
One unfortunate aspect of most NJ beaches is that you have to pay. Check with individual beaches for information about day and season badges. Kids are generally free, but the age range varies. (Read about favorite FREE NJ beaches.)
Remember parking. You have to pay for parking at some beaches, so be sure to check ahead. Check to see what the meters take or if there are lots or even street parking.
Some NJ beaches allow food and beverages, but some do not. Most beaches do not allow glass containers, so be sure to bring reusable water bottles.
Dogs are generally not allowed on NJ beaches (although there are some areas, like a dog beach in Sandy Hook, that allow them), so leave the fur babies at home.
Most Jersey Shore beaches have lifeguards, but some do not. If there is not a lifeguard, it should be posted before the beach entrance. You'll need to stay within the lifeguard-appointed swimming zones if you want to be in the water. Watch where they have the flags posted.
This article first published in 2011 and is updated annually.