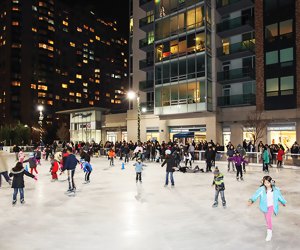 Top Outdoor Ice Skating Rinks in New Jersey
Ice skating season is here! There are a number of outdoor ice skating rinks in NJ where you can take a skating lesson, play hockey, or just grab a hot chocolate and go for a spin during a public session. Of course, if you feel like staying indoors, you can always check out our list of the Best Indoor Ice Skating Rinks in NJ.
Please see individual websites for hours and pricing.
Outdoor Ice Skating Rinks in North Jersey
Charlie Heger Ice Rink – Jersey City
Also known as Pershing Field, this outdoor rink is covered—so you can skate (or learn to skate) in all types of weather. Plus, it's quiet and very affordable. The rink is typically open through mid-March.
Newport Skates – Jersey City
Located in Jersey City's waterfront community, Newport Skates is the perfect place to skate with kids. Opening November 19, the rink is on the smaller side and pretty empty (or mostly kids) on weekday afternoons. Season passes, lessons, and group party rates are available.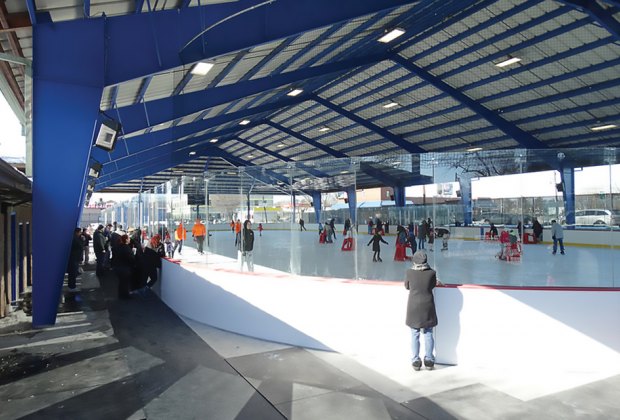 Bring your own skates or rent a pair for $2 at the Secaucus Ice Skating Rink.
Secaucus Ice Skating Rink – Secaucus
You'll find this rink tucked away in the Meadowlands, located in Buchmuller Park. Since the rink is home to the town's hockey program, public skate is only available Thursday–Sunday.
Outdoor Ice Skating Rinks in Central Jersey
The Asbury Hotel Ice Rink – Asbury Park
The Asbury Hotel is an awesome shore getaway year-round, with a pool and ocean access in the summer and a pop-up skating rink in the winter. Located behind the hotel, this hidden gem features a fire pit lounge area, food truck, and a bar serving up warm drinks and cocktails, plus skate rentals for kids and adults.
RELATED: Where To Go Ice Skating Indoors with Kids in NJ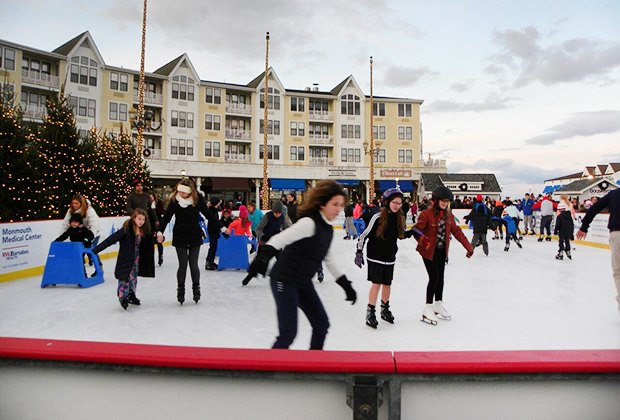 Enjoy an ocean view while you skate at Ice at the Pier.
Ice at the Pier – Long Branch
Twirl away by-the-sea at this iconic ice rink. Open from Thanksgiving through President's Day, the 4.500-square-foot rink is located at the heart of Pier Village's bustling boardwalk community.
Mercer County Ice Skating Center – West Windsor
The Mercer County Ice Skating Center at Mercer County Park is open seven days a week through mid-March. Deemed an "open-air, sheltered skating facility," this center also features a full snack bar, fireplace and lounge area, vending machines, skate rentals, and lockers.
RELATED: Family-Friendly Skiing and Snowboarding Spots Around NJ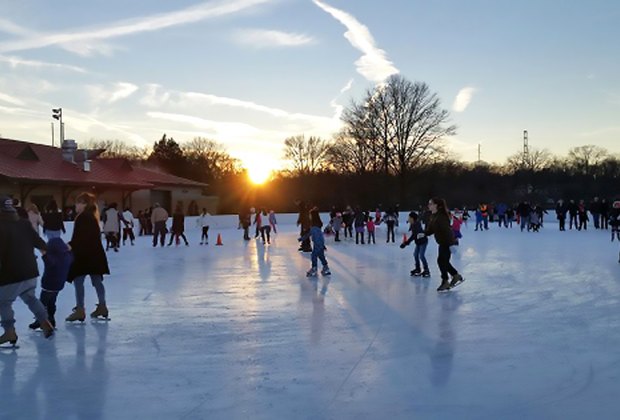 Roosevelt Park Family Skating Rink offers a beautiful setting for a skate session.
Roosevelt Park Family Skating Rink – Edison
Overlooking a scenic lake, this rink is open for public skating as well as lessons. Children under 7 are required to wear a helmet. The rink is open through March 29, 2020.
Outdoor Ice Skating Rinks in South Jersey
WinterFest at Cooper River – Pennsauken
This winter wonderland is open November 29 through February 17, 2020, and offers skating lessons, rentals, shows, and birthday party packages. Warm up inside the new heated tent with arcade games to enjoy while off the ice.
Traveling this winter? Philadelphia's Rothman Institute Ice Rink at Dilworth Park (open through February 23, 2020) and Blue Cross River Rink (open through March 8, 2020) are both family-friendly options.
Photos courtesy of the rinks.
This post was originally published December 2013 and has been updated since.