35 Sprinkler Parks and Splash Pads in New Jersey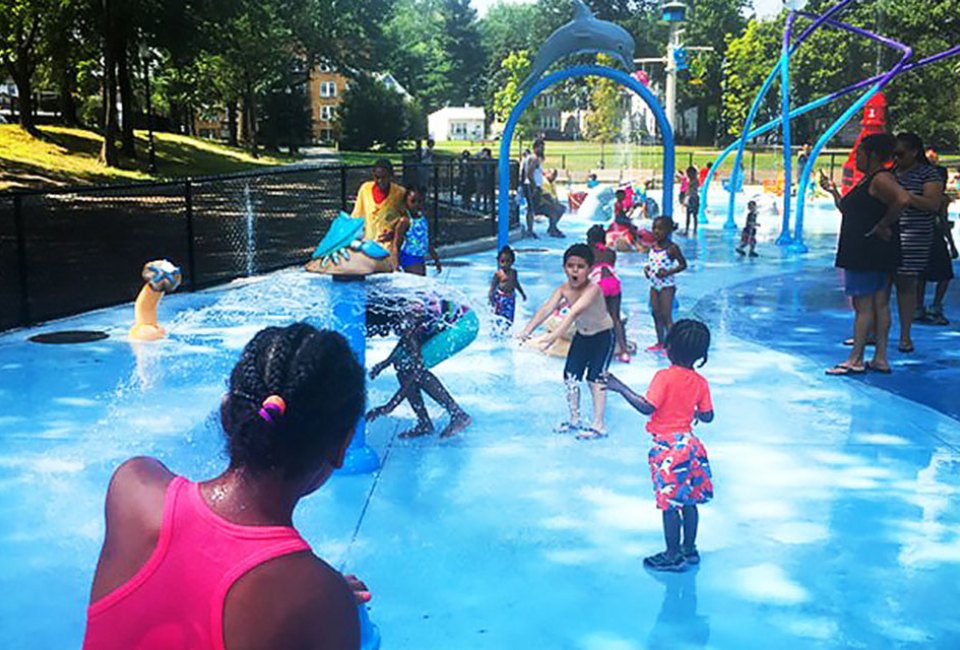 5/20/22
- By
Kristen Haas
Who doesn't love running through a sprinkler on a hot and steamy summer day? Bring it to the next level at one of New Jersey's splash pads or spray parks, many of which are located in local parks and playgrounds.
These splash pads are not water parks, so you won't find a ton of bells and whistles—though some do offer interactive features like dumping buckets or whimsical designs like water spouts in the shape of flowers (Dorbrook); a pirate ship (Veterans Memorial Park); or basketball sprayers (Manalapan). But the best part? Most of these splash zones are completely FREE.
Remember to check the park or local site's Facebook page, or even call ahead before hopping in the car with kids. Many water playgrounds will close unexpectedly for repairs or even events. Sometimes the closure is an afternoon, a day, or the rest of summer.
Find more ways to cool off in the Garden State in our Guide to Summer Fun, which includes our favorite water parks, beaches, and more.
Sign up for our FREE newsletters to get posts like this delivered to your inbox.
RELATED: Jersey Shore Guide: Best Beaches, Food, and Family Entertainment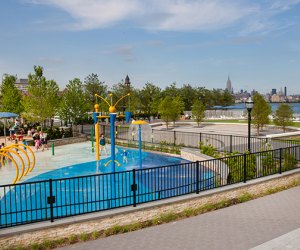 The waterfront Newport Green playground and sprinkler park includes a little beach. Photo courtesy of Newport Green
This park, spanning 4 acres on the waterfront in the Newport section of Jersey City, is a fantastic place to bring the kids on a sunny day. It has everything (and more) that you could ask for in a playground. The park's water features include spraying misters, rings to run through, and dumping buckets, as well as a little beach complete with umbrellas and sand. There's even a carousel for when the kids tire of the water features. Parking can be a problem, so plan ahead. (Tip: Park in the parking garage—if you spend $10 at Morton Williams, it will validate). FREE

It may not be the biggest water playground, but this Hamilton Park spot sure is fun! The splash pad is fenced in and features in-ground sprinklers and buckets of water dropped from overhead. Hamilton Park is nestled in the heart of downtown Jersey City and offers a large playground, tennis courts, dog runs, a basketball court, and lots of grass. Bonus: The Hamilton Park area of Jersey City has tons of great food options. FREE
This Hudson County Park is a great summer destination for kids and parents alike. The children's area includes a free splash pad with plenty of water features to keep the kids cool. The splash pad is adjacent to a large, castle-themed playground. Families can easily spend the day at this 167-acre park, which includes trails, beautiful Woodcliff Lake, and views of the Manhattan skyline. FREE
This 13-acre park includes a modest spray park next to its playground, as well as a great walking trail and more. The fenced-in playground features play equipment for children of various ages, as well as rock walls and swings. The cute, football-themed splash pad, which includes a huge goal post that shoots out water, was built with funds from a generous donation made by the New York Jets. It's modest and lacking in shade, but the little ones and locals definitely consider it a win! FREE
This park offers a large water play area with fun, modern playground equipment nearby. The water features include dumping buckets, in-ground sprays, and more, right in the center of the playground. All the equipment is painted in bright primary colors. FREE
Your kids will get a kick out of this small splash pad. The soccer field-inspired pad includes a large spraying soccer ball with crossbar-goal water jets at both ends. A stone's throw away is an inclusive playground, with an accessible merry-go-round, roller table, swing seats, and other play equipment. FREE
RELATED: Worth The Drive: 12 Destination Playgrounds in NJ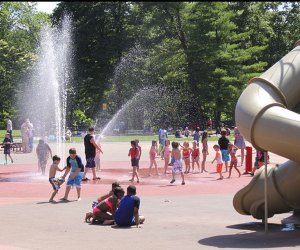 Kids of all ages enjoy Ponderosa Park. Photo courtesy of the park
This pretty park boasts a modest set of sprinklers in the playground that typically turn on 9am-9pm in the summer. Parents set up shop on the grass while kids cool down in the water. There are bathrooms and benches that dot the perimeter, and an ice cream truck is usually stationed here on weekends. There's not a ton of shade on the playground, but families can duck under the park's trees to escape summer's heat. There are two playgrounds: one for ages 2-5 and another for 5 and up. Both have slides and climbing walls; there are also swings and a netted climbing structure. It's a popular spot for birthday parties, too. FREE
Walter Lubbe Jr. Playground is wildly popular in the heat of the summer. The sprinkler park is large and open and consists of rings that kids can run through and get sprayed. The playground is partly fenced in and features swings, a rock wall, monkey bars, and bouncers. There is also a covered picnic area for those wishing to brown-bag it. FREE
Cool off at this lovely neighborhood park punctuated by its meandering namesake brook. A large, circular splash pad is the main attraction, with an arch of rainbow-colored sprinklers surrounded by four tall sprayers. The park is also home to regulation horseshoe pits, a rarity in the area, and is often the site of professional horseshoe tournaments and championships. There are also basketball courts and softball fields, plus a nicely shaded playground with plenty of benches. FREE
Imagine what a marble run would look like in life-size dimensions; now, replace the marbles with free-flowing water, and you're looking at Fort Lee's splash pad! Featuring Pacman-style fish sprayers, a huge orange alien who spews water from above, and loads of colorful water-collecting discs, the pad has something for kids of every age and benches dotting the perimeter for parents. FREE
RELATED: 15 Awesome Water Parks for New Jersey Kids and Families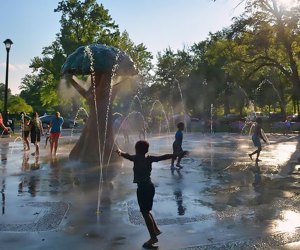 The Warinanco Park sprayground includes more than 100 spray jets! Photo courtesy of UCNJ
Union County's sprawling Warinanco Park features a children's area with both a playground and splash pad. Located near the boathouse, the splash pad features a giant tree fountain in the middle and more than 100 spray jets surrounding it. Other family activities at the park include boating, skating, hiking, biking, and picnicking. FREE
This splash pad is located on Glenwood Avenue near Dodd Street in East Orange. The 3,000-square-foot addition to the 69-acre park provides deep-sea–themed water adventures to keep your kids cool when the temperatures soar. FREE
The playground and splash pad at Cross Farms Park has a small, baseball-themed water feature with a water-spewing baseball diamond with five in-ground water sprays. Hit the playground adjacent to the spray area for even more outdoor fun. FREE
RELATED: Best Jersey Shore Beaches for Families: Sandy Hook to Cape May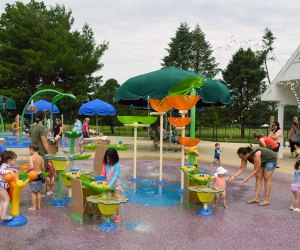 The recently renovated Dorbrook Sprayground is open 7 days a week in season. Photo courtesy Monmouth County Park System
This large, popular sprayground got a makeover in 2016, adding a soft surface and a new water filtration system to keep things clean. Also new: water troughs for the kids to play with and cool "raining leaves" offering a cascading mist of water. The splash pad is open every day from mid-May through early September, depending on the weather. There are tons of water features, from sprayers and sprinklers to water tables and more; it feels more like a mini water park. The size of this sprayground is what makes it so much fun for the kids. Pack beach toys for the sand area!.There are some picnic tables nearby, so you can bring lunch, but you can't take food into the splash pad area itself. Reservations are required, but admission is FREE
You can easily spend an entire day at this family farm, so make sure you pack swimsuits and towels with you before heading out. Located outside of the Discovery Barnyard, the splash pad is a great place for kids to cool off after strawberry picking, animal feeding, and hay riding around the farm. Daily passes are $10 for kids 1-12; kids 13+ and adults are $5. A season pass is $60 per child; $30 per adult. The Discovery Barnyard also includes go-karts, climbers, slides, and a rope maze. Dedicated bathrooms and a food service area exclusive to Discovery Barnyard guests make your family feel like VIPs.
The spray park at Michael Lepp Park is a great place to bring young children on a hot summer day. This free spray park offers a variety of water features, including dueling canons and buckets. It's adjacent to basketball courts and a regular playground, so kids have plenty of options to keep them entertained (and parents can easily keep their eye on several kids at once). There are some nice shady spots where parents can relax and enjoy the action, so be sure to bring towels and chairs. The water playground is located near a street, so be prepared to keep an eye on very young children. In addition to the Spray Park, Michael Lepp Park also features a wading pool for registered town residents. FREE
RELATED: Gorgeous NJ Pools Offering Day Passes to Families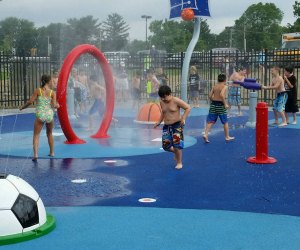 The sports-themed Manalapan splash pad features gentle misters and small water canons. Photo courtesy of the park
Manalapan Township recently added a splash pad to its recreation complex. This sports-themed splash pad is great for the little ones, with gentle misters, small water canons, and mild sprayers. There is a covered pavilion with picnic tables and restrooms nearby, and the large recreation complex features trails, playgrounds, and basketball courts. The sprinklers here work off a motion sensor, so if your kids are the first ones to hit the splash zone, have them wave their hands in front of the sensor to get the water flowing. FREE
This splash pad is adjacent to a playground and picnic area as well as near the lake. Enjoy the playground after splashing around in the sprinklers. This splash pad opens for weekends from Memorial Day weekend until the end of June, and it operates daily thereafter. Beach badge and admission required.
The generously sized sprayground at this park is fenced in, and there are many different water features, including water cannons, buckets that dump from above, rings to run through, and an oversize mushroom shower. The large, clean park offers playground equipment for children of various ages and a rock wall to keep your kids busy, but not a ton of shade. Parents often set up towels along the inside of the splash pad while the kids cool off. Pack a picnic and use one of the many picnic tables available. FREE
This family-friendly spot has bathrooms, gazebos, a picnic pavilion, and a pirate-themed splash park, making this Barnegat Bay mainstay a perfect place for endless play during the summer season. FREE
This pirate-themed spray park is a favorite of every seashore-loving swashbuckler on the coast and is open daily all summer long. There are ample opportunities for little ones to tweens—ages 2-12—to log some time getting soaked like true scallywags. The pirate ship is stacked with water-spitting canons, and there's even a shark that surfaces from the sea to spray all the park dwellers. For parents who bide their time while little ones get wet, the "Movie in the Park" series on summer weekends is definitely worth sticking around for. There are lots of great family flicks for the whole crew to watch as they dry off. FREE
Colonial Park's spray park has 21 fun water features along with parking for patrons and a gazebo for guests to hide out under when the sun gets too strong. FREE
If your kiddos can hardly wait to get wet this summer, this park is the place to be. This small park has in-ground geysers and spraying rainbow rings to run through, as well as drenchers shaped like Pez dispensers that older kids can have a blast pointing at their friends or willing parents. FREE
The splash park in Bridgeton City Park, which opened in 2013, offers more than 2,000 square feet of cool summer fun, all of which is fenced in. It takes inspiration from its neighbor, the Cohanzick Zoo, and includes 28 cool zoo fixtures, including fountains, buckets, water wheels, canons, and various animal-themed amusements. In addition to the water deck, the site features outdoor showers, restrooms, a concession stand, benches, and two pavilions. The splash park is open every day in the summer. There is a small fee ($3) to enter the splash pad (blocked out in 2-hour-long sessions to accommodate all users), and you can also reserve it for birthday parties.
This splash pad packs a whole lot of fun for children of every age. It features more than 20 interactive water features that are motion-activated to help conserve water. Three different play areas offer low- to high-intensity drench opportunities appropriate for toddlers, big kids, and tweens; in the middle of it all, a huge splash bucket dumps water every few minutes. An on-site attendant monitors the water area at all times. FREE
RELATED: Best Swimming Lakes in New Jersey for Families

The sprinkler park at Jewell Street playground has dumping buckets, an arc of sprinklers, a face that spews water, and more.
Intended for residents and members only, this sprinkler park has water-dumping buckets, an arc of sprinklers, a face that spews water, and more. A nearby playground adds to the fun with slides, swings, and other activities.
Locals head to this lakeside beach for swimming, paddleboats, picnicking, and a water feature for the kids. You'll also find a refreshment stand, changing facilities, swimming lessons, and more. The park offers resident and non-resident monthly and daily passes, but weekend entry is limited to members and residents. Weekday fees are $5 per resident or $10 for non-residents.
This 17.5-acre park opened in 2016 on a former industrial site in the city's Bergen-Lafayette neighborhood, just steps from the Garfield Light Rail station. The flat-surfaced splash pad has sprinklers that shoot water up from the concrete. Bright purple picnic tables and benches border the water area so parents can keep an eye on their kids without getting wet. The recreation area features several basketball courts, soccer and baseball fields, and a sprawling playground with rope climbers, swings, and slides under big blue umbrellas, providing shade on hot sunny days. FREE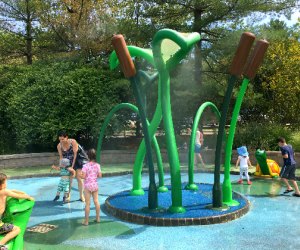 The charming splash pad at Van Saun Park lets kids cool off after hitting the adjacent playgrounds, carousel, and zoo. Photo by Rose Gordon Sala
The impressive Van Saun Park recently added a whimsical pond-themed, ADA-accessible water sprinkler feature to its Harmony Playground, complete with gigantic lily pads, water creatures, and cattail misters. The mist is gentle and the size modest, so it can get crowded by the afternoon, but the kids don't seem to mind. Water pools in sections and kids delight in stomping through it. There's plenty more to do at the park, including several adjacent playgrounds with all manner of slides, swings, climbing, and hanging equipment. The 150-acre park also boasts walking trails, grills, and picnic tables, a paved path great for kid bikers, beautiful gardens, a train ride, pony rides, a carousel, and the popular Bergen County Zoo. There isn't much shade in the play areas here, so come early or late. FREE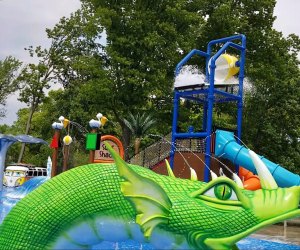 Spend the day at the John Russell Wheeler Park super splash area. Photo courtesy of the park
This state-of-the-art spray park replaced Wheeler Park's existing pool, but keeps the splashiness of the scene alive. In addition to bringing in 33 super-soaking water attractions—including water cannons, slides, dump buckets, a dragon, spray bus, pirate ship, surf shack, and a ton of water tunnels, jets, and geysers—the park also features an updated concession stand, new restrooms, and convenient changing rooms to make trips home a little less sloppy and sticky. Read our full review of Wheeler Spray Park here. Admission is $2.00-$6.00, depending on age and if you live in Union county.
This hidden gem, formerly known as Bud Simmons Park, has a cute and colorful fenced-in splash pad. Little explorers will love running through this forest-themed water pad, with tall, flower-shaped sprayers, giant bee and frog climbers, in-ground ladybug sprayers, and a tall tree in the middle where kids can take cover from the sun and water. In addition to the water fun, there are two playgrounds, a basketball court, picnic area, and gazebo. FREE
Fasola Park's water feature is small, but it still does the job. Kids love running through the splash pad's water jets, which are controlled by pushing a green button located in the middle of the splash pad. It's right next to the playground, allowing parents to easily keep an eye on more than one child. FREE

Cool off at Asbury Splash Park with a soaking from the giant watering can. Photo by Ray Clark via Flickr
Plan a day of family fun at the Asbury Park Boardwalk, and while you're there take the kids to cool off at the splash pad, which includes a number of unique spray features like a giant tipping teacup, an oversized garden hose nozzle, and seating for parents. It's not free ($16 for kids and $7 for adults), but this splash pad is more of a day trip destination. You can hit the beach, play 18 holes of mini-golf (extra fee), grab some food truck eats, or play pinball at The Silverball Museum Arcade. Check its Facebook page for updates.
There's a spray park and splash pad at this vibrant playground, so be prepared to get wet! Little ones will love the splash pad area with lower-to-the-ground sprinklers, dumping buckets, and in-ground sprays. The adjacent sprayground provides even more opportunities for fun in the water, with tall sprayers and sprinkler rings to run through. After splashing around, dry off at the playground and picnic areas. There is a small fee to enter the park.
Tips for Visiting a Splash Pad in New Jersey with Kids
Don't forget dry towels, sunscreen, and dry clothing. Remember to bring a plastic or mesh bag for wet bathing suits and towels. Do yourself a favor and place important items like cell phones in Ziploc baggies.
Check ahead to see if there are changing facilities or restrooms available.
Some water playgrounds prefer swim diapers for the little ones.
Figure out what the parking situation is ahead of time if you are traveling by car. Some playgrounds do not offer a parking lot.
Hours: The time the water gets turned on and off can vary depending on the crowd, weather, and particular park, but hours usually run from 10am to dusk at most spots, with the water going on as long as it's hot out, even before Memorial Day in some cases. Daily hours typically start when school lets out; otherwise it's weekends only.
This article first published in 2012 and is updated annually.
Unless noted, photos of the parks