10 Things to Love About South Jersey's Cohanzick Zoo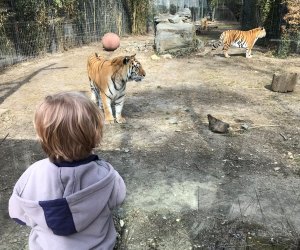 Spring is the perfect time to get outside and enjoy some animal encounters, and one of my favorite spots is the Cohanzick Zoo.
Located in rural Bridgeton, about 50 minutes south of Philadelphia, the Cohanzick Zoo is ideal for children—and adults!—of all ages. It is New Jersey's first zoo, having opened in 1934, and despite its small size, it is home to more than 100 animals and almost 50 different species. A visit to the Cohanzick Zoo takes about half a day and feels as if it's open just for you.
Read on for all the reasons my family loves this zoo and find more fun animal encounters at these New Jersey zoos and aquariums.
Editor's note: While we are trying to promote safer activities that occur outdoors or with social distancing guidelines in place, please keep your family and others safe by always wearing a mask and practicing social distancing.
1. Admission Is FREE
The Cohanzick Zoo generously offers FREE parking and entry, though visitors are asked to make a donation upon entering. Donations go toward animal care costs and help keep the zoo running. If you cannot afford a monetary donation during your visit, or want to help even more, check out its wish list of toys, cleaning, and maintenance supplies. The list includes things like bleach, vinegar, washcloths, and Kong toys.
2. It's a Crowd-Free Adventure
This will not be your typical hectic, crowded, loud zoo trip where you are being pushed and squeezed while standing on your tippy-toes trying to see an animal. The Cohanzick Zoo is calm and relaxed. You stroll along slowly, leisurely stopping to watch each animal for as long as your family likes. This zoo has always been mostly empty when we go, even when we arrive at 11am on the weekends. You occasionally encounter another family during your visit; most times, though, you will find yourself wondering if the zoo was open for your family's own private tour. And because of how quiet it is, during COVID, this really is an ideal destination.

The Cohanzick Zoo may be small, but its animals are larger than life.
3. Megafauna = Mega Fun
Some smaller zoos don't have the big animals that really excite kids, but that's not the case here! The Cohanzick Zoo is home to a lazy Asiatic black bear, an elusive fishing cat, and two impressive mountain lions, just to name a few. The most exciting exhibit in our eyes is the tiger enclosure, where big cats are seemingly inches from your child's leering face. You used to be able to watch two behemoth brothers play together, but the last time we visited the zoo, we were told by a zookeeper that they were not getting along and are now separated.
RELATED: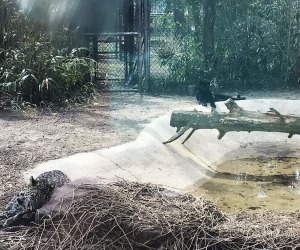 Playful leopards aren't shy with visitors.
4. Close Animal Encounters
The enclosures at the Cohanzick Zoo are smaller, making the animals more easily seen, but even in the larger and more intricate displays, the animals are mostly visible, and it appears to be by choice. I am used to zoo animals looking through me, perhaps even bored by my presence. But not at this zoo, and it really makes for an incredible experience. There is an excitable ring-tailed lemur who almost always springs out of his house with what appears to be glee upon your arrival. A swinging white-handed gibbon goes out of his way to come down to your level and look at you. The leopards are young and playful, stalking each passerby. And the two marmosets, who look like tiny, wise old men, melt hearts when they run over and put their little hands up to the plexiglass. Beware: In the winter, some animals that can't withstand freezing temperatures won't be on display, but as the weather warms up, they are brought back out.

Peacocks strut their stuff all across the grounds of the Cohanzick Zoo.
5. Unique Animals Await
The zoo has a diverse array of animals, and some that I haven't seen at other zoos, including skittish, but adorable, kit fox, bumbling, white-nosed coati, and two pacing African servals, to name a few. Something else unique: A plethora of peacocks wander around, often displaying their feathers and sometimes even showing them off to the very personable emu.
6. Family-Friendly Convenience
The Cohanzick Zoo is an easy trip with little kids. You can park a few feet from the entrance and walk the zoo's looped length in an hour and a half or less. The zoo's path circles a large scenic pond with a wide, shaded walkway conducive to groups and strollers. There are bathrooms, and when you are ready to eat, there is a shaded area with picnic benches and two gazebos around the lake. It's a perfect destination for young kids with short attention spans and a fun spot to visit on hot summer days.
7. Friendly Staff
Often, the only other people we see are the zookeepers tending to the animals. Anytime the kids or I have asked a question, they stop what they are doing and talk with us. They have always been friendly, informative, and good with the kids.
8. Animals Are Well Cared For
The animals in this zoo seem to be well taken care of. Many of the animals here are injured or cannot be re-released into the wild for another reason. Usually, you'll see a sign on the cage explaining these injuries, some of which are noticeable. If you don't see a sign, the aforementioned friendly staff is happy to share each animal's story.
RELATED:

The Cohanzick Zoo is set in a lovely enclave in Bridgeton, New Jersey, and makes a fun day trip destination.
9. The Lovely Ambiance
When you first enter the zoo grounds, you will see a water wheel in a small stream to your right with an inviting bench. A bit further beyond is a covered bridge kids love traversing and using as a perch to look down at the geese and ducks in the pond below. To see the animals, you slowly meander along the path that wraps around the pond with a fountain at the center. The zoo is quiet, and except for the occasional screech from the gibbon or roar from one of the tigers, it is a very serene experience.
10. Make a Day Trip of It
The public Sunset Lake is nearby and offers swimming, boat rentals, and a boat ramp. While in the zoo, you will probably notice joggers and dog walkers enjoying a shaded trail along a stream just outside. This path is accessible from the parking lot; just cross over the covered bridge exiting the zoo parking lot. There is also a large splash park just across the parking lot from the zoo that open seven days a week in the summer from 11am-6pm. The splash pad costs $3 to enter, and water shoes are required.
RELATED: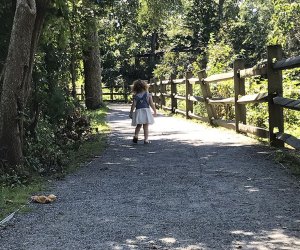 Shade-drenched paths are stroller friendly, though the zoo is small enough for little legs to walk the paths.
Know Before You Go to the Cohanzick Zoo
The zoo is open daily from 10am-3pm, except for Thanksgiving and Christmas.
Parking and the entrance to the zoo are FREE, but you are asked to give a donation.
COVID-19 protocols dictate that everyone ages 2+ must wear a mask on zoo grounds. The bathrooms, gazebos, and picnic areas have been closed due to the pandemic.
Download a map before your visit on the zoo's website.
All photos by author