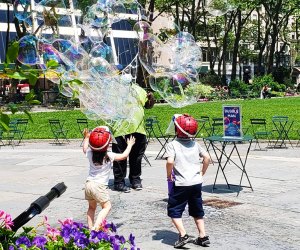 Things To Do in NYC this Week, Live and In Person! Bubble Man, Outdoor Movies, Summer Sports
Oh, the virtual life has its pleasures, but haven't we all been straining at the bit to go out and DO something? With other people? Something we don't do/haven't done every day for the past five months? The joys of re-entering the real world are many, as long as we take precautions, of course.
New York has done a great job of figuring out how to shelter in place, and now it's time to reap the rewards. Wildman Steve Brill is back, rummaging through the weeds in all the major parks to find delicious treats to share. Movies are popping up on drive-in screens. Spraygrounds and sprinklers and local beaches are doing their best to cool everyone down. And, naturally, we have a growing list of beloved institutions that are once again welcoming little New Yorkers, live and in-person.
Be sure to keep an eye on the New York calendar as more events pile in and jostle for attention. And welcome back (fingers crossed)!