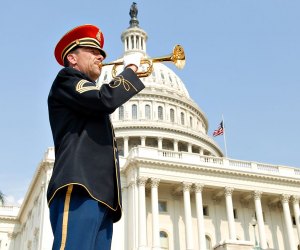 Free All New Events Online this Week: Memorial Day, Julie Andrews, & Return of Wonderful World of Disney
Memorial Day is traditionally the start of summer, hallmarked by large scale festivals and epic parades teeming with wall-to-wall people. So yeah, this year Memorial Day is going to look a bit... different. But the occasion at its center, a day honoring sacrifices by American servicemen and women, remains the same. Though in-person events are mostly canceled, organizations across the country, such as the Vietnam Veterans Memorial, National WWI Museum, and Forest Lawn, share online observances.
Many regions are loosening their stay-at-home restrictions, so a socially-distant hike or beach day may be an option. And for those of us staying at home, artists and entertainers continue to come to our rescue, like Taika Waititi and his famous friends who read James and the Giant Peach to us, or the return of the Wonderful World of Disney, screening favorites like Moana, or the cast of the original Teenage Mutant Ninja Turtles who reunite with a virtual pizza party. If there's a bug in your computer, don't worry, that's the new online insect exhibit from LA's Natural History Museum. Farrington Nature Link and the Intrepid Museum invite us to look at the stars. And speaking of stars, Julie Andrews and the late Barbara Bush read to us. And Mo Willems reminds us to say thanks.
Our Poppins@Home platform continues to bring home fun, molding young minds—or at least molding clay that you make at home (The Clay Studio will teach you how). And if young tummies are hungry for pancakes, Stacy from HealthBarn USA will teach you how. Little ones can even master STEM concepts in this online class from STEMtastic.
Check our event calendar for even more family concerts, engaging stories, and star-studded virtual events. If the family is still bored, check out our Stay-at-Home Guide, with hundreds more activities and ideas of things to do.
Keep reading for some of our favorite picks for this coming week....