Sarasota, Florida With Kids: 24 Things To Do On Your Family Beach Vacation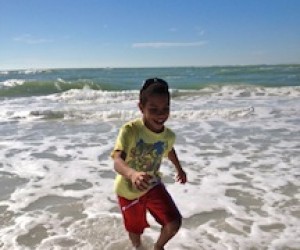 1/25/13
- By
Tara D
If you're visiting Sarasota, Florida, you may be tempted to lounge on the beach all day, especially if you're on Siesta Key (ranked America's best beach by Dr. Beach). There's nothing wrong with that – the kids may be perfectly happy searching for sand dollars, digging into the wet sand for coquinas, watching for dolphins, and splashing in the water. However, if the weather isn't right for the beach, or you just want to do something different, Sarasota has plenty to offer in the way of unique experiences and family fun. It is a vibrant city, rich in arts, culture and natural beauty.
These are my top 25 picks for things to do with kids during a visit to Sarasota, including a few must-do activities in nearby Bradenton and Tampa. My family travels on a budget, so many of my favorites are free, like strolling on a boardwalk among mangroves, sticking our toes in some of the finest sand in the world, exploring a secret garden, viewing manatees in the wild, enjoying whimsical art, and watching a water ski show. Most of the attractions I've chosen honor reciprocal agreements for museum, aquarium, or botanical garden memberships, which can also help keep you on even the tightest of budgets during your Sarasota adventure.
Meet sea lions, get your hands wet in the touch tank, and marvel at Florida's marine life at Mote Marine Laboratory and Aquarium.
Stroll the (mostly) shaded boardwalk, learn to identify Florida's birds, and witness the results of some amazing rescues at Save Our Seabirds, Inc., located right next to Mote Marine Laboratory and Aquarium.
Wonder at the incredible feats of the Sarasota Ski-A-Rees Water Ski Show Team from their stadium, next to Mote Marine Laboratory and Aquarium. (Shows are free and run Sundays at 2 pm, February – May)
Take a kayak tour of the mangrove tunnels at South Lido Park. The tours aren't cheap, but they are suitable for all ages and skill levels, last 2.5 hours, and there's a good chance of seeing dolphins and manatees, especially in the warmer months.
Or, if you haven't gotten your sea legs yet, and free fits your budget a little better, hike the trails and boardwalks at South Lido Nature Park. One of the highlights is the view of the water and the Sarasota skyline from the end of the boardwalk. You'll also get to see the mangroves up close, as well as trees in pairs, one growing around the other (my family calls them "love trees").
Embarrass your kids by reenacting the scene depicted by "Unconditional Surrender", a 26-foot statue of a sailor kissing a nurse on V-J Day, based on Alfred Eisenstaedt's famous photograph.
Ride the SCAT Longboat Key Trolley along Longboat Key for a cheap thrill and a break for tired little feet.
Munch, lunch, and watch the buskers from a prime table at one of the restaurants on St. Armand's Circle. Your visit to St. Armand's isn't complete without doing some window shopping, enjoying a cold treat from one of the ice cream shops, and picking up a slice – or two, or three – of fudge from Kilwin's to take home as a sweet reminder of your vacation.
After a leisurely lunch on St. Armand's Circle, take a walk to North Lido Beach and dig your toes into the powdery soft sand.
Scout for sand dollars on Siesta Beach, and go home feeling a little richer.
Follow the yellow brick road into a land of make-believe at Sarasota Children's Garden, the perfect place for pint-sized nature lovers and their favorite adults.
Catch a live, kid-friendly show at the Children's Theatre at Florida Studio Theatre.
Lions and tigers and bears, oh my! Visit the Big Cat Habitat and Gulf Coast Sanctuary, where abused and neglected animals are rescued and cared for by a family with a rich circus legacy.
Be inspired by the young performers of the Sailor Circus, A.K.A. The Greatest "Little" Show on Earth.
On a hot and stormy afternoon, monkey around the arcade and Jungle Gym at the blessedly air-conditioned Coconuts Family Entertainment Center.
Travel back in time at the Sarasota Classic Car Museum, a must-see for Beatles fans.
Go on a plant hunt and explore the magnificent banyan trees at Marie Selby Botanical Gardens.
Embrace the wacky and whimsical at the Marietta Museum of Art and Whimsy. The museum is a perfect introduction to art for little ones, and features many female and local artists.
Become a pioneer and a naturalist in the Museum and the Children's Discovery Path at Crowley Natural and Cultural History.
Make a short jaunt to Bradenton and meet Snooty, the world's oldest manatee born in captivity, and his water dwelling friends at the Bishop Museum of Science and Nature. If your kids are more into looking up than looking down, you'll want to check out the museum's planetarium.
Find some truly unique souvenirs at the Red Barn Flea Market, a mega-market featuring traditional flea market booths, permanent shops, a farmers market, garage sale booths, food courts, art murals, and live entertainment.
Feed the Koi in the lovely garden pond, sample more types of citrus than you ever knew existed, and get an orange and vanilla swirl ice cream cone at Mixon Fruit Farms, a quintessentially Florida attraction. Tram tours of the orchards are also available, which include a visit to Mixon's Wildlife Refuge for close encounters of the furry kind.
Take a drive up to Tampa for a day of discovery at the Museum of Science and Industry (MOSI). Our favorite part of the museum was Kids In Charge, an entire building of hands on activities for kids, like a NASA mission, music making, bouncing in a moon walk (small extra cost), lying on a bed of nails, and exploring the science of ice hockey.
In cooler weather months, (November – April) catch a glimpse of hordes of manatees that are drawn to the warm waters generated by Big Bend Power Station. Visitors watch for free from the Manatee Viewing Center, stroll the butterfly gardens, and inspect actual manatee bones in the environmental education center.