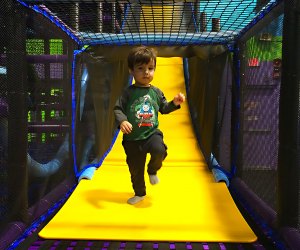 The Best Indoor Play Spaces for Kids in Suffolk County
Play spaces made just for kids are our go-tos during Long Island's wintertime, or anytime it's cold, wet, or even hot out. So we've rounded up the best indoor play spaces in Suffolk County, from bounce houses and indoor playgrounds to more low-key spaces such as a natural play room and spots for art. There are fun zones loaded with action sports that are best for bigger kids, and plenty more just right for toddlers and preschoolers.
Many of these destinations also double as party spaces, so call ahead to make sure they're open for public play. And don't forget your socks—many do not allow shoes or bare feet, even for adults. Then get ready to let your kids loose to play there instead of in your living room. Be sure to warm up before and after with some toasty hot cocoa.
And if you live in Nassau County, don't worry. We've compiled a similar list just for you. Whether you want to stay indoors or bundle up and enjoy the winter, check out our Winter Fun Guide for entertainment all season long. And for more indoor energy-burning, check out these indoor water parks for a warm getaway and our guide to sports centers and fun zones for kids across Long Island.
Bouncers and Slydos — Farmingdale
1835 New Highway
This 11,000-square-foot bouncy space for kids 2 and older is mainly a birthday party venue. It does, however, host open-bounce sessions during school breaks (reservations required), as well as weekday Toddler Time 
sessions for children younger than 5 (no reservations necessary). Bouncers & Slydos claims to have the only indoor inflatable zip line on the East Coast.
BounceU — Farmingdale, Nesconset, Oceanside
This popular nationwide chain features rooms full of giant inflatables where kids—and adults—can bounce to their hearts' content. BounceU offers everything from all-ages open-bounce times, family nights, and "preschool playdates" (ages 2 to 6) to glow-in-the-dark Cosmic Bounce events and even a Parents' Night Out, when you can drop off your kids (ages 4 to 11) while you go out on the town. Weekday and weekend sessions are available; each location features slightly different hours, programs, and rates, and spaces are often reserved for parties and groups, especially on weekends. Kids' birthday parties at BounceU include food and beverages, invitations, paper goods, and giant inflatables. You get a private room and party pros to help with your big day. Call ahead. Reservations are required.
RELATED: The best bowling alleys for families in Suffolk County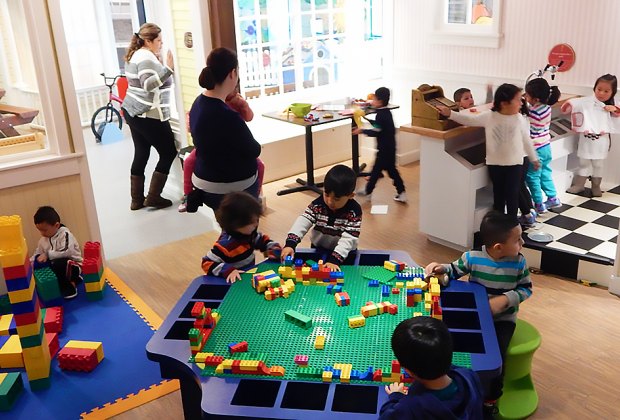 Engage the big imaginations of your little ones at the Children's Museum of the East End.
Children's Museum of the East End — Bridgehampton
376 Bridgehampton-Sag Harbor Turnpike
The Children's Museum of the East End features a number of themed play spaces. Children can run a general store or soda fountain, enjoy a story inside an upside-down book, crawl through hollow logs and mouse holes, sail a ship, drive a fire truck or tractor, play mini-golf, and more. The museum's open arts-and-crafts studio features ongoing drop-in projects. Though the museum is aimed at kids 2 to 7, there is a special discovery area for pre-walking kids, and the museum also offers an array of children's programming, special events, and more. Check out its Lego Club, where kids of all ages can create original designs every Saturday. There is also Camp Innovation, where kids can develop STEM skills through coding, robotics, and 3D printing. Space is limited and you will need to preregister on its website.
Flight N Fit Fun — Ronkonkoma
1850 Lakeland Avenue
Daily open jumps at Flight N Fit feature dodgeball, foam pits, and slam dunk basketball. Kids can enjoy Flight N Fit workout classes that can be purchased individually or bought in sets of 10 classes for a discount. Kids 5 and younger jump for only $10 with one parent assisting. Flight Nights on the weekend for jumpers ages 12 and older are accompanied by black lights, laser lights, and music. There is also an arcade, and holiday discounts are available.
Kangaroo Kids Inflatable Party Center — Deer Park
1015 Grand Boulevard
This indoor bounce space is mainly a birthday party venue, but it does offer occasional weekend and weekday two-hour, open-bounce sessions geared for kids 2 to 10. The price is $10 for the first child and $7 for each additional child, with no charge for adults. Be sure to call ahead, as times and days vary.
LazerLand — Commack
54A Motor Parkway
In addition to its 5,500 square feet of space in a multilevel facility, this laser tag venue hosts dodgeball, gaga games, and open-play hours. Open play on Saturdays and Sundays is from 7 to 11pm, and $25 includes unlimited laser tag and dogeball. Open-play hours vary on Sundays, so call ahead. Themed parties with or without dodgeball include a private party room, Lazer Tag Referee, setup, and cleanup.
RELATED: The best family sledding hills on Long Island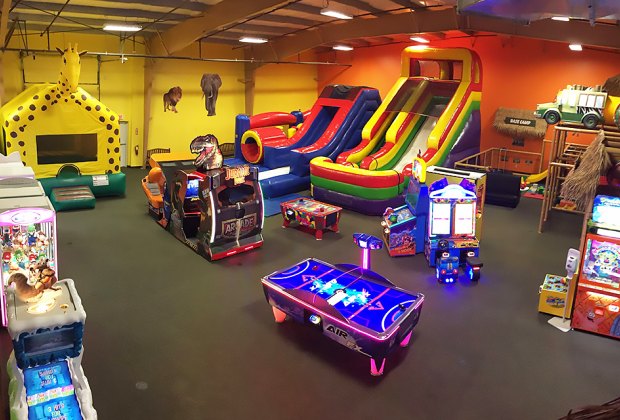 It's hard to decide where to begin your play experience at Safari Adventure in Riverhead; there's just so much to do.
Safari Adventure — Riverhead
1074 Pulaski Street
One of the highlights of Safari Adventure is Kilimanjaro Soft Play, a four-level maze with tunnels, slides, balls, and cargo nets. There are also three giant inflatable bouncers and an arcade featuring 30 games, as well as a snack bar. There's a dedicated toddler zone, and a sensory area with a sand table, train table, and small toys. If the kids get overstimulated, retire to the sensory calming spa to wind down. Safari Adventure is geared for kids 1 to 10; there are no time limits or check-in times. Become a member and you will get unlimited open play and $25 off a party package. Safari Adventure is a great place to drop in with little ones if you are also visiting the Long Island Aquarium in downtown Riverhead.
RELATED: Indoor swimming pools for Long Island families

Sandbox is a low-key, aesthetically pleasing space where imaginative play is encouraged.
Sandbox Playspace — Huntington
51 Gibson Avenue
This soothing space encourages open-ended, imaginative, unplugged play that nourishes the senses. It is an equally pleasant place for adults to unwind. Sandbox features handcrafted toys made of natural materials such as wood, silk, and wool, and is especially designed for kids from birth to 5 years There's no worrying about your little ones getting overwhelmed. The space has a variety of play areas, including a kitchen, balance toys, slide, puzzles, trucks, a car track, and a super-cool tepee and campfire. Classes and birthday parties are offered. Socks are required. Read our review of Sandbox here.
StrikeForce Sports — Deer Park
450B Commack Road
This facility gives children 10 and older a chance to play indoor airsoft games. While airsoft parties are for kids 10 and older, there are also Nerf parties available for kids 5-plus, and no-mess paintball for those 8 and older. In airsoft, competitors propel plastic pellets at opponents from specially designed electric or gas-powered replica guns. Sessions are four to six hours long and include about seven games. Kids should be prepared to be hit by pellets and must wear goggles and other protective clothing. Guns and other gear can be rented on site.
RELATED: Great science museums for LI kids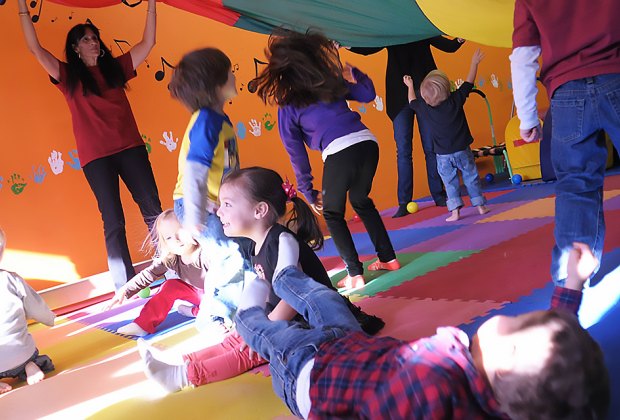 Kids as young as 6 months can enjoy music, gymnastics, art, and more at Tumbling Tunes.
Tumbling Tunes — East Northport
212 Laurel Road
Children 6 months to 8 years will love this creative space that offers weekly music, gymnastics, movement, and art classes. Open-play sessions give kids access to an imaginative play area, book nook, baby corner, and craft table. Tumbling Tunes also offers two drop-off sessions—Drop & Shop and Parents' Night Out (all ages)—as well as after-school care. Reservations are required. Enrollment is ongoing, and semesters are prorated from the time of registration.

Thrilling play spaces await your kids at the Wood Kingdoms in Farmingdale and Coram.

Wood Kingdom West — Farmingdale
111 Milbar Boulevard
Wood Kingdom East — Coram
544 Middle Country Road
Wood Kingdom is a giant yard-play structure and garden showroom that allows kids to try out the equipment themselves. It also features indoor play spaces with inflatable bouncers and multilevel climbing structures. The loosely affiliated Laser Kingdom laser tag center shares a building with Wood Kingdom East. Another Lazer Kingdom is two buildings away from Wood Kingdom West. Open-play hours and toddler times are available, but call ahead for weekend hours as birthday parties often take over the spaces.
Xplore Family Fun Center — Port Jefferson Station
200 Wilson Street
Open play is available here each day from 10 am to 7 pm for children 12 and younger. Inflatable slides and ball baths, a multilevel playground, and more than 30 video games keep tiny explorers busy and enthused all day. An inflatable climbing wall, three-lane wavy slide, and laser maze entertain as well. Membership gets you unlimited open play, and can also be used at the affiliated Safari Adventure in Riverhead.
Photos courtesy of the venues
A version of this article was first published in 2014. It was updated by writer Rebekah Yahoves in December 2018.