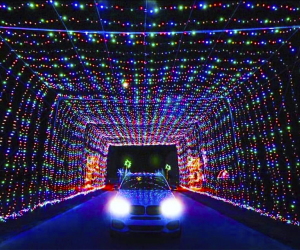 Holiday Light Shows: Drive-Thru Christmas Lights Near NYC for 2020
Ready to add a little extra sparkle to the holiday season? The tri-state area boasts some pretty spectacular drive-thru Christmas lights and holiday displays, where your crew can enjoy twinkling scenes from the warmth, comfort, and safety of your car.
We've compiled a list of 20 must-see Christmas light displays to drive through in New Jersey, Westchester, Long Island, Pennsylvania, and Connecticut that are guaranteed to bring smiles to your family's faces. As a bonus, we've also included a trio of can't-miss Christmas displays to walk through in NYC proper. So, pack some snacks, cue the Christmas music, and get ready to make some priceless holiday memories.
Find tons more ways to celebrate this season with those you love in our jam-packed Holiday Guide. Consider it our seasonal gift to you.
Editor's note: While we are trying to promote safer activities that occur outdoors or with social distancing guidelines in place, please keep your family and others safe by always wearing a mask and maintaining an appropriate distance. If you arrive at an event that appears too crowded, try using the "nearby" search feature on our Event Calendar to find something else to do. Keep in mind, reservations are required for many of these events, so plan your outings in advance, and be sure to click through to our listing for all the details, including address, time, and pricing.
Be sure to click through to each listing for more details, including ticket prices and reservation requirements.

Firetrucks, construction equipment, and more gets adorned with twinkling lights at the Holidig Light Show at Diggerland. Photo courtesy of the venue
Drive-Thru Christmas Lights in New Jersey
Holidig Light Show – Berlin
Select dates through Sunday, January 3, 2021
New for 2020, Diggerland's Holidig Light Show lets drivers traverse a mile-long course through the construction-themed theme park to see hundreds of thousands of lights spread over dozens of holiday displays. Synchronized music is streamed via your car's radio, and tasty treats are available for purchase.
Magic of Lights at the PNC Bank Arts Center – Holmdel
Daily through Saturday, January 2, 2021
Grab some cookies and cocoa, and head to Parkway Exit 116! This much-loved drive-thru holiday lights experience features scenes and characters of the season using the latest LED technology and digital animations. Drive through the Blizzard Tunnel, count the 12 Days of Christmas, journey through the Winter Wonderland, and marvel at the Toyota Mega Tree Spectacular, which features 240 feet of LED Christmas trees.
RELATED: 20+ Must-Do Holiday Events and Drive-thru Christmas Light Shows for NJ Kids

Take a leisurely drive to see the lights at the Christmas Light Show and Village at Skylands Stadium. Photo courtesy of Skylands
Skylands Stadium Christmas Light Show and Village – Augusta
Friday, November 20, 2020, through Sunday, January 3, 2021
This winter, the Christmas Light Show and Village at Skylands Stadium is bigger than ever with its mile-long drive-thru course—which even takes you on the field—and expanded outdoor village and winter carnival. After you wind your way through the lights display, visit the village and carnival where (for an added fee) you can let loose on the carnival rides, sip hot chocolate, snap some photos with Santa, and take a lap around the ice skating rink. There are additional walk-through light displays and a nativity scene.
South Jersey Holiday Light Show – Swedesboro
Select dates through Wednesday, December 30
Brand new for 2020, Bridgeport Speedway is home to a massive new drive-thru Christmas lights display. Prepare to be dazzled! It takes 20-30 minutes to drive through this mile-long route, where guests pass by large frames covered in bright lights depicting scenes like Santa distributing presents, falling snowflakes, flickering candles, and other holiday favorites.
RELATED: Polar Express and Christmas Trains Near NYC For 2020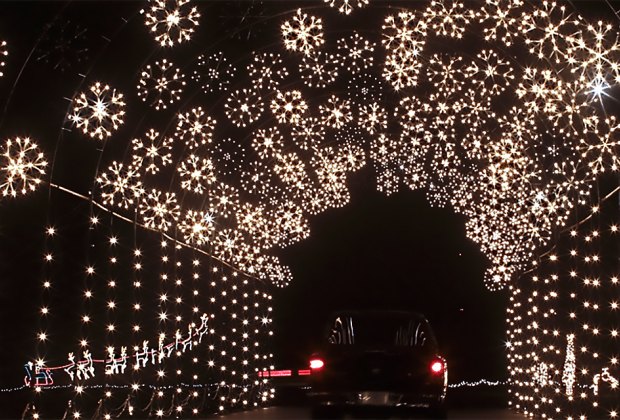 The drive through the snowflake tunnel at the Riverhead Holiday Light Show is magical. Photo courtesy of Suffolk County
Christmas Light Displays to Drive Through on Long Island
Riverhead Holiday Light Show – Calverton
Select dates through Wednesday, December 30
This is the largest drive-thru Christmas light show in Suffolk County, with dozens of dazzling displays to delight the entire family. The drive takes about 20-30 minutes and features more displays than any year prior.
Girl Scouts of Suffolk County Holiday Light Show – Shirley
Daily from Tuesday, December 1 through Wednesday, December 30
Support the Girl Scouts with a ticket to this spectacular 1 1/2 mile light display. It's the 16th annual show, and each version brings new surprises (including new designs from the Girl Scouts themselves) and some old favorites.
Magic of Lights at Jones Beach – Wantagh
Daily through Saturday, January 2, 2021
Pile the kids into the car and journey through the twinkling holiday scenes and iconic tunnel of lights. This massive display is 2 1/2 miles of animated and twinkling light displays that captivates guests, both young and old.
RELATED: Holiday Light Shows: Drive-Thru and Drive-by Christmas Displays on Long Island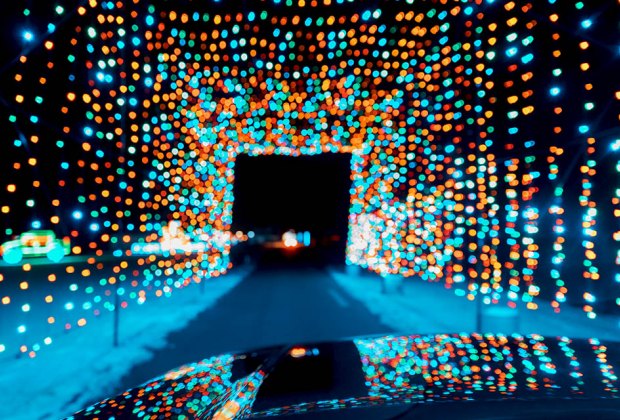 Celebrate the holiday season at Peace, Love & Lights at Bethel Woods. Photo courtesy of Bethel Woods
Drive-Thru Holiday Lights in Westchester and the Hudson Valley
Peace, Love & Lights – Bethel
Daily from Monday, November 23, 2020, through Sunday, January 3, 2021
If you're up for a bit of a road trip, make a night of it and check out the beautiful one-mile display located at Bethel Woods, home of Woodstock 1969. Travel through the 120-foot Twinkle Tunnel and enjoy themed areas like Groovy Way, an homage to the site, an Enchanted Forest, Snowflake Alley, Santa's Workshop, and more.
Orange County Fair's Holiday Lights Spectacular – Middletown
Thursdays, Fridays, Saturdays, and Sundays from Friday, November 27 through Sunday, December 13
Order some yummy carnival eats from the comfort of your car, and then sit back and enjoy this enormous holiday light display and multimedia show, which takes over the Orange County Fairgrounds. Don't forget your take-home gingerbread kit on your way out.
Westchester's Winter Wonderland – Valhalla
Select dates through Sunday, January 3, 2021
Kensico Dam Plaza will be transformed into a 1.2-mile magical, twinkling drive-thru wonderland for 2020. You'll travel through the Fireside Forest, Winter Winds Way, Candy Cane Lane, Dove Drive, the Magical Woods, the Land of Packages, and the Twirling Tunnel, which features 100 feet of swirling colors. Keep your eyes open for Santa, too!
A Frosty Fest – Ulster Park
Friday, Saturdays, and Sundays from Friday, November 27 through Sunday, December 27; closed on Christmas
From the creators of the Headless Horseman Hayrides and Haunted Houses, this new family-friendly holiday light spectacular has a lot to offer. Take a drive through Frosty's Enchanted Forest, with its dazzling holiday lights, spectacular displays, and magical animations where you'll spy a Candy Cane Factory, a Snow Village, 12 Days of Christmas, Santa's Workshop, and more. Plus, there are nine more walk-through attractions to explore, too.
RELATED: Must-Do Christmas Events and Holiday Experiences for Westchester Kids in 2020

The Magic of Lights drive-thru display brings holiday cheers to all! Photo courtesy of Magic of Lights
Christmas Light Displays to Drive Through in Connecticut
Magic of Lights at the Toyota Oakdale Theater – Wallingford
Daily through Saturday, January 2, 2021
Spanning more than 1 1/2 miles, this massive light display makes its Wallingford debut in 2020. Journey through a 200-foot light tunnel and see 40 scenes of holiday lights from the comfort of your car. Watch snowmen, snowflakes, elves, and candy canes dance and twinkle throughout this grand display.
Fantasy of Lights – New Haven
Daily through Thursday, December 31
Presented by Goodwill of Southern New England, this event lights up Lighthouse Point Park every year with a nearly mile-long trail featuring more than 60 animated displays and 100,000 lights. Proceeds from the event benefit Easter Seals and Goodwill.
Holiday Light Fantasia – Hartford
Thursdays, Fridays, Saturdays, and Sundays from Thursday, November 26, 2020, through Sunday, January 3, 2021
This beloved Greater Hartford holiday light tradition involves a two-mile winding drive through Goodwin Park, where guests are awed by the collection of more than 1 million holiday lights. Lovely Christmas, Hanukkah, and New Year's scenes shine bright in 200 individual displays. Bonus: Meet Santa from 5-8pm Fridays and Saturdays at no extra charge. Proceeds benefit the Channel 3 Kids Camp.
Santa Lights Up the Lake – Bristol
Thursday, December 10 through Sunday, December 13
Santa and his elves wave from afar and talk to your family through the car radio as you enjoy the views surrounding Indian Lake. Enjoy fantastic lights, displays, and more seasonal characters.
RELATED: Connecticut's Best Holiday Drive-Thrus and Christmas Light Displays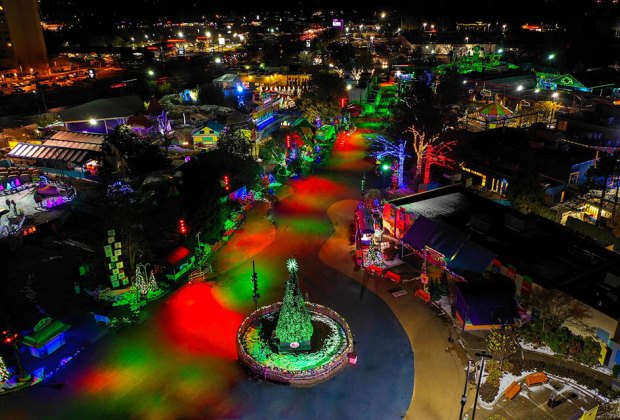 Guests can experience Sesame Place in a new way during the all-new Furry & Bright Christmas Drive-Thru. Photo courtesy of Sesame Place
Drive-Thru Christmas Light Displays in Pennsylvania
Sesame Place: The Furry & Bright Christmas Drive-Thru – Langhorn
Tuesdays and Wednesdays through Wednesday, December 23
New for 2020, Sesame Place has expanded its A Very Furry Christmas event with The Furry & Bright Christmas Drive-Thru display. Crank up The Neighborhood Street Party Christmas Parade music on the radio and boogie through a winter wonderland with millions of twinkling lights and holiday decor like a twinkling tunnel, a winter snowfall experience, and Candy Cane Lane. See Elmo, Big Bird, and all your Sesame Street favorites dressed up for the winter. Keep your eyes open, and you might spot Santa Claus, too.
Herr's Factory – Nottingham
Daily from Wednesday, November 25, 2020, through Saturday, January 2, 2021
Further west, about an hour outside of Philadelphia, you'll find this FREE display. Every year, the Herr's Factory treats visitors to a spectacular light display featuring more than 600,000 lights all around its complex.
Lights in the Parkway – Allentown
Daily from Friday, November 27 through Sunday, December 27
Get ready for a spectacular mile-long drive through Lehigh Parkway, which transforms into a cheerful, twinkling winter wonderland. Hundreds of thousands of brilliant lights illuminate whimsical animated displays and familiar characters.
PHestivaL of Trees – Phoenixville
Friday, November 27 through Sunday, November 29
This three-day drive-thru holiday display benefits local animal shelters and rescues. See 200 decorated holiday trees, a live nativity scene, a huge Hanukkah menorah, Kwanzaa imagery, a 40-foot live decorated tree, a light show, and, you guessed it, Santa himself!
Shady Brook Farm's Holiday Light Show – Yardley
Daily from Saturday, November 21, 2020, through Sunday, January 10, 2021
Shady Brook Farm's huge holiday light show features more than three million lights spread over several acres of the farm. Encounter whimsical displays and familiar characters as you drive through in your own car or enjoy an open-air wagon ride (weather permitting). Light show tickets also include admission to the walk-through Candy Cane Lane. Before you hit the road, check out the market for delectable holiday treats or take home a Christmas tree from the farm.
RELATED: Holiday Light Shows: Drive-Thru and Drive-By Christmas Displays in Philly for 2020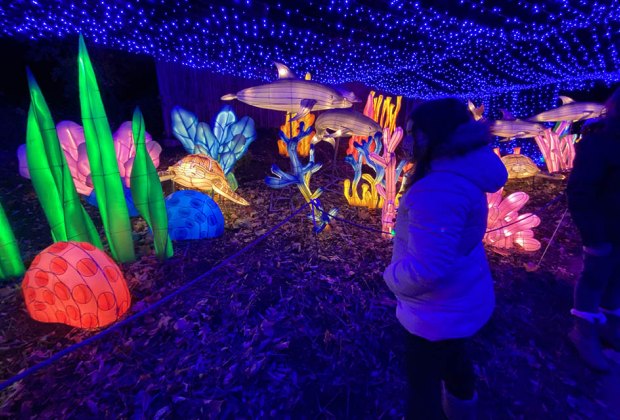 Enjoy a magical night this holiday season at the Bronx Zoo Lights. Photo by Ally Noel
Bonus: Walk-Through Holiday Light Shows in NYC
Holiday Lights at the Bronx Zoo – Bronx Park, the Bronx
Select dates through Sunday, January 10, 2021
Following its successful 2019 revival, the Holiday Lights return to the Bronx Zoo for a 2020 encore. Dazzling light displays are spread across several acres of the zoo. This walk-through experience includes wildlife-themed LED displays, custom Asian lanterns, and animated light shows. Festive tunes, ice-carving demonstrations, costumed characters, wildlife theater performances, and more await.
RELATED: Must-do Holiday and Christmas Events for New York City Kids in 2020

The LuminoCity Festival on Randall's Island is an immersive wonderland of lights. Photo courtesy of LuminoCity Festival
LuminoCity Festival – Randall's Island
Select dates from Friday, November 27, 2020, through Sunday, January 20, 2021
If you visited this brand new light show in 2019, fear not: There are enough new attractions that it's worth a return visit. Taking over 10 acres of wide-open space on Randall's Island, visitors are guided on a 30-45 minute narrative journey by Lumi, a magical light bulb who brings the spectacular scene to life. Expect to encounter "dreamlike worlds" of brilliantly lit lantern displays in the Mysterious Forest, Mystical Moon Land, and more. An over-the-top Christmas tree offers a picture-perfect backdrop to snap a holiday photo before you head home. Take note: There will be no shuttle bus in 2020, but visitors can walk, drive, or take a taxi to the show.
Dyker Lights – Dyker Heights, Brooklyn
Friday, November 27, 2020, through Sunday, January 3, 2021
If you want a slice of small-town Christmas in the big city, Dyker Heights has got to be your go-to destination. This South Brooklyn neighborhood mounts block after block of over-the-top holiday decorations annually. What started as one festive display has grown over the years to encompass an entire neighborhood of one-upmanship. The lights generally go on the weekend after Thanksgiving and run through New Year's and are turned on from 5pm-9pm nightly. In the past, weekends tend to draw huge crowds, so try to visit on a weeknight if you can.
And last but not least, if you're stuck in the city and crave a drive-thru holiday lights experience, consider booking the North Pole Express by TopView and spend an evening aboard the top level of a double-decker bus, cruising by popular seasonal sights like the Rockefeller Center Christmas tree.