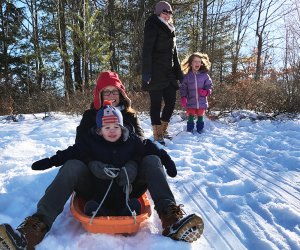 Best Sledding Hills For New Jersey Families
It's cold, slippery, and—if you're talking about sledding—ridiculously fun. New Jersey is home to plenty of perfect sledding hills for all ages, and we've compiled this list of 24 great sledding spots throughout the state. So, now that the flakes have flown, it's time to break out your sleds, bundle up (helmets recommended!), and venture out to one of these great local hills.
Don't forget the safety check! Take a minute to make sure the hill isn't too steep or bumpy for your child and that there's enough of a "landing" spot so your little sledder can safely glide to a halt. Avoid spots near ponds and trees, and be sure that the hill doesn't end in a street or parking lot. Skip rocky hills, too.
For even more winter fun, both at indoor play spaces and outdoor fun spots, check out our Winter Activities Guide.
Editor's note: While we are trying to promote safer activities that occur outdoors or with social distancing guidelines in place, please keep your family and others safe by always wearing a mask and practicing social distancing. If you arrive at a venue that appears too crowded, try using the "nearby" search feature on our Event Calendar to find something else to do.

​Floods Hill is South Orange's premier sledding spot. Photo by Mary Agnant
Where To Go Sledding in Northern New Jersey
Families from South Orange, Maplewood, and beyond head to Floods Hill for slick sledding. You can find both gentle and exhilarating slopes at this spot.
This lovely spot is a deep ravine with Bear Brook cutting through it. For sledding, try the hilly, grassy area near the main road, but come early before the crowds form.
This huge park makes a lovely day trip in any season. On snowy days, head over to the Summer Arts Hill near Springfield Avenue in Westfield and sled to your heart's content.
Goffle Brook is a long, narrow 103-acre park with plenty of gentle slopes for sledding.
This sledding hill located in "Mosquito Park" is the stuff of legends, known for its steep hills.
Celebrate the next snow day at Lewis Morris County Park. The long sledding hill at Doe Meadow is sure to get hearts racing as you glide.
On snowy days, grab your saucer and venture out to the detention basin area for some wintery fun.
Check out the hills on this 17-acre lawn. Bonus: Ice skating is permitted on the pond when the weather is cold enough.
Morris County residents have been heading to Tourne County Park for sledding for years. When it snows, the park road is closed to vehicles and open for sledding.
RELATED: NJ Winter Fun List: 30+ Things To Do With Kids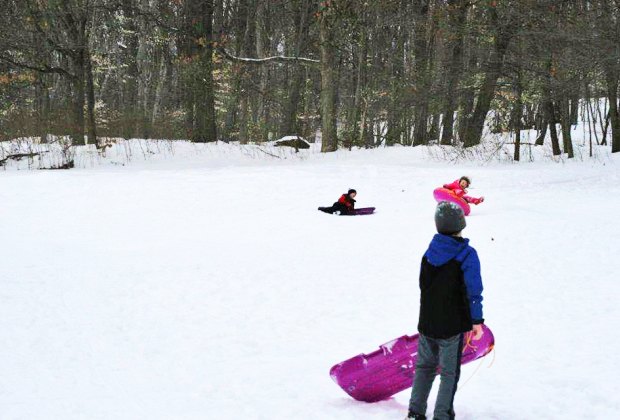 Make a day of the snow at Van Saun County Park. Photo courtesy of the park
With a zoo, carousel, pony rides, and a pond, this park has it all. On snowy days, there are a few hills to try here for sledding, but be sure to steer clear of trails near the trees.
Where To Go Sledding in Central Jersey
Located between the Raritan River and Easton Avenue, Buccleuch Park features 78 acres of rolling terrain. The designated sledding hill is located on the north side of the park, near the high-rise building. The short, moderately steep hill is a popular destination and gets crowded. Weather permitting, the park also allows ice skating.
Sledding is allowed on the hill next to the Hooks Creek Lake parking lot, and cross-country skiing is permitted on the fields. The hill is on the shorter side and has both smooth and bumpy lanes.
Located on the banks of the Raritan River, the 90-acre Donaldson Park has a designated sledding spot at the end of South 2nd Avenue. Head there for some slippery winter fun!
Holmdel Park is a great spot for sledding on the hill near the pond, and you can ice skate on the pond when the ice is more than 5-inches thick. Note that the designated, mid-length sledding hill can get pretty crowded and lines can build leading up to the hill, so plan to arrive early!
Monmouth Battlefield State Park is both beautiful and historically significant. When the snow falls, the park is the perfect place to do some sledding. The sledding hill is long but not steep, making for a fun ride. The park also allows cross-country skiing when the ground is snow-covered.
The long sledding hill is right across from the park, between the library and police department.
This enormous 3,600-acre park has a long, sort of bumpy sledding hill (aka Toboggan Hill). Come back in the summer to swim in the beautiful, clear lake and play on the sandy beach!
Grab your sled and head to the hill near the Grove 4 picnic area, the park's official sledding hill. With long, unobstructed hills, Thompson Park is perfect for sledding and snowboarding. The sledding hills are not too steep, making them perfect for sledders of all ages.
There's a sledding hill near the baseball fields that's perfect for kids. It's not too steep and has a gentle gliding area at the bottom.
RELATED: Top Snow Tubing Spots For New Jersey Families

Head to the hills of Southern New Jersey for a snow day! Photo by Rose Gordon Sala
Where To Go Sledding in Southern New Jersey
Sledding is popular in this sprawling park. Come back for the scenic trails and butterfly garden in the spring.
This old fort housed troops through the 1920s and is now open to visitors. On the nature trail, you'll find Fort Mott State Park's rolling hills, which are perfect for sledding and tubing.
This designated sledding hill is a good one. Located near a parking lot, the gentle, long slope delights younger children.
Around 2011, Cinnaminson built a large sledding/exercise hill from recycled compost and discarded soil, and it's been attracting locals on snowy days ever since. Memorial Hill is great for kids of all ages.
This 14-acre park has two playgrounds and lots of open space. In the winter, it's the place to be for sledding with young kids, thanks to its large, gentle sledding hill.