30 Best Things To Do this Winter on Long Island 2023: Our Winter Fun List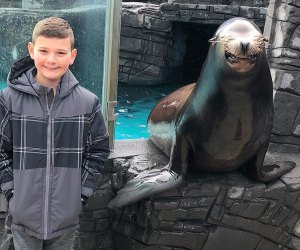 1/13/23
- By
Lisa Fogarty
Looking for the best things to do on Long Island this winter? Read on for dozens of great options.
The holiday bells have jingled, but winter is far from over. As temperatures dip on Long Island, it can be harder to keep the kiddos entertained.
Have no fear–we'll help you get through this winter without too many boredom-induced tantrums. We've found 30 ways to beat the winter blues, from visits to our favorite museums to winter sports, outdoor adventures, and more.
Eager for more seasonal entertainment? Check out our Winter Fun Guide and Event Calendar for more inspiration.
2. Lace Up Your Bowling Shoes
Find the perfect sparkly ball and engage in some good, old-fashioned family competition at one of Nassau or Suffolk County's premier bowling alleys.
RELATED: 14 Family-Friendly Museums on Long Island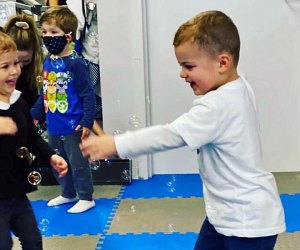 Book a private play experience at A Latte Fun in South Huntington. Photo courtesy of the venue
3. Schedule a VIP Playdate
For $30 per child, you can rent out A Latte Fun in South Huntington for two hours. Playdates require a minimum of eight children and come with pizza and a juice box.
4. Explore Underwater Treasures
Say hello to the penguins and the other "residents" at the Long Island Aquarium.
5. Try For a Hole In One
Believe it or not, some of Long Island's best mini-golf venues are indoors, including Monster Mini Golf in Deer Park and Glowgolf at Roosevelt Field Mall in Garden City.
RELATED: The Best Indoor Play Spaces for Long Island Kids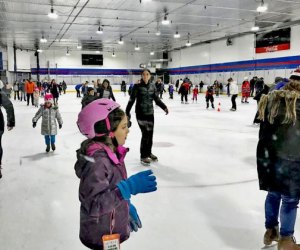 The Port Washington Skating Center is ideal for beginner and novice skaters.
6. Glide Along the Ice
Visit one of Long Island's many indoor skating rinks, where kids can learn the basics or progress toward an Olympic medal.
7. Roll Around The Rink
Done enough ice skating? Try roller skating at United Skates of America in Seaford.
8. Have Some Hands-On Fun
At the Children's Museum of the East End, kids can learn to sail, meet some special hand-puppets, score a hole-in-one on the mini-golf course, or play chef at the CMEE Food Truck.
RELATED: Winter Fun Guide for Long Island Families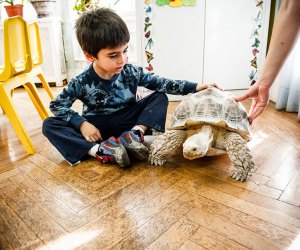 Say hello to the "residents" at the Science Museum of Long Island. Photo courtesy of the museum
9. Take a Science Class
The Science Museum of Long Island in Plandome boasts after-school workshops, STEM-based events, and even nursery science programs.
10. Instill a Love of Reading
Enjoy one of the best storytimes on Long Island for children and toddlers.
11. Delight Your Wannabe Firefighter
Learn about the history of firefighting and take part in hands-on exhibits at the Nassau County Firefighters Museum and Education Center.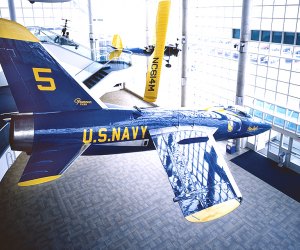 Aspiring aviators love the life-size planes at the Cradle of Aviation Museum. Photo courtesy of the museum
12. Learn About America's Aviation History
With more than 75 examples of aircraft and spacecraft and a planetarium, you'll find plenty to do and lots to learn at the Cradle of Aviation Museum.
13. Indulge Your Sweet Tooth
Visit a local dessert shop or take a special trip to a cereal and ice cream shop in Huntington.
14. See a Show
Check out a production from one of the many children's theater companies or, perhaps Disney on Ice, which is playing at the UBS Arena this winter.
15. Close Your Kitchen
Take the family to dinner at a Long Island restaurant where kids eat for free.
Outdoor Destinations for Winter Fun on Long Island
16. Perfect Your Figure-8s
Enjoy the day at a local outdoor skating rink. Many offer lessons for those just starting out and remain open until March depending on weather conditions.
17. Get Close To Nature
Visit one of these local nature centers that offer plenty of trails to explore, critters to meet, and more all-season fun.
18. Explore Your Favorite Shore
See the environment in a whole new way via one of these local beach walks or the new Coastal Greenway near Jones Beach.
19. Get Inspired
See grand works of art outdoors at the Nassau County Museum of Art or at one of these other outdoor art destinations nearby.
RELATED: Our Guide to Snow Sports for Long Island Families

It's a steep, but worthwhile climb up the sledding hills at Cedar Creek Park. Photo by Dara Addonizio.
20. Grab Your Sled
Hit one of these local kid-friendly hills the next time the flakes fly.
21. Get Up Close and Personal with Animals
Enjoy the adorable farm creatures at these local farms and petting zoos, many of which remain open all year round.
22. Take a Hike
Enjoy nature and stretch your legs on one of these winter walks.
23. Support Local Businesses
Explore one of the many kid-friendly towns on Long Island, like Huntington, Glen Cove, Sayville, and Port Washington.
24. Dust Off Your Running Shoes
Get your heart rate up and participate in the Winter Run Series at Long Island State Parks.
RELATED: Hundreds of At-Home Activities for Families

Enjoy some hot chocolate bombs with our simple recipe. Photo by Ally Noel
At-Home Activities for Winter Fun
25. Get Crafty in the Kitchen
Whip up a batch of homemade hot cocoa bombs to enjoy when the flakes start to fly.
26. Set Up Shop Inside for the Day
Rally the troops to build an epic indoor fort.
27. Make a Lego Masterpiece
Pull out the mismatched bricks and try one of these 100 projects.
28. Give Your Brain a Workout
Try one or more of these 64 science experiments that use common, everyday supplies.
29. Play in the Yard
Build an igloo, paint the snow, or try one of these other outdoor snow day activities.
30. Bust Boredom
Cold have you shut in? Cross off a few of these indoor snow day boredom busters from our list.
This post, originally published in January 2016, was updated in December 2022.