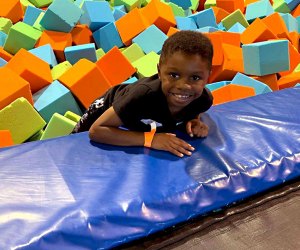 Winter Fun List: 50 Things to Do Indoors With Long Island Kids
The holiday bells have jingled, but winter is still in full frozen swing. It's the time of year when your little angels might start to sing a twinkly tune called "I'm bored."
Luckily, Long Island has plenty of museums, arts and crafts classes, indoor play venues in Nassau and Suffolk, and children's theater. Our list of 50 fun things to do indoors on Long Island, , has all that and plenty more.
Still eager for seasonal entertainment? Check out our Winter Fun Guide and daily events calendar for more inspiration. While you're at it, why not sample a few of our 100 must-do things with kids on Long Island? And for daytime escapes or overnight excursions, visit our list of recommended Winter Day Trips for Long Island Families.
Enjoy!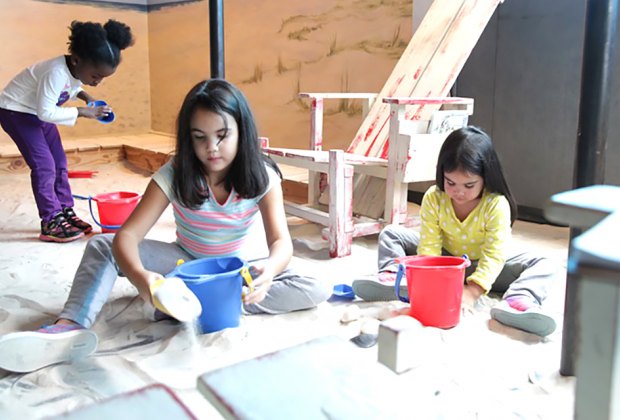 Dream of summer while exploring the indoor beach at the Long Island Children's Museum. Photo courtesy of LICM
1. Visit the Long Island Children's Museum, one of our recommended family membership spots, to engage in hands-on activities such as arts and crafts, bubble making, and block building. Play reporter at the Communication Station, or head to the TotSpot with little ones for everything from a slide and reading nook to a replica of the Long Island Rail Road. Big kids will love the climbing wall. This season, check out events like Polar Bear Pals for all ages and Healthy Tots in the Kitchen for kids ages 3-5.
2. Let off some steam in a huge indoor play space like Flight Fit N Fun or Bouncers and Slydos in Suffolk County. Or get some inspiration from our list of indoor play spaces in Nassau County.
3. Lace your bowling shoes, find the perfect sparkly bowling ball, and engage in some good, old-fashioned family competition at one of Nassau or Suffolk County's premier bowling alleys.
4. Sign your kids up for cooking classes like the Kids Cooking Classes at Sur La Table or Junior Chef classes at The Well-Seasoned Chef. Let them show off their skills in your kitchen as they help you prepare dinner or dessert.
5. Learn about art together at fun family programs hosted by the Nassau County Museum of Art or Heckscher Museum of Art. For impromptu sessions of open painting, check out Creative Corner in West Hempstead or A Gathering of Artists in Williston Park.
6. Take in a musical or play at one of Long Island's children's theaters. You might want to treat the kids to Disney's FrozenJr. through March at the John W. Engeman Theater in Northport. Tickets are $15 (adults and children) and kids can meet the characters after the show. The Engeman Theater is also a great place to host a birthday party. Enjoy free valet parking!
7. If your kids have been bitten by the acting bug, sign them up for one of Long Island's theater and drama classes.
8. Explore these space and astronomy hot spots for kids.
9. Or join the Amateur Observers' Society of New York. Gaze at the stars and learn about constellations. Member meetings are held monthly and stargazing events are held across the Island.
RELATED: Sports centers and fun zones for kids on LI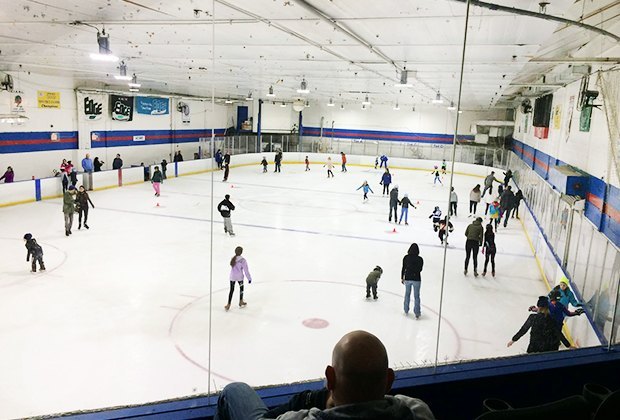 Take a spin on the ice at the family-friendly Port Washington Skating Center. Photo courtesy of the rink
10. Perfect your figure-8s at an ice rink. Long Island has indoor and outdoor skating centers with public sessions, lessons, and hockey clubs.
11. Who says it has to be warm outside to indulge in an ice cream sundae? These old-fashioned ice cream parlors will warm you up as you dig into classic frozen treats. Or satisfy those sugary mid-afternoon munchies by visiting a family-style sweet shop. It's a great way to break up the day.
12. Your little bookworm can check out storytimes at book shops like Barnes and Noble in Carle Place and Book Revue in Huntington. The Book Revue also hosts Toddler Time every Thursday at 11am, with stories, songs, and crafts.
13. Play pinball, laser tag, or old-fashioned video games at an indoor arcade.
14. If your children are into go-karts and are lamenting the long wait until spring, take them for a spin at one of these area indoor tracks. It's a super way to burn energy without getting nippy fingers.
15. For a simple change of venue, spend an afternoon reading and playing games at your local library. Many offer storytimes and other children's events. Check their websites before you head out.
16. Indulge your train-obsessed child's fascination with steam and diesel engines at one of several train exploration venues.
RELATED: The best science museums for kids on LI
17. If you have a wannabe firefighter on your hands, learn about the history of firefighting and take part in hands-on exhibitions at the Nassau County Firefighters Museum and Education Center. Make a day of it by visiting one of these great places to eat near Roosevelt Field Mall.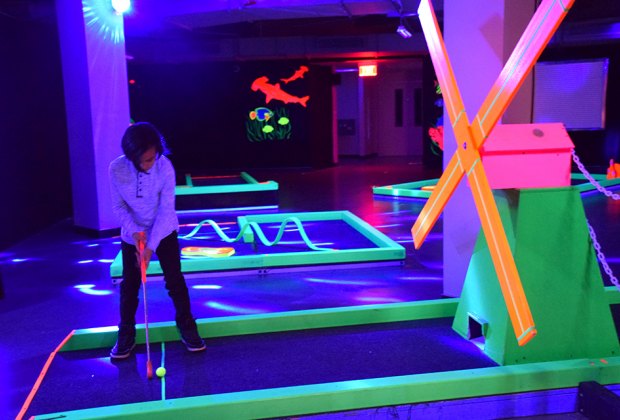 Putt away under the lights at Glow Golf. Photo by Jaime Sumersille
18. Believe it or not, some of Long Island's best mini-golf venues are indoors, including Monster Mini Golf in Deer Park and Glowgolf at Roosevelt Field mall in Garden City. Older kids will get a kick out of the extra entertainment at these venues, including laser mazes and video games.
19. Done enough ice skating? Try roller skating at United Skates of America in Seaford or the American Legion Hall in Greenport. United Skates hosts Public Skates from 4-6pm and Late Night Skates from 9pm until 12am. The American Legion Hall holds Tuesday and Friday Night Skates, School Holiday Skates, and birthday parties.
RELATED: Planetariums and stargazing facilities on Long Island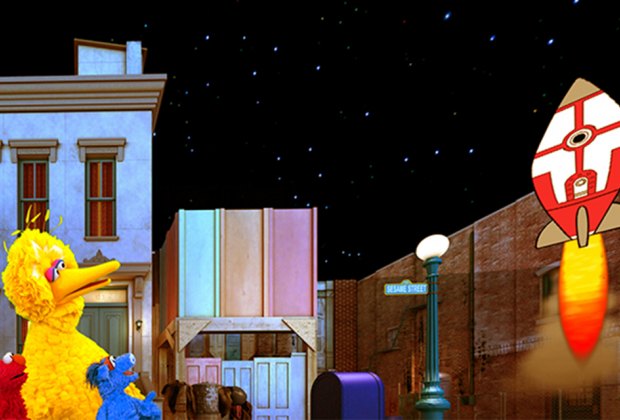 It's a planetarium show for little ones: One World, One Sky: Big Bird's Adventure headlines at the Vanderbilt Museum planetarium. Photo courtesy of the museum
20. The Vanderbilt Museum's planetarium hosts stargazing events. and January 2020 is no exception. Check out "The Little Star That Could"especially for astronomers ages 4-8. There is even has a show starring Sesame Street Characters!
21. Let the talented crew at the Long Island Puppet Theater entertain you with their hand-crafted puppets. It is also a great place for a Super Hero party or Princess Tea Party.
22. Need a break? Grab a bite and catch up on email while your kids have a blast at a play café such as Sippy Cups Cafe in Seaford or Lolli Bop Cafe & Play in Lawrence.
23. The Children's Museum of the East End hosts a Lego Club for kids of all ages on Saturday mornings for $12 per person. There is also a TotSpot every Wednesday morning, where little ones can work on fine motor and social-emotional skills with their moms or dads. Also on Wednesday, enjoy 2-for-1 Museum Mini-Golf. Hand puppets, a seafaring ship, and a drop-in art studio are always part of the fun.
24. Keep your kids' creative juices flowing by registering them for an art class.
RELATED: Museum perks and more with your LI library card
25. Explore underwater treasures, say hello to the penguins, and feed the stingrays at the Long Island Aquarium. This year, enjoy a Princess Tea Party or indoor exhibit like the Amazon Rain Forest or American Alligators. Turn it into an overnight adventure by also visiting Tanger Outlets in Riverhead and staying at a nearby family-friendly Long Island hotel.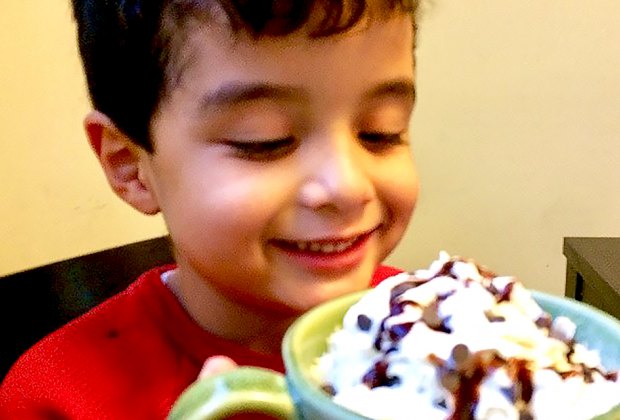 Warm up with a tasty cup of hot chocolate. Photo by Thien Nguyen August
26. Set up an ideal winter date with your little ones at one of these Long Island spots that make the richest, yummiest hot cocoa around.
27. Want to go cheap, easy and fun without reservations? Malls such as Roosevelt Field, Westfield Sunrise, Smith Haven and Westfield South Shore have play areas geared toward children younger than 5. You can grab a snack or beverage and let them run around until they exhaust themselves, which can take a while.
28. Your kids can get their groove on in high-energy hip hop classes, offered in both Nassau and Suffolk counties.
29. Introduce your children to the beauty of dance (and instill grace and etiquette) with ballroom dance lessons.
30. Relax and stretch at a kids' yoga class. They help kids build confidence and improve concentration.
31. Are you a busy mom with a tiny tot in tow? Check out the Stroller Strides at the Smith Haven Mall. Enjoy 60-minute total-body conditioning while your little ones get entertained with songs and activities.
32. Give your toddler a chance to explore while you both make new friends at a mommy-and-me class.
RELATED: The Best New Kids Destinations that Opened on Long Island in 2019
33. Create a snuggle bear with your own snuggle bear at Build-A-Bear, which has locations at Walt Whitman Shops, Roosevelt Field, and the Smith Haven Mall.
34. Treat your little prince or princess to a spa day they won't forget, complete with sparkly manicures, pedicures, and a brand-new hairstyle (tiara optional). For more beauty parties, check out the Ritzy Glitzy Girls Club in New Hyde Park or Lil' Divas Spa on the Go in St. James.
35. Crafty kids love inventing their own plaster craft pottery creations.
36. Gingerbread University in Riverhead offers kids and parents a chance to decorate cookies and houses, even after the holiday season has wrapped up. It is a great place to visit after the aquarium.
37. Pretend you're tourists and pay a visit to the iconic Big Duck in Riverhead. Or visit Sagamore Hill, where President Theodore Roosevelt lived.
38. There's no better time than winter to perfect your swim strokes. These indoor swimming classes give kids the skills they need to have lots of watery fun this summer.
39. If you've got baseball fanatics at home, try these indoor batting cages. Some even offer clinics for players ages 5 to 12.
RELATED: Long Island destinations for afternoon tea with kids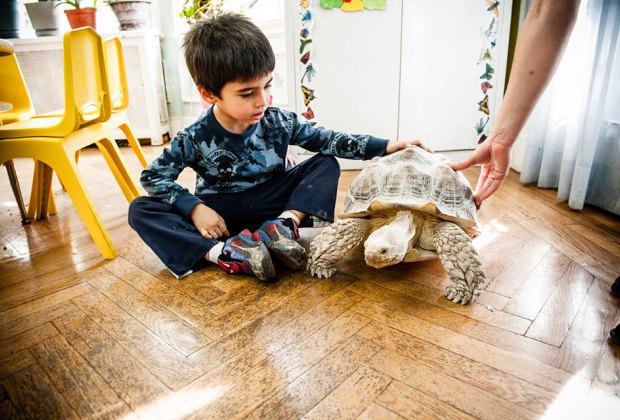 Say hello to the "residents" at the Science Museum of Long Island. Photo courtesy of the museum
40. The Science Museum of Long Island boasts after-school workshops, STEM-based events, and even nursery science programs.
41. Reminisce about the simple pleasures of autumn as you warm up with hot apple cider and a piece of pie at Jericho Cider Mill. Then stop by for lunch and shopping at the nearby Milleridge Inn.
42. Register for a themed tour and explore the exhibits at the African American Museum of Nassau County.
RELATED: Great STEM classes for LI kids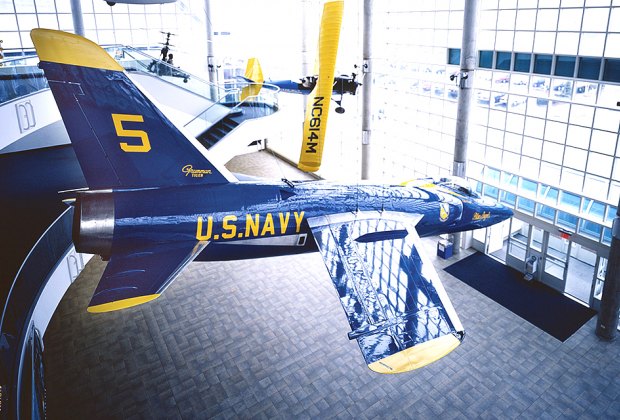 Aspiring aviators will thrill to the life-size planes at the Cradle of Aviation Museum. Photo courtesy of the museum
43. With more than 75 examples of aircraft and spacecraft, a video game exhibit, and a planetarium, you'll find plenty to do and lots to learn at the Cradle of Aviation Museum.
44. Give your children an important lesson about history and compassion at the Holocaust Memorial and Tolerance Center of Nassau County.
45. Your kids can learn even more ways to say "frozen" when they take foreign-language classes in Spanish, Italian, French, or German.
46. Load up on popcorn, sit back, and relax at an IMAX theater, where kids will ooh and ahh all the way through a 3-D movie.
47. Take a spin on the gorgeous 100-year-old Nunley's Carousel, which is sandwiched between the Long Island Children's Museum and the Cradle of Aviation Museum, and right next door to the Firefighter's Museum.
48. Step back in time to explore dinosaur eggs, fish fossils, and more at the Hicksville Gregory Museum.
49. Laugh out loud at Knock 'Em Dead Comedy, which hosts family-friendly, interactive murder mysteries, game shows, and comedy shows. Also offered are scavenger hunts, face-painting, and juggling. Or you can"escape" to a kid-friendly LI escape room.
50. Get wet-n' wild: Check out our these great indoor water parks near LI for a winter getaway, a day out, or overnight adventure.
A version of this article was first published in 2017. Writer Rebekah Yahoves updated this post in January 2020.