Long Island Children's Museum Reopens Seasonal Sensory Garden and Popular Permanent Exhibits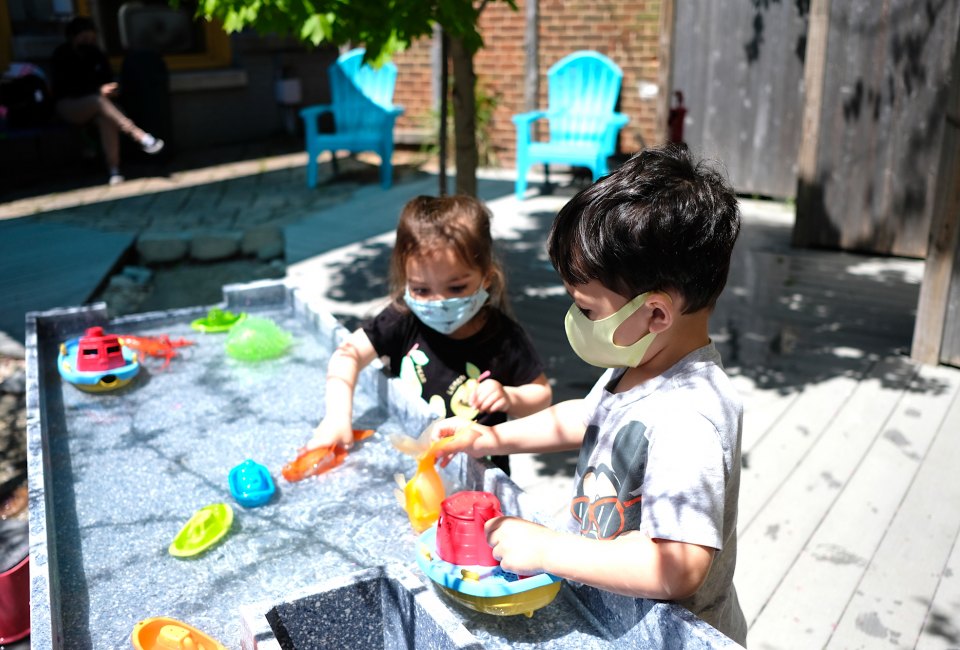 6/22/21
- By
Jessica Laird
Yes, Long Island Children's Museum is open—inviting families to explore 13 interactive exhibits, weekly early childhood classes, and even a newly reopened seasonal garden!
Located on Nassau County's well-loved Museum Row, this popular destination makes the perfect day trip for families across Long Island and New York City. Enhanced safety measures—like timed entry and continued mask wearing—make the Museum a safe option where kids of all ages can explore, play, and learn. Plus, a thoughtfully designed sensory room, monthly "Friendly Hours" with altered lighting and sound, and extensive resources for visitors with disabilities mean everyone is able to enjoy the Museum.
Seasonal Outdoor Exhibits at LICM
Seasonal favorite, Our Backyard, has returned for the summer! This outdoor sensory garden invites kids and grownups to explore the messy wondrous world of nature, from plants and animals to weather and the water cycle. The space features a gravel pit, sand pit, picnic table, weather boat, herb garden, flower 'bed', strawberry maze, sunflower house, evaporating art easels, vegetable garden, and the oh-so-fun H2Oh! water play area. Experienced museum goers will likely tell you to save this wet exhibit for last, and to make sure to pack towels and bathing suits, or a change or clothes.
Our Backyard is open during regular museum hours and entry is included with general admission. Make sure to enter through the West Door where your tickets will be scanned, and keep masks on anyone over the age of 2. As you explore the space, also keep in mind that it's available as a private rental!
Favorite Ongoing Exhibits and Programs
LICM is home to a number of year-round hands-on exhibits that bring visitors back to the Museum again and again. One can't-miss family favorite is Bubbles, where kids have a chance to learn about the interaction of light and molecular structures by using giant wands to fill the room with enormous enchanting bubbles. Award-winning exhibit Broken? Fix It! is another must-see stop, welcoming children and adults to diagnose problems—from thumping cars to broken bicycles—then learn all about the repair process. For crawling and cruising toddlers, TotSpot is the place to be. Imaginative kiddos can explore a sweet little town, featuring a lighthouse, farmer's market, post office, train station, and more. You can see the complete list of exhibits here. And do note that long-time faves, Sandy Island and Climb-It@LICM, will reopen on June 29!
While some early childhood programming is still on hold, "stART" is back. The half-hour program, which combines storytime and art, begins with circle time-style stories and ends with a take-home project related to the book of the day. The program prepares little ones for school settings, including the ability to sit and listen to a story, follow three step directions, and take turns. To see which books and themes will be featured in upcoming sessions, take a look at the LICM calendar.
Accessibility and "Friendly Hours"
Putting accessibility front and center, LICM4all is the Museum's expansive initiative to reach, engage, and better serve visitors with disabilities. As part of the initiative, LICM hosts exclusive monthly "Friendly Hours," with alterations to lighting and sound designed specifically for those with disabilities. There's also an inclusive on-site Sensory Room, where children with sensory sensitivities who are feeling anxious or overwhelmed during their visit can take a break in a quiet and calming environment. Assistive devices, including sensory backpacks, noise reducing headphones, weighted lap-pads, fidget items, PCS cards, and wheelchairs are also available.
Long Island Children's Museum COVID-19 Safety Protocols
LICM is maintaining a number of health and safety protocols to enable visitors to continue safely exploring the Museum. Timed tickets remain in effect, so make sure to purchase or reserve your tickets in advance to avoid disappointment at the door. Regardless of vaccination status, all guests over the age of 2 years are required to wear face masks that cover the nose and mouth. Because children are ineligible for vaccines at this time, the Museum asks adults to model the behavior that's expected of kids.
LICM is continually monitoring CDC guidelines for the Long Island area. For all of the latest safety measures, you can read LICM's most recent COVID-19 update.
LICM Membership, Admissions, and Hours
LICM's summer hours go into effect on June 29, when the Museum will be open Tuesday through Sunday from 10:00 AM to 3:00 PM.
General admission is $14, with those 65+ paying $13 and those under one entering for free. Purchase tickets and see museum hours here. Meanwhile, an LICM membership pays for itself in just 3 visits, and includes unlimited admission, an exclusive discount on parties and gift shop purchase, and reduced admission at more than 500 children's and science museums worldwide!
Photos courtesy of Long Island Children's Museum
Places featured in this article:
---
Long Island Children's Museum (LICM)
Sign up for the Mommy Poppins Newsletter today!
i