Visiting American Dream Mall in New Jersey: 16 Fun Things To Do and Tips For Your Visit
4/5/22
- By
Gina Massaro
American Dream Mall in East Rutherford, New Jersey, is not just the tri-state area's largest mall, but it's the second-largest mall in the United States. It has top-notch attractions, including a theme park, an indoor water park, and even an indoor ski resort at Big Snow, as well as plenty of options for shopping, dining, and enough attractions to entertain you for days. Here is our list of the top 16 things to do at the American Dream Mall.
For more fun local escapes, check out our Guide to Day Trips and Weekend Getaways.
Subscribe to our newsletters to get stories like this delivered directly to your inbox.
Best Things To Do at American Dream Mall
1. The Rink at American Dream Mall
Grab your skates or rent a pair and hit the ice at The Rink, an NHL-sized ice skating paradise. Little ones can cruise the ice with seal-shaped balance buddies. Special events like the upcoming Easter Bunny skate happen frequently, and the rink is home to a New Jersey Devil's Learn to Play hockey program, too.
2. Angry Birds Mini Golf
More than just your regular mini-golf course, Angry Birds Mini Golf brings the popular video game and movie characters onto the links with you. If your kids are totally crazy for the crew, there is a store outside the course selling plenty of authentic merchandise. Stop and take your photo with Red even if you're not hitting the course.
RELATED: Legoland New York Brings Mega Theme Park Fun to the Hudson Valley

Spend the day making a splash at DreamWorks Water Park.
4. DreamWorks Water Park
DreamWorks Water Park is the largest indoor water park in North America. It features the world's largest indoor wave pool, as well as 15 water slides, a multi-level play structure, and a surf simulator. Families with kids of all ages can get in on the splashy fun. To top it off, the park theme revolves around favorite kid characters from movies like Shrek, Madagascar, and How to Train Your Dragon. Water park fans will not want to miss this, and the fun here runs year-round.
4. Nickelodeon Universe Amusement Park
Nickelodeon Universe is home to 35 indoor rides, including thrilling coasters, kiddie rides, and multiple playgrounds. Little ones love seeing their favorite characters in person, like those from Teenage Mutant Ninja Turtles and Paw Patrol. Rides pay homage to popular Nickelodeon TV shows, adding extra fun. it also offers birthday party packages.
RELATED: The Best NJ Zoos and Aquariums for Animal Encounters With Kids

Check out the underwater city and its residents at Sea Life Aquarium. Photo by Jody Mercier
5. Sea Life Aquarium
The Sea Life Aquarium pays homage to NYC, bringing the city's bright lights and trademark architecture into its exhibits. A 186,000-gallon tank houses sharks, fish, and an octopus. There is also a touch tank to get up close to some small sea creatures.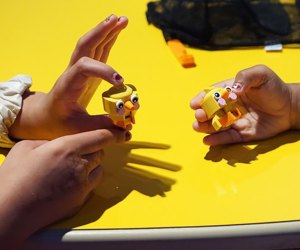 Build and play your way through the Legoland Discovery Center. Photo by Jody Mercier
6. Legoland Discovery Center
The Legoland Discovery Center is a perfect indoor play space for future Lego masters. Geared toward ages 2-10, its interactive stations include a test track for building speedy racers and a shaking table to test the strength of your building. Kids can even take a class from a certified Master Builder.
RELATED: Guide to Kid-Friendly Museums

Get silly with the illusions at TiLT Museum. Photo by Ally Noel
7. TiLT Museum
Urban artist Tracy Lee Stum's TiLT Museum features epic optical illusions made for you to get in on the fun. Take photos amongst the illusions to play visual tricks on viewers.
8. Dream Riders
Dream Riders are motorized animals you can ride around part of the mall in. This is a must-do during your visit and a real hidden gem. These furry friends go surprisingly fast and are reasonably priced. There is a height and weight limit, so little ones must ride with an adult.

IT'SUGAR is an eye-popping, multi-level candy land within American Dream Mall. Photo by Jody Mercier
9. IT'SUGAR
IT'SUGAR is a multi-floor candy store—conveniently located right outside the Nickelodeon theme park. There are so many sweets to choose from, including rock candy, sour gummies, gum, and chocolate. Even grown-ups will find nostalgic sweets to tickle their sweet tooth.
RELATED: The 18 Most Insane, Must-Try NYC Desserts

Treat the family to one of the many desserts at The Oreo Cafe.
10. The Oreo Cafe
Located on the third floor of IT'SUGAR, you'll find The Oreo Cafe, which serves the iconic sandwich cookie in a variety of ways. From milkshakes to sundaes and ice-cream sandwiches, have your Oreo anyway you like it. This spot is a cookies and cream dream come true.
11. Mirror Maze
Remember those mirror mazes at the local carnival? American Dream Mall's Mirror Maze is a super-sized version. Feel and sneak your way through the trick mirrors to escape.
RELATED: Step Inside FAO Schwarz for Wonder, Magic, Tons of Toys

Toys 'R' Us made a splash last holiday season with its retail comeback by opening a flagship shop at American Dream Mall.
12. Toys 'R' Us Store
Relive your childhood and visit Toys 'R' Us. The well-known toy retailer returned to its brick-and-mortar roots by opening this multi-level store at American Dream just in time for the holiday season. Here, you'll find toys are neatly organized and labeled in sections, with popular brands like Playmobil, Lego, Barbie, Schleich, Squishimallows, and more all represented. There is often a vendor doing a cool toy demo, as well as plenty of interactive features where kids can play for FREE—though good luck convincing them to leave empty-handed.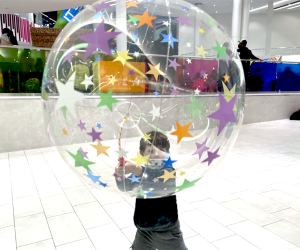 Kids go crazy for these light-up balloons.
13. Light-Up Balloons
Similar to Disney World and other theme parks, American Dream has kiosks selling cool light-up balloons children go crazy for. Across from the ice rink, there is also a helium balloon-animal shop where you can purchase a balloon that walks alongside you on a leash.
14. Big SNOW
You don't have to watch the thermometer to get your chance to do some skiing thanks to this all-season indoor ski and snowboard park. The first resort of its kind in North America, visitors can ski, sled, board, or just sling snowballs in this winter wonderland. Lessons and camps are offered.
RELATED: Family-Friendly Hotels in New York City with Perks for Kids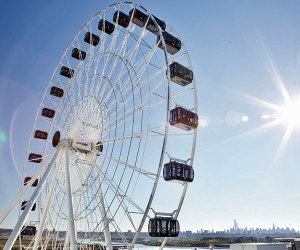 15. Dream Wheel by Skyviews
The newest attraction at American Dream Mall is set to open Wednesday, April 13. The Dream Wheel takes visitors in a gondola-style pod for a 30-minute observation wheel experience, whisking them up 300 feet into the sky for sweeping 360-degree views, including a stunning new vantage point for gazing at the New York City skyline. Lending a carnival-style feel to the new attraction, guests can nab eats like deep-fried Oreos, Nutella funnel cakes, and fried Twinkies from the concession stand before boarding.
16. Shop 'Til You Drop
After all the excitement, save some time (and money) to do some shopping. At 3 million square feet, there are plenty of stores to peruse, from well-known brand names to unique shops and luxury destinations.
Where to Eat at American Dream Mall
There are plenty of excellent dining options at American Dream Mall. For quick service, try Wetzel's Pretzels, Best Pizza, Five Guys, and more fast-casual spots. Sit-down restaurants abound, too, and include House of 'Cue, Yard House, and Carpaccio.
Parking at American Dream Mall
There are four parking decks at American Dream Mall, and visitors should consult the parking map before visiting to ensure you're parking closest to the attraction you want to visit. Most of the family-friendly attractions are near Parking Decks A, B, and C. Parking is FREE for the first hour, and thereafter costs $4 for the duration of your visit.
If you're traveling from New York City, American Dream Mall offers several public transportation options. We've also taken the train to Secaucus Junction and enjoyed an easy 10-minute cab ride to American Dream Mall from there.
Unless noted, photos by the author
Places featured in this article:
Click Here to Sign Up!