The 20 Most Insane, Must-Try Desserts in NYC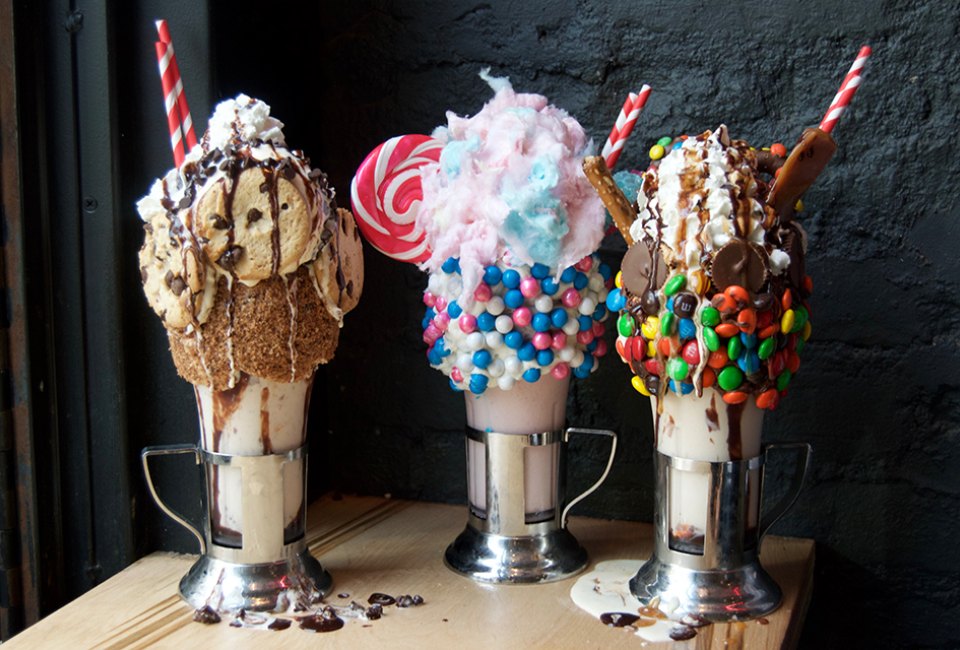 8/25/23
- By
Anna Fader
When it comes to the best desserts in NYC, we couldn't help but wonder: Are they just eye candy? We headed out with a gaggle of kids to test the best, most amazingly outrageous desserts in New York City to discover which lived up to the hype. Below is the crème de la crème of over-the-top treats and desserts in NYC.
These delicious NYC desserts are all perfect for a special outing with kids or some bonding time. So get ready to wow your kids with the most awesome sweets in NYC.
Find more of our top NYC eats in our Kid-Friendly Restaurant Guide, which includes everything from our picks for the best pizza in NYC to the most iconic, must-visit NYC restaurants, and more.
Subscribe to our newsletters to get stories like this delivered directly to your inbox.
This dessert parlor is dedicated to all things chocolate—cookies, cakes, breads, candies, and drinks. Its most popular menu items include sundaes drenched in the Chocolate Room's special hot fudge sauce and its trio of hot cocoa varieties. You can also customize a party platter with an assortment of baked goods to-go.
2. Black Tap – Midtown and Soho
This burger and beer eatery serves classic milkshakes, like its Nutella shake. But why get a classic milkshake when you can order one of its CrazyShakes? The Brooklyn Blackout Chocolate Shake is served with a frosted chocolate rim, and mini-chocolate chips, then topped with two chocolate brownies, whipped cream, and a chocolate drizzle. Kids go crazy for The Cakeshake, with its cake-batter base topped with a slice of funfetti cake, plenty of sprinkles, and—of course—a cherry.
RELATED: Birthday Freebies for NYC Kids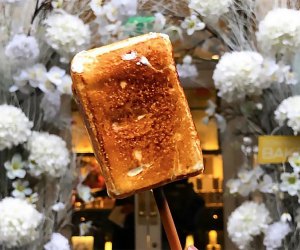 Frozen s'more at Dominique Ansel Bakery? We'll take two! Photo courtesy of the shop
I've never gotten up at dawn to wait in line for a cronut. Instead, I prefer to stroll over to the now-famous bakery in the afternoon for a frozen s'more, which is a nugget of frozen custard encased in a marshmallow cream that's torched to gooey, toasty perfection and served on a stick. It's the closest you'll get to a summer campfire in Manhattan.
4. Eddie's Sweet Shop – Forest Hills, Queens
All the ingredients are made on location at this old-fashioned soda fountain, just as they were when it opened in 1909. Order a sundae, and it comes on a silver dish overflowing with ice cream, homemade whipped cream, toppings, and a side of nostalgia. The place is so old-fashioned it doesn't even have a website. Call 718-520-8514 or check Yelp for hours and more information. We've rounded up all of NYC's old-fashioned soda shops here for a scoop of ice cream or a classic egg cream.
RELATED: Best Breakfast in NYC: Top Family-Friendly Restaurants

The variety of fillings available at Eight Turn Crepe is nearly unimaginable!
Yummy crepes rolled into a cone and stuffed with sweet or savory fillings are the only things served at this food stand in the DeKalb Market Hall. Try the Harajuku Fruit Cocktail, which includes frozen custard and five kinds of fruit.
If plain Jane doughnuts aren't enough to move you, how about a doughnut ice cream sandwich? Start with an over-the-top, topping-laden doughnut sliced open and filled with not one but three scoops of ice cream. It's an ice cream sandwich you actually might want to share. Holey Cream also delivers, if you can believe that!
RELATED: NYC Restaurants Where Kids Eat Free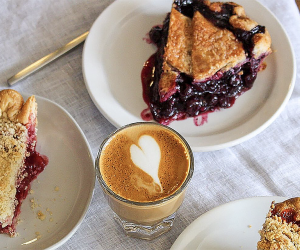 Dig into a slice of mouthwatering pie at Four & Twenty Blackbirds. Photo courtesy of the shop
Hands down, this pie shop sells the most decadent, fresh, and delicious pies my family has ever tasted. All the pies are handmade with fresh and local ingredients. Some of the standouts include Salted Honey, Bittersweet Chocolate Pecan, Lemon Cheese, and my kids' favorite, Salted Caramel Apple. If you can't make it into the store, order next-day delivery.
8. Max Brenner – Union Square and Times Square
Want to make a kid over the moon happy? Just walking into Max Brenner's downtown restaurant is a treat, while the Times Square location offers a takeout menu and gift items. The chocolate tubes that run throughout the old-fashioned, soda-fountain-style restaurant and the smell signal its awesomeness. Of course, it's the desserts that take it over the top. There's a whole menu of chocolate-centric meals, including a chocolate pizza and, my kids' fave, the chocolate shot—a large squirter that injects chocolate right into your mouth. Happy kid achievement unlocked.
RELATED: 10 Top Spots for Outrageous Ice Cream Sundae Treats

Get a decadent Thai rolled ice cream extravaganza at Minus Celsius.
This rolled ice cream joint is all about creating your dream dessert. Customize your dessert by choosing the flavor, sauce, and then toppings. Or select from the menu, which has offerings like Strawberry Fields, Summer Lovin', or Matcha Madness.
This local joint has a cult favoring for its fried chicken, but there are plenty of sweets on the menu, too. While you can't go wrong with the Banana Cream or classic Apple Pie, it's the Bourbon Pecan and Sour Cherry Pear pies we recommend as they're the most creative and flavorful.
RELATED: 12 NYC Bakeries Serving Stunning Birthday Cakes for Kids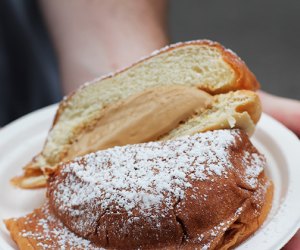 It turns out that a warm brioche bun is the perfect vessel for gelato. Photo by the author
This Little Italy shop offers many flavors of delicious gelato. But order the Panino Gelato, and you get to pick any one of those flavors and have it stuffed into a warm brioche roll. It's an unlikely but awesome combo.
Sprinkles takes cupcakes to the next level with multilayered desserts. Flavors rotate, but expect inventions like the Lemon Meringue, which starts with a graham cracker crust, then lemon cake, filled with gooey lemon curd, and topped with torch-toasted marshmallow cream. It's a party in your mouth. Another fave: The Cookie Cupcake, which starts with a cookie crust and is topped with a brown sugar frosting. Layered between, find a cookie-laced yellow cake. It's the best of both worlds.
RELATED: Kid-Friendly Night Markets to Visit in NYC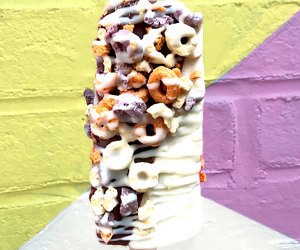 The dip and topping combinations at Popbar are seemingly endless.
13. Popbar – Midtown East and Tribeca
Bigger isn't always better when it comes to desserts—especially with small children in tow. Pop Bar offers gelato, sorbet, or yogurt on a stick, in a Popwich, iin n Mini Pops, or Pop Bites. You can choose from 15 dippings and toppings and more than 40 delicious flavors.
14. Lady M – Multiple Locations
See the website for locations and hours.
These multi-layered crepe cakes are not only delectable but also pretty trendy. Be prepared to wait in line at one of NYC's Lady M locations. While a full-sized Lady M cake costs upwards of $100, you can purchase a slice for around $10 at one of the boutiques.
RELATED: 11 Kid-Friendly Coffee Shops in NYC

The $1,000 Golden Opulence Sundae is sinfully delicious.
We can't talk about over-the-top desserts without mentioning Serendity3. This New York fixture is famous for its Frrrrozen drinks and also its $1,000 Golden Opulence Sundae. That's right—$1,000. It's made with three scoops of rich Tahitian vanilla bean ice cream infused with Madagascar vanilla and covered in 23k edible gold leaf. It's been listed in the Guinness World Records as the most expensive sundae. It also needs to be ordered in advance.
The Swingle is an entire mini key lime pie, crust and all, coated in a thick layer of dark chocolate and frozen on a stick. It's a unique dessert you'll only find at this off-the-beaten-track spot.
RELATED: Best Fun Restaurants for Kids' Birthdays in NYC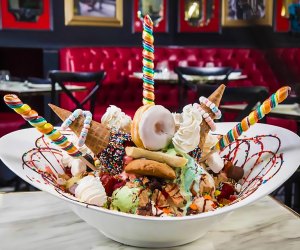 Sugar Factory's massive treat, the King Kong Sundae, will surely get awes from the kids! Photo by Matt Harbicht for The Food Network
See the website for locations and hours.
If you have been awed by the epic Black Tap milkshakes, let me direct you to Sugar Factory, where the "Insane Milkshakes" are just as outrageous and insta-worthy. If that's not over-the-top enough for you, bring the family—grandparents and all—to order the King Kong Sundae, which includes an eye-popping 20 scoops of ice cream, tons of toppings, lollipops, an entire doughnut, and a swirl of whipped cream. Take note: It'll cost you a Benjamin but serves 12.
Who hasn't eaten cookie dough right out of the mixing bowl? Normally, you have to worry about raw eggs, but DŌ's safe-to-eat cookie dough takes the worry away. The world's first edible cookie dough company, DŌ's creations can be found at 16 Handles shops or ordered online for home delivery. Get your DŌ served in a cup (like a scoop of ice cream), enjoy a cookie cake, or bake it into cookies.
RELATED: NYC's Best Gluten-Free Bakeries for Kids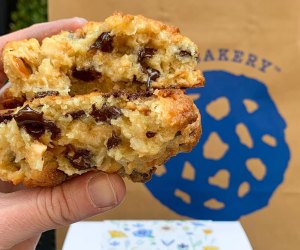 Levain Bakery's supersized cookies are a perfect combination of crispy edges and cakey, soft centers.
See the website for locations and hours.
Levain Bakery has expanded from its original UWS location to locations in multiple NYC boroughs and beyond...lucky us! Of course, you can get your favorite flavor of Levain's signature cookies, plus a cup of milk to go along with it. If you're looking for something new, the chocolate brioche is mouthwatering and delicious. Feeling more savory than sweet? You've got to try the baguette with butter and jam.
20. Dough – Multiple Locations
See the website for locations and hours.
There are many great doughnut places in NYC, but Dough may take the, er, cake. How can you pick between chocolate glazed, dulce de leche, Nutella-filled, or mocha almond crunch? Don't forget about the insane double-chocolate brownie doughnut.
Unless notes, photos courtesy of the restaurants/shops
Originally published in 2016.
Click Here to Sign Up!
i