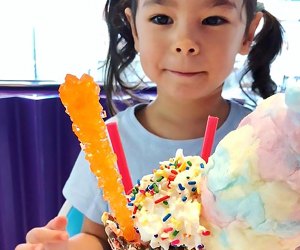 The 18 Most Insane, Must-Try NYC Desserts
It's no secret that NYC is loaded with great food. Instagram, Pinterest, and Facebook seem to be overflowing with incredible-looking eats, but are they just eye candy?
We headed out with a gaggle of kids to test the best, most amazingly outrageous, over-the-top desserts around New York City, and to discover which were as good as they looked and sounded. We picked the most insanely awesome treats in NYC. These delicious desserts are all perfect for a special outing with kids, or just some bonding time. So get ready to wow your kids with the most awesome sweets in NYC.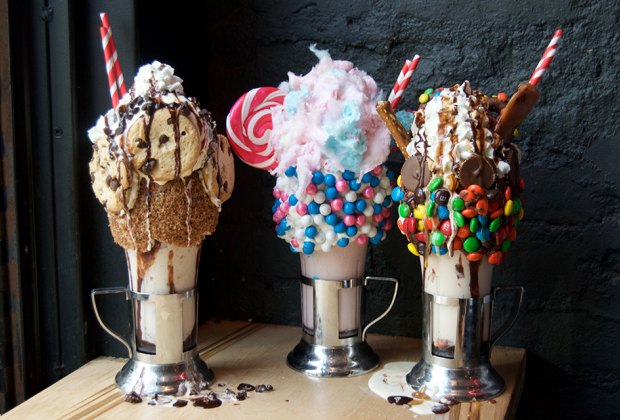 Indulge in the over-the-top milkshakes at Black Tap. Photo courtesy of the shop
Black Tap — Midtown, Soho
This burger and beer eatery serves classic milkshakes, like their Nutella shake. But why get a classic milkshake when you can order one of their CrazyShakes? The Brooklyn Blackout Chocolate Shake is served with a frosted chocolate rim and mini chocolate chips and topped with two chocolate brownies, whipped cream, and a chocolate drizzle. And that's just one of their 8 expertly crafted milkshake masterpieces. New to the menu is the Vegan Black 'N White CakeShake -- a plant-based nod to the city's famed black and white cookie. Black Tap's culinary team crafted the shake using vegan alternatives like applesauce for a moist cake foundation, and a non-dairy whipped cream. The chocolate shake features housemade vanilla frosting and chocolate chips on the rim, and is topped with a slice of black and white cake, whipped cream and chocolate drizzle. It is priced at $18.
Dylan's Candy Bar — Midtown East, Union Square
Of course, this palace of sweets serves epic desserts, but nothing beats the "I Bet You Can't" sundae, which includes 10 scoops of ice cream and 10 not-your-ordinary-toppings.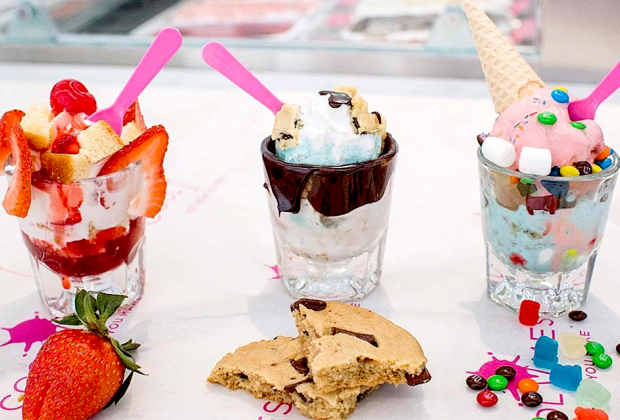 Mix up your own ice cream bonanza at CoolMess.
CoolMess — Midtown East
Yes, you start with delicious, organic Ample Hills ice cream here, but getting to pick and pour your own mix-ins, then watch your dessert spin until it freezes, is what turns awesomely delicious ice cream into an over-the-top experience kids love. We visited when this sweet spot first opened and are eager to return.
RELATED: Birthday Freebies for NYC Kids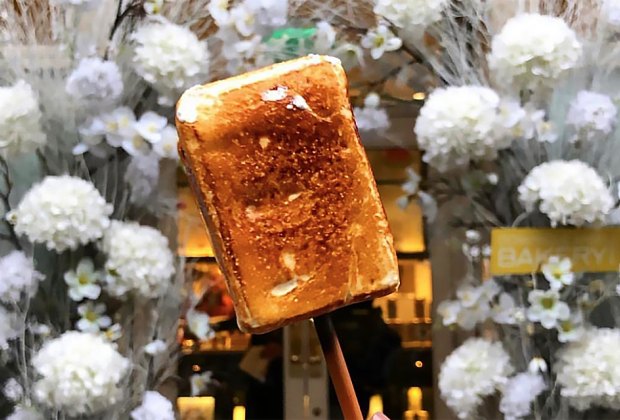 Frozen s'more at Dominique Ansel Bakery? We'll take two! Photo courtesy of the shop
Dominique Ansel Bakery — Soho
I've never gotten up at dawn to wait on line for a cronut. I prefer to stroll over to the now famous bakery in the afternoon for a frozen s'more, which is a nugget of frozen custard encased in a marshmallow cream that's torched to gooey, toasty perfection and served on a stick. It's the closest you'll get to a summer campfire in Manhattan.
Dough — Flatiron and Bedford-Stuyvesant, Brooklyn
There are a lot of great donut places in NYC, but Dough may take the, er, cake. How can you pick between chocolate glazed dulce de leche, Nutella-filled, or mocha almond crunch? Or how about the insane double chocolate brownie doughnut?
Eddie's Sweet Shop — Forest Hills, Queens
At this old-fashioned soda fountain, all the ingredients are made on location, just as they were when it opened in 1909. Order a sundae, and it will come on a silver dish overflowing with ice cream, homemade whipped cream and toppings, and a side of nostalgia. The place is so old-fashioned it doesn't even have a website. Call 718-520-8514 or check Yelp for hours and more information.
RELATED: Ice Cream Shops Near Great Playgrounds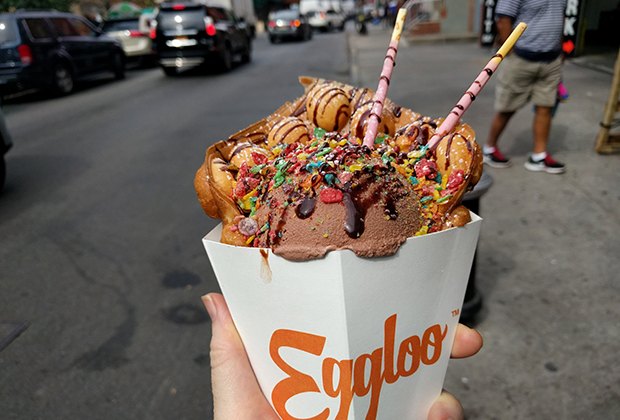 Load your waffle cone up with decadent toppings at EggLoo. Photo by the author
EggLoo — Chinatown
People are going crazy for waffle cones filled with ice cream and loaded with toppings. Nobody is doing it better than EggLoo. The waffles are vanilla-y and sweet and you can add unlimited toppings to turn this dessert into an over-the-top extravaganza.
Eight Turn Crepe — Downtown Brooklyn
Yummy crepes rolled into a cone and stuffed with sweet or savory fillings are the only thing served at this food stand in the DeKalb Market Hall. Try the Harajuku fruit cocktail crepe, which is frozen custard and five kinds of fruit.
Holey Cream — Midtown West
If plain-Jane doughnuts aren't enough to move you, how about a doughnut ice cream sandwich? Start with an over-the-top, topping-laden donut sliced open and filled with not one, but three scoops of ice cream. It's an ice cream sandwich you actually might want to share.
Max Brenner — Union Square
Want to make a kid over-the-moon happy? Just walking into Max Brenner's downtown restaurant is a treat. The chocolate tubes that run throughout the old-fashioned, soda-fountain-style restaurant and the smell signal its awesomeness. Of course, it's the desserts that take it over the top. There's a whole menu of chocolate-centric meals, including a chocolate pizza and, my kids' fave, the chocolate shot—a large squirter that injects chocolate right into your mouth. Happy kid achievement unlocked.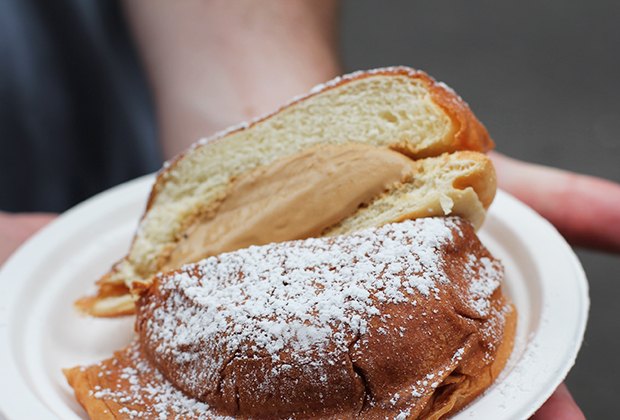 It turns out that a warm brioche bun is the perfect vessel for gelato. Photo by the author
M'O Il Gelato Panino — Little Italy
This little shop in Little Italy offers many flavors of delicious gelato. But order the warm gelato panino and you get to pick any one of those flavors and have it stuffed into a warm brioche roll. It's an unlikely but awesome combo.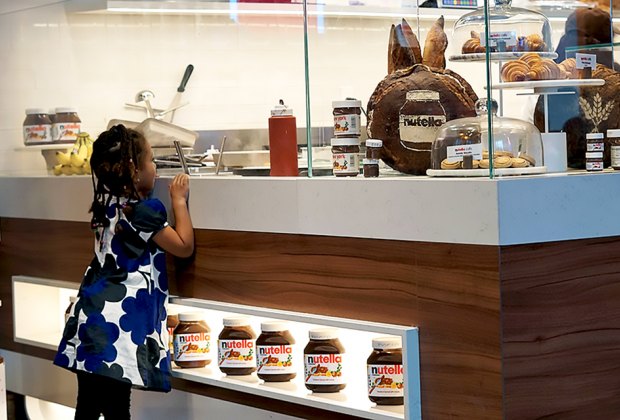 Get a peek at the Nutella creations being made at the Nutella Cafe. Photo by Jody Mercier
Nutella Cafe — Union Square
Indulge in chocolatey goodness with a visit to the Nutella Cafe. While the Mommy Poppins favorite is Nutella creme brulee, you can select from hazelnut spread crepes, waffles, or pancakes.
Pies 'n' Thighs — Williamsburg
There's been a resurgence of donut places around the city recently, but the ones at Pies 'n' Thighs are so gooey, cakey, and flavorful they top my list for the most indulgently awesome.

Cereal + Milk at Popbar. Photo courtesy of the shop
Popbar— Greenwich Village
Bigger isn't always better when it comes to desserts—especially with small children in tow. Pop Bar offers gelato, sorbet, or yogurt on a stick, in a popwich, in mini pops, or pop bites. You can choose from 15 dippings and toppings and over 40 delicious flavors.
Sprinkles Cupcakes — Upper East Side, Financial District
Sprinkles takes cupcakes to the next level with multilayered desserts, including the lemon meringue, which starts with a graham cracker crust, then lemon cake, filled with gooey lemon curd and topped with torch-toasted marshmallow cream. It's a party in your mouth.
Steve's Authentic Key Lime Pies — Red Hook, Brooklyn
The Swingle is an entire mini key lime pie, crust and all, coated in a thick layer of dark chocolate and frozen on a stick. It's a unique dessert you'll only find in this off-the-beaten-track spot.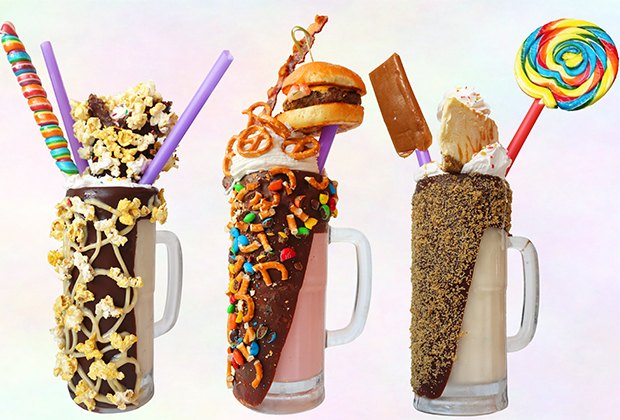 Yes, the one in the middle is a bacon cheeseburger milkshake. Photo courtesy of Sugar Factory
Sugar Factory American Brasserie — Multiple locations
If you have been awed by the epic Black Tap milk shakes all over Instagram, let me direct you to Sugar Factory, where the "Insane Milkshakes" are just as outrageous and insta-worthy and don't require a two-hour wait in line.
10Below Ice Cream — Chinatown
The Oreo rolled ice cream my daughter ordered was crafted right before our eyes and topped with her choice of toppings: whipped cream, plus more Oreo cookies. 10Below uses creme anglaise made fresh in-house daily with no preservatives or flavoring. They can serve your order up in a cup or a waffle taco!
A version of this story was published in 2016; it has been updated. Suzanne Cort contributed additional reporting.