Best Pizza in NYC: The Top Slice Joints for Families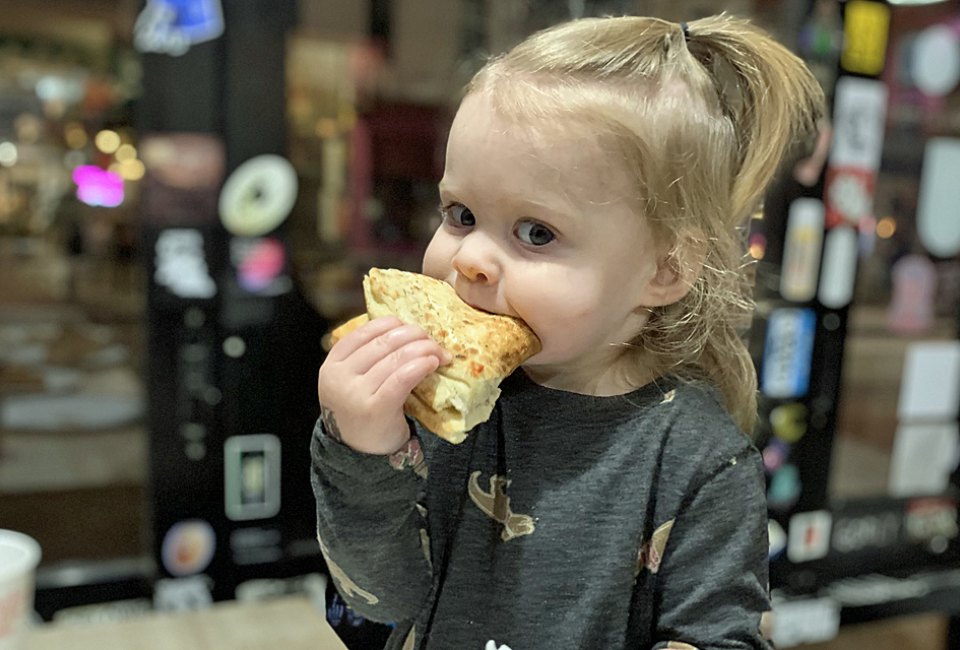 8/21/23
- By
Hans Howe-Freiwald
NYC pizza is like nothing else. As a small-town kid, I had three options for pizza growing up: Pizza Hut, Little Caesars Pizza, and Domino's Pizza. While I enjoyed stuffed crust and bigfoot pies in my day, I'll never forget my first NYC pizza slice. It had that perfect not-too-chewy, not-too-crispy crust, the right amount of sauce, gooey, greasy cheese running over the edges, and it came just as it should: on two paper plates that felt like they were going to disintegrate in my hands, all for the whopping price tag of two bucks.
Needless to say, I was in NYC pizza heaven. Now that I have two kiddos, I get to share a little slice of that NYC pizza heaven with them, too.
Whether you're a local, or visiting NYC for a family vacation, know this: NYC pizza lives up to the hype if, you know where to find it. Whether you're looking for a pizza slice at an iconic, only-in-NYC restaurant or an off-the-beaten-path neighborhood NYC pizza joint, we've laid out our favorite pizza spots below. Bookmark our NYC Kid-Friendly Restaurant Guide for all our top picks of where to eat with kids.
Subscribe to our newsletters to get stories like this delivered directly to your inbox.
Best NYC Pizza in Manhattan
Prince Street Pizza is home to the Soho Square. While they aren't slices, Prince Street Pizza serves up the best rectangles of pizza goodness in the city. With its unique crust that gives each bite just the right balance of chewy-crispy, and a silky sauce that has just the right amount of tang, it's hip to be square in Soho.
What to order: Go with the "Fancy Prince." It's a Margherita pizza done to perfection.
RELATED: 3 Days in NYC with Kids: Ultimate Itinerary by a Local Mom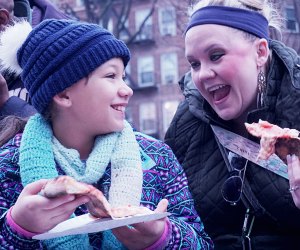 Grab a slice from Joe's and eat alfresco in the park across the street. Photo by Jody Mercier
Joe's Pizza is the first "NYC pizza institution" on the list. Since 1975, Joe's Pizza has been serving up one of the best classic NYC pizza slices in the city. There's usually a bit of a line, but the wait is definitely worth that first fresh bite.
What to order: It's a no-brainer here—a plain slice; add some pepperoni if you're feeling wild.
Coal-fired pizza has been served from the ovens at John's for nearly a century. It's pies-only at this sit-down spot, and there are no reservations, but the line moves quickly, and we promise this NYC pizza is worth the wait.
What to order: Go with The Sasso, a classic cheese that's spiced up with Pecorino, Romano, oregano, and black pepper. It's familiar, yet elevated, and perfect to share with the fam.
America's first pizzeria is still serving up whole pies cooked to perfection in its coal-fired oven. The checked table clothes and old-school ambiance take you back in time—as will the fact it's cash-only, so come prepared.
What to order: Go with the Rustic Double Pepperoni and bite into those perfectly crispy pepperoni edges.
This unpretentious NYC pizza slice joint has a handful of Manhattan locations all serving consistent, tasty slices.
What to order: The toppings you pick are up to you, but be sure to add a side of garlic knots, too!
Patsy's bills itself as NYC's original pizza dynasty. Its Harlem shop dates to 1933, though it's since expanded its coal-oven empire, which serves classic Sicilian pies.
What to order: Nab a white pie and add a layer of prosciutto de parma.
RELATED: NYC Restaurants Where Kids Eat Free

There's no need for seconds when you nosh on Koronet's jumbo slices, which come from a 22-inch pie! Photo by Jody Mercier
7. Koronet Pizza – Multiple Manhattan Locations
Koronet Pizza is home to a 22-inch pie and that means the pizza slices here are jumbo-sized. Yes, this is the spot for value, but it's no 99¢ joint. Koronet takes its pizza seriously and it shows.
What to order: Go with a classic cheese or a slice of the white pizza here, or go with both and feed the whole family. If you can't handle the jumbo slice, grab a classic NYC pizza slice or a Grandma square.
This newish pizza chain brings its own twist to the slice scene with a sourdough crust that adds just a little something extra to this NYC pizza joint.
What to order: If you've got an adventurous eater, you can't go wrong with the Spicy Vodka, which comes with homemade sauce, mozzarella, and a flurry of Parmigiano Reggiano sprinkled over the top.
The crust is the key at Scarr's Pizza, where the shop's owner goes to great pains to mill his own flour daily. While the kids might not appreciate this bit of trivia, you probably won't have trouble convincing them to eat the crust!
What to order: Plain cheese slice and for the adults, a selection of all-natural wines awaits to wash it down.
RELATED: Best Restaurants in Little Italy, NYC That Kids Love

When it comes to raising an NYC pizza lover, you can never train them too young! Photo by author
Best NYC Pizza in Brooklyn
Paulie Gee's has been popping up on a lot of "best in town" lists lately, and let me tell you, from my experience, it's definitely a contender. While it sticks to the classic NYC pizza style, what makes Paulie Gee's unique is its wood-fired oven that adds a little smoke to each slice.
What to order: I say mix it up here and go for the vegan cheese slice—it's hard to do vegan pies right and Paulie Gee's has got it down. If your kiddos don't dig plant-based, it's so good they won't know the difference.
Born in Bushwick, this Neapolitan pizza joint has now expanded with multiple Brooklyn and Manhattan locations, though we're partial to the original and its beautiful backyard dining area.
What to order: The Bee Sting gets high praise, but it might be a bit too spicy for the kids. Play it safe and order a perfectly charred Margherita, too.
12. Screamers Pizza – Greenpoint and Crown Heights
Another Greenpoint pizzeria, Screamers Pizza is home to the best vegan pizza in the five boroughs. Let me tell you, it's not even close. This joint has a vibe that "screams" Brooklyn, and pizza that rocks it! It emulates any classic New York combination you can think of and "veganizes" it to perfection. If you're not a vegan, grab a slice or two and convert.
What to order: Think outside the classic NYC pizza box here and go with the "Vampire," topped with seitan pepperoni, red onions, and caramelized onions, all smothered in garlic.
This old-school Brooklyn joint has developed a cult following for its square, Sicilian-style pizzas, generous portions, and reasonable prices. Everything is freshly made.
What to order: Sicilian slice with extra marinara. Save room for a cool scoop of its namesake dessert.
Best NYC Pizza in the Bronx, Staten Island, and Queens
Manducatis Rustica is a LIC slice staple. This third-generation gem offers an old-world feel, with white and red checked tablecloths and Chianti bottle candles, while its friendly, vibrant atmosphere is the perfect spot to sit down with the whole family and grab a slice.
What to order: I recommend going for the "Gustoso," which has Fior di latte, broccoli rabe, and sausage. It also has a perfect four-cheese NYC pizza to please the little ones' palates.
Here's a real throwback to old-school New York, and it's well worth the trip on the Staten Island Ferry. Joe and Pat's has been dishin' out pies in New York's oft-forgotten borough for more than 70 years, and it shows. It makes it simple—good dough with good water, tossed, and spun just right with fresh mozzarella and generous toppings.
What to order: A deep menu makes it hard to decide, but stick with classic cheese and make it Sicilian style.
It's pizza straight out of the Bronx at this unassuming slice shop that sells its pizza from a storefront in a quiet Bronx neighborhood. Get your order by the pie or by the slice, but make sure you set aside time for a trek to this pizza parlor soon.
What to order: The sausage slices draw rave reviews, and we hear its calzones are a can't-miss item, too.
Is NYC's 99 Cent Pizza Worth It?
OK, so I had to do it. Percy's Pizza is a dollar-slice joint, but it's also the best one in the city. Of course, there's a lot of debate about the dubious nature of how $1 slices desecrate all that is holy about NYC's pizza legacy. But, the truth is that a $1 NYC pizza (or $1.50...or $2!) is part of the landscape now, so why not go with the winner? Also, it's a kid-pleaser every time.
What to order: Pull out that single and stick with the cheese