London With Kids: 60+ Best Things To Do in London on a UK Family Vacation
6/18/22
- By
Jody Mercier
If you're considering an international family vacation, a visit to London is the perfect place to start. A world-class city that marries centuries-old history with contemporary culture, there are plenty of family-friendly things to do in London. The fact that there's no language barrier to deal with makes visitors feel at ease as soon as they set foot in the city.
Whether you want to visit London for its new history (hello, Harry Potter studio tour!) or you're more interested in snapping a photo of the crown jewels at the Tower of London, here are 60+ fun things to do in London during a family vacation.
If you're looking for more international destinations for your next family vacation, bookmark our European Travel Guide for Families.

Pinkies up at Fortnam & Mason!
2. Afternoon Tea
The venerable Fortnum & Mason was our pick for this fancy outing, and though the price tag was a little hefty, it was worth every penny. The service was impeccable, the treats delectable, the tea fragrant—and everything refillable! We left with a tower's worth of fancy treats to enjoy at our hotel later, plus plenty of memories. The children's tea includes kid-friendly finger foods and a pot of hot cocoa...or two. Pinkies up!
3. Ride a Double-Decker Bus
Public transportation has never been so fun as aboard this London icon! Give your Oyster Card a tap and head up the stairs for a cool view of the city streets.
4. Enjoy a Pub Lunch
You can't go to London without eating fish and chips. You'll find neighborhood pubs in every corner of the city. We paired our visit to The British Museum with a trip to The Princess Louise for a classic meal and a pint.
Related: 50 Fun Things To Do in Paris with Kids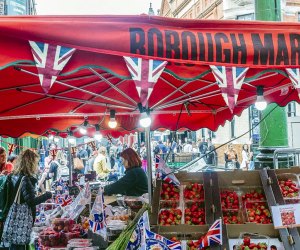 Create a perfect meal with Borough Market finds. Photo courtesy of the market's Facebook page
5. Borough Market
Our first stop in London was the Borough Market, a sprawling street market with stalls overflowing with international eats, fresh fruits, veggies, fish, and more. For a hungry, travel-weary family of five, it was easy to please all our picky palates with a spectacular meal here.
6. See the Ceremony of the Keys at the Tower of London
This after-hours ceremony invites a small group of visitors inside the famed Tower of London each evening. Tickets must be booked well in advance and include a nominal reservation fee. You'll witness the 700-year-old tradition as the Yeomen lock up the tower—and the crown jewels—for another night.
7. Camden Locks
Wander the canal side stalls and markets at Camden Locks, where, beyond the wares, you can witness how Regent's Canal really works.
8. The Golden Hinde
Climb aboard The Golden Hinde, a re-creation of the first English ship to circumnavigate the globe. Enjoy a guided tour, have an escape-room experience, or stay overnight in the ship's authentic living quarters.
9. UK Parliament
Learn about the House of Commons, the House of Lords, and the ins and outs of the UK's parliamentary system with a visit to Parliament, where a variety of tours are offered. If you want to go inside Parliament, though, take note: You must be a UK resident!
Fun Free Things To Do in London With Kids

A stop at Platform 9 3/4 is a must for Harry Potter fans.
10. Platform 9 3/4
Have a Harry Potter fan on your hands? Make sure to stop by the Kings Cross Station for an obligatory photo. Be forewarned: Conveniently, there's a jam-packed Harry Potter Shop at Platform 9 3/4 nearby, which is decidedly not free!
11. London Bridge
Though you'll be surprised that it's not the bridge you've pictured—you're likely thinking of the Tower Bridge—London Bridge has spanned the Thames for more than 2,000 years in one form or another. The current iteration has only been standing since 1973.
Related: 25 Things To Do in Barcelona with Kids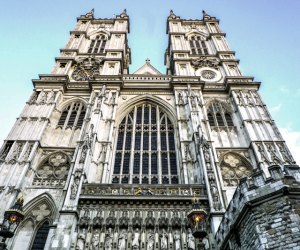 Be sure to book tickets to Westminster Abbey well in advance.
12. Westminster Abbey
We walked up to this World Heritage site at the end of a long travel day without any planning and were unsurprised to see it closed. The cheeky guard at the entrance was quick to let us know Evening Prayer was about to begin and all were welcome. What a treat that 45-minute service was. The crowd was small; the choral music soaring. It is an experience I'll never forget. If you want to visit outside of service times, tickets can be booked for a fee in advance.
13. St. Paul's Cathedral
Have as much fun as Prince Louis did at the Queen's Platinum Jubilee when you visit St. Paul's Cathedral and share a conversation via its whispering gallery.
14. Portobello Road
Peruse the wares at the world's largest antique market, where you can find everything from fashion and clothing to fruits and veggies and, of course, antiques.
15. Hamleys
Forget Harrod's—the real must-visit London retailer is Hamleys. The famed Regent Street toy store was founded in 1760. Explore seven floors of toys, demos, and over-the-top displays.
16. Trafalgar Square
Enjoy the statues and stately monuments at Trafalgar Square, which was restored in the early 2000s and attracts tourists, protestors, and locals alike.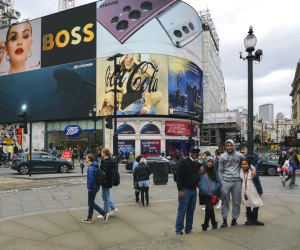 Piccadilly Circus is London's version of Times Square.
17. Piccadilly Circus
Think Times Square on a smaller scale, this Public Square attracts locals busking for a few bucks, tourists, commuters, and plenty of traffic and larger-than-life ads.
18. Speakers Corner
Located at the northeast corner of Hyde Park, this section of the green space has been set aside for public speaking thanks to an 1872 act of Parliament. It's a bastion of free speech, and all are welcome to share their views here—as long as the police deem them lawful.
19. Abbey Road
Re-create the iconic Beatles album cover outside the famed Abbey Road Studios.
20.10 Downing Street
Stop by the Prime Minister's residence at 10 Downing Street to pose for a photo, peep the famous black door, see if you can catch a glimpse of the Prime Minister in action—and, depending on your political leanings—shout a cheer or jeer as you pass by.
Top Attractions in London for Families

Take a photo near the iconic Big Ben.
21. Big Ben
Officially known as Elizabeth Tower, Big Ben is the most famous clock in the world. It's currently undergoing a multi-year renovation, and its interior is closed to the public, but you can still strike a pose in its shadow.
22. The London Eye
Enjoy a stunning view of London on this eye-catching observation wheel. During a slow-moving, 30-minute trip, you'll enjoy 360-degree views of the city from a temperature-controlled pod, where you're free to move around and take in the sights. A sunset ride was the perfect end to our time in London.
23. Thames River Cruise
Add to the sightseeing fun with a London Eye River Cruise, which can be booked as a package deal with your London Eye ride.
24. Catch a Football Game
Whether you choose to book tickets to an English Premier League game or see lower-level clubs battle it out on the pitch, watching football in London is a memorable outing for sports fans—and even converted my NFL-loving husband to a soccer fan.
Related: Top 25 Things To Do in Geneva with Kids

Catch a kid-friendly musical in London's West End.
25. The West End
What Broadway is to New York City, The West End is to London. See a delightful array of musical theater and more. We booked last-minute tickets to see Wicked on the Today Tix app and have zero regrets! It was a definite highlight for my 8- and 12-year-olds.
26. The Mousetrap
Find out whodunit in this production of the Agatha Christie classic, which has played The West End for nearly 70 years.
27. The London Zoo
The nearly 200-year-old London Zoo is home to about 15,000 animals across 750 species. If that's not enough, plan to head to its sister site, the Whipsnade Zoo, which houses its largest animals.
28. Battersea Park Children's Zoo
For a more manageable, interactive zoo experience, the Battersea Park Children's Zoo has plenty of little-kid-friendly sights, plus a playground, a sand pit, a boat pond, and more.

Do not confuse the Tower Bridge with the London Bridge!
29. Explore the Tower Bridge
Oft mistaken for the London Bridge, this iconic London landmark is stunning from any angle. We walked across it and sailed under it. You can also book tickets to go inside it to explore its art and architecture, see panoramic views, and test your mettle on the glass floor, where you can peep the traffic passing below.
30. The Shard
For a more traditional observation-deck experience, head to The Shard Viewing Gallery at London's most contemporary skyscraper. See for up to 40 miles in every direction from this three-floor gallery. If you want a lower view, consider visiting one of the restaurants below.
31. Harry Potter Experience
While not in London proper, true fans can appreciate a day trip to enjoy this Harry Potter Studio Tour in nearby Leavesden, where you can visit the movie sets where the iconic films were made.
32. Royal Observatory
Straddle two hemispheres when you find The Prime Meridian at the Royal Observatory in Greenwich.
33. Kew Gardens
The Royal Botanic Gardens at Kew Gardens are home to one of the most diverse plant collections in the world and worth a visit no matter the season. Explore the temperate Princess of Wales Conservatory, wander through towering trees in the arboretum, and marvel at the lovely plants and waterfalls of the Rock Garden.

Take Insta-worthy pics with the royals...at least their wax likenesses. Photo courtesy of Madame Tussauds
34. Madame Tussauds
You might not get a real-life photo op with the Queen, but at this famed wax museum, you can pose with the royals and plenty of other celebrities, real and animated.
35. Hampton Court Palace
Explore the wonders of the Tudor court with a visit to Hampton Court Palace where you can step inside the Great Hall, wander The Magic Garden, or get lost in the hedge maze.
36. Churchill War Rooms
History buffs can appreciate the significance of this top-secret London attraction and underground bunker where William Churchill directed WWII.
37. Shakespeare's Globe
Where better to see the Bard's words performed than at the theater bearing his name? Located on the River Thames, you can book tickets to a show or simply take a tour.
Best London Museums for Kids

See the mummified remains of Cleopatra at the British Museum.
38. The British Museum
Step inside the stunning British Museum to explore 2 million years of world history, including The Rosetta Stone, a renowned collection of Egyptian artifacts, Cleopatra's mummy, and many, many more.
39. Tate Modern
See modern and contemporary art at the free Tate Modern, featuring work from artists like Pablo Picasso, Yayoi Kusama, and many more. Check out its tips for a family visit before you go.
40. Imperial War Museums
There are several branches of this institution dedicated to interpreting the history of human conflict—including the aforementioned Churchill War Rooms. For my history-loving American teen, a visit was an eye-opening look at a different point of view on the common wars our two nations have fought.
41. Natural History Museum
Meet Dippy and the other treasures at the Natural History Museum, which offers always-free admission.
42. Victoria and Albert Museum
Five thousand years of human history are represented at the Victoria and Albert Museum, including an enchanting collection of Beatrix Potter drawings, an impressive collection of fashion and accessories, and a fascinating collection of hats.
Related: Top Children's Science Museums Across the US for Families

A young Wonderlab visitor is reflected inside the Infinity Boxes at the London Science Museum. Photo ©Lee Mawdsley, courtesy of the Science Museum Group
43. Science Museum
Located next door to the Natural History Museum, find the free Science Museum where kids can get hands-on in the Wonderlab, see an IMAX screening, play at the water table in The Garden, and more.
44. Museum of London
With two locations, the Museum of London tells London's long history, including the Great Fire of London. The Docklands location offers a fascinating look at its role as a port city and has an awesome, interactive Mudlarks gallery dedicated to hands-on exploration for kids ages 8 and younger.
45. London Transport Museum
Learn all about the Underground at the London Transport Museum, where you can tour its depot, enjoy storytime, and more.
46. The Wallace Collection
From art to armor, there's plenty to see at The Wallace Collection, as well as family-friendly programming. The best part is that entry to the permanent collection is free.
47. Maritime Museum
Don't forget to snap a photo of the Ship in a Bottle before you step inside the Maritime Museum in Greenwich, which houses a collection of maritime treasures. Little sailors can go under the sea at the hands-on Ahoy! Children's Gallery. Admission is free.
Best Parks and Playgrounds in London
48. Richmond Park
One of eight Royal Parks in the city, Richmond Park spans 2,500 acres and is home to wide-open spaces, ancient trees, and tons of wildlife—including its well-known herds of deer.
49. Princess Diana Playground
Located in Kensington Gardens and a stone's throw from Princess Diana's royal home, this playground attracts a million visitors annually. While it's free to play, take note: You may have to wait in the queue to enter! Once they're inside, kids can play pretend on the pirate ship, explore the sensory trail, and more in this Peter Pan-inspired play space meant to accommodate kids of all abilities.
50. Holland Park Adventure Playground
Completely refurbished in 2017, the Holland Park Adventure Playground includes a towering climbing structure and a fun, twisty slide that will buy parents plenty of time to sit back and relax while kids romp.
51. Hyde Park
Another of the Royal Parks, there are plenty of family-friendly things to do in Hyde Park. Visit the Princess Diana Memorial Fountain, go for an open-water swim, and romp in the South Carriage Drive Playground.

Pelicans have lived in St James Park for over 400 years. Photo by Inna Alden, courtesy of royalparksorg.uk
52. St. James's Park
The sprawling park at the foot of Buckingham Palace, St. James's Park is beautiful in the spring when the flowers bloom. Be sure to visit the pelicans that have lived in the park for more than 400 years, since their predecessors were gifted by the Russian Ambassador in 1664.
53. Greenwich Park Playground
Sand, water, and a little imagination make the completely inclusive and newly refurbished Greenwich Park Playground a can't-miss spot to play.
54. Regent's Park
Home to the London Zoo, Primrose Hill, and Queen Mary's Gardens, there's plenty to see and explore in the 395-acre Regent's Park.
Best Restaurants in London for Kids
55. Nando's
Peri-peri is the spice of choice at this fast-casual chain which brings the South African flavor to the masses, serving it on roasted chicken, in sandwiches and wraps, and more.
56. Strada
Authentic Italian food is the meal of choice at Strada, where expat friends rave about its pesto and tomato bread.
57. Carluccio's
Bread made fresh daily and a delightfully fresh penne giardiniera are among the highlights at all-day eatery Carluccio's.
58. Masala Zone
Genuine Indian flavors fill the menu at Masala Zone, which gets rave reviews for its colorful decor and Thalis—special kids' platters that are lighter on the spice.
59. Giraffe
This family-friendly chain offers a reasonably priced kids' menu that includes a choice of pudding at the meal's end.
Great London Hotels for Families
60. The Ritz London
Renowned for its afternoon tea, The Ritz London is a luxurious escape situated in the heart of London. Steps from Piccadilly Circus, a stay here makes all of the city's sights easily accessible. A variety of rooms and suites accommodate parties of all sizes, and its kidz@theritz perks ensure all ages have a good time.
Related: Stockholm in 48 Hours: Best Things To Do in Stockholm with Kids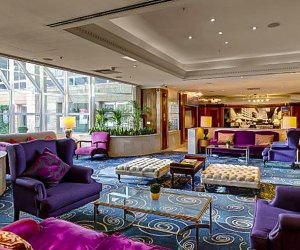 The Copthorne Tara Hotel in Kensington is close to many activities. Photo courtesy of the hotel
61. Copthorne Tara Hotel London Kensington
Our home base during our visit to London, the Copthorne Tara Hotel London Kensington was steps from shopping, restaurants, and the Tube on High Street. Adjoining rooms accommodated our family of five, and an included breakfast set us off to explore with full bellies each day. The concierges were friendly and helpful and made us feel instantly welcome.
62. Premier Inn London County Hall
Just steps from the London Eye and within eye-shot of Parliament, find this Premier Inn hotel (one of several from this chain in the city). Family rooms sleep up to four, and you can add breakfast at the on-site restaurant to your stay.
All photo courtesy of the author unless otherwise indicated
Originally published in 2019. Roberta B. contributed additional reporting.
Click Here to Sign Up!
i