Best Ice Cream Near Chicago: 12 Ice Cream Parlors and Ice Cream Shops Kids Adore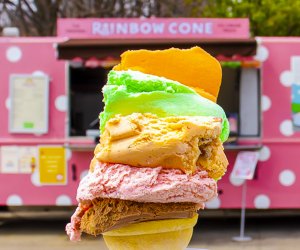 7/15/22
- By
Lauren LaRoche
Ice cream shops and kids go together like, well, ice cream and kids. There's something about the cool, sweet treat, that kids go crazy for, any time of the year. If you're looking to take your kids on a special ice cream trip, you've come to the right place. From the North side to the South side and every neighborhood in between, we've rounded up the best ice cream shops in Chicago for kids.
For more places to eat with kids, try our Kid-Friendly Chicago Restaurants Guide.
Best Ice Cream Shops in Chicago
Black Dog Gelato offers classic and kid-friendly ice cream flavors in addition to inventive ice cream recipes. Next to the chocolate and strawberry, for example, you'll also find fun combinations such as strawberry pie, birthday cake, and Turkish coffee float. Open 2:00-10:00 during the week and 11:00 on the weekend. Logan Square and the West Loop location are closed Monday.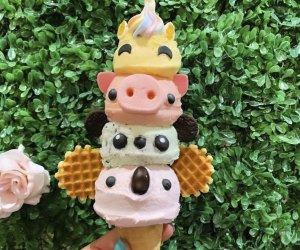 It doesn't get any cuter than the ice cream at Eli's Ark.
It doesn't get any cuter than the ice cream at Eli's Ark. Picture pigs made of marshmallows, and Oreo panda bears. This adorable shop opened up in 2018 and has been serving their unique and delicious gelato ever since. Open Tuesday-Sunday from 1:00-9:00.
Lickity Split features a rich custard that makes their sundaes and concretes one of a kind. Their classic banana split is one that you and the kids will crave for long after it's been finished. In addition to ice cream, you'll also find candy and other sweet treats. Open Monday-Sunday 12:00 - 10:00.
Margie's Candies in Logan Square looks just like a classic ice cream parlor. With traditional flavors, combinations, and classic ice cream treats, you'll feel like you've stepped back in time. Enjoy homemade ice cream, fresh ingredients, and staples such as banana splits. Open Monday-Sunday 9:00 a.m.- midnight.

A Chicago tradition for over 95 years!
The Original Rainbow Cone is unlike any other ice cream out there. This rainbow combination features orange sherbet, chocolate, strawberry, and pistachio ice cream, along with the Palmer House which is vanilla ice cream mixed with cherries and walnuts. Open daily. Hours vary by location.
Pretty Cool Ice Cream in Logan Square is in fact, one of the coolest spots for ice cream. Their homemade ice cream popsicles come in a variety of fun flavors, colors, and combinations. Their space is also a lot of fun inside. Kids can sit and play on the stadium-like seating surrounded by cool murals and artwork. Closed Monday. Open Tuesday-Friday 1:00-9:00. Saturday-Sunday 12:00-10:00.
Whether you're looking for ice cream by the pint or a delicious sundae, Richard's Super Premium Ice Cream is the spot. They serve homemade ice creams such as sweet potato pie, Key lime pie, peach cobbler, and more. Open daily from 11:00-10:00.
Scooters Frozen Custard on Belmont features fresh ingredients from neighboring Wisconsin. You'll find kid-friendly classics such as strawberry and vanilla, along with more creative flavors, made fresh each day. Additional flavors often include peanut butter swirl, strawberry Oreo, and After Dinner Mint. Make any combination a concrete. Open Monday-Thursday 4:00-9:00. Friday 2:00-10:00. Saturday 1:00-10:00. Sunday 1:00-9:00.

Shawn Michelle's in Bronzeville, features a wide variety of homemade ice cream flavors.
Shawn Michelle's in Bronzeville, features a wide variety of homemade ice cream flavors. In addition to the classic ice cream staples, Shawn Michelle's is also known for their signature honey-cinnamon graham cracker ice cream. The butter cookie and Jamaican rum flavor are also local favorites. Open Monday-Thursday 11:30-7:00. Friday-Saturday 11:30-8:00. Sunday 12:00-6:00.
The Sundae Stop offers delicious ice cream in a fun, Chicago Transit Authority-themed shop. Kids will love the Chicago train that's built right into the restaurant. The whole family will love the specialty waffle cones and a wide variety of ice cream. Open Tuesday-Thursday 2:00-9:00. Friday-Saturday 2:00-11:00. Sunday 2:00-9:00.

If you're looking to take the kids somewhere unique, Taiyaki Chicago is it.
If you're looking to take the kids somewhere unique, Taiyaki Chicago is it. It's one of the only places in the city that serves up the unique, fish-shaped dessert. Choose your filling for the taiyaki cakes and then the soft-serve ice cream and toppings are added on top. Open Tuesday-Sunday 12:00-9:00.
The Freeze was formerly known as Tastee-Freez. This classic spot looks almost the same as it did in the 50s when it opened. You'll find vintage ice cream treats, sundaes, malts, soft-serve cones, and more. Open daily 2:45-10:00.
All photos are courtesy of the venues.