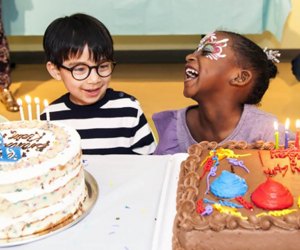 Top Indoor Birthday Party Places for Westchester Kids
It isn't always park or pool party weather, but kids can still have a blast celebrating their birthday at indoor spots throughout Westchester! There's no shortage of places for Westchester kids to get their party on—whether the birthday boy or girl wants to jump on trampolines, scale a rock wall, do yoga, or race go-karts.
Here, we've put together a list with choices for a variety of ages (and invite lists)—from preschoolers to tweens and teens. Looking for even more options? Check out our full Party Planning Guide, or head straight to our directory.
Play Spaces and Trampoline Parks
Great Play of Scarsdale – Scarsdale
The parties at Great Play of Scarsdale are specifically designed for the 10-and-under set, with six different themes to choose from—some appropriate for preschoolers (like the Super Hero Party), some for elementary schoolers (like the Olympic Party), and some that works for any age group (like the sports-centered Championship Day). The 90-minute parties take place in the gym's 3,000-square-foot "Interactive Arena" and include a mix of hands-on and virtual games and activities. Members and non-members are welcome and parties take place on either Fridays, Saturdays or Sundays.
Kidville – Mount Kisco
Birthday party activities at this kid-centered space include "Exploration Time," "Creation Time" or "Gym Time" with tons of themes to choose from—from Slime Factory to Fly Me to the Moon Space Party to Treasure Hunt Party. Parties run for 90 minutes and there are two packages available, both of which include food, cake, and even party favors.
Legoland Discovery Center – Yonkers
If your kid loves all things Lego, then a party at Legoland Discovery Center at Ridge Hill in Yonkers would be a great choice. Along with a wristband that gives kids access to the Center, the Single Room Party Package include the chance for kids to make their own Lego project, party room, cake, drinks, and paper goods. That package is for 20 kids—but you can upgrade to the Double Room Party Package if you're having upwards of 40 friends. And don't worry about having to find invites—you can print them out straight from the Legoland website.
Life the Place to Be – Ardsley
There's a party theme for everyone at this event space, whether your child wants a laser tag bash or a "runway glamour dress up" party, among lots of others. What's great for parents: Almost everything is included, from pizza, cupcakes and time in the arcade, to invites, thank you cards and party favors. Parties are for the under-12 crowd and run for two hours.
RELATED: Top Indoor Play Spaces for Kids in Westchester

The activity coordinators at the Play Place will provide quality instruction in an environment that emphasizes learning and playing at a birthday party for little ones.
The Play Place – Elmsford
This is as close to a playground as you can get without having to brave the cold. Pick from three different party packages, each that gives kids time on the Adventure Playground play structures (think slides, climbing and more) and another half hour activity, which ranges from sports to a magic show. Parties are 90 minutes and for a max of 24 kids.
Rockin' Jump – Mount Kisco and Yonkers
Jump for joy for the birthday boy or girl at Rockin' Jump, an indoor trampoline park. Parties are for two hours, and include (of course!) jump time, for which special socks are provided. There are different packages available, depending on which location you choose and your party size. In Mount Kisco, for example, packages include pizza, paper goods, e-invites and, for the larger packages, favors are included. You can bring your own cake and can add additional food like salad, chicken wings, wraps—or even a cotton candy machine.
Sports and Games
Achieve Martial Arts – Scarsdale
Kids can find their inner martial artist at this Scarsdale studio, with parties featuring everything from a private lesson to races—and even a chance to break a board. Pizza and juice are included, too.
Coach Allie's Gym Jam – Location varies
Here's a different idea: Bring the gym to you! Whether it's at your home or in an open-space facility, PE teacher and coach Allie Horn brings the equipment and activities—personalized to the party kid, of course—for a great, active time.
RELATED: D.I.Y. Slime Shop Opens in Larchmont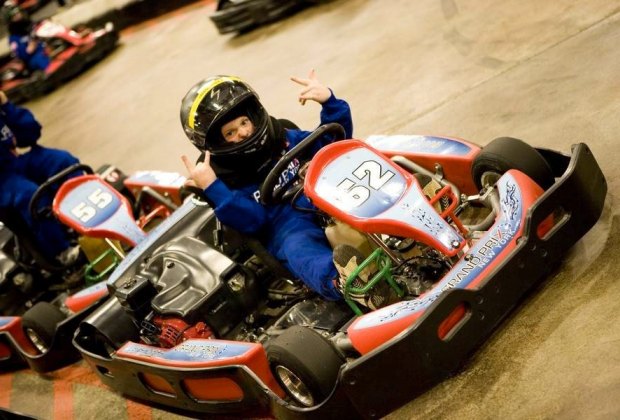 Hit the racetrack at Grand Prix New York.
Grand Prix New York – Mount Kisco
Perfect for tweens and teens, this go-kart hotspot is available for parties for kids to race—and, depending on which package you choose, additional activities, like play in the arcade or try virtual reality. Packages include pizza and drinks, too. Or, you can go a different route and do a bowling party, which if you pick the "VIP Bowling Glow Party" means you also get "cosmic/black lighting" and an approved video play list.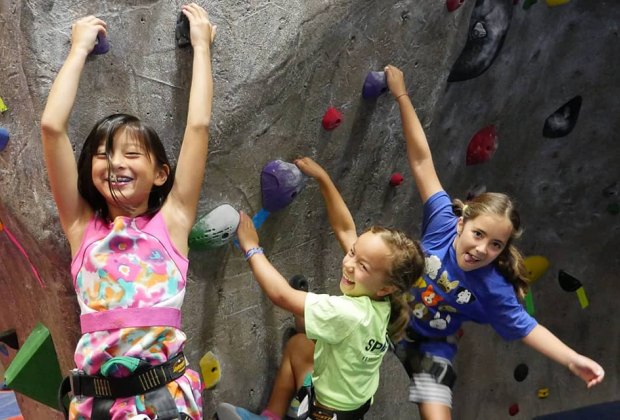 Hang out with party guests at The Rock Club in New Rochelle​.

The Rock Club – New Rochelle
Climb to new heights—literally—with an indoor rock climbing party at The Rock Club at Pine Brook Fitness. Go with the basic Matterhorn package, which includes 90 minutes of climbing, a half hour on the private mezzanine, and a group photo, or opt to add on soda, pizza, paper goods, and more. Have a preschool climber? Specialized parties for 3- to 5-year-olds are available with an hour of climbing and additional activities. Completely customized packages can also be created for big bashes, like bar and bat mizvahs and sweet sixteens.
Westchester Skating Academy – Elmsford
What says winter more than ice skating? Choose from six different packages—ranging from the classic party that includes pizza in a private party room pre- or post-skating to a karaoke party, a knee-hockey party or a Frozen party where kids create their own edible snowman (and you can even add a meet-and-greet with Olaf). Kids skate during open skating time at specific times, and extras include glow sticks, balloons and even a make-your-own hot chocolate bar.
Gymnastics, Dance, Yoga, and Circus Arts
Jodi's Gym – Mount Kisco
Little gymnasts will have a blast—and get all that energy out—tumbling, climbing and taking turns on the balance beams in this 5,000-square-foot space. Also awesome: A bounce house is part of the package. The entire gym is reserved for the 90-minute party and you can choose to add a food-and-cake package, as well as lots of extras like parent-friendly food (though the always-welcome coffee is free), music, favors, a piñata and more.
Studio B Dance Center – Eastchester
Even the youngest dancers can celebrate their birthday at this full-service dance studio in Eastchester, which hosts parties for kids starting at 2 years old. Themes can be specially created or chosen from favorites like Princess Party, Trolls or Hip Hop Kidz. There are fun props, including hula hoops and bean bags, too. Hoping to go the homemade route for food? Totally possible, as is ordering pizza.
Tovami Yoga – Mamaroneck
Your young yogi—and 12 of her friends—will love expanding her practice with a yoga-themed party! New Rochelle-based Budding Buddhas Kids Yoga hosts parties at Tovami Yoga studio in Mamaroneck, which run for either 90 minutes or two hours. Parties include the yoga class, with the option to add on an art project, pizza, and more. (The longer party also includes "mindful journaling."
Westchester Circus Arts – Ardsley
Give your child and his friends a chance to tight rope walk, juggle and walk on stilts with a party through Westchester Circus Arts, with a "ring master" leading the show. Parties start for kids at 5 all the way through 18.
Crafts, Beauty, Baking, and Sleepover Fun
Flowerbake by Angela – Pelham
Budding bakers can choose from three party packages at Flowerbake Cafe, where each guest will decorate his or her own cookies, cupcake, or cake. Parties cost $50 per child, with a 10 child minimum, and $40 for each additional child (up to a max of 20). Packages include cake, pizza, lemonade, paper goods, balloons, and a box for guests to take their creations home. Add-ons are available.
Fun Craft – Scarsdale
Artsy kids will love having their party at Fun Craft—and parents with long guest lists will love that it can accommodate up to 40 kids. Choose from a Ceramic Party, Mural Masterpiece, Glamorous Price/Princess Party and more, with different themes catering best to different age groups, but all running for two hours and a full menu to order food and snacks—even cake.
RELATED: 8 Art Studios and Centers for Westchester Kids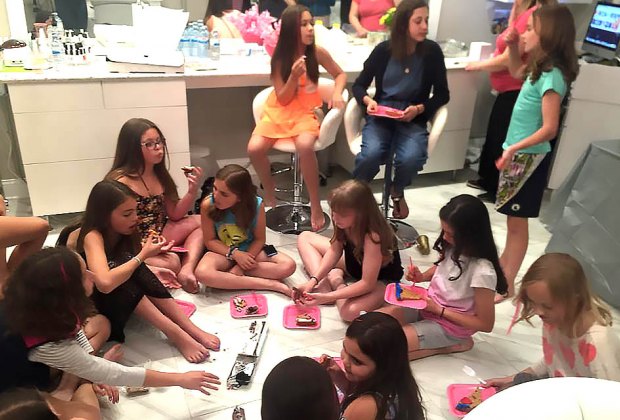 Eat cake and get glamorous up with a birthday party at the Glam Beauty Bar.
Glam Beauty Bar – Larchmont
Who doesn't want to be pampered on their birthday? At Glam Beauty Bar in Larchmont, even preschoolers can get in on the fun. The Princess for a Day package is especially for little ones ages 3 to 6 and includes dress up, manicures, makeup and curls. For ages 6 and up, they'll also get color hair extensions, plus the manicures and makeup, and teens and tweens can go all out with air brush makeup, music and a photo shoot. Parties are for groups of six to eight kids and pizza, drinks and paper goods are included for all ages.
TeePeeDreamzNY – Your home
Hosting a sleepover for your child's party? Take it up a notch with TeePeeDreamzNY, a service—run by two local moms!—that offers tee pees set-up at your home for kids to sleep in. Themes vary from Camping and Safari to Unicorn and "Boho Chic." The standard packages includes five teepees, with the "The Royal Teepee Package" also featuring an hour with a Demiboy Frenchie French bulldog, plus other dog-themed fun, like a photo shoot.
And a... Grocery Store?
Stew Leonard's – Yonkers
Yes—this is a popular one! Party packages are for 10 kids (though you can have as many as 25) and include all the classic must-haves like face painting, games, ice cream, pizza, and cake. Choose a themed package—like Paw Patrol, Hot Wheels, or LOL Surprise—and it includes a craft and invite to match your choice.
Originally published December 10, 2017, and updated since.
Photos courtesy of the venues