8 Bakeries Making Outrageous Birthday Cakes for Westchester Kids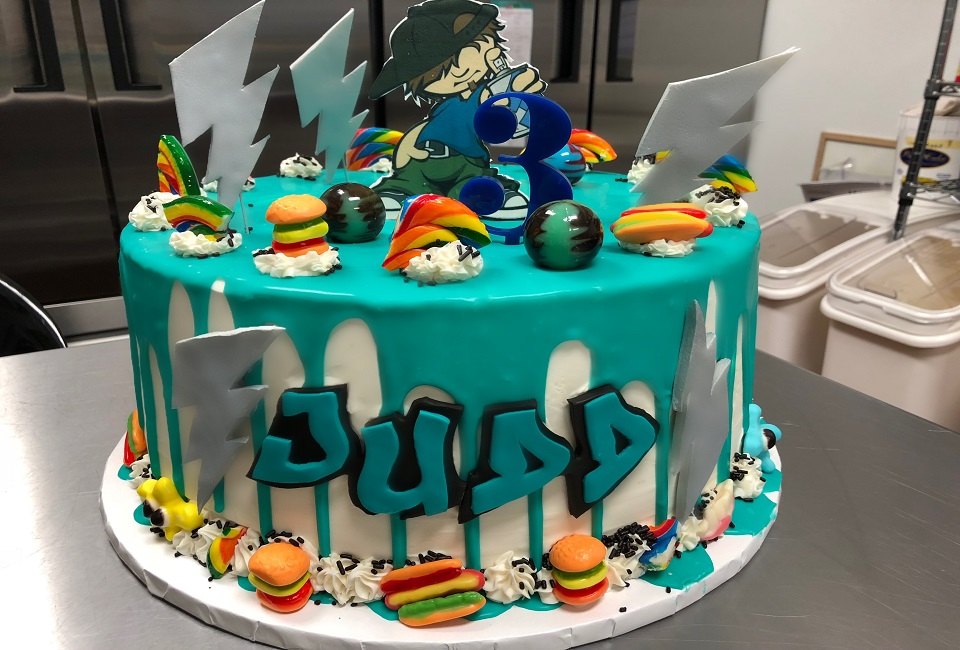 1/17/18
- By
Susan Miele
Kids' birthday parties have become way more elaborate than when we were kids, with large guest lists and elaborate entertainment. Birthday cakes have stepped up their game, too. While some parents opt for simplicity, like buying a sheet cake from the supermarket or Carvel, there's a definite market for sensational cakes with a heftier price tag.
Below we've rounded up Westchester bakeries that have the chops to create cakes worthy of The Food Network. Whether you seek a simple layer cake frosted in buttercream or a three-tiered tower adorned with elaborate fondant figurines, these shops—pardon the expression—really take the cake!
Read on for the skinny and sign up for our e-newsletters to stay in the know about all kinds of resources for Westchester families!
1. Chantilly Patisserie - Bronxville
To-die-for cakes, both elegant and whimsical, are conceived and executed by dream team Mariana and Maria Delgado Gambini—the former being the pastry chef, and the latter, the artiste. Cake flavors include traditional vanilla and chocolate, as well as marble, coconut and "Funfetti," to name a few; fillings range from cookies 'n cream to mango curd; and icings run the gamut from whipped cream and fondant to toasted meringue. Cakes are customized to each client's vision and are exclusively designed by Maria, whose artistic training rings through. Her 3D cake designs are a specialty.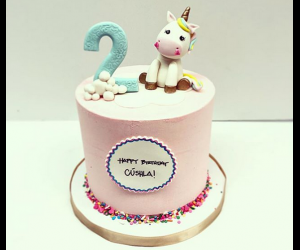 A variety of fillings are available from Chantilly Patisserie.
Simple cakes require a minimum of three to four days' notice, while for more elaborate creations, at least two weeks' lead time is needed. Cakes are priced according to final design, flavor and number of guests. Delivery is available for a supplemental fee for select cakes. Beyond cake sensations, Chantilly sells exquisitely prepared pastries, cupcakes and macarons and hosts cupcake parties for kids and adults.
2. Riviera Bakehouse - Ardsley
Also known as "The Whimsical Bakehouse," this shop has gained fame from its series of dessert cookbooks and appearances in local publications. If you're not familiar with the team's artistic abilities, check out the recognition their gingerbread creation got in Food & Wine magazine. Samples of their cake artistry are viewable on the bakehouse's website.
While yellow and chocolate cakes are available continuously, a minimum of one week's notice is needed for red velvet, yellow sponge, carrot and the less common orange olive-oil cake. Some 20 different fillings are offered, with various flavors of whipped cream, buttercream, custard and mousses. The "Kid's Buttercream" is billed as "super-sweet old-fashioned buttercream." Frostings are also plentiful in variety, including chocolate whipped cream (chocolate mousse folded into whipped cream) and Italian buttercream.
Made-to-order cakes start at 8 inches; smaller cakes are available if tiered. For custom orders, a minimum of five to seven days' notice is recommended. Last-minute orders are accommodated if possible. Orders may be placed in-person, by phone or online. Consultations are available Tuesday-Saturday, 8am-2pm. All orders require a 25% minimum deposit, which is non-refundable if canceled within 48 hours of the scheduled pickup. Local delivery is available on a limited basis.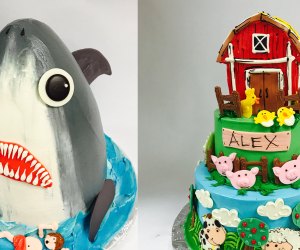 Twenty different fillings are available from Riviera Bakehouse.
3. ABC Cakes - Mamaroneck
Beyond showcase cakes, the shop offers private and group classes for children and adults in baking and decorating techniques, as well as children's cake-decorating and baking parties. Assorted bakery items are sold, too.
4. Sugar Hi - Armonk
We told you about this new sweet spot in Armonk when it opened in late 2017. No newbie, however, co-owner and cake decorator Hillary Assael has been designing cakes since 2003.
Available cake flavors are yellow, chocolate, red velvet and carrot. The signature filling is cookies and cream, but another standout is marshmallow buttercream. Vanilla, chocolate and cream-cheese frostings are other options. Throw on a bright-colored ganache drip and lots of candy all over for the shop's signature creation. Check out the video of the "Explosion Cake," showing how candy cascades from the interior when sliced open. Gluten-free cakes are not yet available but are under development. Though ample lead time is advisable, the staff does its best to accommodate same-day orders.
Don't stop there: The assorted baked goods are awesome, and the shop is building a reputation for its banana pudding and "freak shakes." Explore the fun candy and knick-knacks for goody bags, as well.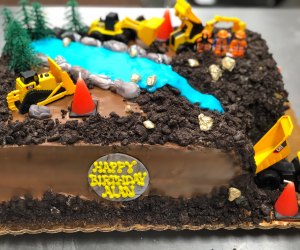 The cakes at Sugar Hi are out of this world.
4. Beascakes - Armonk
Beascakes offers not only showcase cakes but also assorted baked goods and desserts in its Armonk shop. Though customers can mix and match their cake, filling and frosting flavors, popular choices include the "Rainbow Cake," consisting of five layers of cake, each with each a different color of the rainbow, decorated with rainbow-colored buttercream, flowers and glitter; the "Eclipse Cake," featuring two layers of gold cake and one layer of chocolate cake, filled with vanilla and chocolate buttercream, enrobed by vanilla buttercream with chocolate ganache drizzled down the sides; and the "Cannoli Cake," a gold cake with cannoli-cream filling topped with vanilla buttercream icing and filled cannoli.
6. Sugar Mama by Kim's Bake Shop - Larchmont
Serving up show-stopping baked goods since opening in 2015, this bakery classifies cakes as either "party cakes" or "custom cakes." Party cakes are relatively simple in design and can be ordered with 24 hours' notice. Designs might include edible images, flowers or other fun designs. Custom cakes are more elaborate, such as shaped cakes and celebration cakes with custom toppers/designs (e.g., Sweet 16). A minimum of two weeks' notice is usually required.
Pricing is calculated by cake size and design complexity. To obtain a quote, complete the online order form or email laura@sugarmamabykim.com, including any inspiration photos.
7. Lulu Cake Boutique - Scarsdale
Lulu's menu of cake offerings include a "kid-friendly" section, with mouth-watering options that are difficult to describe without drooling. "The Straciatella" combines vanilla cake with chocolate straciatella buttercream and cookie dough streusel, while "The Neopolitan" meshes vanilla cake with wild-strawberry buttercream, chocolate cereal crunch and milk chocolate buttercream. Traditional flavor combinations are also offered. The smallest option, the miniature two-tiered cake, yields 18-25 servings. The staff is proud of the high-quality ingredients used: homemade jams, Valrhona chocolate, freshly picked fruit from local farms, organic nuts and the like. Delivery is available.
8. La Renaissance Bakery - Scarsdale
Cakes at La Renaissance are custom-designed to match the vision of the customer. Sizes start at 6 inches, feeding four to six. A less common offering is sorbet cakes—traditional French meringue layered with sorbets. The sorbet flavor options include chocolate, strawberry and passion fruit, among others.
All images courtesy of the respective business.
Sign up for the Mommy Poppins Newsletter today!
i