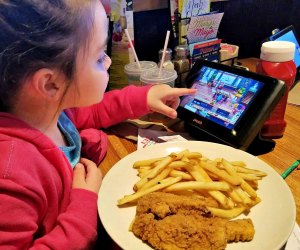 Long Island Restaurants with Fun Entertainment for Kids
Fork through our list of Long Island restaurants with fun entertainment options for kids and spice up your dining-out routine. If you are feeling like a slave to the kitchen as you prepare mac and cheese for the third time this week, drop the ho-hum dinner routine and head to one of these local, family-friendly restaurants that serve up food and fun.
A number of eateries in Nassau and Suffolk counties pair kid-sized meals with giant-sized entertainment So whether you prefer the neighborhood mom-and-pop or the local destination of a national chain, your little ones are guaranteed a fun time and a healthy lunch or dinner choice.
For more inspiration, see our guide to kid-friendly dining on Long Island. And while you're at it, check out our list of LI restaurants where kids eat FREE.
Restaurants Across Long Island With Entertainment for Kids
Applebee's
For a small fee kids can play on a tablet at Applebee's while the family dines. The crayons are FREE.
Buffalo Wild Wings
While you might have to pay out of pocket for a digital babysitter at Applebee's or Red Robin, Buffalo Wild Wings gives them out for FREE upon request. You must order, of course. Little artists can also ask for crayons.
OUR LATEST VIDEOS
RELATED: Old-Fashioned Ice Cream Parlors on Long Island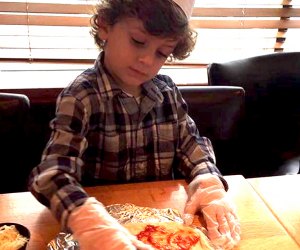 Create your personal pie at California Pizza Kitchen.
California Pizza Kitchen
The restaurants give out four-page activity books and crayons to keep little hands busy until dinner is ready.
Olive Garden
Kids can get their gadget fix while you peruse the menu in silence. A parent can dream, right? Request a pack of crayons and start an old-school game of tic-tac-toe.
Red Robin
Let the kids poke around a tabletop tablet while you enjoy some adult conversation. Note: There is a nominal fee. Share the mountain high mud pie for dessert—one plate, many spoons.
Texas Roadhouse
If you've got a case of the Mondays, ditch the kitchen and head to Texas Roadhouse. The Deer Park location has a magician on hand to make weekday blues poof away. The East Meadow location has bendy balloon twisting. Oh, and a sweet deal: Kids dine for a mere $1.99 with the purchase of an adult entree.
RELATED: Satisfy Your Sweet Tooth at These LI Candy Shops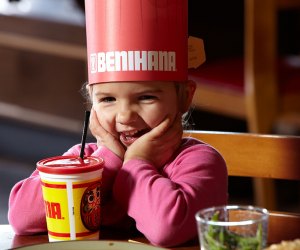 A Benihana hibachi hat will bring a smile to your child.
Restaurants in Nassau County With Entertainment for Kids
Benihana — Manhasset, Westbury
Your little chef can don a cardboard hibachi hat while having a fiery good time at these Japanese-style eateries. Once your child is done wearing it—insert eye roll here—he or she can draw on the activity sheet printed on the back of the hat.
Bowery Bar & Fare — Rockville Centre
Step into the circus ring decor and marvel at the walls before taking in the indulgent street fair food menu. Play giant Connect 4 or attempt a round of Guess Who at the table. Each kid gets a small stuffed animal "prize."
Buoy Bar — Point Lookout
On the eastern end of the barrier island of Long Beach, the dockside Buoy Bar overlooks picturesque Reynolds Channel and also boasts a small beach. On Wednesdays during the summer, kids can fish from the pier while mom and pop watch from the restaurant deck. You pay a service for this; we realize allowing them to fish unsupervised wouldn't be in parents' best interests.
RELATED: The Best Family Brunch Spots on Long Island

Enjoy dinner while the kids take part in beach games at The Clubhouse.
The Clubhouse — Bellmore
Lit palm trees, beach chairs, sand, a corn hole, giant Connect 4, hula hoops, and more make this Key West-inspired South Shore spot festive and fun. On select Sundays the owners also bring in a face painter. Live music and sunset views are the perfect way to end the day.
RELATED: Destinations for Afternoon Tea on LI With Kids

Try the decadent cannolis at Mio Posto in Oceanside.
Mio Posto — Hicksville, Oceanside
On most Friday evenings a magician dazzles tableside as you dine. Be sure to save room for dessert at these Italian hotspots; it is decadent.
Pops Seafood Shack & Grill — Island Park
Overlooking a channel in the bay, Pop's boasts oversized Adirondack chairs, cabanas for rent, and a sandy area for kids to play in while you sip on a refreshing strawberry daiquiri. It also has DJs, dancing, fire pits, and games. Note: Pops is open May through September only.
Restaurants in Suffolk County With Entertainment for Kids
Kerber's Farm — Huntington
Order a full breakfast or lunch or simply nosh on some housemade pastries and pies. Enjoy your meal outside while some of the farm's chickens roam around. This rustic sweet shop is ideal for roaming little ones.
Cowfish — Hampton Bays
Sit back in an Adirondack chair and enjoy stunning channel views while the kids play on the wooden pirate ship playground. While the seafood is fresh, there's also plenty of kid-friendly fare on the menu
Maureen's Kitchen — Smithtown
Moooo-ve on over to this breakfast hot spot that's adorned with all things cow. The menu is indulgent and the portions are huge. But if your little one's eyes are larger than their stomach, you can pay per pancake. Note: This is a cash only restaurant.
The Shabby Tabby Cafe — Huntington, Sayville
Schedule a lunch and some playtime with a cute kitty at these unique cat cafes. There are also board games, coloring books, cat toys, and climbing structures for the felines.
Unless otherwise noted, photos are courtesy of the restaurants.