100 Things To Do in Chicago with Kids Before They Grow Up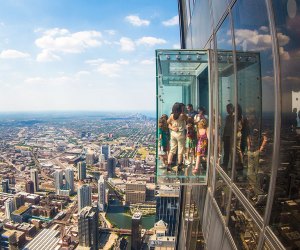 7/30/21
- By
Siobhan Adcock
Chicago is home to so many incredible parks, playgrounds, museums, and things to do with kids that one childhood doesn't seem like enough time to fit them all in—though who could blame you for trying? Winter, spring, summer, or fall—there are so many great things to do with kids in Chi-town. Whether it's racing with your toddler through the sprinklers at Mary Bartelme Park, wowing your preschooler at the Field Museum, gliding with your grade-schooler on the skating ribbon at Maggie Daley Park, or taking in engineering marvels with your tween at the Chicago Architecture Center, take advantage of everything this beautiful city has to offer kids of all ages. We're also big fans of FREE fun, so we included as much of that as possible. Plus, you can save on Chicago's best attractions with a Go City card.
Whether you're a local or a visitor to the Windy City, we hope you can use this list to make some great new memories with your kids. Now I'm off to scarf some Chicago-style hot dogs at Portillo's.
Sign up for our FREE newsletters to get local events and picks delivered straight to your inbox!
Take the boat from Michigan Avenue or the downtown Metra Stations to Chinatown.
Ride one of the 48 hand-carved animals at Lincoln Park Zoo—maybe choose one you've seen at the zoo that day.
3. Bike, walk, or take your jogging stroller down the Lake Michigan shoreline on the lakefront trail
There are 18 miles of amazing views from Edgewater to South Shore.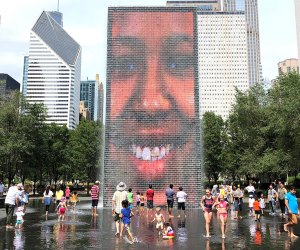 Splash the summer away at the Crown Fountain at Millennium Park. Photo by Mommy Poppins
The composite images of the faces of 1,000 Chicagoans are on display year-round, and water streams out from mid-spring to mid-fall.
Famous Chicago politicians, athletes, industrialists, and many of the last century's finest architects are all buried here.
6. See the statues of the zodiac animals in Chinatown Square
Make a pit stop at Aji Ichiban candy store to fill up a bag of sweets, or enjoy dim sum or another authentic Chinese cuisine.
Waterbirds, turtles, frogs, and more abound near the Lincoln Park Zoo and the Peggy Notebaert Nature Museum.
Second Saturday Garden Tours allow families to ask questions about the nearby plants, while the pavilion is the perfect place for a family picture.
9. Visit rarely-open-to-the-public buildings at Open House Chicago
Many of them are masterworks of architecture and design or offer unique insight into historic buildings.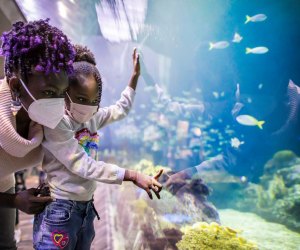 The Shedd Aquarium. Photo courtesy of the museum
10. Get close to the glass at the Shedd Aquarium
Some of our favorites there include the rare, glowing jellyfish known as Hairy Jellies, the seahorse dads that carry babies in their pouches, and the adorable sea otters.

Skate a ribbon of ice at Maggie Daley Park. Photo courtesy of the park
11. Glide along the ice skating ribbon at Maggie Daley Park
It's an amazing place to ice skate in the winter, or use your own roller blades, roller skates, or non-motorized scooter in the summer.
12. And come back to play at the action-packed Maggie Daley Park play garden
Slide every slide, climb every structure, and swing on every swing. Kids up to age 12 can find something to do here: check out the Enchanted Forest or Wave Lawn for little kids or the Slide Crater for more adventurous big boys and girls.
13. See a family concert at the Jay Pritzker Pavilion in Millennium Park
The Millenium Park Summer Music Series is a great opportunity to enjoy the arts and the outdoors.
RELATED: When Kids Get in Free to Chicago Museums, Parks, and Zoos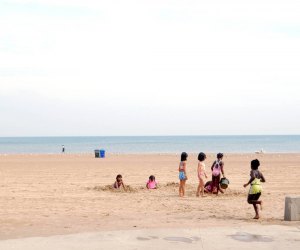 Yes, Chicago has beaches! Calumet Beach Photo courtesy of Illinois Office of Tourism
Both are on our list of favorite beaches for families in the Chicago area.
Travel around the world in one giant greenhouse full of diverse plant life, then peruse the outdoor gardens for more ideas to take home to your own yard.
16. Teeter over the streets below from the glass observation platform The Ledge at the top of Willis Tower
See Wacker Drive from 1,353 feet in the air in a glass box extending more than four feet from the edge of the Western Hemisphere's third-largest building.
17. See the lion statues decked out as sports fans at the Art Institute of Chicago
Then linger in the leafy quiet sculpture garden at or marvel at the Thorne Miniature Rooms inside. The museum is always FREE for children under 14.
RELATED: Chicago's Best Indoor Play Spaces for Kids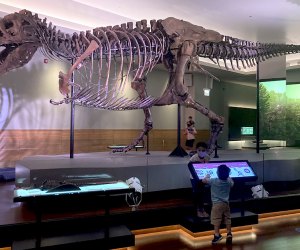 See Sue! Photo by Maureen Wilkey
18. Marvel at Sue, the world's most complete model of a T. Rex
She lives at the Field Museum, where you can also visit real Egyptian mummies and giant gems, or enjoy the rotating exhibits on the museum's first floor.
And learn more about the weather, how Chicago looked 100 years ago, and transportation from trains to planes—then visit Colleen Moore's Fairy Castle and watch chicks hatch from eggs. Check out some of our favorite exhibits.
20. Catch a reading by a favorite children's book author at the Book Cellar
You can enjoy a treat from Cafe Selmarie or visit Timeless Toys, also at Lincoln Square.
Chicago Architecture Foundation volunteers give the definitive tour of more than 50 buildings in 90 minutes.
Margie's has sundaes you can almost literally dive into, too.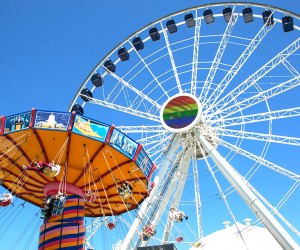 Take a ride on the Centennial Wheel for stunning city views. Photo courtesy of Navy Pier
The 200-foot tall gondolas give amazing 360-degree views of the skyline and Lake Michigan
24. Walk with the animals at the Brookfield Zoo
Peacocks roam free across the grounds, and kids can feed goats or parakeets at Hamil Family Adventures.
25. Hear some kids' music on the lawn at Ravinia Festival
Or introduce your littles to jazz, classical music, or vintage rock at this annual festival that runs from July through September. Bonus: You can take the Metra and bring your own food and drink (even beer and wine for the grown-ups)!
26. See the Centennial Fountain, a 90-foot jet of water, arc across the Chicago River
You can see it from the dry safety of the Riverwalk, or the decidedly-less-dry deck of a boat on the river.
27. Splash in the water tables of the RiverWorks exhibit at the Peggy Notebaert Nature Museum
Also check out the Judy Istock butterfly haven, where the birds are as much an attraction as the butterflies.
28. Ride the 606 Trail through Bucktown, Wicker Park, and Logan Square
Peep at the modern art installations or stop for a play session at one of the playgrounds along the path.
The Adler Planetarium has rocks from the moon and Mars that kids can touch.
Take a photo inside a kid-sized Chicago hot dog, walk across a giant map, take a ride on a historic L-train, and see dioramas of Chicago around the time of its historic fire.
31. Dig into the expansive children's section at Women and Children First
Andersonville's indie bookstore frequently hosts outdoor book signings of popular new children's books. Readers ages 8 to 12 can even join their first book group here.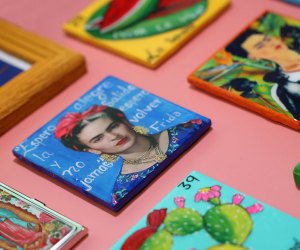 Visit the Museum of Mexican Art. Photo courtesy of the museum
Kids can enjoy bilingual summer camps here, or take classes featuring Mexican art through the Park Voyagers program in Chicago parks. The museum is beautiful, family-friendly, and always free.
The best time to go is in the morning when the movable bridges are scheduled to lift over the Chicago River. Bonus: You won't be frustrated about not being able to cross the river.

Sample the original Rainbow Cone. Photo by Maureen Wilkey
34. Lick your way through all five layers of an Original Rainbow Cone
The giant ice cream cones are available at the original location in Beverly, at Navy Pier, or suburban outposts in Lombard and Darien. Track the Rainbow Cone truck to get one on the go.
35. Get a slice of Chicago-style pizza pie at Lou Malnati's or Giordano's
The original Lincolnwood location of Lou's is full of history. We also recommend Pequod's or The Original Pizzeria Uno or Due, who claims to have invented deep dish.
36. Nosh the pickle off the top of a Chicago dog from Superdawg or Portillo's
...then nibble around the sport peppers and onions to the juicy frank beneath (in true kid fashion). Try the pickled tomato on a Superdawg or indulge in a piece of chocolate cake at Portillo's.
Each purchase supports 826CHI's free writing programs, which help young authors write their own spy novels.
Your kid can explore their own "neighborhood" on the second floor of the Harold Washington Library designated for preschoolers, elementary kids, and tweens.
Always free for kids under 12, the museum includes a children's gallery with a giant mural and a cozy reading space.
From Butterflies & Blooms in the summer to Lightscape around the holidays, there's something for every season at this North Shore Eden.
The Chicago City Model Experience shows more than 4,000 of the city's favorite buildings in miniature.
42. Root for the home team at a Cubs or Sox game
Check each team's schedule on its website for special promotions. Don't want to pay big bucks for a major league game? Check out a minor league team like the Chicago Dogs, Schaumburg Boomers, or Kane County Cougars.
The theater also offers camps and classes for aspiring thespians and participates in the Red Kite Project, which helps kids on the autism spectrum with special programming adapted to their needs.

Immerse yourself in history at the DuSable Museum. Photo courtesy of the museum
44. Learn about African-American history at the DuSable Museum
The museum houses more than 15,000 pieces including paintings, sculptures, print works, and historical memorabilia from Black historical figures from Chicago and around the world.
45. Splurge on high tea and a doll styling at American Girl Place
Enjoy a special event for dolls or schedule your own private event or birthday party at the Water Tower Place store.
Or enjoy their concerts throughout the summer at Navy Pier or Gallagher Way.
47. Sample donuts, pastries, and other mouthwatering morsels at the French Market
Despite its monocultural name, kids can sample international foods from the Philippines, the Netherlands, India, Vietnam, Italy, and Hawaii at this train station food hall and market.
48. Soar on the American Eagle, the thrilling wooden racing coaster at Six Flags Great America
Or enjoy an amusement park that's farther afield or geared toward littler kids from our list of favorite amusement parks near Chicago.
49. Shop and watch the street performers at Maxwell Street Market
You never know what you'll find from produce to apparel to housewares at this unique street market in Little Italy.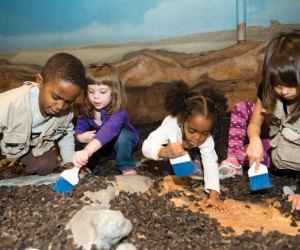 Uncover "dinosaur" bones at the Chicago Children's Museum. Photo courtesy of the museum
50. Dig for dinosaur bones and climb the rigging of a tall ship at the Chicago Children's Museum
Visit the winter garden and food court afterward, or try to walk the half-mile length of the pier out onto Lake Michigan.
The much-loved early childhood play space and education center offers storytimes, sing-a-longs, a play space, and birthday parties.
The space includes a LEGO replica of Chicago, a speed ramp for racing LEGO cars, and LEGO-themed rides.
Kids can work the register and stock the shelves in the kid-sized market, and so much more. Some exhibits have been moved outdoors for COVID-safe play in 2021.
Visible from most North Side Beaches, this show amazes Chicagoans with its aerial feats.
Parents may have flashbacks of two three-peats from their own childhood.
56. Bundle up to cheer yourself hoarse at a Chicago Blackhawks game
Listen to a few rounds of "Chelsea Dagger" to prep your kids at home.
57. Eat your fill of Chicago dishes at the annual Taste of Chicago festival
Formerly in Grant Park, the fest now takes place in various locations throughout the city.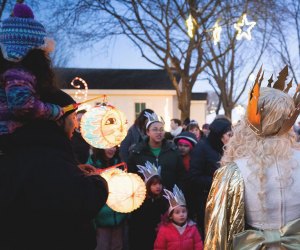 Christkindlmarket at Daley Plaza. Photo courtesy of the event
Drink out of boots and celebrate German culture in the Loop, or at outposts in Naperville and Wisconsin.
59. Romp in the spray at the beautiful gateway sculpture at Mary Bartelme Park
The West Loop park has a fountain plaza, a children's play area, a sunken dog park, and an enclosed seating area.
60. Spread out a blanket under the stars for an outdoor movie screening at Navy Pier, Millennium Park, or Gallagher Way
The Chicago Park District also has a rotating series of movies in neighborhood parks throughout the city.
61. Shake hands with Santa on the CTA's dazzling annual holiday trains
You'll wonder why the Red Line can't smell like gingerbread and candy canes all year round.
62. Dig into a bucket of the "Chicago mix" at Garrett's popcorn: caramel and cheddar popcorn mixed together.
Smells so wrong, tastes so right.
Free tours of the historic downtown building are available every Thursday at 1:15pm. Rotating art exhibitions and shows make the Chicago Cultural Center a fun destination any day.
64. Go sledding in the forest preserve at Caldwell Woods
Then roast your own marshmallows at the warming fire pit. You can also check out some of our other favorite Chicago area sledding destinations.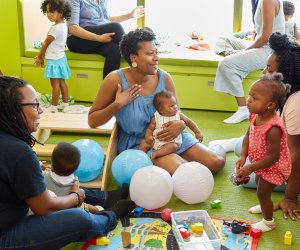 Enjoy baby (and parent) playtime at indoor play spaces, such as Hello Baby. Photo courtesy the play space
65. Work off the winter stir-crazies at an indoor play space
Keep your house mess-free while your kids enjoy a day playing in a ball pit, climbing structures, and more.
66. Double up on spanakopita and tzatziki at the annual Taste of Greektown festival
Or check out any of these kid-friendly festivals and street fairs throughout the city.
67. Participate in the innovative monthly family programs at the always-free Smart Museum of Art
This University of Chicago art space has unique rotating exhibitions for all ages.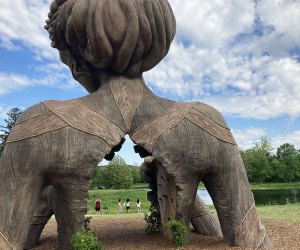 Human+Nature sculptures dot the grounds at the Morton Arboretum. Photo by Maureen Wilkey
68. Sway on the suspension bridge in the children's play garden at the Morton Arboretum
The Troll Hunt exhibit, which dominated Chicago parents' social media pictures from 2018-2020, have made way for the new Human+Nature sculptures.
69. At The Plant, see how a former meatpacking plant has been transformed into an ingenious indoor aquaponic farm
Ironically, you can take classes on vegan cooking, gardening, foraging, and aquaponics at the old meat processing facility.
70. Tour Frank Lloyd Wright buildings and homes in the city and Oak Park
Kids can learn more about architecture and the famous Oak Park architect at camps in the summer and family-friendly workshops throughout the year.
Learn about how the original inhabitants of the Chicago area lived, ate, and worked. The Evanston museum hosts virtual sessions about how Native Americans made different art and artifacts.
72. Let little makers run wild in the creativity-packed aisles of American Science and Surplus
Find a kit to help kids learn about construction, arts and crafts, anatomy, or electronics—or make up your own project or experiment.
73. Get your kicks watching the Chicago Fire play soccer
More reasonably priced than many pro sports teams, the Chicago Fire appeals to young soccer stars across the city and suburbs.
74. Spend a Saturday prowling for delicious treats at the Green City Market
Watch a cooking demonstration or ask the farmers more about their produce in Lincoln Park every Wednesday and Saturday during the summer.

Laugh till you drop at this ever-changing show. Photo courtesy of NeoFuturists Theater
75. Celebrate kid-driven sketch comedy at a showing of That's Weird, Grandma
The hour-long show at the NeoFuturists Theater in Andersonville is based on skits and songs written by Chicago Public School kids and changes each week based on audience voting.
The only national museum dedicated to Puerto Rican culture features exhibits on art and history and a beautiful courtyard.
77. Dig into that good Midwestern soil at a volunteer day at Chicago's City Farm
The city's oldest sustainable farm supplies produce directly to Chicago residents and restaurants. A portion of the food goes to feed the hungry in the city.
Or check out some of our other favorite spots to hike in and around Chicago.
79. See the Chicago Bears' first practice of the season at Soldier Field at Chicago Bears Family Fest
For just $10 kids can see the team, ride ponies, enjoy a petting zoo, have their faces painted, and play interactive games.
Be sure to see The Picasso, Chicago by Joan Miro, The Four Seasons by Marc Chagall, Flamingo by Alexander Calder, and Agora by Magdalena Abakanowicz.
The exhibits show the Chicago night sky and the solar system and the planetarium is home to the largest aperture telescope available to the public in Chicago.
82. Play in the kiddie pool at Holstein Pool
Or jump into one of the city's other sparkling community pools—here are some of our favorites.
83. Kayak or paddleboard on Lake Michigan
Kayak Chicago offers lessons in kayaking, stand-up paddleboarding, and stand-up paddleboard yoga, as well as just renting kayaks for a day of lazy paddling.
84. Catch the view from 360 Chicago at the top of 875 N. Michigan
It will almost certainly take your breath away. More daring kids (and grown-ups) can enjoy a thrill from TILT, an enclosed glass capsule that positions them face down 1,000 feet over Michigan Avenue.
85. Bite off as much as you can chew with a cooking class (or camp) at The Chopping Block
From Chicago favorites to international cuisine, kids can be ready for the world of cooking after a Chopping Block boot camp.

Families contribute to a giant friendship bracelet at an MCA Family Day. Photo by Grace Needlman
There's always something new and exciting to see with kids here. And it's free for Illinois residents every Tuesday, with outdoor musical performances on its terrace each Tuesday of the summer.
87. See the Wizard of Oz-inspired sculptures at Oz Park
Do a little scarecrow-inspired song and dance! Kids can play in Dorothy's Playlot or relax in the Emerald Garden.
88. Have a family game night with games from Cat and Mouse Games
The West Loop shop has puzzles, toys, and books for families as well.
89. Test your skills against the greats at Chicago Sports Museum
Can you shoot a hockey puck as hard as Patrick Kane or shoot free throws as accurately as Scottie Pippen? Find out with body tracking technology at this museum, then tour some of its historic sports memorabilia.
RELATED: Restaurants Where Chicago Kids Eat Free

Snag a selfie at Cloud Gate, otherwise known as "The Bean." Photo by Julen Iturbe-Ormaetxe/CC BY 2.0
90. Smile into your own upside-down reflection at the Bean, a.k.a. the Cloud Gate sculpture in Millennium Park
The sculpture is made from 168 curved steel plates cut in precise shapes using computer technology and welded together.
91. Jam with musicians from every folk tradition at the annual UC Folk Festival
The long-running festival has exposed Chicagoans to different music and dances from around the world—from blues to Cajun to Veracruzano to traditional Irish—since 1962.
92. See a performance at the justly-beloved Muntu Dance Theater
You can participate in a workshop or even book a private performance of dancers or drummers, too.
93. Snowshoe or cross-country ski at Northerly Island
The man made island also has a nature center, a pond, and more than 20,000 trees and plants that attract local wildlife.
From frozen ponds to Zamboni-smooth ribbons, there are a variety of venues for skating in Chicago every winter.
95. Stuff yourself on cinnamon rolls at Ann Sather
These buns have been praised by everyone from local preschoolers to the Food Network, and for good reason. The restaurant also has a variety of other brunch favorites, some Swedish, like the pancakes with lingonberries, and others American, like the Southern Decadence biscuits and gravy.
96. Wander through the Garden of the Phoenix in Jackson Park
Once part of the Century of Progress World's Fair in 1933, the natural area also features an island filled with Japanese cherry blossom trees and several sculptures.
97. Learn about African American inventors, founders, and creators at the Bronzeville Children's Museum
Kids can do some creating of their own or play in a miniature Jewel-Osco store at this always-inspiring museum.
If you can't make it into the city's best independent toy store, order a "surprise bundle" shipped to your home to keep kids entertained.
99. Stand shoulder-to-shoulder with practically everybody else in the City of Broad Shoulders for a glimpse of the Magnificent Mile Lights
The light festival, which features more than a million lights along North Michigan Avenue, went virtual in 2020 but plans to return in 2021.
100. Try to catch the rainbows around the Buckingham Fountain
The fountain has 133 jets that spray up to 14,000 gallons per minute during its display.