18 Chicago Restaurants Where Kids Eat Free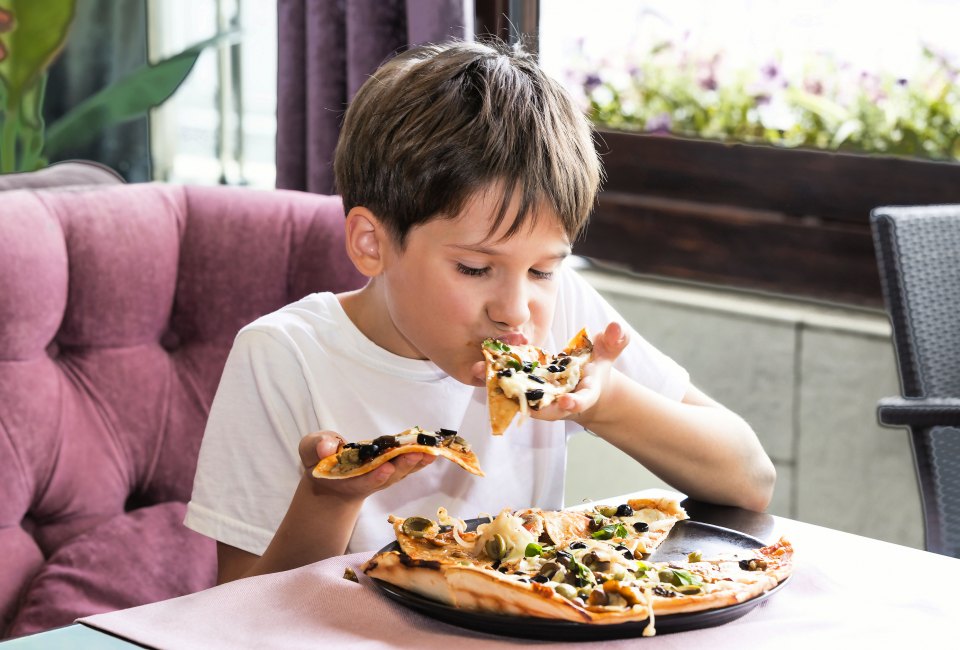 12/1/18
- By
Siobhan Adcock
With famous hometown dishes, world-class restaurants, and a vibrant international food scene, Chicago is one of the best eating towns in the country. But buying your kids a nice meal at a restaurant only to watch them eat three bites and yell "Done!" would leave a bad taste in even the most die-hard foodie's mouth. We've rounded up 18 Chicago restaurants where the grownups can have a great meal while the kids eat FREE, for those nights when you need a break from cooking but don't want to shell out extra for grilled cheese or buttered noodles off the kids' menu.
True to the area's family-friendly vibe, Lakeview takes the prize for the Chicago neighborhood with the most restaurants where kids can eat free, but we've found a few spots downtown offering free meals for kids, as well as restaurants with deals for families in Wicker Park, Lincoln Park, and Evanston. Read on and eat up.
As you might guess, kids can only eat free at restaurants with the purchase of an adult meal or entree, so ask your server for details. And while these deals are valid as of December 2018, it's definitely smart to call to confirm prices, dates, and times before you arrive. Be aware, too, that during the holidays restaurants may change their schedules or prices for some offers.
Sign up for our FREE newsletters to get local events and picks delivered straight to your inbox!

Photo courtesy of Tuco and Blondie
Chicago Restaurants Where Kids Eat Free Every Day
Crosby's Kitchen — Lakeview
Daily
Kids eat free every day from 4-6pm at this super family-friendly rotisserie joint, designed with parents in mind from the stroller valet to the bathroom sink stepstools.
Fogo de Chao — River North
Daily
Kids under 6 always eat free at the bustling Brazilian steakhouse chain, and kids 7-12 are half price every day.
Frasca Pizzeria and Wine Bar — Roscoe Village
Daily
Sit outside on the patio and enjoy pizza, pastas, and salads: Your kid's meal (which includes a scoop of ice cream!) is free every day from 4:30-6 pm.
Hutch — Andersonville, Lakeview, River North
Daily
This justly-beloved local chainlet serving stylish comfort food has three locations where kids eat free. At the Lakeview and Andersonville locations, kids eat free every day from 5-6:30pm and all night Sunday. At Hutch Café in River North, which offers brunch every day, kids eat free daily from 8am-3pm.
SIP Southport and Irving — Southport
Daily
This comfortable new-American spot with a patio has a nicely varied menu for grownups, even if the kids' menu is pretty basic stuff. Kids eat dinner free here from 5:30-6:30pm, plus brunch is free for kids from 9-10am on weekends.
Smoke Daddy — Wicker Park and Wrigleyville
Daily
Owned by the same restaurant group as Frasca and Crosby's, Smoke Daddy is a delicious spot to get your barbecue fix. The giant Wrigleyville location serves kids free every day from 11:30am-6:30pm, while in the Wicker Park location, kids eat free from 3-6pm daily.
Tuco and Blondie — Southport
Daily
Another fun, family-friendly spot from the same owners as Frasca, Crosby's, and Smoke Daddy, Tuco and Blondie's upscale Mexican menu for adults includes short rib tacos and portobello enchiladas. Small fry eat from the kids' menu for free every day from 4:30-6pm.
RELATED: When Kids Get in Free at Chicago's Museums, Parks, and Zoos

Mega meatballs! Photo courtesy of Chop Shop
Chicago Restaurants Where Kids Eat Free Weeknights
Uncommon Ground — Lakeview and Edgewater
Monday through Wednesday
Local and sustainably sourced ingredients star in the delicious menus at both locations, and the kids eat free from 5-6:30pm on weeknights.
Wilde Bar and Restaurant — Lakeview
Monday through Thursday
This homey tavern serves kids free on weeknights from 4:30-6:30pm, with gluten-free options and a satisfying menu for the grownups, too.
Chop Shop — Wicker Park
Monday through Friday
Housed in a converted warehouse, with a live music space, an in-house prime butcher, and a stylishly casual vibe, Chop Shop somehow combines everything awesome about Chicago under one roof. Plus, kids eat free here every weeknight from 5-7pm.
Old Grounds Social — Lincoln Park
Tuesdays
Kids eat free Tuesday nights at this new Lincoln Park sports bar, which offers a tasty pub-grub menu of sandwiches, pizzas, and wings.
Wishbone — West Loop
Tuesdays
On Tuesdays from 5-9pm, kids eat free at Wishbone, a Southern food standby that recently moved to a brand-new location. A favorite option on the kids' menu here is the "Rabbit Patch:" three sides plus cornbread. Keep an eye on their event calendar for Family Nights with movie screenings, too.
Hamburger Mary's — Andersonville
Tuesdays
Burgers, sliders, salads, and creative, mouthwatering desserts in a laid-back, welcoming space have made Mary's a neighborhood go-to for years. Every Tuesday, kids under 12 eat free all day long.
Celtic Knot — Evanston
Wednesdays
Kids eat free on Wednesdays at this Irish pub with a full traditional menu—their kids' menu goes beyond the standard grilled cheese with bangers and mash and a hearty stew.
Chicago Restaurants Where Kids Eat Free on Weekends
Shaw's Crab House — Streeterville
Saturdays and Sundays
Weekend brunch is free for kids 6 and under (and just $15 for kids 12 and under) at this upscale seafood spot from 10am-1:30pm, where the fully-loaded buffet includes a "sweets" table with tarts, cake pops, and even cotton candy.
Benny's Chop House — Streeterville
Sundays
Need a fancy place to take out-of-town visitors with kids for weekend dinner or lunch? Benny's Chop House serves their kids' menu free all day Sundays, while you and your guests dig into dry-aged steaks.
Pinstripes — Streeterville
Sundays
Kids 5 and under eat free at Sunday brunch at this fun downtown space where bowling and bocce games are also on the menu.
Pizzeria Serio — Lakeview
Sundays
Brick oven pies, pasta, and sammies make this a cozy spot to round off your weekend, and on Sunday nights kids eat free.
Top photo courtesy of Bigstock