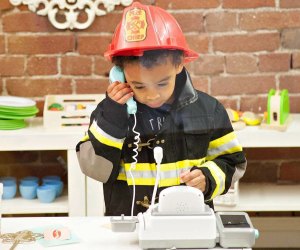 25 Things To Do with LA Preschoolers Before They Turn 5
With its vast size and endless diversity, Los Angeles has so many different things to do with kids of all ages, it's almost hard to know where to start. Well, after you've worked your way through these great things to do with babies in LA, it's time to move up the age ladder. Here are 25 "only in LA" activities that don't require a huge time commitment, are budget-friendly, and of course, will keep preschoolers happy and entertained.
One thing most Angelenos agree on is how easy it is to get stuck in your neighborhood bubble. I'm always looking for new things to do with my family so we can experience areas of the city we don't visit as often. So these awesome activities for toddlers and preschoolers in LA are a mix of well-known Southern California favorites and under-the-radar experiences, and they'll take your family to every corner of the city.
Please keep your family and others safe by wearing masks and social distancing. If an event or location appears too crowded, try using the "nearby" search feature on our event calendar to find something else to do.
Art and Culture in LA for Preschoolers
1. Kids that are fascinated with prehistoric creatures have to visit the La Brea Tar Pits and its iconic mastodons, forever trapped in the lake of tar. It's an active excavation site–look out for the orange cones marking spots where tar is bubbling up out of the ground! Inquisitive kids can play excavator in the tar.
2. Make a day of it at Exposition Park: Combine a visit to the Museum of Natural History and its Butterfly Pavilion with a stop at the Space Shuttle Endeavour at the California Science Center.
3. A local classic, every Los Angeles kid needs to catch a performance by the Bob Baker Marionettes. These whimsical and professional shows have been a part of LA history since the '60s. Catch them today at one of their many traveling shows, or at the new theater on York Blvd. in Highland Park as soon as it reopens.

The Family Room at the Getty Center is almost as much fun as riding the tram. Photo by Jackie Jones
4. Ride the tram up a mountainside to the Getty Center and have a picnic on the grassy Lower Terrace. The tram alone delights kids, but beyond that, there is a spectacular Family Room with activities for kids, a garden to run wild in, and (hopefully returning soon) great family concerts in the summer. The Getty Center is planning on reopening this month, so you can take your toddlers soon.
5. Nothing's better than an activity that gets kids excited about books! The Last Bookstore in Downtown LA is a magical emporium of new and used books, where kids can wander, play, and discover. Used books are a wonderful and inexpensive way to build a home library, too.
6. After visiting The Last Bookstore, make it a Downtown book day and pair it with a visit to the Central Public Library. It's a historic and architectural wonder. Select libraries are opening in Los Angeles beginning on April 19, and outdoor programming will start up this summer. When storytime resumes indoors you'll find it in the Children's LIbrary upstairs, which is filled with cozy reading nooks and toys.

Who do you want to be today? Photo courtesy of Pretend City Children's Museum
LA's Best Children's Museums To Visit with Preschoolers
7. Dream Big in Monrovia is a playspace that also provides early intervention services for kids with special needs. Museums and play spaces can be overwhelming for kids of all abilities, and this play-based, welcoming, and inclusive under-the-radar playspace is so calming and welcoming, it's a respite from the world for toddlers, preschoolers, and adults.
8. Even if you live on theother side of the 405, Kidspace in Pasadena is a must-visit for preschoolers and worth the drive. The playgrounds and climbing structures, the Arroyo Adventure (a real-life, wade-able stream), and Physics Forest offer hours of education and entertainment. The museum opens for members in April and to the general public in May, and we have been counting the days!
9. The Skirball Cultural Center's Noah Ark is one of the best play areas in Los Angeles. Your kids can climb, build and explore this richly designed area of the museum. Noah's Ark is currently open outdoors, for members, and will open in May to the general public.
10. Pretend City in OC is a real little city that's just the right size for your preschooler. Kids can try out any grown-up job or situation and have a blast.

Take a spin on Inkie's Wave Jumper at Pacific Park. (It's a lot cheaper than Disneyland!) Photo courtesy of Santa Monica Pier
Outdoor Activities To Do with Preschoolers in LA
11. One of the biggest perks of living in Los Angeles is easy access to dozens of amazing family-friendly beaches. Surf-free beaches like Marina Del Rey's Mother's Beach are a great way to introduce your preschooler to the ocean.
12. Trains, trains, trains—kids LOVE trains! Griffith Park's Travel Town lets your child get an up-close look at LA's rail history while climbing into real trains. There's a small transportation museum, including a massive model train where you can watch grown-up train aficionados at work on their hobby. Be sure to bring your own toy train so your preschooler can play. While Travel Town is still closed, this needs to be on your radar, so I couldn't leave it off the list. Until it reopens, you can take your little conductor to the Southern California Railway Museum in Perris, which is well worth the drive.
13. Maybe a full-fledged theme park like Disneyland is too big of a commitment of time and money for you and your preschooler. Enter the Santa Monica Pier: With little kid-friendly rides like the historic carousel, Ferris wheel, and special-sized little cars, Pacific Park provides plenty of entertainment for small people at a small price.
14.The fountain at Grand Park is a great way to get hours of entertainment without spending a dime. The fountain doubles as a splash pad and in the summer, it's filled with families cooling off. With a Starbucks right next to the fountain, you can relax with an iced latte while the kids splash away.
15. Los Angeles is chock full of great botanical gardens, but the Huntington Gardens and its Children's Garden is the best for kids under five. Abundant fountains dot the garden, while whimsical topiary animals and hands-on installations give kids plenty to do.
16. Take a ride in the Swan Boats at Echo Park Lake. This is a great activity not only for the incredible views of downtown but also because it's the kind of activity where you can really just relax and let go. Get your city kids out on a boat, walking around a lake, and checking out the local wildlife.
17. There are few activities small kids find more exciting than picking their own fruits and veggies. There are plenty of farms around Los Angeles, but our favorite is Underwood Farms. Head out to Moorpark in autumn to pick your own pumpkin, and in the spring for strawberries.

Make friends with an orangutan. Photo by Jamie Pham courtesy of Los Angeles Zoo
Animals Encounters for Preschoolers in Los Angeles
18. Meet some animals at the Los Angeles Zoo. There's plenty for kids to do at the zoo, from the reptile room to the Conservation Carousel. The playground is also a favorite—half of the time we spend at the zoo ends up being at the playground.
19. Pet the stingrays at the Long Beach Aquarium and feed the colorful (and loud!) lorikeets at the Lorikeet Forest outside the aquarium. Toddlers and preschoolers delight with these interactive animal experiences.

The Skirball's Puppet Festival is a real kid-pleaser. Photo by Peter Turman
Cool Street Fairs and Festivals To Visit with Preschoolers
While these street fairs and festivals were canceled in 2020, we're hoping they'll come roaring back in 2021 and beyond. So mark your calendars to check for these amazing community experiences in LA.
20. Echo Park Rising is a street festival in September that celebrates local musicians, including those that cater to the youngest audience. After catching a kid-friendly set, head to the main stage for some of Los Angeles' buzzworthy local talent.
21. Every April the Puppet Festival at the Skirball Cultural Center features multiple stages and the chance to make your own puppet. Children under five will be awestruck by the puppets that range from the massive to the finger-sized.
22. Brave the San Gabriel Valley heat for what's billed as the world's largest street painting festival, the Pasadena Chalk Festival, which is held on Father's Day at the Paseo Colorado.
23. There are only a handful of parades worthy of national attention and the Pasadena Rose Parade is one such event. Head out to Colorado Boulevard for the parade, which is a celebration of art and design as well as botany. And don't forget about the festivities that lead up to the parade, including the Equestfest and the chance to check out how the floats get made. All the fun, none of the crowds!
24. Sure the Rose Parade is a must-see, but want to take in something a little more counter-culture? Pasadena has the answer for that as well, with the off-kilter and irreverent Doo-Dah Parade. Just be sure to bring a pack of corn tortillas … you'll understand when you get there.
25. Every February The Golden Lunar New Year Parade is an opportunity to visit Chinatown and experience the colorful Chinese tradition. Dragon dancers weave down the street, interacting with the audience as firecrackers pop and sizzle, and confetti falls all around. Add in the great food found around Chinatown and the Lunar New Year Parade is an experience for all of the senses.