39 Things To Do with Preschoolers in Los Angeles Before They Turn 5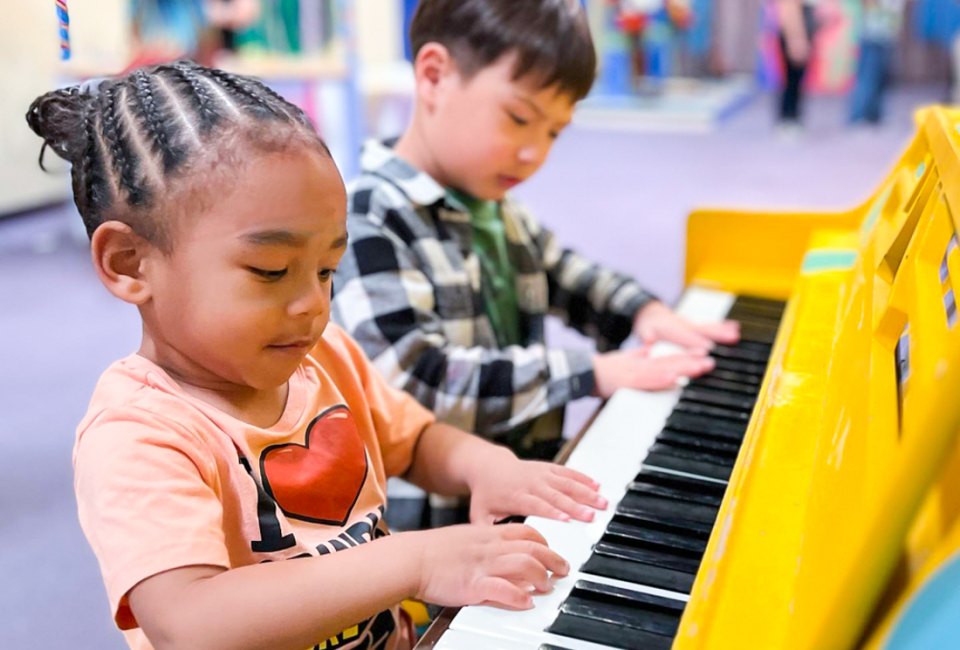 8/4/23
- By
Matt Matasci
Preschoolers in Los Angeles will be awed by all there is to do in Southern California. With its vast size and endless diversity, it's almost hard to know where to start. After working your way through these great things to do with babies in LA, it's time to move up the age ladder.
It's easy to get stuck in your neighborhood bubble. These awesome activities for toddlers and preschoolers in Los Angeles are a mix of well-known Southern California favorites and under-the-radar experiences, and they'll take your family to every corner of the city.
Keep preschoolers in Los Angeles entertained at home with these toddler activities to entertain little ones, and explore our Los Angeles Preschools, Public Schools, and Private Schools Guide.
Art and Culture for Preschoolers in Los Angeles

Toddlers can venture to prehistoric times. Photo by Matt Matasci for Mommy Poppins
Kids that are fascinated with prehistoric creatures have to visit the La Brea Tar Pits and its iconic mastodons, forever trapped in the lake of tar. It's an active excavation site–look out for the orange cones marking spots where tar is bubbling up out of the ground! Inquisitive kids can play excavator in the tar.
From prehistoric times to the Mesozoic Era, explore the fascinating exhibits at the Museum of Natural History. Do stop and smell the flowers in the inviting garden and ring in spring at the Butterfly Pavilion.
While in Exposition Park, combine a visit to the Museum of Natural History with the always-free California Science Center. Kiddos can go to infinity and beyond when admiring the Space Shuttle Endeavour.
A local classic, every Los Angeles kid needs to catch a performance by the Bob Baker Marionettes. These whimsical and professional shows have been a part of LA history since the '60s. Catch them today at one of their many traveling shows, or at the new theater on York Blvd. in Highland Park as soon as it reopens.
Ride the tram up a mountainside to the Getty Center and have a picnic on the grassy Lower Terrace. The tram alone delights kids and may even remind them of the Disneyland monorail. There's also a garden to run wild in, and great family concerts in the summer.
RELATED: Best Children's Museums in Los Angeles and Orange County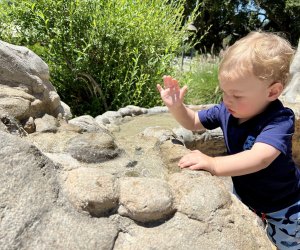 Splash into the fun at Kidspace. Photo courtesy of Gina Ragland
Best Children's Museums To Visit with Preschoolers in Los Angeles
Even if you live on the other side of the 405, Kidspace is a must-visit for preschoolers and worth the drive. The climbing structures, muddy boot farm, Physics Forest, and tons of water features like the Arroyo Adventure (a real-life, wade-able stream), offer hours of education and entertainment.
The Skirball Cultural Center's Noah's Ark is one of the best indoor play areas in Los Angeles. Your kids can climb, build and explore this richly designed and interactive area of the museum.
Preschoolers in Los Angeles will be immersed in all the activities at the Cayton from climbing to great heights through the Courage Climber, imaginative playtime at the animal hospital, fire station, and community market, a ball pit, and tons more activities.
With various imaginative play spaces, a bounce house, and sensory experiences, this museum is perfect for entertaining toddlers and preschoolers in Los Angeles.
The buttons can actually be pushed in some of the aircraft on display at this small gem of a museum. Plane-obsessed preschoolers in Los Angeles will love getting in and out of the planes, and parents will love the photo ops.
RELATED: Free Museum Days for Kids in Los Angeles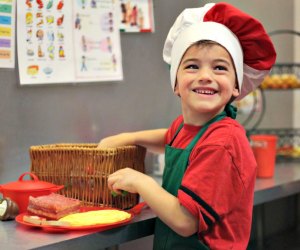 Who do you want to be today? Photo courtesy of Pretend City Children's Museum
Pretend City in Orange County is a real little city that's just the right size for your preschooler. Kids can try out any grown-up job or situation and have a blast.
Theme Parks in Los Angeles & Orange County for Toddlers
Maybe a full-fledged theme park is too big of a commitment of time and money for you and your preschooler. Enter the Santa Monica Pier. With little kid-friendly rides like the historic carousel, Ferris wheel, and special-sized little cars, Pacific Park provides plenty of entertainment for small people at a small price.
This theme park is superb for the tot set. See how your little one does at this kiddie theme park before splurging on Disneyland by taking a day trip to Orange County for your toddler to experience a few very tame thrills.
Some theme parks have limited things to do for toddlers, but not this one. With plenty of rides for younger kiddos, several impressive playgrounds, LEGO play areas, and even an adjacent water park, toddlers are sure to build plenty of memories here.
Okay, we had to add this one to the list. Maybe your toddler isn't quite ready for Disneyland yet, or maybe they are. Either way, if you feel like splurging for a magical day, any preschooler in Los Angeles will probably have a blast on the many no height requirement rides, and enjoy character sightings.
Outdoor Activities To Do with Preschoolers in Los Angeles
One of the biggest perks of living in Los Angeles is easy access to dozens of amazing family-friendly beaches. Marina Del Rey's Mother's Beach is one of the popular surf-free beaches, which are a great way to introduce preschoolers in Los Angeles to the ocean.
Trains, trains, trains—kids LOVE trains! Travel Town in Griffith Park lets your child get an up-close look at LA's rail history while climbing into real trains. There's a small transportation museum, including a massive model train where you can watch grown-up train aficionados at work on their hobby.
18. Splash Pads — Various LA Locations
The perfect way for your preschooler in Los Angeles to cool down is to have them run through a local splash pad. There are so many splendid splash pads scattered throughout LA, hidden amid local neighborhood parks or in plain sight. If your little one loves the water but hasn't quite mastered swimming lessons yet, then splash pads let them have safe water fun on the surface.
Los Angeles is chock full of great botanical gardens, but the Huntington Gardens and its Children's Garden is the best for kids under five. Abundant fountains dot the garden, while whimsical topiary animals and hands-on installations give kids plenty to do.
RELATED: The Best Boat Rides for Families in Los Angeles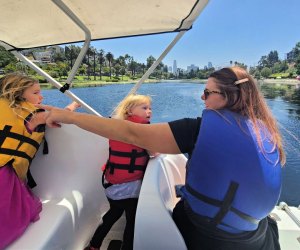 Pedal around in a swan at Echo Park Lake. Photo by Matt Matasci for Mommy Poppins
Take a ride in the swan boats at Echo Park Lake. This is a great activity not only for the incredible views of DTLA, but also because it's the kind of activity where you can really just relax and let go. Get your city kids out on a boat, walking around a lake, and checking out the local wildlife.
If you need a new idea for some quick entertainment, take the kids on a funicular. It literally has the word "fun" in it. This elevated railway ride is short, affordable, and a one-of-a-kind LA experience that will make for an engrossing afternoon.
22. Hiking — Various LA Locations
What to do with all those energetic little preschoolers in Los Angeles? Go hiking. Begin their love of the outdoors at an early age by taking them hiking. From waterfall hikes, wildlife hikes, and spring wildflower hikes, there are no shortage of outdoor adventure options in Los Angeles.
There are few activities small kids find more exciting than picking their own fruit. Take your pick of the many local farms in Los Angeles for strawberry picking when its peak season. You could even start your own tradition with your toddlers of making something together from your bounty. If they love strawberry picking, take them apple picking near Los Angeles.
24. Playgrounds — Various LA Locations
With amazing weather all year, taking toddlers to a playground makes for a budget-friendly activity. Some favorites are Shane's Inspiration in Griffith Park and Malibu Cross Creek. But there are plenty of others in between, and playgrounds in Los Angeles specifically for toddlers.
RELATED: Top Attractions in Los Angeles: Best Things To Do and See with Kids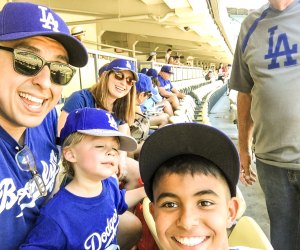 Sport Dodger blue! Photo by Alejandro De La Cruz, via Flickr (CC BY-NC-ND 2.0)
It's never too early to start rooting for the home team. Just be sure to get a seat on the 3rd base side—these are the seats in the shade. Little ones can also be awed by the Friday night fireworks after the games.
Swan boat rentals, playgrounds, ducks to watch in the lake, and surrey rentals make spending a whole day in this park easy.
Test the waters with little ones on a boat by taking the seasonal and very affordable Marina del Rey water bus. Stroll through the nearby Burton Chace Park and entertain the kiddos by watching the sea lions.
Introduce your preschooler to the national park system. Joshua Tree National Park is the closest national park to LA and has many fun rocks for the kiddos to climb and easy, family-friendly trails to meander. Take advantage of the many fee-free days throughout the year. Avoid going in the summer when it's too hot.
RELATED: Find an Amazing Petting Zoo near Los Angeles Where Kids Can Meet the Animals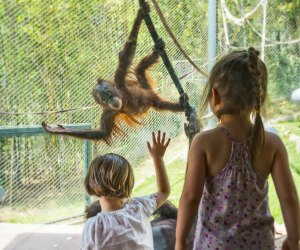 Make friends with an orangutan. Photo by Jamie Pham courtesy of Los Angeles Zoo
Animal Encounters for Preschoolers in Los Angeles
Meet some animals at the Los Angeles Zoo. There's plenty for kids to do at the zoo, from the reptile room to the Conservation Carousel. The playground is also a favorite—half of the time we spend at the zoo ends up being at the playground.
There are plenty of farms around Los Angeles, but our favorite is Underwood Family Farms. Head out to Moorpark in autumn for the Annual Fall Harvest Festival, in winter for Christmas on the Farm, and in spring for the Springtime Easter Festival.
There's just something about fish and the ocean children love that (hopefully) distracts for hours. Let them go under the sea and dip their fingers into the touch tanks.
If the kids keep asking for a puppy for Christmas, take them here to see how they interact with doggies as they browse the pet store for a future pup adoption.
If the Aquarium of the Pacific feels a bit overwhelming for preschoolers in Los Angeles, this aquarium is much smaller as a starting point to the ocean floor. It's also donation-based, making it a more affordable option.
Pony rides are a rite of passage—have your tot saddle up, and meet farm animals. Speaking of meeting animals in Santa Clarita, stop by The Gentle Barn too.
This small zoo with an ocean view requires a trip to Santa Barbara, which is worth it for all the many great things there are for kids to do there. Little ones will enjoy feeding giraffes and riding the zoo train.
RELATED: Special Libraries in LA & OC Worth a Drive Beyond Your Branch
Bookstores & Storytime Toddlers Will Love

Never too early to start book browsing. The Last Bookstore photo by Mike Anderson
Nothing's better than an activity that gets kids excited about books! The Last Bookstore is a magical emporium of new and used books, where kids can wander and discover. Used books are a wonderful and inexpensive way to build a home library, too.
This year-round storytime typically takes place outside. It will help inspire an early love of reading while enjoying the fresh air. There's also a family playroom inside the Beverly Hills Library in the children's' section, which is a nice little spot for those still toddling around.
Beyond the books, Children's Book World tends to have in-store special events like free musical performances that preschoolers in Los Angeles can boogie to after browsing for books.
SMPL is a community staple that preschoolers in Los Angeles will love. From storytimes, puppet shows, music classes, and annual events like the Arts & Literacy Festival and SMPL at the Beach at the Annenberg Community Beach House, there's usually something fun happening for the little ones at all times of the year.
Sign up for the Mommy Poppins Newsletter today!