Los Angeles's Best Parks & Playgrounds for Kids' Birthday Parties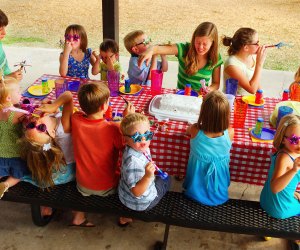 7/23/23
- By
Kylie Williams
Kids' birthday parties in Los Angeles can be limitless, with an overwhelming amount of places to choose from. Luckily, our near-perfect climate allows kids' birthday parties to take place outdoors any time of year!
From rustic to scenic to unique playgrounds, LA's bounty of incredible parks in LA can be ideal locations for kids' birthday parties. And the best part is that you won't have to scrub sticky residue off your floors and windows after the party ends. Read on for some of our favorite party parks, with all the details you need about popular first-come, first-served spots and where you can make reservations (and even set up a bounce house).
Now all you need is to order one of LA's best birthday cakes for kids and hire an incredible party entertainer, and your work is done... for now. When it's time to start party planning for the next birthday, check out our Birthday Parties Ideas Guide for Los Angeles Kids.
You know what else a birthday needs? Gifts! Get tried-and-tested favorite gift suggestions the Best First Birthday Gifts, and more in our Guide to Top Toys and Gear for Kids.
Best Parks on the Westside for Kids' Birthday Parties
1. Will Rogers – Pacific Palisades
Nestled in the Santa Monica Mountains, this state historic park feels as if you're out in the country, right down to the grazing deer. With trails galore and horse rentals, Will Rogers makes an ideal venue for a western birthday party. There are also plenty of shaded picnic tables, barbecues, and a gorgeous green lawn for games and fun. Reservations are available – five or ten tables.
The picnic area above the polo field has tables and barbecue grills and is available on a first-come, first-served basis. Parties are permitted for small groups with just blankets (no chairs, tables, catering, jumpers, etc.) on the front lawn of the ranch house. To reserve an area, or if you have a group of over 25 people in your party, call (818) 880-0398 or email WRSHP.Events@parks.ca.gov. Special events need to be arranged six weeks in advance.
This Malibu location will take your breath away with its expansive view of the Pacific Ocean. Breezy (and windy) all year round, this can be a great place to throw a party during the dog days of summer (which, as we all know, can extend into November). The park offers trails, a jungle gym perfect for ages two to 12, permits for barbecues, and picnic tables. Bounce houses are allowed on the lawn, but plan to pay a small fee. The shade is minimal.
Call the Recreation Center at (310) 456-2489 ext. 337 to find out if reservations are available for the picnic tables (or a room inside the center) on the desired party date.
This hidden gem of a park offers perhaps the most shade of any park in the city and plenty of picnic tables for littles. The pool is a terrific and underused amenity. Rustic Canyon also offers barbecues, basketball, baseball, tennis, and volleyball courts. The vintage recreation center is available for rent as a backup in case of rain.
RELATED: Swimming Spots to Host a Pool Party for Your Los Angeles Kid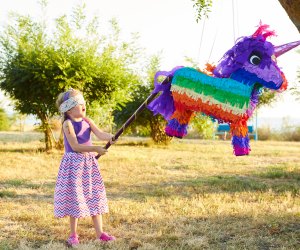 Sometimes only beating the candy out of a unicorn will do.
Venice Beach is the place to hang ten, especially if you are looking for a party spot with a jungle gym, skate park (bring those boards, blades, and scooters), and live surfers out in the water. The kids' play area has a view of the ocean but not a lot of shade, so bring extra sunscreen.
Another tip—the playground is not fenced in, so make sure the adult/kid ratio provides enough childcare. There are no barbecues and or bounce houses allowed, but plenty of street cred.
If you're looking for a shady spot, the covered picnic areas at Carlson Park in Culver City can save you from sunburn. Spacious fields give kids plenty of room to romp and play, and there are grills available if you want to barbeque. This park is a quieter neighborhood haven, and you won't find a playground here.
Let's be honest—the thing kids love most at their birthday party is typically that giant bouncy castle. Barrington Park has a rentable fenced-in lawn space that allows for bounce houses or picnic tables with shade available to the party people who arrive first. Note that the bounce house must come from a list of approved companies.
Email Barrington.recreationcenter@lacity.org to confirm your bounce house choice. No barbecues are on-site, but feel free to bring your own. To make a reservation or ask any questions, call the park center at 310.476.4866.
Throw a sea-themed party at this large park with a view of the Pacific Ocean. If you want to take the event up a notch, buy your guests a ride on the Marina del Rey Waterbus, which offers rides around the harbor for only $1 per person. While there is no playground at this park, there is the entertainment of sea lions and their barks.
Party planners can book a reservation to use one of the multi-purpose rooms or covered picnic tables. Call (424) 526-7910 to talk about reservations with the Parks department. All reservations for this park require a security deposit.
You can see for miles and miles from this urban oasis overlooking DTLA and much more. Eight picnic areas are available for rental for the whole day. Be sure to choose one of the four near a playground area and not elsewhere within this park.
Ambitious parents might lead the kids on a hike through the park's many trails or explore the Japanese garden. Tip: Parking is not free on weekends, so come up with a strategy to cover that for guests or make plans for drop off and pick up.
With Sprinkles nearby and the fanciness that is Beverly Hills floating in the air, why not have an Alice in Wonderland tea party? Roxbury offers lawn bowling, croquet, and putting greens to complete the theme. Shaded picnic tables with the use of park barbecues can be reserved in advance. No bounce houses allowed.
Centrally located near the Grove, this surprisingly large park has two different reservable areas for parties. One is larger with a roof and near the play area. The other has a terrific view, no shade, and is up on a hill. Prices vary depending on the number of people.
There are also gazebos available to reserve and many barbecues situated around the park. No bounce houses are allowed. As for themes, might I suggest Hollywood or sports (by the baseball diamond or basketball courts)?
RELATED: Teen Birthday Party Ideas in Los Angeles: Cool Party Places for Teens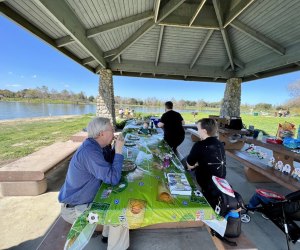 Kids' birthday parties are even better with views at Lake Balboa. Photo courtesy of Gina Ragland
Top Parks in the Valleys for Kids' Birthday Parties
It's hard to believe a lake big enough to accommodate fishing is in a pocket of Van Nuys off the 101 Freeway. This little oasis has multiple playgrounds, bike rentals, and paddle boat rentals shaped like swans.
You'll want to reserve a picnic pavilion relatively far in advance, and don't forget to bring your permit with you on party day, as someone will probably be at your tables, unaware that they are reserved. Lake Balboa is a very affordable option for a birthday party, with lots of space and scenic lake views. Reserve a picnic pavilion (trust me—request #3, closest to the water) by calling (818) 756-8187 to reserve picnic tables. Bounce house rentals are allowed with an additional permit and fee.
One of several state historic parks in Los Angeles, Los Encinos boasts a colorful history. Free guided tours of De la Ossa Adobe are available by appointment. The park boasts modern amenities that include barbecues, a duck pond, and shady picnic benches.
If the area you are interested in isn't reserved, and no one is using it when you arrive, you are welcome to enjoy it free of charge. However, because this is a historic park, many rules are imposed, such as no bounce houses, additional tables, portable BBQs, or party performers. If you want to make your bash more elaborate, you can request an event permit by emailing losencinos@parks.ca.gov.
This tucked-away neighborhood park is great for kids' birthday parties thanks to shady picnic benches and lots of convenient bathrooms inside the rec center, but kids who want to push themselves past the monkey bars will like swinging on the grown-up rings and chin-up bar. The two playgrounds (one for littles, the other for slightly older kids) are shaded, so no one will be hot and cranky before the cake.
While there are the usual playground and picnic tables, the real draw here is the sidewalk loop trail surrounding the park. Little kids can invite friends and guests to bring their bikes and scooters, while adults may want to sit back and enjoy the top-of-the-hill view.
is Glendale's largest city park, and if you need a large space with lots of tables, this is the park for you. There are 79 reservable tables here, plus 25 non-reservable tables for first-come, first-served groups. There are also 12 BBQ pits, many trees, plenty of grass, a kids' play area, and a skate park. Bounce houses are allowed with a permit.
For reservations and permits, call the park office at (818) 548-2184.
This neighborhood park has BBQ pits, picnic areas, lots of grass, trees, and a play area. Bounce houses are allowed with a permit, and 33 tables are available with a reservation. If you'd take your chances and show up early, snag one of the nine tables available to anyone without a reservation.
Located on a dead-end street tucked against the hills in a residential neighborhood, this is a great green space where families can escape the city. For reservations and permits, call the park office at (818) 548.2184.
Brookside Park is home to over 60 acres of green grass, Reese's Retreat playground, biking paths, baseball and soccer fields, tennis courts, and loads of picnic and BBQ areas. Reese's Retreat is a pirate ship-themed play area with water fountains and an interactive treasure hunt challenge. It's the perfect place to throw your little scallywag a pirate-themed party. Reservations can be made online.
This park has the best play equipment around, along with a fun basketball hoop challenge perfect for a sports-themed birthday party. The covered picnic tables are reservable, but when no reservation is posted, they are first-come, first-served.
Also known as "Lemon Park," this location will make for a sweet party, not a sour one. The covered picnic area is reservable, and kids can choose from two playgrounds, a splash pad (seasonal), pickleball courts, bocce ball, softball fields, basketball courts, and more.
There are two different spaces in the park to reserve covered areas or plenty of open picnic tables in the sun for use. If you want to make a reservation, call (805) 584-4400 to speak with the Parks department.
Kid-friendly, dog-friendly, and incredibly lush and green, this park is 30 acres of gorgeous grass, biking paths, a rose garden, and a fantastic playground. The park has a great mix of sun and shade, so it's comfortable year-round. It's a gorgeous place for a party, and since it's off the beaten path, you'll be introducing this gem to most of your guests.
If your party has more than 15 people, a park area can be reserved by submitting a Lacy Park Group Activity Permit application.
RELATED: Best Fun Restaurants for Kids' Birthdays in Los Angeles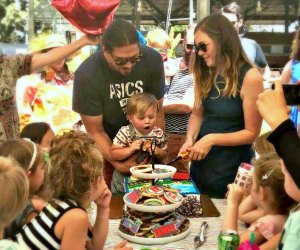 Host a Travel Town birthday for little conductors. Photo by Mommy Poppins
The Best Parks on the Eastside for Kids' Birthday Parties
If you have a train-loving little, what could be more fun than cake and ice cream in an actual train car within Griffith Park? There are several options for parties in Travel Town that will affect the cost: you can rent a covered picnic area or an entire train car. There is the train ride (extra cost), the indoor museum (no cost), restored train cars and engines (no cost), and plenty of grass for the kids to play on.
Book your date on the reservation website a few months in advance if you are coming with a larger group and wish to rent a party space, as this popular location books up fast.
For smaller get-togethers, the darling Ferndell playground on a gorgeous hike through a fern grotto in Griffith Park is an ideal setting for a woodland party. Picnic tables are only partially shaded by trees and are non-reservable. The Trails Cafe across the road is a possible place to get some birthday treats (or coffees for the parents) while kids scamper around the area.
Elysian Park is famous for being the home of Dodger Stadium (baseball party, anyone?), but it's also so much more. Dedicated as a park in 1886, this is the oldest public park in Los Angeles, and the second-largest (after Griffith Park). The many grassy areas make it perfect for kids' birthday parties; there is always someplace to set up a smaller party, and loads of picnic areas (and even a lodge) and playgrounds. You can reserve by calling the park office at (213) 485-5054.
RELATED: Awesome Indoor Kids' Birthday Party Places in Los Angeles

This lake at El Dorado Park begs for a party. Photo by Tracie Hall / CC BY 2.0
Top Parks in the South Bay & Beach Cities for Kids' Birthday Parties
Looking to throw a boat-themed birthday? Get this: at El Dorado Park, you can rent a boathouse shelter with tables, which includes the use of 15 paddle boats, each seating up to three. This package even comes with a bounce house. For a cheaper option, rent boats individually (weekends only). If that's not enough maritime activity, this park also has a radio-controlled model sailboat area.
The park has many other amenities available for a fee, including the frontier-themed El Dorado Express train (11am-5pm, Saturdays and Sundays), panning for treasure, barbecues (first-come, first-served), shady picnic tables (can be reserved or first-come, first-served), an archery range, and two stocked fishing lakes (permits required for teens 16+). Tip: Parking is not free, so prepare to cover that for guests or make plans for drop off and pick up.
Ready to throw a dino-mite birthday party? Recreation Park has a dino-themed playground that's a perfect setting for any aspiring paleontologist. Bring blankets and spread out in the shade, or reserve a larger picnic table for a big group. If you're looking for a space for a summer birthday, check to see if the community room on-site is available to provide a little air conditioning.
The free choo-choo train ride alone, though it runs only on limited days, makes this a terrific park, especially for aspiring conductors. The expansive 44 acres offer dozens of shaded benches, barbecues, a duck pond, two jungle gyms, a treehouse, and a splash pad for summer birthdays – and the parking is plentiful.
Just make sure to plan your party on the right day, as the live steamers typically runs twice monthly (11am-3pm on the first Sunday, and 12pm-3pm on the third Saturday). Bounce houses are welcome, and reservations can be made online.
We always knew this park as "the one with the pirate ship on the back side of the hill" while growing up in the South Bay. It's a beautiful spot on a bluff near the ocean, with superb views and mature trees. A pirate party theme with a treasure hunt would be ideal, as the main playground has a pirate ship structure for kids to explore and pretend to sail the seven seas.
There is also a tot lot, picnic areas with barbecues, grassy fields, and a baseball diamond. Call the office at (310) 544-5362 to reserve an indoor activity space.
The highlight of this park is the pond, which hosts ducks, geese, and other waterfowl. A natural wildlife refuge borders the pond on one side, adding to the scenic beauty. There are several picnic tables, eight of which can be reserved for rentals, and six barbecues.
Three gazebos are also available to rent (no barbecues allowed at these). Play areas include a lighthouse-inspired climbing structure, sand area, and colorful tot lot.
Marina Park in Ventura is an excellent option for a luau by the beach. The spacious grassy area over the dunes from the ocean has plenty of space for get-togethers, and there are nearby bathrooms. The giant concrete pirate ship on the sand invites kids to explore their inner sea captain.
Covered picnic tables are also available, and there are barbeques on site. For parties under 50 people, most of these amenities are avaiable on a first-come, first-served basis. If you are planning a larger party, head to the Ventura Parks and Recreation website to book a spot. Permits are also required for bounce houses or entertainment with amplified sound.
Originally published June 19, 2012