Insider's Guide to Griffith Park: More Things To Do Than Most Angelenos Know!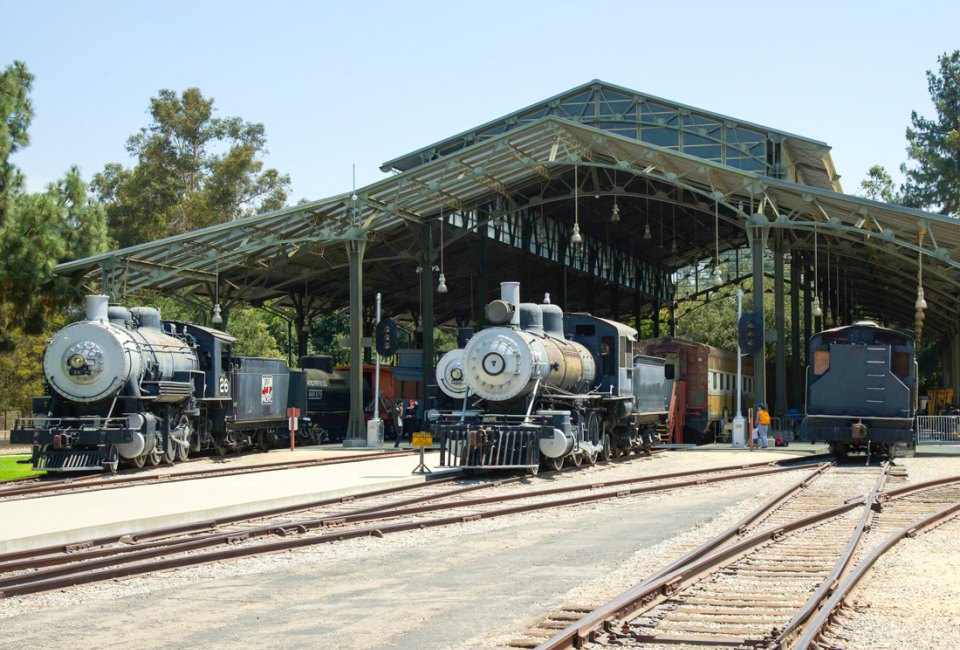 3/6/19
- By
Jacqueline Stansbury
** This article is getting a 2023 update at the moment- check back soon! **
What Central Park is to New York City, Griffith Park is to Los Angeles. It's our green oasis in the midst of a bustling metropolis of honking horns, crowded streets, and miles of storefronts. Five times the size of New York's Central Park, Griffith Park was designated as a historic-cultural monument in 2009, protecting it from future development. Angelenos should be thankful to Griffith J. Griffith, a Welsh real estate developer who gifted the land to the city in 1896 as a "place of recreation and rest for the masses."
Griffith Park has something for Angelinos of every age and interest. Whether you live in Los Feliz, with the park just steps away, or are further out in the South Bay or north valley, it's worth the drive to take in all that this sprawling space has to offer.
Most of us know Griffith Park as a place for hiking, picnicking, and birthday parties. Most likely, you have been to the Los Angeles Zoo and Travel Town. Many of us have made it to the Observatory, Autry Western Heritage Museum and Greek Theatre. There's a pumpkin train in October, Christmas lights in December and al fresco Shakespeare in the summer; but there is even more to the park's 4,218 acres.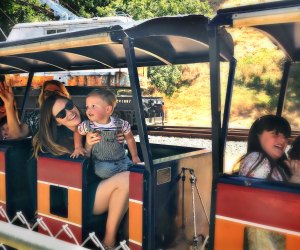 Travel Town train fun. Photo by Mommy Poppins
Griffith Park has not one, but two trains to ride. The first is in Travel Town, where kids and adults can coast around the parameter if the museum for only $4 per adult and $3 per kid (entrance into Travel Town is free). The second train is the Grifitth Park and Southern Railroad, which travels through a meadow, past Snow White's house, and through a tunnel daily. The conductors gussy up this railroad for Halloween and Christmas. The Christmas train is a Los Angeles classic, with thousands of twinkly lights guiding your way on the track.
If you want to add to your train riding experience, hop in the simulator right next to the Griffith Park and Southern Railroad station for only $5 per person. Bigger kids will get a kick out of this virtual reality experience that presents as more of a "thrill ride" than the sweet but slow train next door.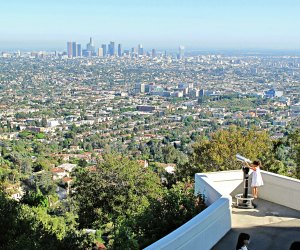 Photo by Downtowngal/CC BY-SA 3.0 via Wikimedia Commons
You could easily spend an entire day just at the Observatory—though since admission is free, there is also no shame in making it a quick stop to take in the iconic views. Channel your inner Emma Stone and Ryan Gosling, spend an afternoon gazing up at constellations in the planetarium, or wonder at the Tesla Coil and the swinging pendulum inside.
Dedicated to the memory of Shane Williams, who died of spinal muscular atrophy, Shane's Inspiration is one of the city's most famous outdoor play areas, and a fully accessible disabled children's playground. This giant spot for play has creative climbing structures, swings and spinners, a basketball game, and more. Be warned- Angelinos love Shane's Inspiration so much that it has turned into quite the tourist attraction on weekends.
The Trails Café will remind you of being at summer camp- it's a delicious little spot nestled in the trees near the bottome of the observatory, and the top of the Fern Dell trail. The walk-up cafe has sandwiches, sweet treats, and something called a snake dog ( a hot dog on a stick wrapped in pastry.) There is also plenty of hot coffee and tea, picnic tables, and creative dishes and drinks that will leave you satisfied and smiling.
8. Golf
Who knew that Griffith Park has more places to play golf, including a club, than trains to ride? That's right: four golf courses. Two with 18 holes, two with 9 holes.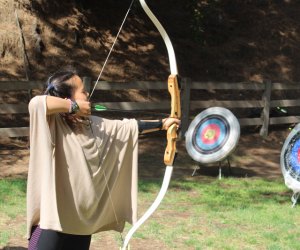 Photo courtesy of Camp Hollywoodland
Griffith's Camp Hollywoodland for girls and Griffith Park Boys camp offer our young urbanites a chance to slumber in nature without leaving the city. The camps have been operating since 1925 and were part of Griffith's original vision for the land.​
10. Mountain Lion and Other Wildlife
Griffith Park has been home to a few famed mountain lions through the years, including the park's current biggest feline celebrity, namely the freeway-crossing P22—whom some also suspect of killing the zoo's koala. Needless to say, these beautiful cats are also predators. While a lion encounter could indeed be frightening, pumas are by nature somewhat anti-social and prefer to keep to themselves. It is unlikely that these cats will appear where kids and families congregate, but looking for big pawprints on the trail keeps a family hike lively!
11. Hungry Hippos
Speaking of wildlife, there is more to the LA Zoo than meets the eye (even to P-22). It's worth mentioning that there are a few unusual animal encounters offered at the zoo to get a kid excited. How about getting up close with a baby hippo or mingling with flamingos?
Local cycle shop Spokes 'n' Stuff has a concession right next to the ranger station on Crystal Springs Drive. Check the web site or call first as hours are variable, and weekday rentals are cash only.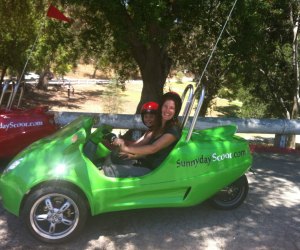 Sunnyday Scoot's mini-cars turn the whole park into a theme park ride. Photo by Mommy Poppins
For a totally unique way to experience Griffith Park, Sunnyday Scoot offers a thrilling ride that doesn't let anyone switch off in the back seat. Spend an hour exploring several of the park's high points in a vehicle that makes onlookers shout and wave.

Bronson Cave photo courtesy of Mommy Poppins
Like so many locations in our city, show biz is an important part of the history of Griffith Park. The Hollywood sign is within its boundaries. Many films and television shows have been shot here: D.W. Griffith (no relation) filmed parts of Birth of a Nation on the grounds, and the climax of Rebel Without a Cause takes place at the Observatory. But the best-known location without a doubt is The Bronson Cave which is actually a man-made tunnel carved into the rock wall of a former quarry. It served as the entrance to Batman's lair and was featured prominently in John Ford's The Searchers, among many others.
Beloved Attractions of the Past
The Griffith Park Pony Rides
For years, the Griffith Park Pony Rides were a main attraction in the park. Unfortunately, investigators discovered that the ponies and horses were not being treating in humane ways, and the entire operation was put to an end in 2022. Chances are, we won't see these pony rides again, but the train next door is the perfect spot to go for a ride and take in the Griffith Park views instead. If you are dying to hop on a horse, Sunset Ranch nearby offers trail rides to the Hollywood sign, and the Calamigos Equestrian Center is right down the road.
The Griffith Park Merry Go Round
Griffith Park's stunning and historical merry-go-round is still on display, and for good reason. This is the birthplace of Disneyland. Like so many dads, young Walt would take his daughter to the carousel and watch her ride. While doing so he started to dream up his own theme park. The bench where this deep contemplation took place is still there. Unfortunately, during Covid the horses stopped spinning, and a pricey repair has kept them still almost ever since. There is no telling when the carousel will rotate again.
Places featured in this article:
Sign up for the Mommy Poppins Newsletter today!