Spring Break 2023: 28 Fun Things To Do in Los Angeles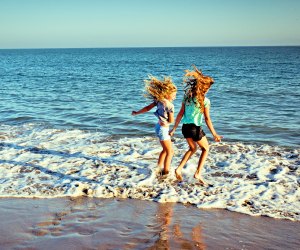 3/17/23
- By
Matt Matasci
Ready for spring break? Believe it or not, it's almost time for spring break for kids in Los Angeles. Luckily, LA is a place most people dream of visiting for our enviable weather, mountains, beaches, and deserts, so it's easy to have a fabulous vacation without going very far. Make this well-deserved break feel like a real vacation with a unique day trip from Los Angeles, an overnight staycation, or even just some very cool local museum exhibits and events. There are so many things to do in Los Angeles that you might have to save a few for summer...
And don't forget, if you need more local events and outings to fill every minute of every day, our event calendar is chock full of local (and free) outings, and we add more to our calendar every day. We've got loads of seasonal suggestions in this giant Spring Bucket List for Kids, which you'll find in our Ultimate Spring Fun Guide for Los Angeles & OC.
Fun Activities During Spring Break in Los Angeles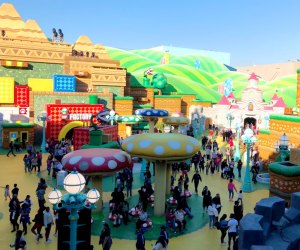 Enter the world of Mario and Luigi. Photo courtesy of Meghan Rose
Universal Studios Hollywood is a great way to spend the day if you're willing to brave the spring break crowds. There are attractions for kids of all ages, and the latest addition to the park is the first Super Nintendo World in the United States! Located on the lower level near Jurassic Park: The Ride, you'll be able to hang out with Mario, Luigi, Princess Peach, and other characters from the iconic video games.
Sure, the exhibit name might sound stuffy, but it's actually one of the coolest (and free) annual museum exhibits in town. This exhibit celebrates costumes in the movies and always includes Academy Award-nominated films and costumes from other popular films released in 2022. Seeing costumes up close is a thrill for kids.
If your kids are like mine, they can't get enough of these puppets on strings. If you've seen the talented and iconic puppeteers performing around town and wondered about the backstory of this LA institution, look no further than Forest Lawn's exhibit. Running until late May, the exhibit includes hand-crafted marionettes, original concept art, an animatronic band, and more.
You don't need an excuse to visit Kidspace, but in case you do, Butterfly Season is the perfect reason to visit. The children's museum will showcase our beautiful fluttery friends this spring with bug safaris, create-a-caterpillar art projects, and butterfly dress up. And that's just the tip of the butterfly wing! Your child can adopt a caterpillar — for a small fee, a kit includes a caterpillar, its food, and a care guide.
RELATED: The Butterfly Pavilion Ushers in Spring at the Natural History Museum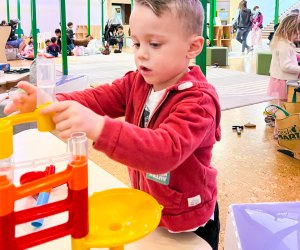 Enjoy a kid-friendly play space in the middle of a western museum. Photo courtesy of Kylie Williams
What small child doesn't love a great play space? Especially if it's a brand-new space that hasn't had its shine worn away yet. The Autry Museum recently opened a great new play space that appeals to kids in the two to nine-year-old age bracket. From a play kitchen to books to a craft table and LEGO bricks, there's plenty to keep kids busy while you take in the beautiful western wonders of the Autry.
It's always a toss of the dice as to whether or not we'll see spectacular wildflower blooms each spring. There are many great hiking locations to pursue this colorful natural phenomenon, so hit the trails and bring a camera (but stay on the trails)!
Take your little ones to the Discovery Cube LA for its new PAW Patrol exhibit. Kids can join the team — Marshall, Chase, Skye, Rubble, Everest, Rocky, Zuma, and Tracker while overcoming challenges at this exhibit.
Make It a Staycation Vacation
One of the advantages of living in Los Angeles is being able to visit unique, world-famous neighborhoods without traveling far. If you're looking for a local substitute for that Hawaii trip, Santa Monica's Fairmont Miramar Hotel & Bungalows provides a relaxing beachside atmosphere with private bungalows on the beach. For a rockier beach staycay, check out Terranea Beach Resort, where you can take advantage of the resort's offerings, local hikes, a tide pool, and beach excursions.
Willing to travel a little further? San Diego is renowned for its many family-friendly attractions and hotels. Animal lovers adore the world-famous San Diego Zoo, Sea World, and Sesame Place San Diego. Your family can even have a sleepover at the Safari Park with a Roar & Snore safari adventure. Just north of San Diego in Carlsbad is kid-favorite Legoland California, too.
Leave the big city behind this spring break—just a couple of hours up the 101 is one of the country's most beautiful cities, Santa Barbara. This mid-size city is world-renowned for its beaches, culture, and great food, making it the perfect staycation destination for Angelenos.
Who needs Hawaii when we've got our own island? Spring break is the perfect time to take your family to Catalina Island and get away from it all on this remote (yet close by) island destination. Take the kids on a Jeep Eco-Tour to see the bison that call the island home, try snorkeling in Two Harbors, view marine life on a glass-bottom boat or undersea sub, or play mini golf at the center square of Avalon.
To check out the life of a cowpoke (while sleeping in total comfort in your private cottage), venture to Alisal Guest Ranch & Resort in the heart of Santa Ynez's famous wine country. Take part in activities like arts and crafts, fishing, boating, a cowboy pancake breakfast ride, horseback riding, and more. Don't forget to say hello to the talking parrot in the horse barn!
RELATED: Santa Ynez Valley: a California Paradise of Kid-Friendly Wineries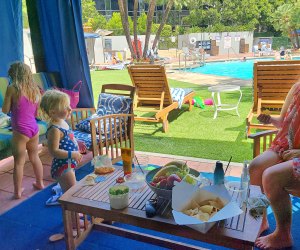 Get your own cabana at Universal Hilton for a posh pool day. Photo by Matt Matasci
Amazing Local Day Trips from Los Angeles
Disneyland needs no introduction, and we lucky Angelenos don't need to travel far to visit this enchanted place. Everyone else has to plan flights and hotels for this spring break classic, and we just have to hop on the freeway.
Not up for staying the night in a hotel but want to enjoy a luxurious pool? Consider a resort pass to a hotel like the Universal City Hilton, where you can rent a private cabana, order food and drinks, and relax by the pool. For boat lovers, The Marina Del Rey Hotel offers affordable resort pass options and is very charming with its marina-side setting.
Spring break typically falls right at the tail end of whale watching season in Southern California. Whale watching cruises are extremely popular, so you'll have to act fast and book ahead to ensure a spot during spring break.
Underwood Family Farms is a must-do for LA parents, so why not make it an all-day trip this spring break? The Moorpark location is the perfect place to get some fresh air while spending time on a farm that feels a hundred miles away from the city. Springtime on the Farm is a family favorite, and there are tons of year-round PYO options.
RELATED: Go Strawberry Picking near Los Angeles: Family Farms Where Kids Can Pick Berries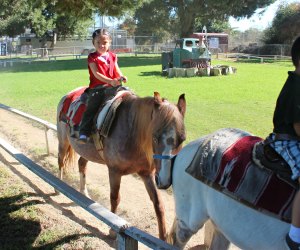 Even the littlest riders can hop up on a pony. Photo courtesy of Montebello Barnyard Zoo
LA residents are probably familiar with well-known regional zoos in Santa Barbara, Los Angeles, and of course, San Diego. However, if you're looking for something different, dig a little deeper and find a world of specialty animal encounters that allow your kids to get up close to animals.
Chug over to Irvine Park Railroad, where kids can meet the Easter Bunny and have pictures taken, participate in egg hunts, ride the train, and enjoy other ticketed activities.
Southern California is famous for its car culture. While cruising the boulevard or heading out on a Sunday drive along Route 66 may be activities of a bygone era, a road trip is a great way to safely get out of your neighborhood and see points of interest around the region. Popular road trips from Los Angeles include Joshua Tree National Park, Temecula Wine Country, the Calico Ghost Town, and the Anza Borrego Desert outside San Diego.
RELATED: 25 Road Trips from Los Angeles for a Weekend Family Getaway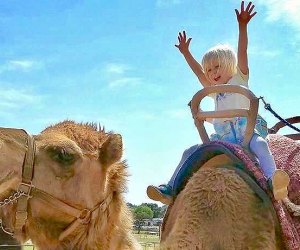 Oh, so you've been on a horse before? How about a camel ride! Photo courtesy of Oasis Camel Dairy
Sure, a horseback ride is fun, but how many kids can say they've actually ridden on a camel? Oasis Camel Dairy in Ramona allows kids the chance to ride one of these towering desert creatures. The best part is, this is a working Camel Dairy, and the whole family can take a private tour and feed the camels' apple pops (you can feed the mini sheep, too).
Kids love sea creatures so you can visit the ocean in Long Beach without going in the water (unless daring kids want to feed sharks and walk among rays) at the Aquarium of the Pacific. This beloved and impressive aquarium also hosts tons of events throughout the year.
Southern California is famous for its incredible biodiversity, so it makes sense that there are so many beautiful botanical gardens to explore. The Los Angeles Arboretum in Arcadia, Descanso Gardens in La Canada, and Huntington Gardens in San Marino all allow visitors the chance to enjoy many different types of forests and gardens.
RELATED: Zoos and Gardens for Los Angeles Kids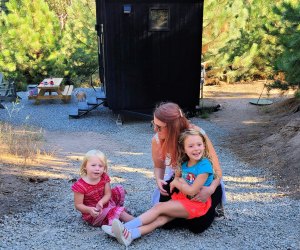 Even when campgrounds are booked up, you can find great places to camp. Photo by Matt Matasci
Enjoy the Great Outdoors During Spring Break in LA
My own city kids are always itching to bust out the tent and sleeping bags and go camping. With the weather starting to warm up, but before it gets hot, spring break is a great time to take the family on a camping trip. The good news is that there are many different options, including national parks and forests, state park campgrounds, and privately-owned campgrounds. The best bet is to try to book a site through the National Park System or find a private campground like a KOA. Other favorite private options include OwlBee Farm in Hemet, and (for something even more private and posh) try the Getaway House near Big Bear.
24. Or, glamping!
For people who don't find the work of camping makes for a relaxing vacation, SoCal has some fabulous glamping options. Try everyone's favorite El Capitan Campgrounds in Santa Barbara, venture to the desert to check out the hip AutoCamp in Joshua Tree (before it gets too hot), or head to the mountains for Huttopia in Paradise Springs.
Running over 20 miles from Will Rogers State Beach in Pacific Palisades to Torrance County Beach in Redondo Beach is the Marvin Braude Bike Trail. With the weather getting warm (but not too hot for a long ride), spring break is the perfect time to soak in the city's iconic coastal neighborhoods and cities.
RELATED: Yosemite: Plan a Fun, Kid-Friendly Getaway to California's Favorite National Park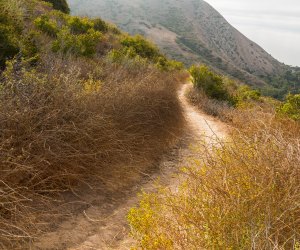 LA has a fabulous hike for every week of the year, like the Solstice Canyon hiking trail. Photo by Connar L'Ecuyer/NPS
Now's the time to take an adventure and explore LA's best open trails. If you need a hike for little toddler legs or one that's perfect for strollers, we've got you covered.
At the top of Beachwood Canyon in Hollywood is Sunset Ranch, which is open for horseback rides to the Hollywood Sign. You can choose from one or two-hour rides, or an evening tour. The one-hour ride takes you through the Hollywood Hills with views of the Hollywood Sign and LA Basin, while the two-hour ride goes to the top of Mount Hollywood and gives a 360-degree view of the city. It's just one of those things you gotta do, at some point. Why not on spring break?
There are a surprising number of great places for fishing just a short drive from Los Angeles, and even a few within the urban area. If you're fishing in public waters, you'll need to obtain a fishing license for everyone ages 16 and older.
Additional reporting by Ana Belibasis