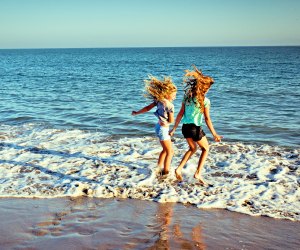 20 Things To Do with LA Kids Over Spring Break That Really Feel Like Vacation
Believe it or not, we're already heading into spring break. Time does pass, after all! Now parents face another new challenge: giving kids a memorable break after months of staring at a laptop for school. Though SoCal is starting to open up, places that are open have limited capacity. Luckily, there are plenty of things to do in LA with kids that will keep them happy, entertained, and make spring break feel like a real vacation. From unique day trips to overnight staycations, there are so many options you might even have to save a few of them for summer...
And don't forget, if you need more local events and outings to fill every minute of every day, our event calendar is chock full of drive-in movies, a sweet walk-thru event, and theme park tastings.
Please keep your family and others safe by wearing masks and social distancing. If an event appears too crowded, try using the "nearby" search feature on our event calendar to find something else to do.

Make friends with the dolphins. Photo courtesy of Sea World
Make It a Staycation Vacation
1. Have an LA Staycation at a Kid-Friendly Hotel
One of the biggest advantages of living in Los Angeles being able to visit unique, world-famous neighborhoods without traveling far. If you're looking for a local substitute for that Hawaii trip, Santa Monica's Fairmont Miramar Hotel & Bungalows provide a relaxing beachside atmosphere, with private bungalows on the beach. For a rockier beach staycay, check out Terranea Beach Resort, where you can take advantage of the resort's offerings as well as local hikes, tide pool, and beach excursions.
Willing to travel a little further? The city of San Diego is renowned for its many family-friendly attractions and hotels. Animal lovers adore the world-famous San Diego Zoo and Safari Park, as well as Sea World, all of which are now open. Your family can even have a sleepover at the Safari Park with a Roar and Snore safari adventure. Just north of San Diego in Carlsbad is kid-favorite Legoland California; and while the park's not fully open (though it will open for preview days on April 1, and fully reopen with all rides on April 15), the Castle Hotel is open and on select days the park hosts Build N' Play Days, where kids can play outside with Legos and explore outdoor areas in the park.
Leave the big city behind this spring break, just a couple of hours up the 101 is one of the country's most beautiful cities, Santa Barbara. This mid-size city is world-renowned for its beaches, culture, and great food, making it the perfect staycation destination for Angelenos. Visit the Santa Barbara Zoo, the Santa Barbara Museum of Natural History (where outdoor exhibits are still open), or the beautiful children's museum MOXI: The Wolf Museum of Exploration + Innovation. Other ideas for your Santa Barbara trip include taking a beach ride on horseback, traveling between the Santa Barbara Harbor and Stearns Wharf on the Lil' Toot Water Taxi, or just taking a walk through the city's beautiful, Mission-style downtown.
Who needs Hawaii, when we've got our own island—Catalina. Spring break is the perfect time to take your family and get away from it all on this remote (yet close by) island destination. Take the kids on a Jeep Eco-Tour to see the bison that call the island home, try out snorkeling in Two Harbors, view marine life on a glass-bottom boat or undersea sub, or play mini-golf at the center square of Avalon. Daredevils can climb around on the Catalina Aerial Adventure, ride the Zip Line Eco Tour, or scale the Rock Climbing Wall.
To check out the life of a cowpoke (while sleeping in total comfort in your private cottage), check out Alisal Guest Ranch & Resort in the heart of Santa Ynez's famous wine country where you can take part in activities like arts and crafts, fishing, boating, a cowboy pancake breakfast ride, horseback riding, and more. Don't forget to say hello to the talking parrot in the horse barn!

Get your own cabana at Universal Hilton for a posh pool day. Photo by Matt Matasci
Amazing Local Day Trips from Los Angeles
Disneyland and its incredible hotels are currently closed due to COVID restrictions (for just a little while longer—the park is currently planning on reopening in late April) but the park is offering a new program called A Touch of Disney. Located in the Buena Vista Street section of California Adventure, this ticketed experience allows guests to purchase meals and snacks like DOLE Whip, churros, and other dishes from around the park in an open-air market. The $75 tickets include parking, a $25 dining card for food and nonalcoholic beverages, and unlimited digital downloads of Disney PhotoPass photos captured during your visit.
Not up for staying the night in a hotel but want to enjoy a luxurious pool? Consider a resort pass to a hotel like the Universal City Hilton, where you can rent a private cabana, order food and drinks, and relax by the pool. (And cap your day with a visit to a Taste of Universal.) Upscale hotels with pools include the JW Marriott in Santa Monica and the historic Beverly Hilton in Beverly Hills, while more affordable options include chic Sunset Strip-area hotels like The Grafton on Sunset, the Montrose West Hollywood, or the Walk of Fame's Kimpton Everly Hotel in Hollywood. For boat lovers, The Marina Del Rey Hotel offers affordable resort pass options and is very charming with its marina-side setting.
Underwood Family Farms is a must-do for LA parents, so why not make it an all-day trip this spring break? The Moorpark pick-your-own farm has remained open throughout the pandemic. It's the perfect place to get some fresh air while spending time on a farm that feels a hundred miles away from the city. PYO strawberries has already started and Tomatomania begins March 27. Plus, animal-loving kids can visit the Animal Center, which is open for viewing and has goats, baby chicks, emus, bunnies, and more.
Spring break is right at the tail end of whale watching season in Southern California, with March being one of the busiest times as the whales begin their journey northward. Whale watching cruises (with reduced capacity) are extremely popular, so you'll have to act fast and book ahead to ensure a spot during spring break. Popular whale watching launch points include Newport Landing in Newport Beach, Redondo Beach Whale Watch, Marina Del Rey Whale Watching, and Aquarium of the Pacific in Long Beach.

Even the littlest riders can hop up on a pony. Photo courtesy of Montebello Barnyard Zoo
LA residents are probably familiar with the big regional zoos in Santa Barbara, Los Angeles, Orange County, and of course, San Diego, all of which are now open! However, if you're looking for something different, dig a little deeper and find a world of specialty zoos that allow your kids to get up close with animals. Montebello Barnyard Zoo has a petting zoo and pony rides (be sure to bring your own helmet), Danny's Petting Farm allows visitors for one hour in reserved groups of six, and America's Teaching Zoo in Moorpark is open.
Head north to Fillmore for a ride on the Fillmore & Western Railway Co., which is a round-trip train ride beginning in Fillmore with stops at The Loose Caboose and historic Santa Paula. On weekends from March 27 to April 4, riders can ride The Bunny Hop Express, which allows riders to pay an additional fee to visit Prancers Easter Farm. The additional price includes a photo with the Easter bunny, barrel train rides, horse rides, and farm animal viewing.
Southern California is famous for its car culture. While the days of cruising the boulevard or heading out on a Sunday drive along Route 66 may be activities of a bygone era, a road trip is a great way to safely get out of your neighborhood and see points of interest around the region. Popular road trips from Los Angeles include Joshua Tree National Park, Temecula Wine Country, the Calico Ghost Town, and Anza Borrego Desert outside San Diego.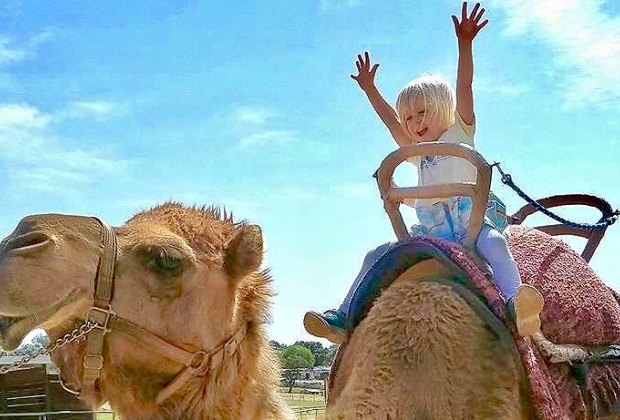 Oh, so you've been on a horse before? How about a camel ride! Photo courtesy of Oasis Camel Dairy
Sure, a horseback ride is fun but how many kids can say they've actually ridden on a camel? Oasis Camel Dairy in Ramona gives kids the chance to ride one of these towering desert creatures. The best part is, this is a working Camel Dairy, and the whole family can take a private tour and feed the camels apple pops (you can feed the mini sheep, too). The farm offers an agritourism experience like no other, and after meeting, riding, and learning to care for these magnificent creatures, you can see lotions, soaps, and even chocolates that camel's milk makes.
14. Experience Gardens of the World
Southern California is famous for its incredible biodiversity, so it makes sense that there are so many incredible botanical gardens to explore. The Los Angeles Arboretum in Arcadia, Descanso Gardens in La Canada, Huntington Gardens in San Marino, and South Coast Botanic Gardens in Palos Verdes are all open and provide visitors the chance to visit many different types of forests and gardens. Starting April 1, the South Coast Botanic Gardens host SOAR, a separately ticketed event that features a newly-built butterfly pavilion. (Speaking of butterflies, don't forget about the Butterfly Pavilion at the Natural History Museum!)
15. Indulge in Destination Farmers Markets
LA's also famous for its farmers markets, hearkening back to the region's roots as a dusty agricultural outpost. The most famous is The Original Farmers Market on Fairfax and 3rd, which is open daily. The best chefs in the city have known for years that the Santa Monica Farmers Market is the best place to score incredible produce, flowers, meats, and seafood. The only problem for families with school-age kids? It's on Wednesday and Saturday mornings, making it hard to take your kids during the school year. Take advantage of the break from classes (and the still relatively tame traffic) and visit this foodie paradise.
Angelenos aren't supposed to be fazed by spotting celebrities out and about, but the Hollywood Farmers Market and Brentwood Farmers Market are two places to shop for great produce while having a high likelihood of seeing a celebrity having a low-key Sunday morning. Other excellent farmers markets include those in Mar Vista (Sunday mornings) and South Pasadena (Thursday afternoons).

Even when campgrounds are booked up, you can find great places to camp, like the Getaway House. Photo by Matt Matasci
Enjoy the Great Outdoors During Spring Break in LA
My own city kids are always itching to bust out the tent and sleeping bags and go camping. With the weather starting to warm up, but before it gets hot, spring break is a great time to take the family out for a camping trip. The good news is that there are many different options, including national parks and forests, state park campgrounds, and privately-owned campgrounds. The bad news is that because it's one of the few social-distancing-friendly activities, finding a good campsite can prove difficult—everyone wants to go! Because of the limited space, (especially with pandemic rules) state parks are essentially filled for the weeks of spring break. The best bet is to try to book a site through the National Parks System or find a private campground like a KOA. Local KOA's include Ventura Ranch and Vail Lake near Temecula, with other private options being OwlBee Farm in Hemet, and (for something even more private and posh) try the Getaway House near Big Bear.
Running over 20 miles from Will Rogers State Beach in Pacific Palisades to Torrance County Beach in Redondo Beach is the Marvin Braude Bike Trail. With the weather getting warm (but not too hot for a long ride) spring break is the perfect time to soak in the city's iconic coastal neighborhoods and cities. The adventurous can take on the entire 22-mile stretch, though it can also be broken up into more easily manageable stretches: Santa Monica to Washington Blvd. (about 6 miles), Playa Del Rey to King Harbor in Redondo Beach (about 10 miles), and King Harbor to Torrance County Beach (about 3 miles). You can rent bikes at the beach if you don't want to drag yours across town.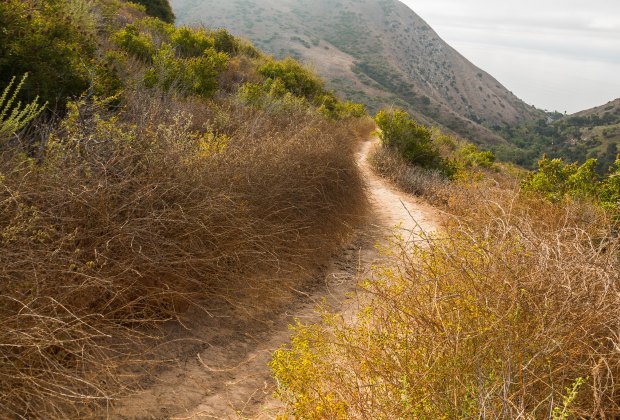 LA has a fabulous hike for every week of the year, like the Solstice Canyon hiking trail. Photo by Connar L'Ecuyer/NPS
It's been tough with trails throughout Los Angeles closed due to the pandemic or fires, but now most county trails are open! Now's the time to take an adventure and explore LA's best open trails like Solstice Canyon Loop in Malibu, Santa Ynez Falls, or Paradise Canyon Falls in Thousand Oaks. If you need a hike for little toddler legs or that's perfect for strollers, we've got you covered.
At the top of Beachwood Canyon in Hollywood is Sunset Ranch, which is open for horseback rides to the Hollywood Sign. You can choose from one or two-hour rides, or an evening tour. The one-hour ride takes you through the Hollywood Hills with views of the Hollywood Sign and LA Basin, while the two-hour ride goes to the top of Mount Hollywood and gives a 360-degree view of the city. It's just one of those things you gotta do, at some point. Why not now?
There are a surprising number of great places for fishing just a short drive from Los Angeles, and even a few within the urban area. If you're fishing in public waters, you'll need to get a fishing license for everyone 16 and older. Castaic Lake, Puddingstone Reservoir, Prado Reservoir, and Legg Lake top the list of bucolic fishing spots in LA.