Ventura with Kids: 39 Great Things To Do in Ventura County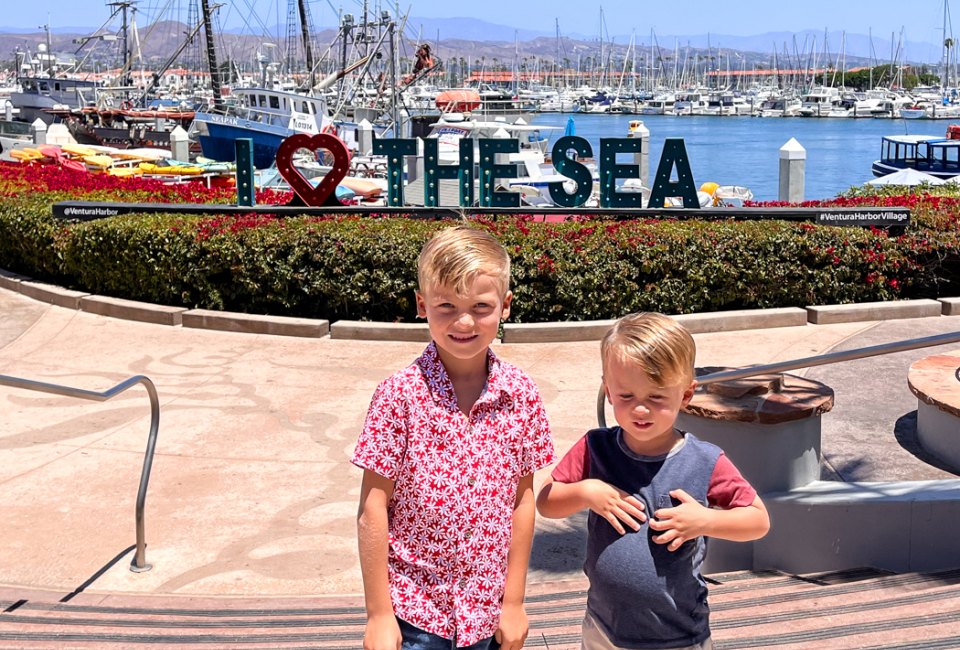 6/11/23
- By
Kylie Williams
There are so many things to do in Ventura with kids; there are family-friendly activities and entertainment as far as the coastline stretches. Ventura has remained refreshingly authentic with a small selection of places to eat, beaches framed by privately owned houses, grassy parks, and tasteful walkways. Pile the kids in the car, and head up the 101 to this happy little spot—you won't regret it.
Looking for more day trips from LA? Keep driving up the coast to check out Santa Barbara, or browse our ultimate beach guide to find plenty of sandy spots for your family.
Ventura has a special place in my heart: As a child, I romped on the seashore, swashbuckling in the pirate ship at Marina Park Beach in Ventura. As a teen, I collected vintage Coca-Cola memorabilia in the antique shops along Main St., sang "I Want it That Way" at the top of my lungs at the local roller rink, and sold kettle corn at the Ventura County Fair.
The night before I gave birth to my firstborn, my husband and I held hands and walked the Ventura seaside bike path. Now, I often bring my four littles to this slice of sandy paradise to make memories of their own because there are so many great things to do with kids in Ventura. Let me share with you my favorite tips from a local!

Little ones can play at Marina Park next to Ventura ocean views.
Best Outdoor Activities To Do in Ventura With Kids
This pirate ship has been lodged in the sand at Marina Park since I was a child. Right next to the pirate ship is a great little playground with ocean views (but make sure to bring your shoes- the turf gets hot!) Marina Park has beach access and a parking lot right next to the sand. Prepare to pay a bit for parking.
Arguably the most popular farm near Los Angeles, kids will love seeing farm animals and immersing themselves in an agricultural adventure. There are year-round pick-your-own fruits and veggies, and Underwood Farms hosts favorite seasonal events like a Fall Harvest Festival, Christmas on the Farm, and a Springtime Easter Festival.
Pedal through scenic Ventura County soaking in 17 miles of avocado and citrus groves on family-friendly pedal-powered railbikes.
Island Packers leads expeditions to the five Channel Islands, where families can hike, swim, and search for (rare and local) tiny foxes.
RELATED: Best Botanic Gardens in Los Angeles, Plus Cool Hidden Oases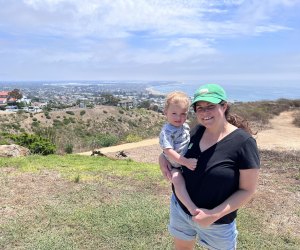 An uphill botanic garden with ocean views. Photo courtesy of Gina Ragland
There are 107 acres of gardens with rare and stunning flora and fauna to soak in at this botanical garden with an ocean view. Every Friday is a free day.
With a lazy river and a zero-depth play area, this smaller water park in Lake Casitas is ideal for younger kids looking to escape the summer heat.
There are two great playgrounds at this sprawling park. The loop trail is an excellent spot to see spring wildflowers.
This long, wooden structure is the oldest pier in the state of California. Grab some delicious Beach House Tacos, then stroll (or cast a line) on this piece of local history.
Sea life splashes in the waters right off the Ventura coast—book an Island Packers excursion to search for them, and have your camera ready.
RELATED: Summer Festivals and Fairs in Los Angeles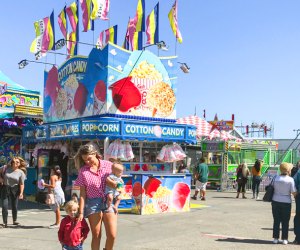 A day at the Ventura County Fair is a treat for the whole family.
My favorite little fair sparkles every August on the shore at the Ventura County Fairgrounds, replete with concerts, carnival rides, fried food, livestock auctions, and rodeos. While the fair is only here for a few weeks, there are fantastic family-friendly events at the Ventura County Fairgrounds all year long, such as Snow N' Glow in the winter and various concerts and outdoor movies when the weather is warm.
Both wave surfers and windsurfers congregate in the ocean at this spot daily. If you are looking for a good surf show, perch here.
This family-fun center has all the classic mini-golf castles, bumper boats, and arcade games that your kiddo's hearts desire.
13. Duck boats at Ventura Harbor
Choose your vessel: duck, swan, or dragon on your paddle atop the harbor. These paddle boats leave from a dock at Ventura Harbor Village and are first come, first served. Call to make a reservation if you want a light-up paddle boat for an evening ride.
Mountain bike or hike in this hillside preserve. I suggest trying the 1.7-mile Farr Family Trail for your hiking ventures. Mountain bikers are encouraged to borrow a tiny cowbell and ring it when hikers come into view, as trails are shared.
RELATED: Things to do in Santa Barbara with Kids
So many beaches to choose from in Ventura, but Harbor Cove Beach is great for tots.
Known as one of the safest beaches in Ventura due to its calm waters and protective breakwater, Harbor Cove Beach is a good option for tots just starting to get their feet wet.
Both wave surfers and windsurfers congregate in the ocean at this spot daily. If you are looking for a good surf show, perch here.
17. Admire the murals along Ventura Ave.
Larger-than-life art is all around the city, and this handy mural guide can help you locate all the best street art.
A broad bike path frames this stretch of the Pacific coastline, making it the perfect spot for a breezy bike ride. Rentals on the pathway offer beach cruisers and family surreys.
Get a glimpse of the Channel Islands without setting sail at this visitor center on Spinnaker Drive. Kids will love peeking at sea life. Watch the 25-minute film narrated by Kevin Costner to learn more about one of America's least-visited national parks.
Seaside birds such as island scrub-jays, bald eagles, owls, horned larks, and more are visible from Ventura if you keep your eyes peeled (or grab your binoculars).
Museums & Missions for Kids in Ventura County
As any student of California history will tell you, the missions dotting the California coast play a significant role in the state's development. This one, built in 1782, is open daily for tours. Learn the history of Ventura and wander the beautiful gardens.
If you happen to be in Ventura on the first Sunday of the month, take a tour of the Dudley House—a farmhouse built in the 1800s and owned by Ventura's own "king of the lima bean."
RELATED: Go Strawberry Picking near Los Angeles: Family Farms Where Kids Can Pick Berries
Olivas Adobe photo courtesy of City of Ventura Parks and Recreation
Step into the Rancho era and embark on an educational docent-led tour of this two-story 1847 Adobe home owned by Don Raymundo Olivas.
Glimpse more than 3,500 years of history at this little museum with artifacts taken from the Santa Buenaventura archeological site.
Indoor Excursions for Kids in Ventura
RELATED: Family Travel Bucket List: Visiting California's Channel Islands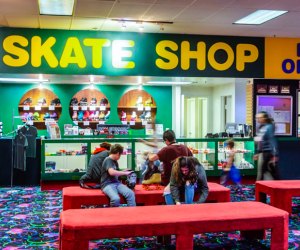 Skate into nostalgic times. Photo courtesy of Skating Plus
This roller skating rink touts the early 90s in the best possible way. Take a spin around the rink while listening to tunes and making requests.
If the kids have had enough sun, bowling is always a fun indoor option. Buena Lanes has bowling, an arcade, and a VR experience.
Kid-Friendly Restaurants & Shopping in Ventura
I went through a phase in high school where I wanted my bedroom to look like a retro diner. These little shops made that possible. In addition to antique stores, Ventura's downtown boulevard is home to an excellent bookstore, trendsetting retail shops, jewelry stores, a record spot, and more.
Order ice cream shaped like a unicorn, monster, or in the mouth of a fish (Taiyaki), at this unique ice cream spot right on the harbor.
I dare you to leave empty-handed when browsing for used books in the heart of Ojai at this beloved outdoor bookstore.
There are colorful strawberry stands with the ripest, juiciest berries you've ever tasted all along the 126. Many stands only take cash. Go strawberry picking or attend the California Strawberry Festival, held annually right in Ventura County.
RELATED: Things to do with Kids on an Ojai Weekend or Day Trip
Dive into delicious seafood at Andria's.
Andria's is a Ventura staple—we stop at this casual eatery every time we get the chance. It is right on the harbor, so it's the perfect spot to watch boats and kayakers while dining on some delectable fish & chips or clam chowder.
These mouthwatering fish tacos are family favorites in Ventura County, and the casual counter-service atmosphere makes it a perfect dining option in Ventura with kids after a jam-packed day.
What's better than a bar of chocolate? A bar of chocolate that you can customize yourself.
This retro-style diner claims to have the best burger in Ventura, and you'll feel like you're at a sockhop in this eatery with checked floors and a hoppin' jukebox.
The menu at Brophy Bros. is slightly more elaborate than Andria's, and if you want more of an elevated sit-down restaurant with a harbor view, this is our number one suggestion.
The mantra "it's like taking kids to a candy store" will play out when browsing for interesting confections in this downtown Ventura sweet stockpile.
Got picky eaters? There is sure to be something to consume at this food hall in Oxnard. Parents will love the food options here too.
Camping & Glamping Options in Ventura County
Play cornhole, BBQ, roast s'mores, or rent a bike at this unique "trailer hotel" lodging experience not far from the beach. Whether you want to rent a trailer or bring your own, Waypoint has options to make your stay in Ventura comfortable and filled with memories.
39. Camp near the ocean waves
There are plenty of glamping and tent campsites within walking distance from Ventura beaches. If you prefer to be a hotel guest, the Ventura Beach Mariott and the Crowne Plaza Ventura Beach are both right on the water.
All photos by the author unless otherwise indicated.
Sign up for the Mommy Poppins Newsletter today!
i