Awesome Family Camping near Los Angeles: SoCal Campgrounds with Extra Entertainment for Kids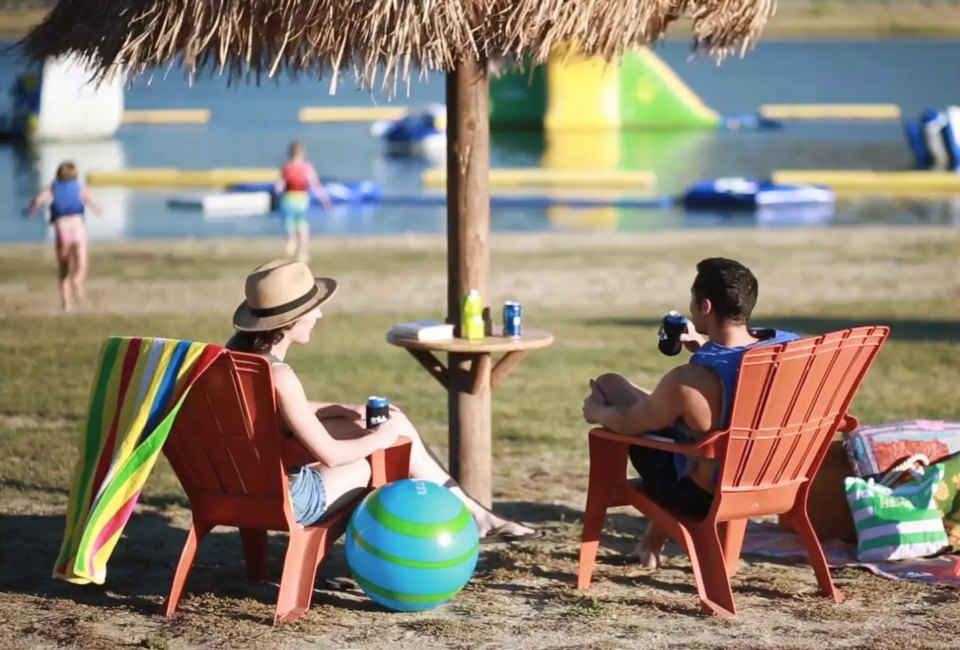 7/15/22
- By
Jennifer Fontaine
Our fabulous weather means you can go camping near Los Angeles pretty much any time of year! These campgrounds offer something extra for kids, making it even more enticing to head into nature with your amusement-addicted kids.
Camping with kids is a smorgasbord of sights and sounds, loaded with opportunities to explore the great outdoors. Hiking, biking, singing campfire songs at night, and unplugging from the hustle and bustle of our daily lives is good for the soul; but let's face it, even with the whole of Mother Nature at their fingertips, kids sometimes get bored.
It's time to up the ante on family camping. Southern California is home to several awesome family campgrounds that offer kids exciting alternative activities and entertainment when they tire of forest tag. Zip lining, anyone? Fishing? Rock climbing? Water parks? Movies? Even ghost tours? All these and more are offered at these campgrounds near Los Angeles. Get ready for the best of both worlds, cause we dare your kids to get bored at one of these campgrounds.

Mustang Waterpark is accessible directly from the Campgrounds at Lopez Lake. Photo courtesy of the water park
This is a bit of a drive from LA, but worth it. In the middle of San Luis Obispo County, just inland from Pismo Beach, lies Lopez Lake. With multiple campgrounds right by the lake, there are options for every kind of camping from rustic to RV to cabins. While parents will be in the thrall of the myriad of lake activities (fishing, paddleboarding, kayaking, and boating), hiking, zip line, ropes course, and incredible wildlife, the real draw here for kids is Mustang Waterpark. Accessible from the campgrounds, the waterslides and kiddie pool will keep kids corralled and happy for days. There are lifeguards on duty and a restaurant on the grounds, so it's as relaxing for parents as it is fun for kids. And did we mention the wildlife? Deer, wild turkey, quail, and even the occasional bear can be spotted on hikes or just wandering through the campsites.
You won't ever need to leave the campgrounds, but if you do, take a day trip to walk through the Monarch Butterfly Grove, play at Dinosaur Caves Park, or visit the one-of-a-kind Swinging Bridge.
Lodging types offered: Tent, RV, Cabins
Fun family activities: Waterpark, zip line, private fishing lagoon, children's playground area, a basketball court, horseshoe pits, ropes course
Campground amenities: Flush toilets, hot shower and coin-operated shower, laundry facility, general store, restaurant
RELATED: Road Trip on the PCH: Where To Stop and What To Do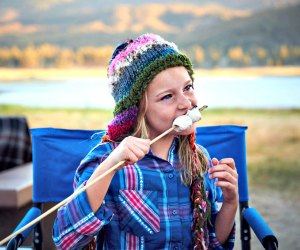 Marshmallows taste better after a day in the lake. Photo courtesy of Lake Hemet Campground
A 2.5 drive from Los Angeles, the Lake Hemet Campground offers visitors access to a unique outdoor recreation experience in the heart of the San Jacinto Mountains. The 470-acre reservoir boasts a Splashing Eagle Swim Zone, which is convenient for campers and features a wide-open beach. Or rent a pontoon boat for the day and enjoy a floating, splashing picnic or day spent fishing for several kinds of local and stocked fish. Either way, parents can open up the cooler and kick back while kids splash themselves into an early bedtime.
Lodging types offered: Tent, RV, Cabin, Glamping Tents
Fun family activities: Swim beach, fishing, and kayak, motorboat, & pontoon boat rentals
Campground amenities: On-site cafe, convenience store, flush toilets, hot shower, laundry facility
RELATED: Best Campgrounds for Tent Camping near Los Angeles

The rock climbing tower at Ventura Ranch is just one of the activities at KOA Ventura Ranch. Photo courtesy of the campground
Sitting at the foot of Topa Topa, Ventura County's highest mountain, the Ventura Ranch KOA is a quick 90-minute drive from Los Angeles. One of the most unique camp properties in Southern California, this KOA's bucket-list-worthy activities include a rock climbing tower, outdoor movie nights, pedal cars, and a long on-site zip line. Kids can bounce off their excess energy on the jumping pillow, and on hot days staff spray down the jumpers with a hose. Wild peacocks wander the grounds by day, and at night a guided spooky walk in search of Bigfoot keeps the surrounding woods mysterious.
Lodging types offered: Tent, RV, Cabin, Teepees, Conestoga Wagons, Safari Tents, Cabins
Fun family activities: Rock climbing tower, zip line, rope course, outdoor movie night, Bigfoot adventure walk, jumping pillow, pedal cars, adventure course, gem mining
Campground amenities: Flush toilets, hot shower, laundry facility, convenience store, Wi-Fi.
Just a 20-minute drive north of Santa Barbara, Ocean Mesa Campground is nestled among the native oaks of the Los Padres National Forest, with stunning views of the roaring Pacific Ocean. When your crew tires of El Capitan Beach or the miles of scenic hiking trails, take a plunge into the heated pool with an ocean view, head over to the playground, or rent a lawn game or five.
Lodging types offered: Tent, RV
Fun family activities: Summer movie series, pool, playground, game rentals, beach cruiser bike rentals, llama and goat farm
Campground amenities: On-site cafe, convenience store, flush toilets, hot shower, Wi-Fi, cable TV
RELATED: Ultimate Hiking and Camping Guide for Los Angeles Families

Kids can paddle, skate, and play at Campland. Photo courtesy of Campland
A popular Southern California family vacation spot since 1969, Campland is located close to SeaWorld, Legoland, San Diego Zoo, the Gaslamp Quarter, and other area attractions. The list of kid-friendly activities here is long and so varied it's sure to please even the pickiest patrons. From arcade games to beach volleyball courts and even a skate park, you can kick boredom to the curb.
Lodging types offered: Tent, RV
Fun family activities: Live music, water slide, pool, playground, arcade room, skate park, basketball courts, bubble soccer, ping pong, watercraft, bike rentals
Campground amenities: On-site restaurant, convenience store, Wi-Fi, marina with rental slips, fitness center, dog park, flush toilets, hot showers
If you're a disc golf junky, Lake Casitas Recreation Area and Campground has everything you've ever dreamed a disc golf course should be. The challenging, professionally designed course has its players traversing rugged terrain while overlooking scenic Lake Casitas. Adjacent to the campground, Lake Casitas Water Adventure Park opens its two water playgrounds for kids to enjoy during the hot summer months, though when drought conditions are severe, check for closures and limited hours.
Lodging types offered: Tent, RV
Fun family activities: Water park, disc golf course, biking, bird watching, watercraft rental, fishing, playground
Campground amenities: On-site cafe, convenience store, flush toilets, hot shower, marina with rental slips
For the astronomy buffs in your family, this more primitive campground offers unique opportunities to enjoy the night sky. Sites have level spots for telescopes and clear views of a sky overhead that's far from city lights. A two-mile hike to the Palomar Observatory is the start of an exciting evening of stargazing, especially on nights when the Observatory hosts the amateur astronomy project, Explore the Stars. By day, the campground is a secluded spot offering outdoor learning opportunities along the lines of birding and fishing. At an elevation of 4,800 feet, this spot offers clean air, inviting pine trees, and a perfect base camp for hiking and stargazing. This is true wilderness: Mountain lions, feral pigs, and black bears have been sighted on Palomar Mountain in the general vicinity of Observatory Campground!
Lodging types offered: Tent
Fun family activities: Hiking, birding, fishing, access to the Palomar Observatory, star parties, movies & events at the amphitheater
Campground amenities: Vault toilets, shower (seasonal)
RELATED: Last Minute SoCal Campgrounds for Camping with No Reservations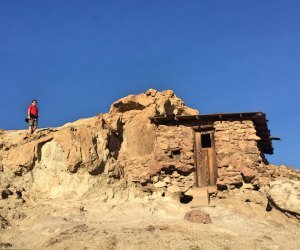 Hiking with the ghosts at Calico Ghost Town. Photo by Mommy Poppins
When you reserve a spot at the Calico Ghost Town campground, the whole family is transported back to the heyday of an Old West mining town (and maybe even an old Brady Bunch family vacation). Part of the San Bernardino County Regional Parks system, this historic town, surrounded by the natural beauty of the desert, invites guests from all over the world to experience the fascinating chronicles of life in the late 1800s. Kids love the ghost tour, and they'll be talking about that mystery shack for a good long while.
Lodging types offered: Tent, RV, Cabin, Bunkhouse
Fun family activities: Silver mine tour, historic train ride, gold panning, off-road adventure tour, ghost tours, and an optical illusion mystery shack
Campground amenities: On-site restaurant, convenience store, sweet shop, flush toilets, hot showers
Bordering the Angeles Crest National Forest, the LA RV Resort (which used to be the Acton KOA) is a one-hour drive from Los Angeles and delivers dramatic views of the San Gabriel Mountains with every family-friendly convenience you could possibly want. Campers can choose from a whole host of activities including Wacky Town & Race Track, take part in some organized arts and crafts, then cannonball into the swimming pool.
Lodging types offered: Tent, RV, Cabin, Teepee
Fun family activities: Tetherball, horseshoes, lawn game rentals, volleyball, race track, movie nights, shuffleboard, basketball courts, swimming pool, playground, offroading, hiking trails
Campground amenities: Flush toilets, hot shower, laundry facility, convenience store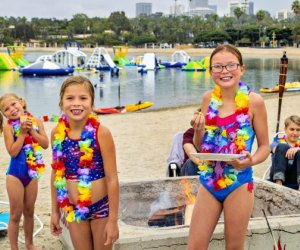 The beach is a great spot for s'mores. Photo courtesy of Newport Dunes Beach Resort
This waterfront camping resort in Orange County is so close and so easy, you may feel guilty calling it camping. Located on a small protected cove set back from the oceanfront in the heart of Newport Beach, this hidden in plain sight gem has a clean beach with surf-free water perfect for paddle boarding and pedal boating. Over the summer, an inflatable water park is erected with enough structures to exhaust a kid of any size. The resort has lovely cabins on the water (that book well in advance) as well as set-back sections for RV camping, and tent camping is allowed on the small RV sites. In season, the resort hosts events like nighttime movies, campfires, and kids' activities.
This post was originally published on May 25, 2017, and is updated annually.
Sign up for the Mommy Poppins Newsletter today!