30 Best Bedtime Stories for Kids, Including Free Bedtime Stories Online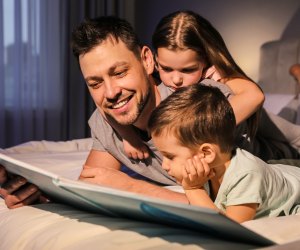 10/20/22
- By
Gina Massaro
Sometimes all you need is a really great bedtime story for kids: The homework's finished, the dishes are piled in the sink, the children are snuggled in their beds ... and they're still awake. A truly tantalizing tale bedtime is the final piece of the bedtime puzzle. Whether you read these books to your kids, read them together as a family, or play the audio versions, these beloved bedtime stories for kids will help them drift off to dreamland in no time. There are even some free bedtime stories you can easily access online, for those nights when you need something new.
Dim the lights, get cozy, and crack open one of these 30 great bedtime stories for kids. For even more great books, check out our lists of 100 kids' books every child should read before they grow up, the best LGBTQ books for kids, and more beloved book recommendations in our Guide to the Best Kids' Books.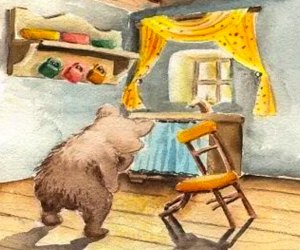 Listen to Goldilocks and the Three Bears for free online. Original illustration by Joanna Pasek
Free Bedtime Stories for Kids Online
With a slightly modern twist, this story (like many fairy tales) holds a lesson. A little girl finds the home of the three bears during a walk in the forest. While they're out she eats their oatmeal, sits in their chairs, and sleeps in their beds...and ultimately learns the importance of respecting others' privacy and property.
This English fairy tale tells the story of a poor country boy who trades the family cow for magic beans, which grow into a beanstalk that leads to the castle of an unfriendly giant. You can read it aloud yourself or play the audio version for the kids.
In this quick read—one of Aesop's Fables—the Town Mouse visits his cousin in the country and turns his nose up at the Country Mouse's lifestyle. The story's theme of choosing a peaceful and simple life over a luxurious one is a message even little kids can grasp.
This is a fun, silly story about a spider who thinks flies taste yucky. Author E.B. Adams has other fun books on his site, some of which are free to download.
The children's classic about a lovable, yellow, honey-loving bear and his pals, who live in the forest surrounding the Hundred Acre Wood, is available to read for free online.
A toy rabbit wishes to become a real bunny in this tearjerker. While you won't see many of the fabulous illustrations in this online version, you can read the story for free.
This classic tale is about a girl named Dorothy and her dog Toto, who get swept away in a tornado from their Kansas farm to the magical land of Oz. The famous ruby slippers are silver in the book, but the story still holds just as much whimsy and magic as the 1939 film.
RELATED: How To Pick Early Reader Books

On the Night You Were Born is one of the most classic bedtime stories for kids. Image courtesy of McMillan Publishing
Best Bedtime Stories for Babies, Toddlers, and Preschoolers
This beautiful story about the overwhelming joy of a child's birth may bring a tear to parents' eyes. It's a thoughtful and emotional book with illustrations little ones love.
9. Pete the Cat series by Eric Litman, James Dean ,and Kimberly Dean
Toddlers love these picture books about Pete the Cat and his adventures—especially the ones that come with a CD song. Parents will find themselves humming the catchy tunes long after the littles have fallen asleep.
Another sing-song book about a mother's love for her child, Snuggle Puppy! is such a joy to read. You can come up with your own tune or use the official one from the album the book is based on.
Good Night, Gorilla does not have many words, but the book is all about the illustrations. Toddlers love to point out what's happening in each picture behind the zookeeper's back.
One of the most classic bedtime stories for kids, Goodnight Moon features a rabbit saying good night to the items in its bedroom. It's such a staple, in fact, that it's been parodied many times.
This is a sweet, simple story about a little bird who falls out of the nest and meets various animals until it finds its mother. There is also a shorter board book version.
RELATED: 50 Best Kids' Movies for Family Movie Night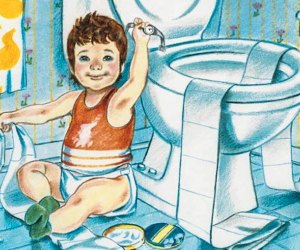 There's so much to love about Love You Forever. Illustration by Sheila McGraw from the book
Have the tissues ready for the first few reads of this story about loving your child no matter how big or old they get.
This gorgeous picture book, in which hardworking trucks get ready to go to bed, is one of the best bedtime stories for kids who love trucks. It is so popular that it spawned several follow-up books.
Say good night to various animals—and to your little one—with this sweet, rhyming, and beautifully illustrated bedtime book.
Best Bedtime Stories for Kids and Tweens
17. Coraline by Neil Gaiman
According to a study by My 1st Years, Coraline is the number-one children's book in the US. It tells the story of an adventurous 11-year-old who finds an idealized parallel universe—which also contains sinister secrets—behind a secret door in her new home. Some parts can be a bit scary, so the book is best for bigger kids.
RELATED: 20+ Ruth Bader Ginsburg Children's Books (+ More Women Leaders)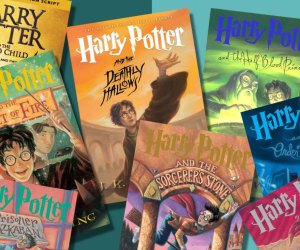 Is it time to enter the world of Harry Potter? Photo courtesy of Scholastic, Inc.
This wildly popular fantasy series about a magical world of witchcraft and wizardry includes seven books that range from 309 to 870 pages. Start with Harry Potter and the Sorcerer's Stone and settle In for many nights of fantastical reading.
Children who love fantasy and science fiction will be enthralled by the villain-turned-good-guy Artemis Fowl. There are eight books in the original series.
20. Matilda by Roald Dahl
Matilda is a childhood staple about a brilliant young girl who uses her smarts to help free her fellow students (and herself) from their school's cruel headmistress.
This classic tale is a touching story of friendship between "Some Pig" Wilbur and a barn spider named Charlotte.
Horse and animal lovers will love this classic, which is considered one of the best-selling books of all time.
A Little Princess is a favorite among educators. It tells the story of a young girl who is always generous and caring despite her changing circumstances.
RELATED: 100 Best Kids' TV Shows of All Time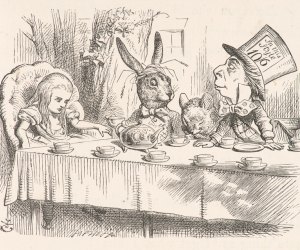 Alice's tea party is a classic scene from Alice in Wonderland. Illustration by John Tenniel from the original edition
Best Bedtime Stories for the Whole Family
Many children are first introduced to Alice through the Disney films and animated series, but the books are just as captivating. In the original book, a girl named Alice falls through a rabbit hole into a fantasy world full of peculiar creatures.
In this fantasy book, an orphan named James is left in the care of his evil aunts. Through magic, he finds himself on an adventure in a giant peach with a makeshift family of bugs.
26. Shrek! by William Steig
The hit DreamWorks film about a lovable green ogre was based on William Steig's book of the same name. While there are some notable differences from the film, the book still has all of its great humor and adventure.
Originally written in French, this beloved tale transcends culture and language. It tells the story of a young prince who visits various planets, including Earth, and experiences loneliness, friendship, love, and loss. The restored illustrations are truly beautiful.
28. Peter Pan by J. M. Barrie
Like Alice in Wonderland, there are definitely differences between Disney's version of Peter Pan and the original story. The original tale of a mischievous boy who can fly and never grows up is fun, adventurous, and worthy of reading without comparison to the film.
RELATED: 21 Kid-Friendly Ghost Stories and Spooky Stories for Kids

Where the Wild Things Are illustrates the power of the imagination. Photo courtesy of the Maurice Sendak Foundation
In Where the Wild Things Are, a boy named Max lands on an island where he meets strange and mysterious creatures. Maurice Sendak's illustrations are a big part of what makes this book truly enchanting. It's been a staple in many families' libraries for generations.
With such a vast library, it's hard to pick just one Dr. Seuss book. The Cat in the Hat's silly rhymes and mischievous titular character make it fun for the whole family to read.
Lead image courtesy of Bigstock