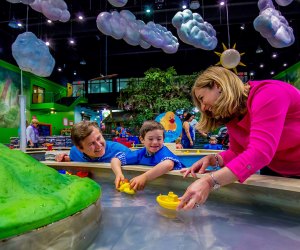 Make a Day of It with These Winter Day Trips for NJ Families
Freezing weather can lead to stir-crazy kids (and parents), so we've pulled together a list of more than 25 great winter day trip ideas for New Jersey families.
Bundle up for a day of snow tubing, or watch the wolves wrestle in their snowy habitat at Lakota Wolf Preserve. If the weather is too frosty for you, try indoor stargazing at the Novins Planetarium, or visit a kid-friendly exhibit at the Newark Museum. Dreaming of summer days? Check out the indoor water park at Sahara Sam's, where kids can splash the day away, or visit Adventure Aquarium to see penguins, sharks, and stingrays in action.
Whether your crew loves outdoor adventures or prefers indoor pursuits, read on to find the perfect winter activity for you.
Try a Winter Sport
Campgaw – Mahwah
Perfect for beginners and young skiers, Campgaw Mountain offers group and private lessons for ages 6 and under as well as a dedicated beginner hill with magic carpets for easy access to the top. Advance tickets are recommended for snow tubing. Tickets go on sale six days prior to the day you would like to attend. Season passes for 2019/2020 are currently available.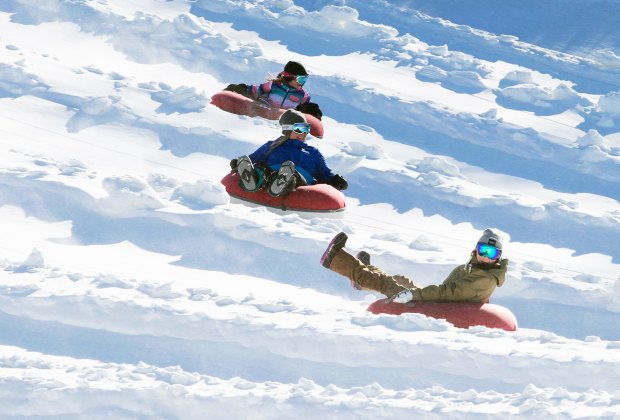 Have a blast snow tubing at Mountain Creek. Photo courtesy of Mountain Creek
Mountain Creek – Vernon
This ever-popular ski spot is busy on holiday weekends for good reason: it offers the best and closest ski experience for New Jersey families. With 46 runs, snow tubing, and a vertical drop of 1,000 feet, this mountain has something for everyone. Multiple snow pass options may make your visits more cost-effective if you plan to go more than once.
Ice Skating – Various locations
Several seasonal outdoor rinks are open for the winter, and many indoor skating rinks offer public skating sessions every weekend. When little legs get tired, it's time for hot chocolate.
RELATED: The Best Snow Tubing Spots for New Jersey Families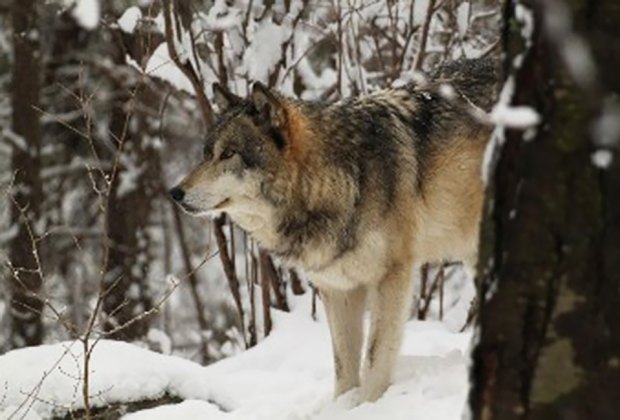 Go wolf-watching and learn all about these beautiful creatures at the Lakota Wolf Preserve. Photo courtesy of the preserve
Visit with Animals
Lakota Wolf Preserve – Columbia
Join a guided tour of the wolf terrain, learn about wolves' social behavior in packs, watch them play in the snow, and maybe even hear them howl. Due to snow and ice damage caused in early-December 2019, the preserve is closed until repairs are made. Call 908-496-9244 to be sure the preserve is open before visiting.
Adventure Aquarium – Camden
Wave hello to beloved hippos Genny and Button, gaze at the stingrays and sharks, or check out the newest hatchlings in the little blue penguin colony.
Jenkinson's Aquarium – Point Pleasant Beach
Explore coral reefs, touch a sea star, and laugh at the penguins' slip-and-slide antics. Check the website for daily shark, penguin, and seal feeding times.
Rizzo's Wildlife World – Flanders
Get up close to reptiles, lizards, snakes, and other creatures at this wildlife discovery center and learn about their natural habitats. Kids under 2 are free.
RELATED: Free Indoor Play Spots for NJ Kids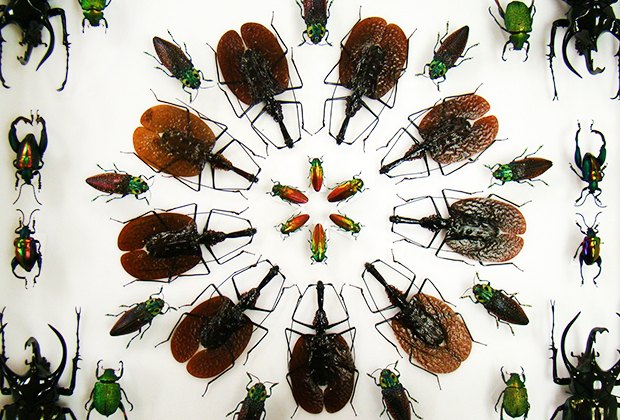 Budding entomologists will dig NJ's "bugseum." Photo courtesy of Insectropolis
Insectropolis – Toms River
Backyard explorers will love this "bugseum," where kids can wander through Bug University, Creepy Tavern, and Hive Airport to learn all about crawling and flying insects. Check the website for touch presentation times.
Turtle Back Zoo —West Orange
This Essex County gem is home to hyenas, giraffes, wolves, black bears, and more amazing creatures. Take a ride on the beloved endangered species carousel, which is perfect in any weather. The zoo is open daily from 10 a.m. to 3 p.m. Parking is free as are children under 2.
Go Stargazing
Raritan Valley Planetarium – Branchburg
Take a trip to outer space at this hidden gem on the campus of Raritan Valley Community College. The digital sky dome showcases the solar system, galaxy and deep space. Check website for monthly family-friendly and sensory-friendly show times.
Robert J. Novins Planetarium – Toms River
Wow the kids with a 3D digital journey to space as well as the bottom of the sea at this Ocean County College planetarium. The fiber-optic star projector provides a crisp image of the night sky. View the schedule of events online.
RELATED: Stargazing in NJ: Best Views, Observatories, Astronomy Clubs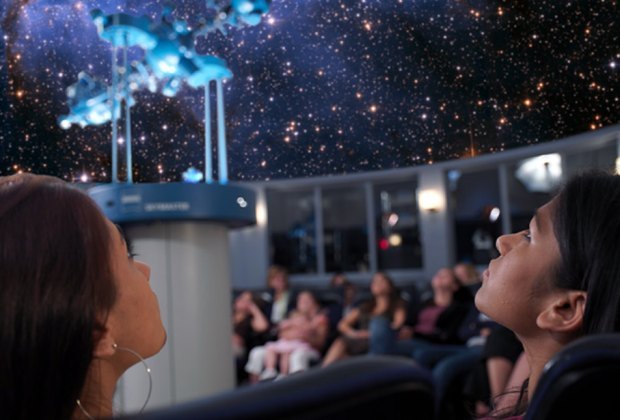 Audiences can explore constellations, travel through the solar system and visit distant galleries at the Dreyfuss Planetarium. Photo courtesy of the Newark Museum

Dreyfuss Planetarium – Newark
Soar to the edge of the universe at this interactive planetarium that features a journey through the solar system with stops at many constellations. Strollers not permitted inside. The planetarium is located inside the Newark Museum. Tickets go on sale at the front desk as soon as the museum opens each day, and are available on a first come, first served basis. Check out our roundup of family-friendly Newark restaurants if you want to grab a bite before or after your visit!
Longo Planetarium — Randolph
Located on the County College of Morris' campus, this 91-seat state-of-the-art theater recently underwent a major renovation. Public shows are presented monthly on weekends and last about an hour. Check the website for offerings. Reservations are strongly recommended.
Discover and Explore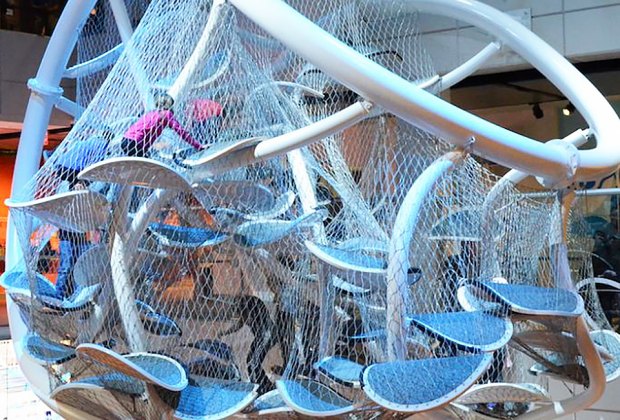 Kids love the Infinity Climber at Liberty Science Center. Photo courtesy of Liberty Science Center
Liberty Science Center – Jersey City
Kids will love to explore skyscrapers and a Hudson River exhibit, then play on an Infinity Climber that's suspended from the ceiling. To plan your LSC visit, check out our review and nearby restaurants. And for more options, don't miss our guide to Northern New Jersey museums.
Montclair Art Museum — Montclair
Perfect for budding artists, this museum, better known as MAM, hosts a variety of family programs throughout the year. Kids can get hands-on with art materials inspired by the current exhibits at the Drop-In Studio. Don't miss the large sculptures that sit on the grounds outside the museum. While in this bustling, Essex County town, enjoy other family-friendly activities make it a fun day trip.
Morris Museum — Morris Plains
Music lovers of all ages adore the chance to check out the Murtogh D. Guinness Collection of 750 mechanical musical instruments, ranging from a player piano rolls to intricate music boxes. The interactive exhibition Musical Machines & Living Dolls will change the way you think about musical entertainment. Children under 3 are free.
Garden State Discovery Museum – Cherry Hill
Down in the southern part of the state, kids can explore science, get their hands dirty making art, don a chef's hat, or turn into a superhero at this family favorite.
State Museum – Trenton
In the state's capital, head to the Written in the Rocks: Fossil Tales of New Jersey exhibit for intriguing clues about our ever-evolving planet. Also, check out Ice Age animals and their modern-day kin.
Thomas Edison National Historical Park – West Orange
Travel back in time and discover where America's greatest inventor changed the modern world. Thomas Edison's home and laboratory are a must-see for budding inventors. Kids under 16 are free.
Cross State Lines
Crayola Experience – Easton, PA
Young doodlers will love a trip to this brightly-colored wonderland. Hands-on art projects featuring crayons, markers, clay, and painting, plus a multilevel climbing and bounce structure, equals tired and happy kids.
Jurassic World – Philadelphia
Buckle up for a simulated sea journey to the famous dinosaur theme park from the movies. Cross through the iconic entrance gate and gawk at a Brachiosaurus and other animatronic dinosaurs.
Please Touch – Philadelphia
Drive a city bus, launch a rocket, or climb through a rainbow tunnel at this hands-on museum devoted to curiosity. Kids can make their way through a hedge maze or figure out how to navigate the Hall of Mirrors where optical illusions abound.
Legoland Westchester or Legoland Philly – Philadelphia and Yonkers
New Jersey doesn't have its own Legoland yet, but there are two Legoland Discovery Centers within easy driving distance, depending on where in the state your family resides. The one in Philly has plenty of building fun, mini models, and indoor playground fun on tap. The longtime Westchester spot features a Ninjago-themed play area, plus building opportunities, rides, and even kiddie karaoke.
Have Some Indoor Fun
American Dream Amusement Park— East Rutherford
The long-awaited debut of American Dream became a reality when Nickelodeon Universe—the Western Hemisphere's biggest indoor amusement park—opened in October. Big Snow, North America's first and only indoor, real-snow, year-round ski and snow resort, is open as well. You can also go ice skating on an NHL-size rink, and visit a three-story "department store of candy."
RELATED: Indoor Water Parks and Pools for New Jersey Families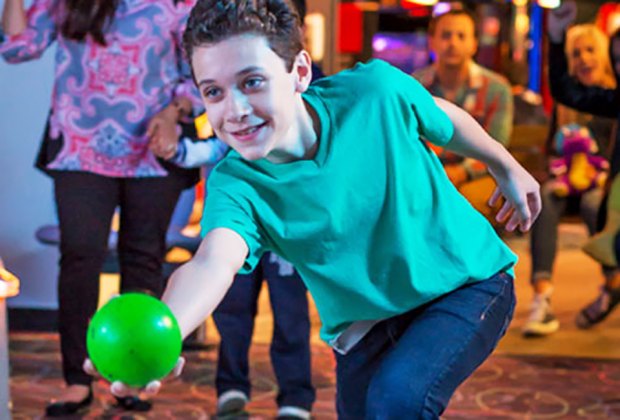 No bowling shoes required! Grab your friends and family and select a game on one of the computerized lanes. Photo courtesy iPlay America
Bowling – Various locations
From low-key neighborhood alleys to neon-lit, arcade-style bowling centers, nothing beats a game of ten-pin on a blustery afternoon. Check out our guide to New Jersey's top family-friendly bowling alleys.
iPlay America – Freehold
Too chilly for the boardwalk? This indoor amusement park combines classic rides like bumper cars and a carousel with carnival games, laser tag, bowling, restaurants, and a sweet shop—all inside one cavernous space.
Jump Around – Various locations
Burn off some energy without having to bundle up and bounce on an outdoor trampoline or bounce house. Check out our round-up of Garden Stateindoor trampoline parks and bounce houses.
Sahara Sam's – West Berlin
Grab your bathing suits and head to this indoor water park, where the kids can splash in a lazy river, try surfing in the wave simulator, or romp on an indoor playground. This is just one of several indoor water parks in and around New Jersey.
Cheer on Your Favorite Team
College Basketball – Newark and Piscataway
Pirates or Knights? Start your little sports fans off with a college hoops game this winter. Tickets for Rutgers and Seton Hall games are cheaper than the pros, so you won't mind leaving early when the popcorn runs out. Rutgers Big Ten game tickets start at $15, and Seton Hall Big East game tickets start at $34.
New Jersey Devils – Newark
Between Superbowl Sunday and MLB's opening day, basketball and ice hockey are in the spotlight. Luckily the Prudential Center is easily accessible by train and car, with ample parking available. Upper level seats start at around $31.
Princeton Tigers – Princeton
Get even closer to the action on ice with a college hockey game at historic Hobey Baker Memorial Rink. Tickets start at just $8, and some game-day giveaways include foam tiger ears. Regular season through March 7, 2020.
This post was originally published in 2017 and has been updated since.