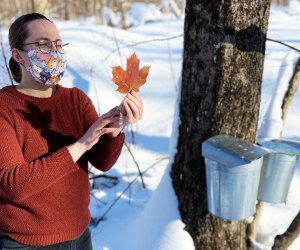 Where To Go Maple Sugaring With New Jersey Kids
February is a sweet month in New Jersey. Not only do we have Valentine's Day to look forward to—it's also the start of maple sugaring season! Visitors of all ages flock to New Jersey farms and nature centers to learn about the process of maple sugaring, from tapping the maple trees to boiling the sap into delicious syrup. Some events even offer a sweet taste of the end product.
Maple sugaring is a pandemic-friendly, primarily outdoor event, with limited capacity and reservations required this season.
For even more outdoor winter fun, check out our post on where to play outside in NJ and family-friendly skiing and snowboarding spots nearby, and more seasonal entertainment in our Winter Fun Guide.
Editor's note: While we are trying to promote safer activities that occur outdoors or with social distancing guidelines in place, please keep your family and others safe by always wearing a mask and practicing social distancing. If you arrive at a venue that appears too crowded, try using the "nearby" search feature on our Event Calendar to find something else to do.
OUR LATEST VIDEOS