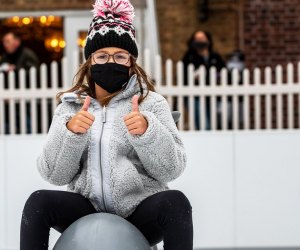 Where to Play Outside in NJ This Winter: Snow Sports, Hiking Trails, Animal Visits, and More
The temperature might be dropping, but NJ families can crank up the fun with an outdoor winter adventure! These 16 picks for outdoor fun feature plenty of destinations guaranteed to get you out and enjoying winter's chill.
So, bundle up and try a new outing, whether it's skiing the slopes, trekking along a new nature trail, or visiting a favorite Garden State zoo.
Editor's note: While we are trying to promote safer activities that occur outdoors or with social distancing guidelines in place, please keep your family and others safe by always wearing a mask and practicing social distancing. If you arrive at an event that appears too crowded, try using the "nearby" search feature on our Event Calendar to find something else to do.
RELATED: Top Outdoor Skating Rinks in New Jersey

Glide down the gentle slopes at Campgaw in a snow tube or on skis.
Outdoor Fun Spots Featuring Iconic Winter Sports
Get ready for some snowy, slippery fun, and experience the thrill of snow tubing (minimum height of 42-inches) or skiing at Campgaw. Advanced ticket purchase is required and lodge space is limited.
You'll make fond memories at Palmer Square's eco-friendly outdoor synthetic skating rink. The small "glice" rink is perfect for young children and beginners. Located on Hulfish Street behind the Nassau Inn Hotel, you'll be gliding and swirling to your heart's content. Note that tickets are only sold at the door, and the rink is open through Sunday, March 28. Bonus: Take a walk down Palmer Square West toward the Green, and grab a treat The Bent Spoon, which serves killer ice cream, mini-cupcakes, hot chocolate, cookies, and more.
Teach 'em to ski while they're young! At Mountain Creek, visitors there are 22 trails, six lifts, and even a terrain park. Pick your passion: Snowboarding, skiing, or tubing are all offered! Advance ticket purchase is required, and lodge space is limited.
RELATED: 20 Winter Day Trips For NJ Families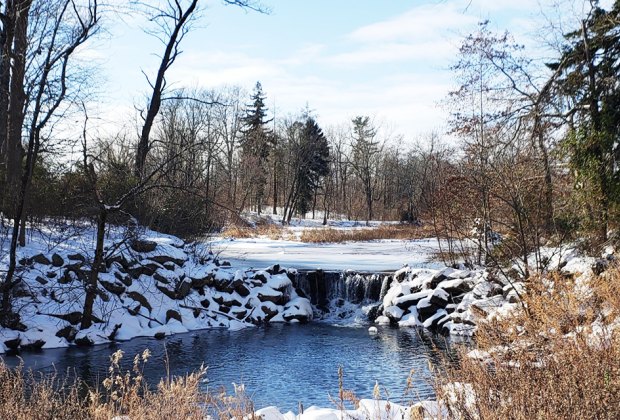 Duke Farms offers more than 18 miles of outdoor trails to explore in any season.
Great Spots For a Winter Hike
Pick a trail, any trail. There are many paved, flat, bike, and stroller-friendly options at Duke Farms perfect for experiencing nature in the winter. For an added adventure, try the geocaching hunt or self-guided family activities/hunts. Note that when coronavirus numbers surge, the park is only open at 50% capacity on weekdays, 8:30am-4:30pm. Visitors must physically distance from others and wear masks in areas such as parking lots, gates, entryways, and other people-centric spaces. All buildings and bathrooms are closed to prioritize visitor and staff safety. FREE
The Great Swamp National Wildlife Refuge is a great spot for winter bird watching and enjoying the fresh air. The Friends of Great Swamp host a 2.5-mile walk most Friday mornings at 11am. FREE
The Grounds for Sculpture is a sight to behold in any season! This 42-acre art museum/park hybrid features larger-than-life statues and sculptures that will take your breath away. It'll take a couple of hours to see everything, so wear comfy shoes! Note the park also features some outside dining spots, but seating is limited at this time, and some cafes require an online reservation. Advanced timed-entry ticket purchase is required.
This unique section of the Appalachian trail includes a 1.5-mile Pochuck Boardwalk and a long wooden suspension bridge over the site of a prehistoric lake between the Pochuck and Wawayanda Mountains in Vernon. Note that parking can be challenging to find, so try an off-peak time. FREE
Take a 1-mile hike through this enchanting trail and spot tiny, hidden fairy houses peeking out of tree roots or hidden in the tree hollows. Park at the Locust Grove entrance at 197 Glen Avenue in Millburn, across from the library, and look for the Rahway Trail sign near the large blue recycling bin in the midway in the parking lot. FREE
While the visitor's center building itself is closed, the trails are open and ripe for a fun winter nature walk. Masks are required. Review the one-way trail map before your visit. A $2/person donation is recommended.
Try your hand at the monthly Frelinghuysen Arboretum photo scavenger hunt. Take a photo of every item you find throughout these lovely gardens and win a small prize. The Arboretum also has maple sugaring demos on most Saturdays in the winter and is a joy to walk through in any season.
Summer-Inspired Outdoor Fun in the Garden State
Just because it's winter doesn't mean you can't enjoy the Jersey Shore! Take a stroll down the boardwalk, grab lunch at the food court, and satisfy your sweet tooth at Jenkinson's Sweet Shop (open year-round). The aquarium and arcade are open, too! Dress in layers to bundle up against the winter wind.
Bike the Middlesex Greenway, a 3.5-mile paved trail that starts at Middlesex Avenue in Metuchen and ends at Crows Mill Road near William Street in Fords/Keasbey (with several access points in between). FREE
RELATED: NJ Winter Fun List: 30+ Things To Do With Kids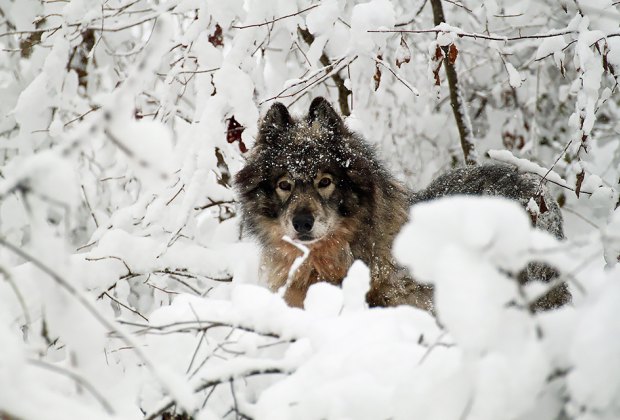 Spot the snow-covered wolves at the Lakota Wolf Preserve in Columbia.
Outdoor Fun For Animal Lovers in NJ
Take a Wolf Watch tour and see these majestic animals in their own habitat. You'll start by taking a scenic 1/2-mile nature walk from the parking area to the preserve, where you'll head into the observation area in its center. Four different packs of wolves live in the preserves, so you'll be able to see the wolves play, interact, and if you're lucky, hear them howl! Reservations are required.
You'll see bison, big cats, farm animals, and more at the Bergen County Zoo. Note that the train and carousel have closed for the season, but admission is FREE at this time.
We're not lion! Winter is a fun time to bundle up and visit the Cape May County Zoo sans crowds. While the Reptile House and Aviary remain closed, the zoo is open from 10am-3:30pm daily. Bonus: There's a brand new playground on the grounds that gets sanitized daily. FREE
At Echo Lake Stables, you can go horseback riding on a scenic trail with an experienced trail guide year-round. Riders must be at least 7 years old and weigh less than 225 pounds.
Photos courtesy of the venues