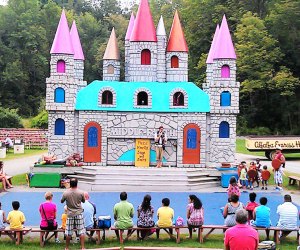 40 Things to Do with New Jersey Preschoolers Before They Turn 5
We have just five precious years or so to spend with our little ones before they head off to kindergarten. At this age, kids are growing and developing faster than they will at any other time in their lives, so many of us want to fill their days with as many opportunities to learn, laugh, and love life as possible! That means play spaces, mommy-and-me classes, storytimes, playgrounds, and other treasures that the Garden State holds for toddlers.
Take advantage of these great opportunities throughout New Jersey while your preschoolers are young enough to appreciate them—and sometimes even young enough to score FREE admission.
For more can't-miss Garden State destinations, check out 100 Things to Do in New Jersey with Kids Before They Grow Up.
3. Dazzle little ones with impressive holiday lights across New Jersey.
4. Let imaginations run wild at indoor play centers, including Woodland Indoor Playground and the Village Play Cafe. (For more, check out our guides to play spaces in North Jersey, Central, or South Jersey.)
5. Or play for FREE at these indoor playgrounds and stores around the state like the Disney Junior Play Zone.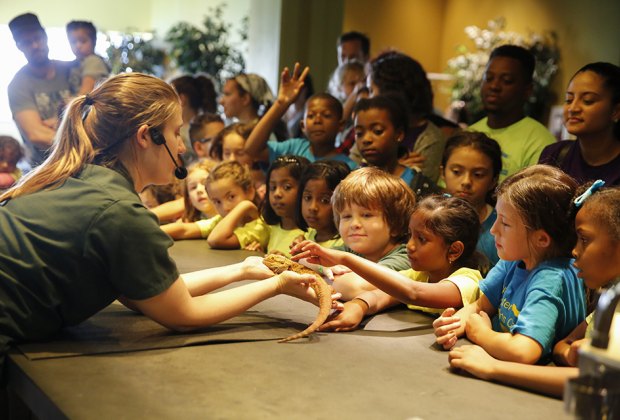 Kids get hands-on learning experiences at the Liberty Science Center. Photo courtesy of LSC
6. Encourage hands-on learning at Liberty Science Center's I Explore exhibit just for 2–5 year olds. Or catch a show at the enormous planetarium.
7. Enjoy a zoo, carousel, train, and super-sized playground at Van Saun County Park.
RELATED: Great Amusement Parks for Preschoolers and Toddlers in New Jersey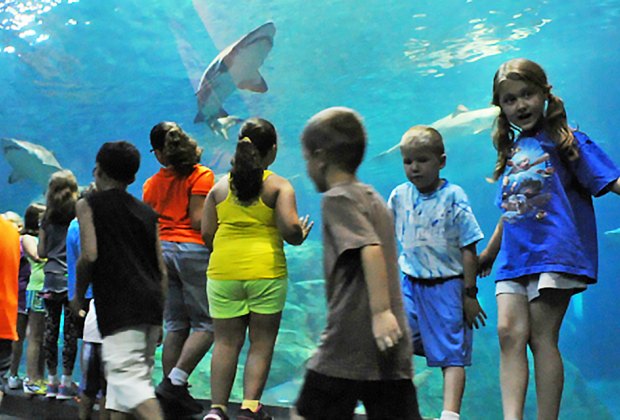 See sharks up close at Adventure Aquarium. Photo courtesy of the aquarium
8. Have some fishy fun at Jenkinson's Aquarium or Adventure Aquarium.
9. Let kiddos conquer their fears with a whoosh down the slide at a Jersey water park this summer, or at one of these indoor parks year-round.
10. Plan the perfect fall day picking pumpkins, taking a hayride, navigating a corn maze, and jumping in a corn pit at one of New Jersey's great pumpkin farms.
11. Experience a live performance for the first time at the State Theatre's Milk & Cookies series, which features music, puppets, and stories. New "relaxed" performances for special needs kids are planned.
12. Plan a great preschooler birthday bash with these party destinations. Grab gifts at cool NJ toy stores ahead of time.
13. Take your Thomas and Chuggington fans to see the world's largest model railroad at Northlandz.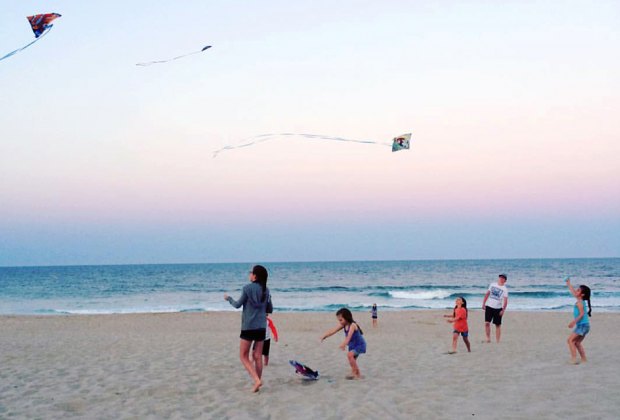 You can't beat a beautiful day at the Jersey Shore. Photo by Kate Lewis Andrews
14. Build sand castles and play in the surf at these Jersey Shore beaches.
15. Or hit the kiddie amusement park rides and try skee-ball for the first time at these popular boardwalks.
16. Embark on an outdoor nature adventure during Discovery Saturdays at Reeves-Reed Arboretum, or try a scavenger hunt at Frelinghuysen.
17. See live creatures, dig for fossils at the sand table at Trailside Nature & Science Center, or hit the playground or a nature trail at Watchung Reservation—and don't miss the new sensory trail!
18. Learn about, and even touch, creepy crawlers at Insectropolis, New Jersey's "bugseum."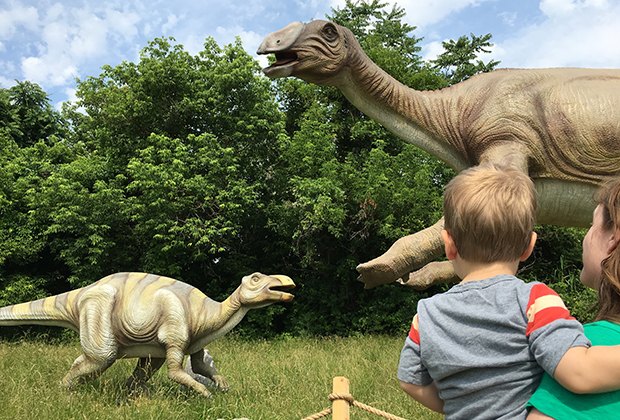 See dinos in the wild at Field Station Dinosaurs (open seasonally). Photo by Rose Gordon Sala
19. Go prehistoric at Field Station: Dinosaurs, a dinosaur theme park right here in Jersey.
20. Make a splash with the sprinklers at one of New Jersey's many (mostly FREE) water playgrounds and splash pads.
RELATED: Best Nature Centers in New Jersey To Visit with Kids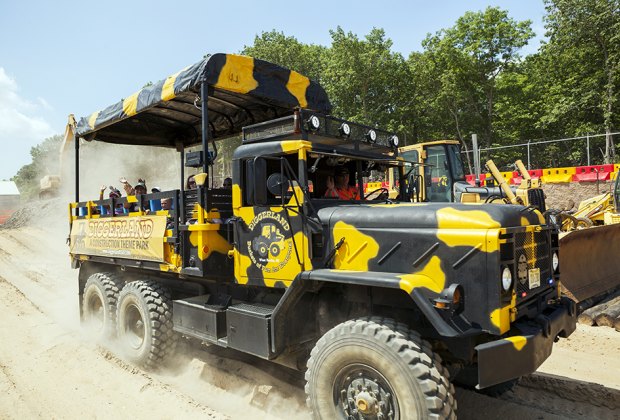 Have a construction-themed adventure at Diggerland. Photo courtesy of Diggerland

21. Indulge your young builders in construction adventures at Diggerland.
22. Enjoy a hands-on exploration of nature with mazes, rides, and festivals at Camden Children's Garden.
23. Get physical at these mommy-and-me classes.
24. Dance, sing, and make music at a mommy-and-me music class.
25. Take part in storytimes at indie bookstores, or FREE ones at Barnes & Noble, Pottery Barn Kids, and Indigo in Short Hills.
26. Pick your own apples, strawberries, and blueberries at the Garden State's wonderful pick-your-own farms.
27. Climb into a fire truck, try out gear, and learn all about fire safety at the Fire Museum in Newark.
28. Explore something new—like insects, dinosaurs, or geology—and then make a craft to take home during a Tot Tour at Morris Museum.
29. Introduce your little one to the magic of the performing arts at bergenPAC's intimate Kidz Cabaret Series.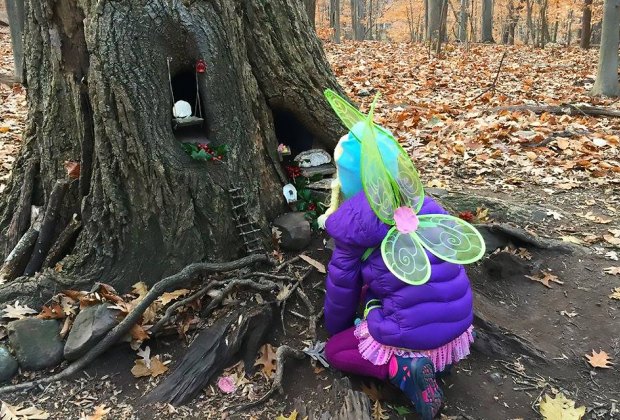 Visit the homes of the fairies on the South Mountain Fairy Trail. Photo courtesy of the trail
30. Walk through the woods and search for the tiny fairy houses nestled among the trees on the South Mountain Fairy Trail.
31. Take part in the Tots on Tour at Grounds for Sculpture, where you'll listen to a story, become Park Explorers, and do arts and crafts.
32. Take a ride on an antique train on a rainy day, or plan a trip with the Easter Bunny and Santa Claus during holiday seasons.
RELATED: The Best NJ Zoos and Aquariums for Animal Encounters with Kids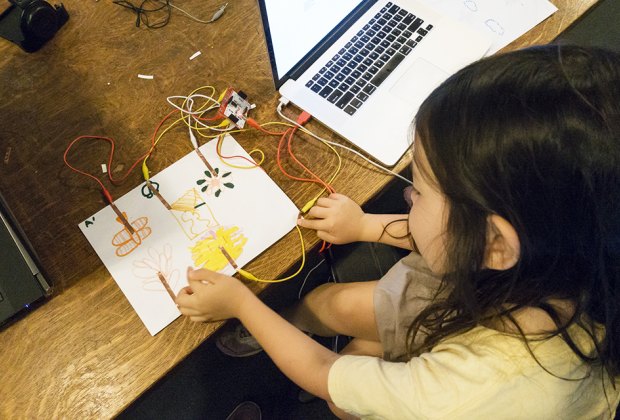 Kids can try all kinds of new activities at the Small Explorers Series at the NJ State Museum. Photo courtesy of the museum
33. Try the Small Explorers Series on the third Saturday of each month at the NJ State Museum. Learn about the theme of the month through stories, crafts, and play.
34. Get kids acclimated to the water in their first very first swimming lessons.
35. Bounce the day away at an indoor trampoline parks. Many facilities, like Sky Zone, offer special toddler-only time slots for little jumpers.
36. Take a hike and enjoy the monthly Storytime for Sprouts program at Duke Farms.
37. Meet some baby animals at a family-friendly farm, including Brookhollow's Barnyard.
38. Check out a show with your child's favorite character, like Elmo, Mickey, or Daniel Tiger, at one of NJ's many family-friendly theaters, including Mayo Performing Arts Center, State Theatre NJ, Count Basie Theatre, bergenPAC, and Paper Mill Playhouse.
39. Get messy (and create a keepsake of the day) at an art studio meant for little hands.
40. Swing and slide at your favorite playground, enjoy a picnic lunch, and watch the clouds roll by.
Originally posted 2014