Visiting the Turtle Back Zoo: 10 Best Things To Do and See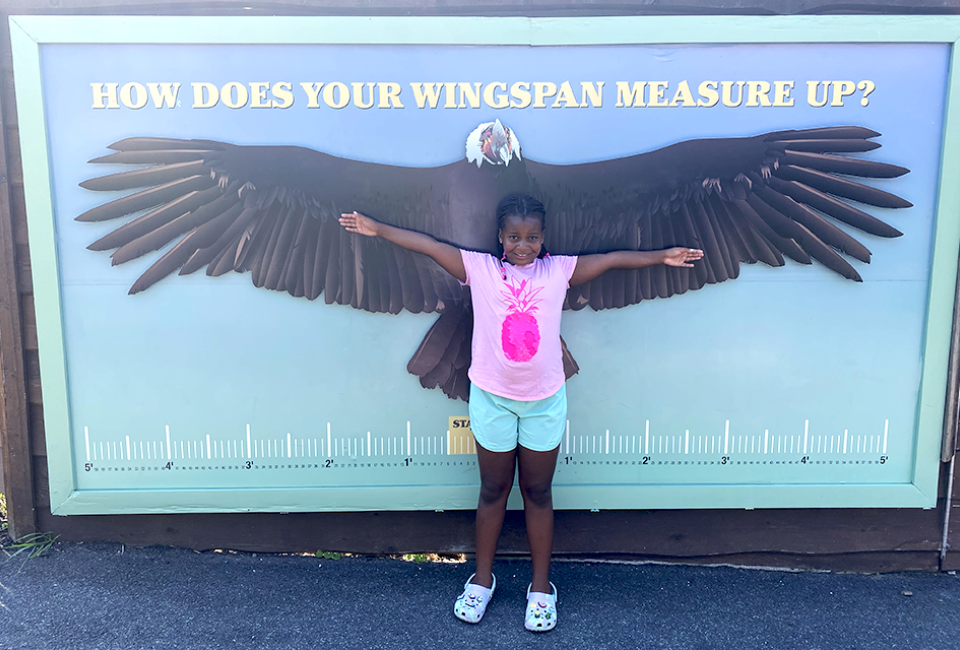 8/12/22
- By
Margaret Hargrove
Turtle Back Zoo is one of our favorite attractions in New Jersey, and for plenty of reasons: it's an incredible, beautiful destination that appeals to kids of all ages, with great exhibits and programs. Crucially, it also offers several opportunities for kids to get hands-on experience with animals. The facility also hosts amazing holiday activities, camps, and family-friendly programming throughout the year.
Turtle Back Zoo is located in Essex County in the South Mountain Reservation, and there are tons of other things nearby for kids to do—including romping in a treetop adventure course and playing some mini-golf; read through our guide below for the many nearby activities worth checking out.
Turtle Back Zoo has been enthralling visitors since it opened in 1963, with a collection of 140 animals of 40 species, and it has continued to expand its rich offerings over the years. Should you go? Of course! Should you have a game plan? You better. Read on for what you should know before you and the family get wild.
If you're looking for other great New Jersey adventures, check out our rundown of the state's top things to do with kids. And be sure to peruse our guide to Zoos and Gardens for New Jersey Kids if you're on the hunt for other animal encounters.
Subscribe to our newsletters to get stories like this delivered directly to your inbox.
Turtle Back Zoo: The 10 Best Things to Do and See
Every trip to Turtle Back Zoo must start with the train. The zoo's miniature train ride takes visitors through the beautiful South Mountain Reservation. You'll get a great view of the South Mountain Reservoir waterfront, paddle boats, and the Regatta Playground. The train also travels along the backside of the African Adventure exhibit for a quick glimpse of the majestic giraffes that live there. The train departs approximately every 15 minutes from the station and train rides are included in zoo admission.

It's tough not to be impressed by the formidable giraffes.
After your train ride, make a beeline for Giraffe House to see the fan-favorite giraffes. Here, the six Masai giraffes—all males—roam and wander their 3-acre home that's designed to mimic the African savanna. While the giraffes are the stars of this area, don't miss the other animals from the savanna, including ostrich and smaller bird species. Giraffe feeding is offered from 10:30am-4pm daily, and these giraffes eat a lot—up to 75 pounds per day! Feedings are $3 per person (cash only, so plan accordingly) and food items vary but usually include lettuce. African Adventure includes a lion and hyena exhibit, plus the new Shores of Africa indoor space, where several black-footed penguins splash around in a 30,000-gallon saltwater pool.
Continue along the path to visit Amazing Asia. This exhibit is home to two very rare animal species—the Amur leopard and the red panda. Snow leopards and adorable gibbon apes also call this area home. An expansion of this exhibit is underway and will feature larger and updated spaces for the red panda and leopards, in addition to two small exhibits for hornbills and native reptile species.
After Amazing Asia, head to the Australian Outback for a look at some of the most interesting animals from Down Under, including kangaroos, wallabies, and emus. At the free flight aviary next door, watch your head as Australian budgerigars, laughing kookaburras, and tawny frogmouths fly around you. Strollers are not permitted in the aviary, which is only open from mid-May through the end of September.
RELATED: The Best NJ Zoos and Aquariums for Animal Encounters with Kids​

Make a splash at the World of Water.
5. World of Water
Cool down at this section of the zoo with several indoor, air-conditioned exhibits. Watch the sting rays effortlessly glide through the 1,600-gallon touch tank. Touch if you dare, but be sure to wash your hands before—and after! The touch tank building also has a large aquarium where kids will delight in seeing real-life Nemos (a.k.a clownfish) up close and personal. Through the large glass panels at Reptile House you can closely view turtles, snakes, and lizards. Once you're ready to head back outside, catch the sea lions in action as they play in the sound exhibit and then stop by to see the pretty pink flamingos at their lagoon.
Several sea turtles are being cared for at the Sea Turtle Recovery. This 4,000-square foot care facility has five recovery tanks that rehab sick and injured sea turtles for their release back into the wild. It may be hard to see the sea turtles inside their recovery pools, so cameras inside the tank are live streamed to a big-screen TV outside the tank.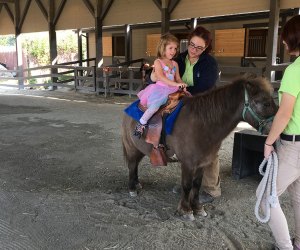 Make the day visiting the Turtle Back Zoo extra special with a pony ride.
Located at the highest point of the zoo, up a slight hill, is Essex Farm, which is home to pigs, goats, sheep, and horses. Vending machines sell pellets to feed the animals. Little kids can also take a pony ride here. The trail loop is covered by a wooded pavilion to protect the ponies and riders from the elements. Pony rides are $2 and cash only, so come prepared. A small playground rounds out this corner of the zoo, with several small slides and climbing structures designed to look like animals.
More than 700 butterflies flutter around this 100-foot-long tent. Stroll through the tent and you can spot several caterpillars and chrysalis among the flowering plants that will mature into butterflies. The entrance to the butterfly tent is $2 per person and cash only.
While the giraffes and sea lions get plenty of attention, Turtle Back Zoo also celebrates animal species native to North America. As you walk through the zoo you'll spot wolves, black bears, eagles, a fox, bobcat, prairie dogs (with fun viewing tunnels), and bison.
RELATED: Find an Amazing Petting Zoo in New Jersey Where Kids Can Meet the Animals

Take a seat on your favorite animal on the Endangered Species Carousel.
The Turtle Back Zoo carousel makes the perfect ending to your trip to the zoo. Kids can choose from 30 different animals to take a spin on, including a panda, alligator, tiger, zebra, and more. Word of caution—the giraffe does not move up and down! Housed inside a beautiful classic carousel house with mosaic floors and stained glass windows, each ride is $2 and one adult can ride free per child. Credit cards are accepted here.
Special Events and Programs at the Turtle Back Zoo
Enjoy family-friendly movies under the stars on the rooftop of the Turtle Back Zoo parking deck Wednesdays in July and August. Admission is free and films begin at dusk.
In the summer, kids can experience the Turtle Back Zoo on a much more personal level with Zoo Camp. Zoo Camp is broken down by age group into week-long camps throughout the summer. Turtle Back Zoo also offers mini-camps throughout the school year on days that coincide with many of the major school holidays. Register for these camps early, as they are very popular and fill up fast.
The biggest special event of the year at the Turtle Back Zoo is the Holiday Lights Spectacular, held every December. During this event, the zoo is turned into a winter wonderland, illuminated with animal-inspired lights and decorations. One warning–you probably won't be seeing many of the animals at the zoo, as most are already asleep for the night. But you will get to meet Santa and other costumed characters as you take a nighttime stroll through the zoo.
Know Before You Go
The Turtle Back Zoo is open 7 days a week year-round, except for Thanksgiving, Christmas, and New Year's Days.
The zoo is open daily from 10am-4pm, and tickets are $17 for adults 13 and up, $14 for seniors, and $14 for kids ages 2-12. Children under 2 are always free. Check the zoo's website for updates to hours and admission before you visit!
Parking is free and there are various parking lots and garages throughout the complex.
Turtle Back Zoo is open rain or shine, so plan your trip accordingly.
Stroller rentals are available in case you forget yours at home. Single strollers are $7, double strollers are $10.
The zoo's Savanna Cafe is currently closed, so bring your own food to enjoy a picnic lunch seated at one of the picnic tables located around the zoo's grounds or on the shaded lawn area near the entrance. Snack vendors are also available through the zoo, selling ice cream, drinks, and other small bites.
Bring cash. Animal feeding experiences and the Butterfly Tent are an additional fee and cash only. The carousel does accept credit cards, however, and there's an ATM located at the gift shop.
RELATED: Visiting the Adventure Aquarium in NJ: 10 Best Things To Do and See

Catch a sea lion show at various times throughout the day, or just watch them glide gracefully in their tank.
Turn Your Visit into a Day Trip
Located right next to Turtle Back Zoo is the Essex County TreeTop Adventure Course, an awesomely challenging obstacle and ropes course set 35 feet above the ground, plus a 40-foot-high zip line.
The Turtle Back Zoo is also conveniently located in the 2,110-acre South Mountain Reservation in Essex County. The recreation complex also includes hiking trails, a fairy trail, paddle boats, mini golf, and a fantastic playground.
Originally published 2013. Alison Reiser contributed additional reporting.
Photos by Margaret Hargrove
Places featured in this article:
Sign up for the Mommy Poppins Newsletter today!