Turtle Back Zoo: New Animals, Exhibits, and Tons of Nearby Fun
On a cuteness scale of one to 10, penguins rank an 11 in my book. So, after driving to the Turtle Back Zoo one recent rainy morning, my 8- and 10-year-old daughters and I made our first stop at the zoo's newest attraction: the Shores of Africa Penguin Exhibit. Shores of Africa is the latest addition to Turtle Back's African Adventure, where you'll also find Masai giraffes, lions, hyenas, ostrich, and the highly endangered Bontebok antelope.
If you haven't been to the zoo in a while or find the Bronx Zoo to be a bit too much for either your wallet or your children's attention span, Turtle Back is definitely worth the drive to Essex County. Part of the South Mountain Recreation Complex, the zoo offers an extensive array of animals, plus plenty of nearby fun—including a treetop adventure course, mini-golf, an awesome playground, swan-shaped paddle boats, indoor ice skating, and much more.
Read on for the highlights of our visit.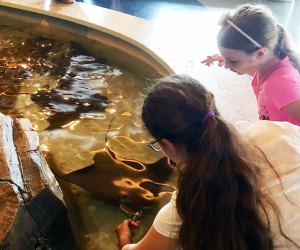 Visit the touch tank and pet stingrays as they soar underwater.
Essex County began a major renovation of Turtle Back Zoo starting in 2003. Since then, the park has seen the addition of Sea Lion Sound, featuring sea lions, sharks, and stingrays; Big Cat Country with jaguars and cougars; Amazing Asia with white-cheeked gibbons, leopards, and a red panda; an Australian area with kangaroos, wallabies, emus, and a budgie aviary; and a new Reptile House, to name just a few attractions. A new flamingo lagoon is currently under construction across from the cafe and is expected to open later this summer.
RELATED: The Best NJ Zoos and Aquariums for Animal Encounters with Kids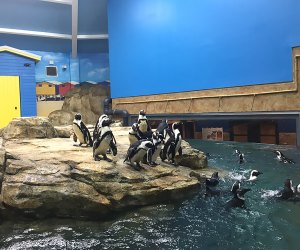 The zoo's popular penguins have a brand-new home featuring nest burrows and a 30,000-gallon pool.
At the Shores of Africa penguin exhibit, visitors get a great view of these aquatic birds, one of the zoo's most popular animals, with both above and underwater viewing of their 30,000 gallon pool. The indoor exhibit offers other improvements over the birds' old digs. In their new home, they also have nest burrows which keepers hope will encourage breeding (baby penguins!). By the time we left the building, both the skies and our dispositions were sunny.

Share a snack with the giraffes at the African Adventure exhibit.
What makes Turtle Back particularly fun are the interactive and feeding opportunities that are accessible to all ages and really don't add much to the cost of admission. At African Adventure, guests can buy long leaves of romaine lettuce to feed the giraffes. On the day we visited, there were two friendly giraffes at the platform and parents held toddlers up when it was their turn. It seemed that no one was too young or too old to enjoy this experience.
RELATED: Day Trip to NJ's Adventure Aquarium

Or feed the pastel-colored Australian budgies in the aviary.
Nearby, an Australian budgie aviary sells feeding sticks that seem guaranteed to attract these cute little birds, most often seen in pet stores and cages. Here, families can see the colorful birds more as wild animals with free roam of trees, rope railings, and gourd-shaped houses. Sudden sounds can send them soaring as a flock. Photo opportunities seem endless as children hold out their feeding sticks and the birds check out their sandals and shoe laces.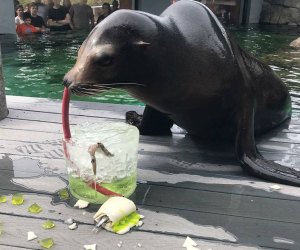 Catch a sea lion show at various times throughout the day, or just watch them glide gracefully in their tank.
When you're ready to take a break from the heat, head over to Explore the Shore. A shady area offers great viewing for a sea lion show at 11:30am, 1pm and 3pm. On a hot day, just watching these slick swimmers navigate their pool feels good. Afterward, head indoors for a stingray touch tank. For a small fee, parents can buy some fish bits to feed the rays. My girls first enjoyed this experience at Mystic Aquarium and since then, they can't get enough of these aquatic animals. There is no fee to stand by the tank and pet the rays as they swim by and skim the top of the water.
On hot days, the zoo also offers spray stations. Look for giant sunflowers near the cafe and prairie dog tunnels. My family found them to be a welcome feature on an afternoon that turned quite hot.
The highest point of the zoo, which is built on a hill, is Essex Farm. Vending machines sell pellets to feed a variety of domestic animals, including sheep and goats. Little kids can also take a pony ride here.
RELATED: Visiting the South Mountain Reservation with Kids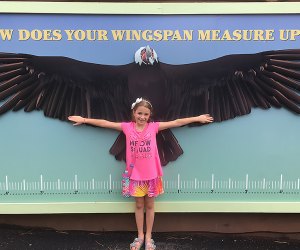 Get a sense of how massive an Andean condor's wingspan is.
While African Adventure offers a new home to some high-profile animals, the zoo also gives plenty of attention to species native to North America. Our walks took us past wolves, bison, black bears, eagles, a fox, bobcat, prairie dogs (with viewing tunnels) and porcupines. We also enjoyed massive Aldabra tortoises, capybara, and big, ostrich-like birds called rhea. Aside from its regular exhibits, the zoo hosts a sea turtle recovery program for sick and injured sea turtles. The doors are open to the public, and visitors can see recovering animals in a series of pools.
As the day got hot, we drank a lot of water. It never seemed to be a far walk from a bathroom. The air-conditioned Savanna Cafe featured a good variety of lunch items including pizza, mac and cheese, pre-made sandwiches, packaged salads, meat and veggie burgers. We sat upstairs with a shaded, roof-top view of the zoo. Kosher options seemed limited to bottled drinks and ice cream. Before leaving, we made the mandatory visit to the gift shop which I was pleased to see wasn't too big, This limited the opportunities for souvenir requests from my 8-year-old.
Zoo admission is $15 for adults, and $12 for children (2-12) and seniors (62+). Feeding opportunities are $2-$3. Free garage parking is available right outside the gate. The zoo is open year-round, except on New Year's Day, Thanksgiving, and Christmas Day. Check the website for information on special holiday programs for Halloween and Christmas, including the Holiday Lights Spectacular.
Originally published 2013. Updated 2018.