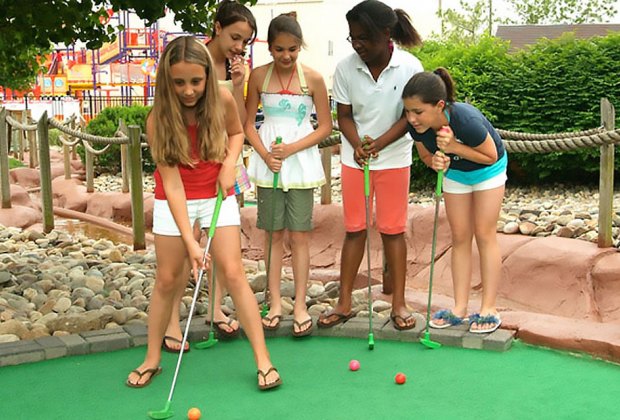 Best Miniature Golf Courses for New Jersey Kids and Families
Whether you call it miniature golf or putt-putt, you'll find tons of places to play throughout New Jersey. The Garden State apparently has a thing for windmills and teeny-weeny pencils—there are at least 53 mini-golf courses in NJ!
We're highlighting nearly half of the courses in the state, from northern NJ to the Jersey Shore, with themes ranging from pirate shipwrecks and African safaris to NJ landmarks and a medieval castle. Read on to find the perfect putt-putt for you. And for more things to do this summer, from spray parks to amusement parks, don't miss our Summer Fun Guide for NJ Kids.
Sign up for our FREE newsletters to get posts like this delivered to your inbox.
See websites for prices and hours.
Mini-Golf in Northern NJ
The Clubhouse Golf Center – Randolph
Located on Route 10, The Clubhouse recently renovated its 18-hole mini-golf course. It also has a 55-stall range/training center and offers programs for junior golfers. Open year-round, weather-permitting.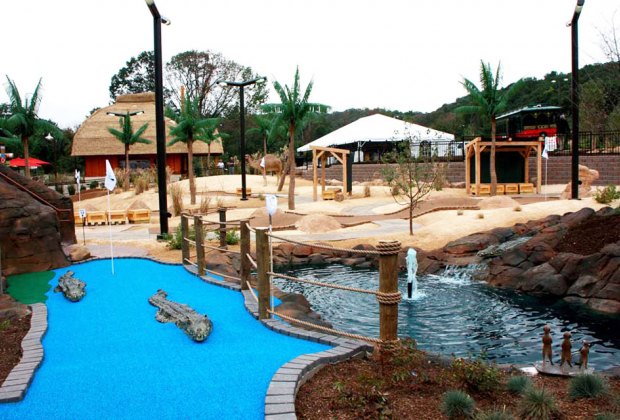 Putt around the gators at Essex County Safari MiniGolf.
Essex County Safari MiniGolf – West Orange
Located on the corner of Cherry Lane and Northfield Avenue in West Orange, the Essex County Mini Golf Safari is an award-winning, 19-hole course. Experience a taste of Africa as you putt around a life-size gorilla, hippo, and other creatures. The course is conveniently located right next to the Turtle Back Zoo. Open year-round, weather-permitting.
Farmview Golf Center – Hackettstown
Take in the view of Warren County's beautiful farms from this mini-golf course. It is very clean and well maintained; it never gets too busy; and the friendly owners even know our ball color preferences. The driving range is also great for beginning golfers and little learners. The best part is the prized plastic trophies the winner can take home. Open year-round, weather-permitting.
The Golf Zone – Flanders
Make a day of it at the Golf Zone. In addition to a driving range and 36 of the best-landscaped mini-golf holes in Morris County, it also offers paintball and batting cages. The driving range has 65 stalls, 20 of which are heated. Plus, it is a half-mile from our favorite weekend lunch spot, The After. Check the Golf Zone's website for pricing on the driving range, junior summer golf camps, and other activities. Open year-round, weather-permitting.
Mount Freedom Golf – Randolph
Mount Freedom Golf is another great golf zone for beginners, with safari-themed mini-golf and two waterfalls. It offers Laser Mini-Golf every Friday night. In addition to miniature golf, a par three course, and a driving range, Mt. Freedom also offers a nine-hole Frisbee Disc Golf course. Check the website for information about summer camps and lessons. While you're there, stop by Antimo's Pizzeria and Restaurant on site for lunch. Open year-round, weather-permitting.
Paramus Mini Golf – Paramus
Paramus Mini Golf is a golfing and social studies course in one. Its New Jersey–themed holes include "Statue of Liberty," "Parkway," and "Boardwalk." Birthday parties are also available. Closed in winter months.
Scotch Hills Mini Golf – Scotch Plains
Lucky Scotch Plains golfers have a putt-putt course practically in their backyards. Scotch Hills is a simple, nicely landscaped, 18-hole course, complete with stepping ponds, a bridge, and a waterfall. Available for birthday parties, the facility also houses a nine-hole course, pro shop, and clubhouse. Closed in winter months.
Central NJ
RELATED: Jersey Shore Boardwalks and Amusement Parks for Family Fun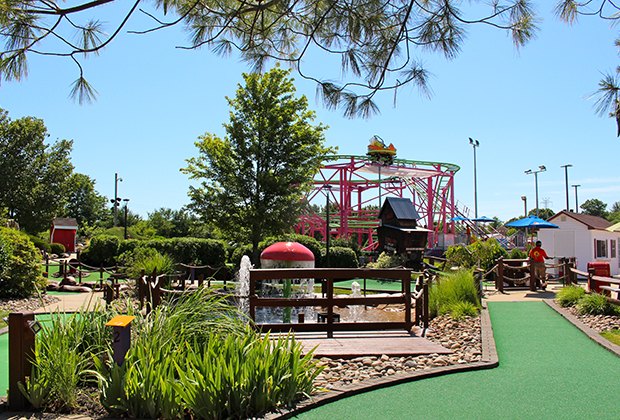 Take a break from the rides at The Funplex to play a round or two of mini-golf.
The Funplex – Mount Laurel
The Funplex has two courses: the family-friendly Adventure Cave and the more challenging Lost Lagoon. Its big selling point: SHADE. Both courses are covered in a lush, shaded landscape, so you can golf and not bake in the sun. Also, if you make it up the ramp on the final hole, you win a FREE game. Open year-round, weather-permitting.
Tara Greens Golf Center – Somerset
Tara Greens is the perfect place for beginning golfers and families on a budget. Located on more than 100 acres in Somerset County, Tara Greens offers a nine-hole regulation course, a nine-hole pitch and putt, mini-golf, and a driving range. Mini-golf is open until 9pm daily, and you can play under the lights at night. Closed in winter months.
RELATED: Best NJ Zoos and Aquariums for Animal Encounters with Kids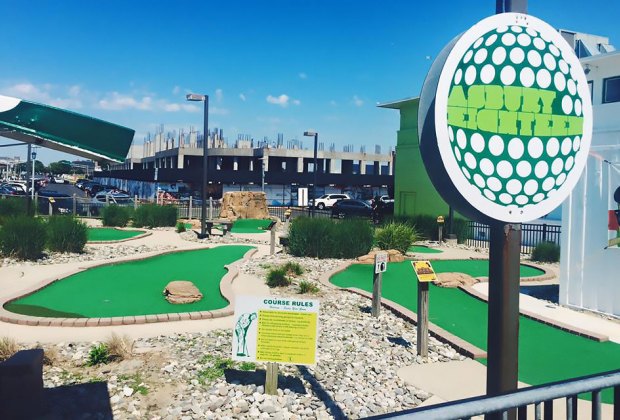 Play mini-golf at Asbury Eighteen and then cool off at the adjacent splash park.
Jersey Shore
Asbury Eighteen Mini-Golf – Asbury Park
Play a round of mini-golf at one of the best courses the Jersey Shore has to offer. Relax and take in a round or two while you enjoy the sights and sounds of the acclaimed AP boardwalk and beach. When you're done playing, cool off in the adorable Splash Park. Closed in winter months.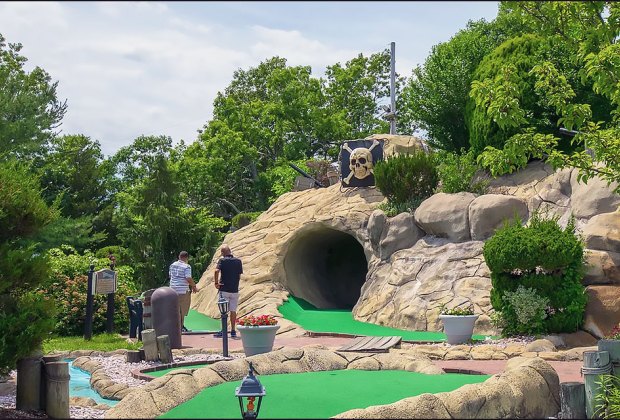 In addition to mini-golf, Blackbeard's Cave has lots of other family activities.
Blackbeard's Cave – Bayville
For an entire day of fun, check out Blackbeard's Cave in Bayville. This family entertainment center is packed with activities, from bumper boats and batting cages to kiddie rides and go-karts. The 20-hole par 59 miniature golf course is both fun and challenging. Closed in winter months.
RELATED: Lush Arboretums and Gardens To Explore with New Jersey Kids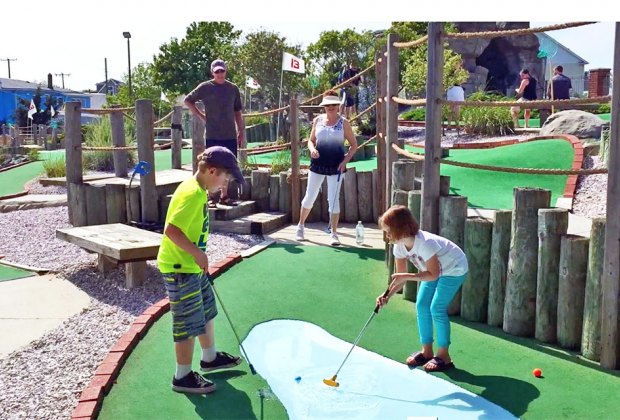 Play putt-putt in a beautiful, beachy setting at Cape May Miniature Golf.
Cape May Miniature Golf – Cape May
The only thing better than mini-golf is mini-golf plus ice cream. After playing through fun water hazards, real sand traps, and an 18-foot waterfall cave, head over to Cocomoe's for its famous, tropical-themed ice cream oasis. Closed in winter months.
Castaway Cove Mini Golf – Point Pleasant
At this course on Jenkinson's Boardwalk, golf your way through a shipwreck and work your way up to the crow's nest for spectacular views of the ocean.
Congo Falls Adventure Golf – Ocean City
Feel like golfing with a humongous King Kong staring down at you? Then Congo Falls is the place for you. With three courses—Congo Queen, Solomon's Mine, and the Lost City (indoors for rainy days)—it's Disney World meets mini-golf. Closed in winter months.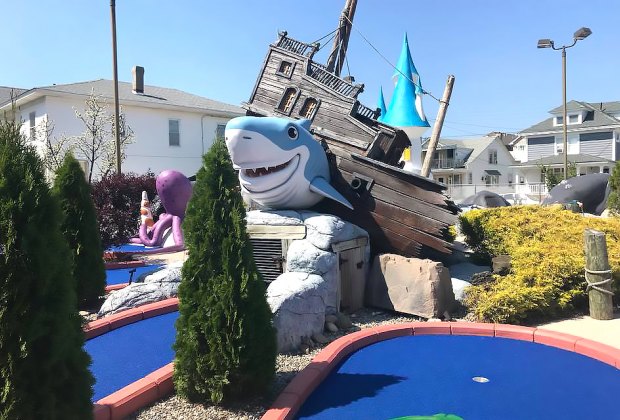 Golf with the sharks at Duffers!
Duffers – Wildwood
Kids will go crazy for this adorable 18-hole course, complete with sharks and shipwrecks. The best part is that it's attached to a family-owned restaurant that serves breakfast, lunch, and dinner. Enjoy a meal, and then head out for a round of golf. Before leaving, don't miss your chance to indulge in some ice cream. Best known for dessert, Duffers has huge sundaes, banana splits, ice cream sodas, and creamy milkshakes. Closed in winter months.
Farmer Brown's Golf Center – Farmingdale
Since opening in 1991, Farmer Brown's has been attracting herds of people to its great miniature golf course. The 19-hole course is filled with water hazards and sand traps, and the beautiful landscaping makes this mini-golf course look like the real thing. If you get a hole-in-one on the special 19th hole, you win a free game. Open year-round, weather-permitting.
Golf Land – Voorhees
Golf Land is the perfect place to take small children for a fun round of miniature golf. Beautiful trees provide lots of shade at this fun, not-too-challenging course. Open year-round, weather-permitting.
Hole in One Miniature Golf and Pizza – Leonardo
Family-owned and -operated since 2001, Hole in One prides itself on its friendly employees, a "green" and clean course (the course uses solar panels), and delicious food and drinks. The 18-hole course, featuring waterfalls and streams, is challenging enough for adults while still being very playable for children. Closed in winter months.
Medieval Fantasy Mini Golf – Ocean City
Need a break from the summer sun? Head inside to this air-conditioned, black-light mini-golf course, voted best on the Ocean City boardwalk nine years in a row. The themed space includes a dragon, glow-in-the-dark knights, castle walls, and more.
RELATED: Free Admission for Kids at 50 of NJ's Biggest Attractions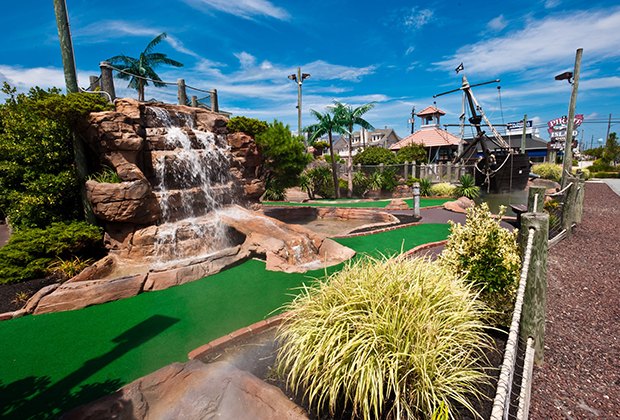 Pirate Island Adventure Golf has locations in three Jersey Shore towns.
Pirate Island Adventure Golf – Ocean City, Sea Isle City, Avalon
Check out one of the three Pirate Island Miniature Golf locations, which were named "Best of the Shore" by Atlantic City Magazine. With hanging rope bridges and waterfalls, animated pirates, and a nearly life-size wooden ship, Pirate Island is designed to please the whole family, from toddler to Grandma. Closed in winter months.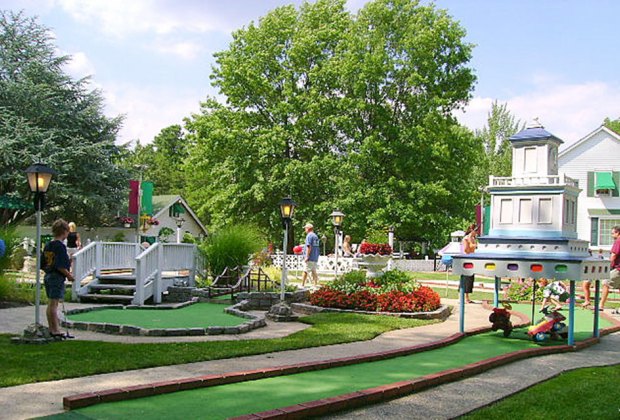 Pleasant Valley Mini Golf offers classic putt-putt fun.
Pleasant Valley Mini Golf – Voorhees
"The place for family fun" has been around since 1972 for a reason. A good old-fashioned mini-golf course with good old-fashioned prices. Closed in winter months.
Starlux Mini Golf – Wildwood
Choose one of three courses at this expansive fun spot: the Beach Course, featuring the largest artificial sand dune and sand castle in the world; the Ocean Course, with giant water fountains and sea creatures; or the Boardwalk Course, with Wildwood memorabilia and trivia at each hole.

Swing Time – Howell
Swing Time is a family fun center with all kinds of activities—but its biggest attractions are the two mini-golf courses, ranked #1 on the Jersey Shore by Night and Day Magazine. There is a huge waterfall in the center of one of the courses, and you can climb to the top and view all 36 holes. Closed in winter months.

Twin Brook Golf Center – Tinton Falls
Twin Brook is a full-fledged golf center with putting green and driving range, but its big attraction is the 18-hole championship miniature golf course, complete with caverns and waterfalls. Open year-round, weather-permitting.
Multiple Locations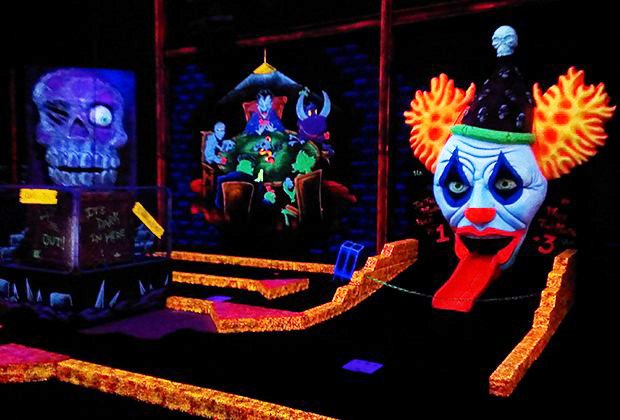 Kids with a dark side will delight in Monster Mini Golf. Photo courtesy of The Putting Penguin.

Monster Mini Golf – Fairfield, Eatontown, Paramus, Edison, Cherry Hill
And now for something completely different… how about 18 holes of indoor, glow-in-the-dark, monster-themed golf? Each location is custom-designed and also includes an in-house DJ and game arcade room. Visit the website for individual location information.
Photos courtesy of the venues
This article first published in 2012 and is updated regularly.