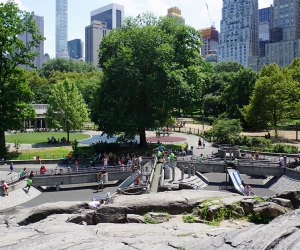 NYC's Best Playgrounds: 18 Parks Worthy of a Subway Schlep
Playgrounds may be as much a part of childhood as potty training and the tooth fairy, but to city families, having a go-to playground is a real sanity saver. When you live in a tiny apartment, the neighborhood park is like your backyard.
While New Yorkers are lucky to have many awesome local play spots, some NYC playgrounds are a cut above the rest. These spots offer plenty of space to romp and enough outdoor entertainment to make them worth a schlep on the subway. Without further ado, read on for 18 of the city's best playgrounds—our NYC playground hall of fame.
Editor's note: While we've attempted to provide highlights of these parks at their best, some of the features and amenities listed below are closed due to the coronavirus pandemic. Please keep your family and others safe by always wearing a face mask and pack plenty of hand sanitizer.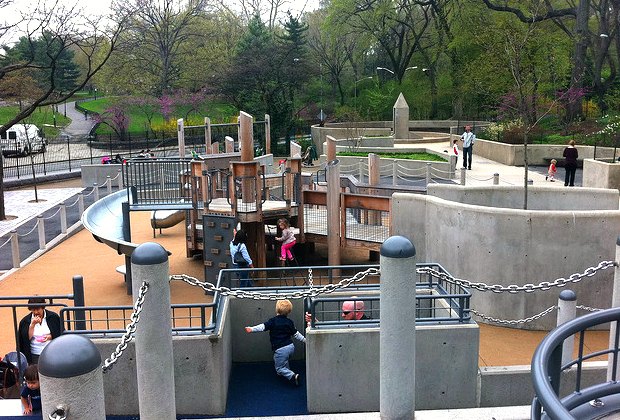 Kids love the variety of bridges and slides at the Ancient Playground. Photo courtesy of Central Park
Fifth Avenue at 85th Street
Like its Central Park brethren Heckscher to the south, Ancient Playground abounds with pyramid-style climbing structures. Bridges connect the structures, and slides offer a quick ride back to ground level. Tire swings, sand, and plenty of flowing water in the summer months add to the fun. Named for its proximity to the Met's Egyptian Wing, which sits just across the 85th Street Traverse, Ancient Playground was given a full facelift in 2009. While there's little shade here, there is an on-site bathroom, and enough activities to make it easy to while away a long afternoon. When you need a break from the fun in the sun, head to the Met for some culture and always-free-for-kids-under-12 admission!
Rockaway Beach Boardwalk at 30th Street
There are certainly plenty of places to play in Rockaway Park, but if your family craves fun in the sun, and not necessarily the surf, head to this popular playground just off the boardwalk. A seafaring-themed water play space offers plenty of fun with boats to climb on and sprinklers to frolic in. There are also multiple jungle gyms to scale and a sandbox that has sit-on diggers for kids to operate, so leave those pails at home. Another section of the playground offers a huge climbing net to entertain older kids. If that's not enough, head further east to explore the rest of the park, which includes a track, football field, climbing wall, and skate park, or discover more family fun in the Rockaways.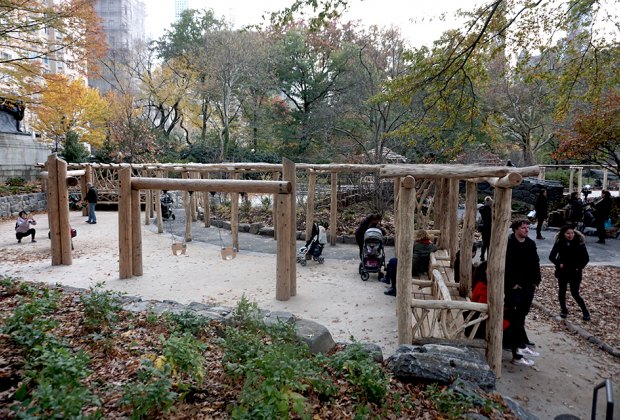 Visit the recently renovated Billy Johnson Playground for a day of fun. Photo by Jody Mercier
Fifth Avenue at 67th Street
The granite slide in this playground is legendary and practically synonymous with childhood in Central Park. It's so popular that when the Central Park Conservancy overhauled the park, it added a second little-kid and ADA-accessible version. In addition to the slide, a new swing area was added, plus more parent-friendly benches in the shade of some giant trees. The sand area got an overhaul with the addition of a custom-built climber, and the water feature is now fully functional.
East Drive at Nellie's Lawn
If you're looking for newly constructed, shiny playground equipment, keep on reading. The Donald & Barbara Zucker Natural Exploration area is true to its name: Artificial playthings are nowhere to be found. Instead, a playground has been carved from nature's bounty...and fury. Many of the logs and trees strewn about here were damaged during Hurricane Sandy and given new life as a completely different play spot than city kids experience day-to-day. While it may not be flashy, it doesn't lack for good, old-fashioned, woodsy fun. Who doesn't love climbing felled logs or hopping from stump-to-stump? Bonus points for the fact the play area is near other popular kids' attractions in the Children's Corner, which gives you plenty of entertaining options to while the day away.
RELATED: Central Park's Top Playgrounds Rated by a Local Mom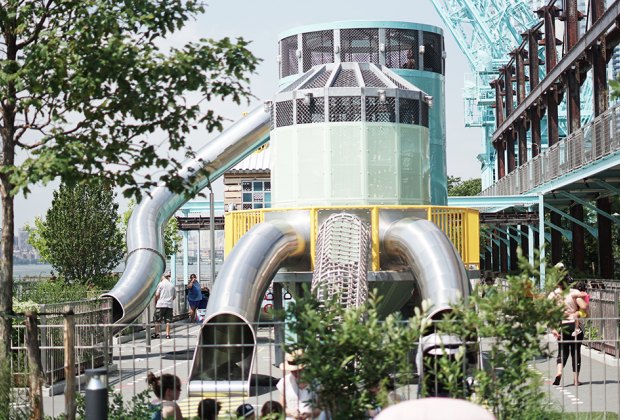 The slides at Domino Park are a huge hit, as are the tacos from Tacocina. Photo by Jody Mercier
5. Domino Park – Williamsburg, Brooklyn
Kent Avenue at Grand Street
This park, on the site of the old Domino Sugar Factory, sweetens the Brooklyn waterfront for families. A playground meant to evoke the industrial look of the old sugar factory takes up a considerable chunk of real estate and skyline on the northern side of the park. There's plenty for kids to explore in the tri-level play structure, which despite its height, is meant for even the youngest park-goers to navigate independently. A nearby Tacocina from restaurateur Danny Meyer spices up the scene for parents. Further south, you'll find Water Square with its in-ground sprays perfect for frolicking. Views of the Lower Manhattan skyline are hard to beat, too.

Climb high for a fantastic view at Gantry State Park. Photo by Sydney Ng
East River from 45th Road to 54th Avenue
There are plenty of reasons to love this waterfront park. The pair of playgrounds in Gantry Plaza State Park to the north, and Hunter's Point Park to the south, are close enough to hit in one day and the amenities throughout make this an excellent spot for a daycation. The view of the Manhattan skyline is the best you'll find anywhere in the city, too. Kids will appreciate the bright, boldly colored jungle gym at Gantry as well as the sky-high sprinklers. Head further south to access the Hunter's Point Playground, which offers a small wading pool, plenty of climbing structures, and (for parents) proximity to a coffee bar as well as the pier where the East River Ferry docks.
RELATED: 10 Underrated NYC Parks Perfect for a Family Outing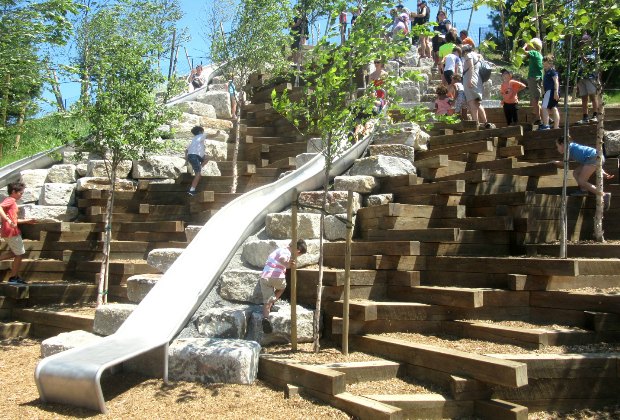 Slide Hill is just one of several playgrounds for kids on the seasonal Governors Island.
Governors Island has not opened for the season.
New York Harbor
We wish this fabulous family play space weren't just a seasonal attraction, but given all the fun it offers, it still lands on our list of NYC's best. The addition of Slide Hill in 2016 gave us another reason to love playing here, and 2017 brought a big-kid pleasing zip line and rock wall, too. In 2018, it added glamping, a new mini-golf course, and even a summer skating rink. In short, there's always something new to explore. Our other favorite play spots on the isle include the playground and fountains at Liggett Terrace, and the adventure playground, which offers a way to play not found anywhere else in the city. Add to that the myriad events the island hosts, the presence of the National Parks Service and its educational programming, and the fact that getting there and back requires a kid-pleasing ferry ride, it's earned its place in our playground hall of fame.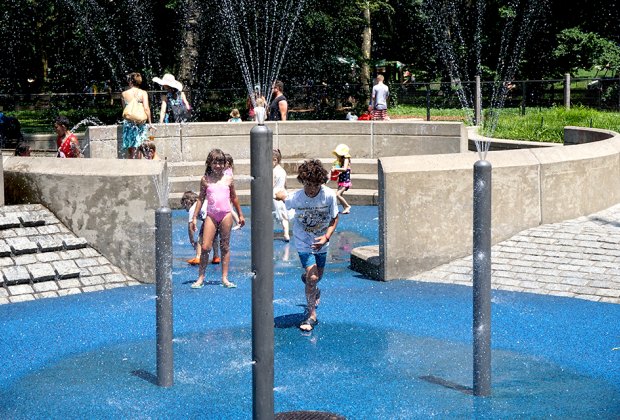 Heckscher Playground in Central Park is a massive 1.8 acres with unique play equipment and water play areas. Photo by Jody Mercier
Mid-park at 65th Street
Central Park's oldest playground has been thrilling city kids and visitors alike since 1927 and no wonder. At 1.8 acres, there's something here to please every kid. Summer brings thrilling water sprays at the base of the granite pyramid structures of the main play area, as well as a river that seemingly flows from the rock above. A separate little kid area offers plenty of sand for digging, smaller pyramids and slides, a spider web to climb, and a separate, gentler spray shower. To the south of the enclosure, there is some old-school playground equipment (Think: traditional metal slides, swings, and monkey bars) that delight no matter the season. The playground's proximity to bathrooms, green space for picnicking, plenty of rocks to climb, and the Central Park Carousel are just icing on the cake.
158 John Street at Burling Slip
This playground from architect David Rockwell opened to great fanfare for its concept based on creative play rather than wild romping. While there's space for both, the now-ubiquitous Imagination Playground blocks are the centerpiece of this play space. The foam blocks can be manipulated to build structures on the level ground, piled high in the sand, or used to redirect the water or build a boat in the wading pool; kids' imagination is the only limit. Trained play associates work to engage the kids in cooperative building projects, and everyone has plenty of fun along the way. The playground is close to the waterfront, making it a great destination on a hot summer day, even though there's very little shade in sight.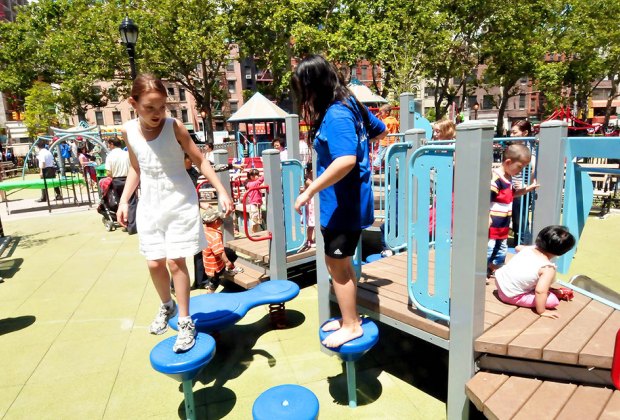 The revamped Hester Street jungle gym gives downtown kids a fun place to romp. Photo courtesy of NYC Parks and Recreation
Sara D. Roosevelt Park, Hester Street between Chrystie and Forsyth Streets
The crowded, narrow Chinatown streets give way to this beautiful, remodeled-in-2010 playground on the south end of Sara D. Roosevelt Park. Upon entering, you're greeted with multiple play structures. There's one with monkey bars to swing across and floating steps to traverse. A giant jungle gym welcomes big kids and connects to a spider web for climbing. On the opposite side of the space, there's a toddler-friendly jungle gym and a giant sandbox where little ones can get busy digging while parents lounge on the steps nearby.
Orchard Beach between Sections 6 & 7
There's plenty of fun to be had in New York's largest public park, and my kids and I often end a trip to Orchard Beach with a stop at this playground. There's plenty of space to run (and shake the sand off!), but locals know the playground is even more fun during the offseason when it's not so crowded with beachgoers. There's a vast climbing structure, which like the other beach playgrounds on our list, has a sea theme and a large, sectioned-off swing area. There are spring animals to ride on and a water area featuring the park's namesake birds.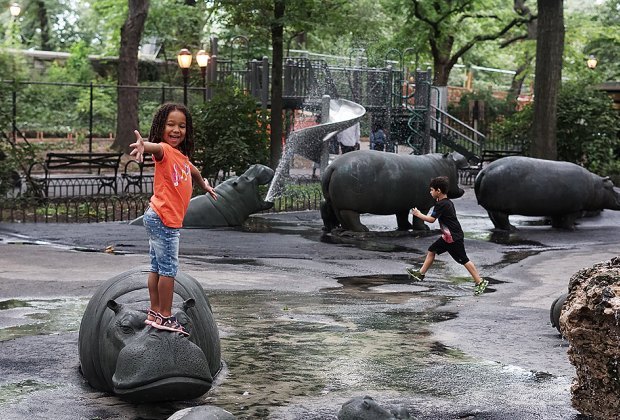 Hippo Playground is named for the playful water features that call it home. Photo by Jody Mercier
Riverside Park at 91st Street
Hanging in this playground is practically a rite of passage for Upper West Side kids. The shady space has a pair of play sets to please climbers of all sizes and skill levels. The sandbox offers plenty of all-ages fun, and there are swings for big and little kids alike. The namesake pachyderms add a little whimsy to the space, offering a creative spot to climb in any season or cool down with during the summer—thanks to the gentle spray flowing from them. The Parkhouse within offers year-round programming as well as an awesome spot for a DIY birthday party. Fun, annual events like the popular Halloween Parade and annual spring fair make this playground a community hub.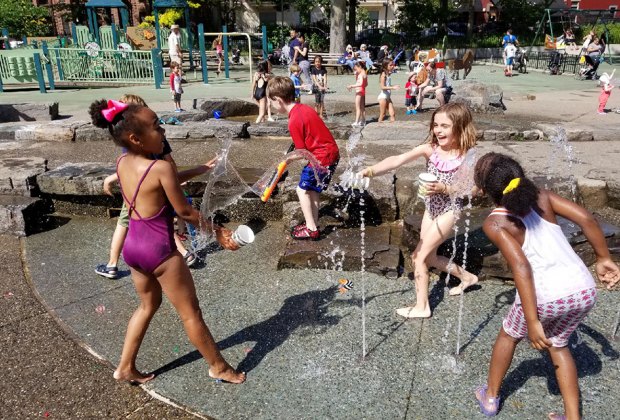 J.J Byrne is a constant hub of activity. Photo by Al DiIngenis
Fifth Avenue at Third Street
What Hippo Playground is to the UWS, J.J. Byrne is to Park Slope. This neighborhood hot spot was renovated in 2012 and has been receiving rave reviews ever since. The park is a constant hub of activity thanks to its well-planned sections that offer fun for all ages. Younger kids can play on the Third Street side of the playground, where a gated toddler area keeps them contained with mini equipment, while older kids can have a lively romp or battle it out with the water cannons closer to Fourth Street. Speaking of battles, the playground pays homage to the Battle of Brooklyn, fought on the spot, and the nearby Old Stone House not only offers history lessons but also accessible public restrooms and ongoing community events.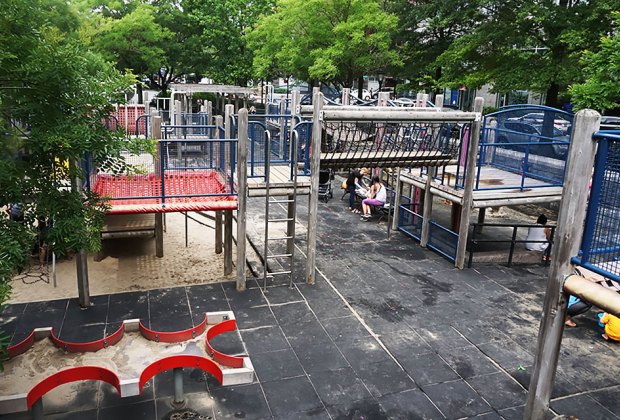 Nelson A. Rockefeller Playground is a sprawling, all-ages play spot. Photo by Jody Mercier
River Terrace at Murray Street
There are destination-worthy playgrounds, and then there's the playground at Nelson A. Rockefeller Park in Battery Park City. The playground even has merry-go-round kids can move using pedal power. This throwback to my youth is only one of the many out-of-the-ordinary playthings that makes my kids clamor for another visit or a few more minutes of playtime. The gigantic red net for trampoline-style bouncing is another standout, and the separate play (and water) areas for kids big and little keep everyone happy. At times, the only way I can get my kids to bid the spot adieu is by promising a visit to the nearby Teardrop Park, which is spectacular on its own, or a stop at Shake Shack. Even the promise of frozen custard isn't enough to lure them away sometimes.
RELATED: Prospect Park's Top Playgrounds Ranked by a Brooklyn Mom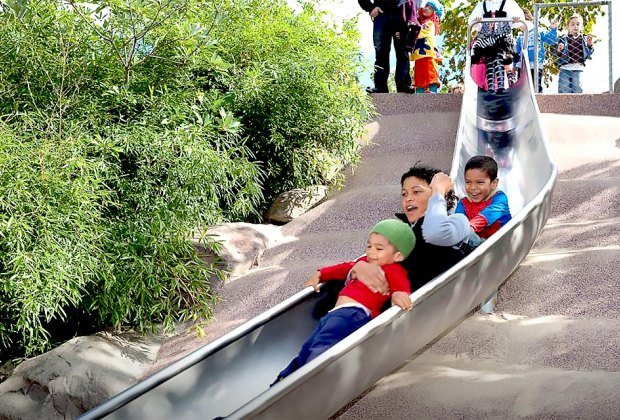 Swoosh down the long and fast slides into the sand below at Pier 6. Photo by Julienne Schaer for Brooklyn Bridge Park
East River at Atlantic Avenue
For kid-friendly fun, you can't beat the five playgrounds covering Pier 6 in Brooklyn Bridge Park. Whether your child is into water play, can spend hours digging in the sand, prefers to fly high on the swings, swoosh down the slides, romp in a more natural setting, or do all of the above in one outing, Pier 6 is a go-to destination. The well-known Water Lab draws crowds on summer days with its water-firing cannons, cliffs to climb, and endless fun to be had splashing in the spray. Equally popular with the toddler crowd is Sandbox Village, where kids can climb in the mini-log cabins or create structures of their own. The slides at Slide Hill rise to two stories high, and 10 swing sets offer plenty of options for play at Swing Valley. When you've experienced sensory overload from all the playthings and playmates, hit up the Marsh Garden for a calmer, greener walk. When you've worn yourself (and hopefully, your kids) out, head to Fornino for pizza and ice cream to fuel your journey home. Tip: There's even a toddler playground a little further into the park at Pier 5 and another at Pier 1.
Nelson Avenue and Tennyson Drive
We've told you about this playground, one of our favorite places to play in Staten Island, before. The playground's nautical-theme inspires swashbuckling pirates to explore its shipwreck or help marine-biologists-in-training hone their craft. Got a kid who's obsessed with the Staten Island Ferry? Let them play captain for a day here or assign them lookout duty in the lighthouse. There are sprinklers to frolic in and sandboxes for burying treasure or searching for someone else's.>

A rainbow pipefish makes an awesome jungle gym at Chelsea Waterside Playground. Photo by Jody Mercier
23rd Street at 11th Avenue
Late in 2018, local residents and visitors alike were treated to a major overhaul of this spot. Gone are the abstract-art looking sprinklers, replaced instead by a rainbow-hued pipefish that winds its way through the multi-level gem offering plenty of points of entry to its climbing structure and a magnificently fast slide into a sandbox. A pair of water play areas cater to all ages. The playground's proximity to the Hudson River adds to the atmosphere (and lets you catch a breeze off the water!). When you're done romping, take a walk on The High Line or head over to Chelsea Piers.
Reservoir Avenue West at Bainbridge Avenue
When my son was asked to attend weekly tennis lessons in this park, I wondered how I would entertain my two daughters for three hours in the green space, but was oh-so-pleasantly surprised upon our arrival. The Oval, as locals call it, houses multiple playgrounds, and recent renovations make it destination-worthy. We whiled away our hours at the expansive playground to the south of the tennis courts, which had two huge jungle gyms flanking a water play area. One was just right for my 3-year-old, while my 7-year-old delighted in the multiple monkey bar-like obstacles on the big-kid version. She was thrilled to let me (and her older brother) know it had an American Ninja Warrior-style "spin-cycle" obstacle for her to test her skills on, too. Just outside the large enclosed play area was another set of sprinklers, and staff from the on-site recreation center had strewn about ride-on toys and other playthings for passersby to enjoy. The Oval has three playgrounds total, plus a football field, track, and tennis courts.
Looking for more ways to play? Check out our extensive Playgrounds & Parks Guide for more fun places to pass the day.
A version of this article was first published in 2016, but it has since been updated.