Morris-Jumel Mansion: Explore Manhattan's Oldest House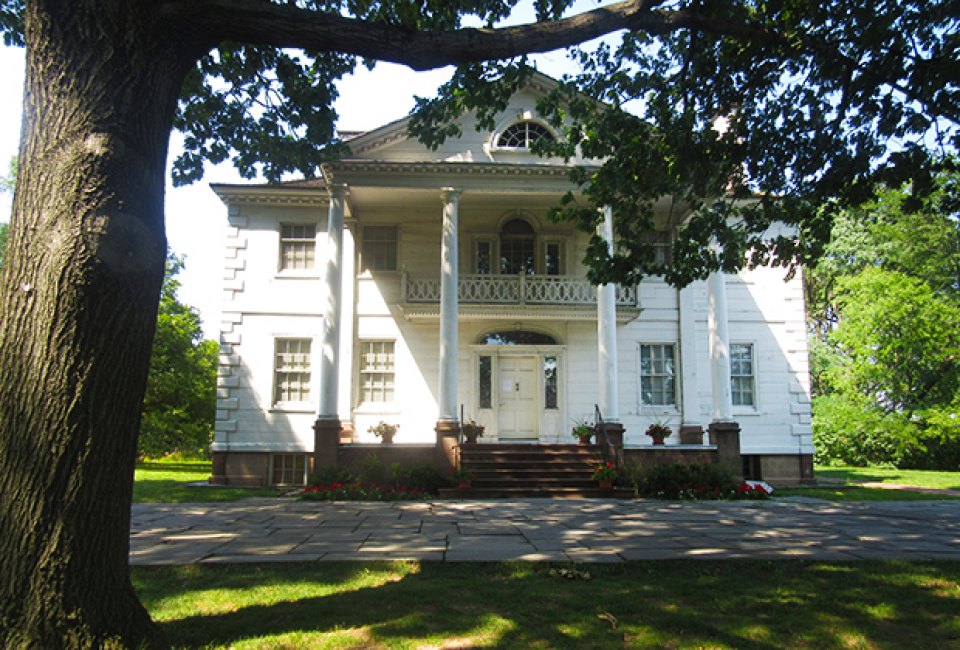 7/19/16
- By
Jody Mercier
If you've ever considered visiting Manhattan's highest point, you've probably contemplated a trip to One World Observatory, but if you want to keep your feet on the ground and still find a spectacular view, your best bet is to head to the southern edge of Washington Heights where you'll find Manhattan's oldest house, Morris-Jumel Mansion, perched atop Sugar Hill.
Built in 1765 as a summer villa for his family by British Colonel Roger Morris and his wife, Mary Philipse, the mansion stands today as a museum and member of the Historic House Trust of New York City. A visit brings sweeping views of the city, a glimpse into New York City's rich history, and puts you just a wee-bit closer to the Hamilton phenomenon.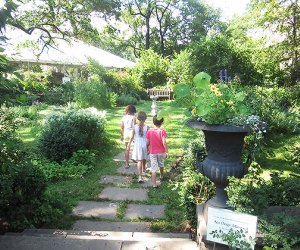 Lush gardens offer a picturesque place to romp. Photo by the author.
Sitting at the cobble-stoned intersection of 160th Street and Jumel Terrace, Morris-Jumel Mansion occupies two square blocks of beautifully manicured grounds. The shady lawns and garden area make for a beautiful setting for a picnic and there's plenty of room to romp and run outside.
Though there are still views to the south and east, the cityscape dominates what was a vast farmland. When Colonel Morris built the house, it offered sweeping views of New Jersey, Connecticut and New York Harbor—views that would come in quite handy for the house's next occupant: George Washington. After Morris and his family, British loyalists, fled during the Revolutionary War, Washington moved in and the house became his headquarters. Here he orchestrated his first major victory of the war—the Battle of Harlem Heights in September 1776. Though the battle was a victory, Washington couldn't hold Manhattan and fled shortly thereafter, leading the British to claim the house.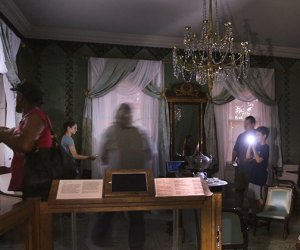 Ghost hunters at one of the paranormal investigation tours. Photo by Mommy Poppins.
Once the war was over and won, the house was purchased by Stephen Jumel and his wife, Eliza Bowen. Bowen would live the longest stint in the house, first with Jumel, then her second husband, Aaron Burr, whom she married in the front parlor. Bowen occupied the house until her death in 1865, though some claim she still haunts the house and indeed, paranormal investigations are part of the regular programming at the mansion.
A visit today allows you to take a step back in time as you cross the grand portico and enter the stain-glass framed front door. There are period rooms to peruse, filled with artifacts from the home's occupants, as well as the museum's collections.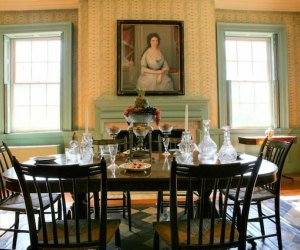 This elegant dining room was once occupied by our nation's founding fathers. Photo courtesy of the mansion.
The first floor houses the dining room where George Washington hosted a celebratory dinner for his cabinet in 1790 breaking bread with Thomas Jefferson, John Adams, James Madison, and Alexander Hamilton among others. The front parlor is also restored to period with colorful textiles. The building's innovative architecture (including one of the first octagon-shaped rooms built in the colonies) is credited to famed architect Roger Morris, father of Colonel Roger Morris.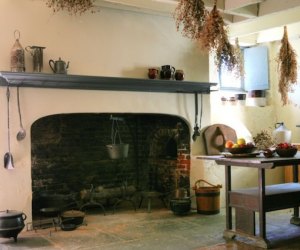 The colonial-era kitchen offers a peek into meal preparation without modern-day amenities. Photo courtesy of the mansion.
In the basement, my kids marveled at the colonial kitchen and its lack of anything but a fireplace to cook on. Here they also tried their hands at holding a colonial-era cannonball, heavier than it looked at 12 pounds.
On second floor you'll find three bedrooms. One belonged to Eliza Bowen and is filled with her furniture, much of which was acquired from the family of Napoleon Bonaparte. A second bedroom featured a festively striped chair, famous for far more contemporary reasons as the museum worker informed us that it was in this chair that Lin-Manuel Miranda penned parts of Hamilton.
The last room on this floor is the very place Washington planned his war strategy. The kids crowded into the tiny viewing area to get a better look, though admittedly there wasn't much to see as many of the artifacts in this room happened to be out for restoration. Still, they were happy just to imagine the history surrounding them.
Overall, the mansion takes less than an hour to tour. Plan to visit on a weekend when there is plenty of family-friendly programming. There's an annual commemoration of the Battle of Harlem Heights, plenty of colonial-inspired workshops (like colonial ice cream and toy making) and even a series of "camps" in July and August where you and your child can spend a couple of hours learning about archeology and gardening on the museum's grounds. Rotating exhibitions of art and history also pop up from time to time.
Morris-Jumel Mansion is located at 65 Jumel Terrace and is open Tuesday through Saturday. Admission is FREE for kids ages 12 and younger and $10 for adults. Though we learned plenty on our DIY tour, there are docent-led tours every Saturday and on select Fridays and Sundays, for an additional fee (advanced registration is suggested). Check the website for full details including hours and upcoming events.
While you're in the neighborhood, consider a visit to the nearby Sugar Hill Museum of Art & Storytelling, Fort Washington Park Playground, or take a stroll over The High Bridge.
Top photo: The mansion's exterior. Photo by the author.
Places featured in this article:
Click Here to Sign Up!
i