5 NYC Sites Where 'Hamilton' Comes Alive for Kids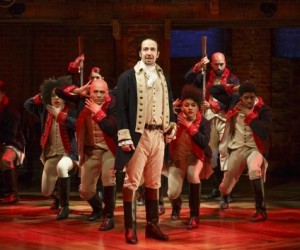 10/27/15
- By
Raven Snook
Lin-Manuel Miranda's historical hip-hop musical Hamilton needs more publicity about as much as Donald Trump. However, fans of the Broadway juggernaut, which include lots of tweens, teens and parents, can't get enough of the blockbuster that explores the dramatic life of "the ten-dollar Founding Father," from orphaned kid to teenage scholar to Revolutionary War hero to government player to his untimely death.

If you're lucky enough to have seen the show, chances are you're listening to the catchy original cast album on repeat just like I am right now. However, if you haven't been successful at snagging tickets, we've got some tips for getting some (even at a discount!), along with five NYC spots where school-age kids can learn more about Alexander Hamilton's legacy.
Although Hamilton isn't aimed at families in the way our NYC fall theater picks are, many school-age kids love it thanks to its contemporary score (rap, R&B, pop are all represented) and engaging presentation that makes this 200-plus-year-old tale of immigrant success feel totally timely. That said, the show is three-hours long, lyrically dense and contains quite a few curse words. My 10-year-old was blown away and begging to go back, but parents should use their best judgment as to what an individual child can handle. I'd say it's definitely appropriate for ages 13 and up, but I know 8-year-olds who've seen and loved it.
How To Get Hamilton Tickets
Yes, it's true: Hamilton is pretty much sold out through May 2016 (unless you're willing to pay inflated prices to a reseller). However, starting 2½ hours before every performance, there's a lottery for $10 seats. Just submit your name outside the theater and cross your fingers—often more than a thousand hopefuls enter for 21 front-row and six standing-room tickets! If you do win, you can purchase up to two in cash. At select lotteries, you get the added bonus of a FREE sidewalk #Ham4Ham performance by members of the cast. Sometimes they do a number from the show, but at other times it's a pop song or a tune from another musical with a special guest.

If the lottery sounds too iffy for you and the kids, you can buy Hamilton tickets from Ticketmaster or from the box office, just try asking for dates starting in June 2016. Seriously. We're hoping that, eventually, Hamilton will participate in regular theater discount initiatives like Kids Night on Broadway (free child's ticket with a full-price adult ticket), Broadway Week (two-for-one tickets) and the TKTS Booth (same-day tickets up to 50% off). But for now, Hamilton isn't offering any bargains beyond the lottery, and even full-price tickets are hard to come by. (A just-announced Rockefeller Foundation grant will be sending 20,000 public school kids to the show for $10 matinees in 2016. Maybe yours will be among them!)
5 Places to Enhance Your Hamilton Experience

The uptown Dimenna Children's History Museum dedicated an entire interactive pavilion to Hamilton.
Dimenna Children's History Museum — Upper West Side
New-York Historical Society, 170 Central Park West at 77th Street
The most hands-on Hamilton destination, this interactive, 4,500-square-foot mini-museum located on the New-York Historical Society's lower level invites school-age kids to explore American history through the eyes of iconic NYC children. There's an entire pavilion devoted to the Caribbean-born Alexander Hamilton who, orphaned as a child, came to the Big Apple to study and reinvent himself. Kids can explore the highlights of his life through a variety of interactive activities such as analyzing the first issue of his Federalist Papers, learning about his personal life in the Facebook-inspired Federalbook and playing a video game that teaches about taxes, tariffs and currency. As the founder of the Bank of New York and the first-ever United States Secretary of the Treasury, Hamilton surely would approve. Free with museum admission: $20 for adults, $12 for students, $6 for children ages 5-13

Hamilton Grange is where the Founding Father resided when infamously killed by Aaron Burr in a duel.
Hamilton Grange National Memorial — Harlem
414 West 141st Street inside St. Nicholas Park
Commissioned by Hamilton for his family and believed to be the only home he ever owned, Hamilton Grange was moved back to its original lot in St. Nicholas Park in 2006. Families can explore three period rooms on the first floor on their own, or take a short, no-cost tour led by a National Park Ranger. An illustrated timeline of his life lets fans of the musical compare Miranda's book (which took some liberties) with the actual facts of Hamilton's life. In the backroom you can watch a fascinating documentary about how the building was relocated to its current spot. Kids can also earn a Junior Ranger Badge here. FREE
RELATED: Revolutionary War Sites in NYC
Morris-Jumel Mansion — Harlem
65 Jumel Terrace near Sylvan Terrace
Although this site is better known for its affiliation with George Washington, Manhattan's oldest house also hosted Hamilton. The mansion served as General Washington's headquarters during the 1776 Battle of Harlem Heights, which Hamilton participated in. After Washington became President, he held a dinner here in 1790 with his cabinet, including John Adams, Thomas Jefferson and, of course, Hamilton. Later, Aaron Burr married and lived here. This is definitely the perfect place to steep yourself in the history of America's early days, which is why Miranda wrote parts of Hamilton in the house! The mansion also frequently offers hands-on family programs, like the annual commemoration of the Battle of Harlem Heights and Colonial-themed Family Days. $10 for adults, $8 for students, free for children under age 12
Museum of American Finance — Financial District
48 Wall Street between William and Pearl Streets
Considering Hamilton was the architect of our nation's economic system, it's no wonder he has his very own namesake room at the Museum of American Finance. Like the Grange, this gallery offers a timeline of Hamilton's life but focuses primarily on his economic innovations as the first Secretary of the Treasury, many of which were considered radical in his day. In the federalist-style room, you can peruse artifacts such as documents written and signed by the Founding Father, and medals designed in his honor. And remember, you're standing in the former home of the Bank of New York, which Hamilton founded. This is just one exhibit in this engaging museum, which gives an easy-to-digest overview of our country's financial history. $8 for adults, $5 for students and seniors, free for children under age 7
Alexander Hamilton U.S. Custom House — Financial District
1 Bowling Green between Whitehall and State Streets
Admittedly the least hands-on site, this Beaux-Arts gem named in Hamilton's honor is worth checking out simply because it's awesome to look at and was once home to lots of financial drama. Today, it houses the FREE National Museum of the American Indian, a great place for kids to learn about the history of the original people who populated this land.
Lin-Manuel Miranda and the cast of Hamilton on Broadway.
RELATED: Living History Museums Near NYC
Since Hamilton spent much of his life and career in NYC, there are many other sites affiliated with him. Playbill has a comprehensive roundup of them all, even statues and plaques! But not all of them will be that interesting for children (or grown-ups!).

Finally, a plug for the amazing original cast album, which makes for fantastic family listening, even if you haven't seen the show yet (warning: a few songs have expletives, however they're marked as "explicit" in iTunes). If you want to listen to it before you buy, you can hear the whole thing on YouTube.
Top photo and Hamilton the musical photo by Joan Marcus.