15 Revolutionary War Sites in NYC That Bring Our Country's History to Life for Kids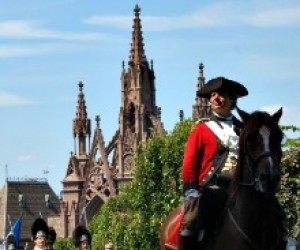 11/11/14
- By
Stephanie Ogozalek
As a diehard history nerd, I've taken my nine-year-old son to Colonial Williamsburg, Virginia (twice!), and we've visited Philadelphia and Boston, both cities with major Colonial cred, numerous times. But some of the most important Revolutionary War battles and key events took place right here in NYC, so, really, you can bring the birth of our nation to life in a way no textbook can just by using your MetroCard.

See where George Washington slept during the war and the Bible he used for his inauguration; check out where the battles of Fort Washington, Harlem Heights and Brooklyn were waged; and tour Founding Father Alexander Hamilton's home all without leaving the boroughs. Plus, many of these sites host special interactive activities like living historical reenactments, battles and commemorations.

Here are 15 NYC sites where kids (and grown-ups!) can connect with the events and people who helped found our country.
St Paul's Chapel – Financial District
209 Broadway at Fulton Street
Built in 1766, Trinity Church's historic chapel is NYC's oldest church building. During the Revolutionary War, Alexander Hamilton drilled troops in its churchyard. George Washington worshiped here regularly, including on his inauguration day. His pew is easy to spot: It's beneath the painting of the Great Seal of the United States. FREE

Federal Hall National Memorial – Financial District
26 Wall Street near Nassau Street
The original Federal Hall was built in 1700 and served as our nation's first Congress, Supreme Court and Executive Branch, and was where George Washington was inaugurated. Demolished in 1812, it was replaced by a Customs House and eventually became the Federal Hall National Memorial. Visitors can check out fragments of the original building along with the bible used during Washington's oath of office. In fact, the statue of our first President outside the building marks the exact spot of his swearing in. Visiting is FREE but it's only open Monday through Friday.

Morris-Jumel Mansion – Harlem
65 Jumel Terrace near Sylvan Terrace
George Washington slept here! Manhattan's oldest house was built in 1765 by British Colonel Roger Morris. Ultimately, it served as General Washington's headquarters during the 1776 Battle of Harlem Heights and, after he became President, he held a dinner here in 1790 with his cabinet, including John Adams, Thomas Jefferson and Alexander Hamilton. Check out Washington's bed chamber, the swanky dining room and the kitchen where the meal was prepared. Morris-Jumel Mansion also hosts frequent hands-on family programs, many of which are FREE like the annual commemoration of the Battle of Harlem Heights, George Washington's birthday celebration and Colonial-themed Family Days.

Fraunces Tavern Museum – Financial District
54 Pearl Street near Broad Street
While the building has been renovated and repurposed several times over the centuries, this is the tavern where George Washington bid farewell to his troops at the end of the Revolutionary War. The second floor houses a museum where visitors can see the room where it all went down. On the ground floor, there's an independent upscale restaurant decked out with maps, flags and displays celebrating early American life in NYC.

Hamilton Grange National Memorial – Harlem
414 West 141st Street inside St. Nicholas Park
Founding Father Alexander Hamilton graces the $10 bill, and is best known as the country's first Secretary of the Treasury and being murdered in an infamous duel with Aaron Burr. However, Hamilton was also a soldier who rose through the ranks of General Washington's Continental Army and fought in many Revolutionary War battles. Hamilton's home, Hamilton Grange, was recently renovated and moved back to its original lot in St. Nicholas Park. Take guided tours of the period rooms, and hit the visitor center to explore his life and legacy. FREE

Fort Tryon Park – Washington Heights
Broadway to the Hudson River between 190th and Dyckman Streets
Named after Sir William Tryon, the last British governor of Colonial New York, the park was the site of the Battle of Fort Washington in 1776. Although the U.S. lost, the skirmish made Margaret Corbin famous after she took up her fallen husband's cannon. (The park's drive and circle bear her moniker.) There's a plaque dedicated to her efforts at 190th Street and Fort Washington Avenue. Every November, Fort Tryon Park marks the anniversary of the Battle of Fort Washington with reenactments by the Brigade of the American Revolution; period games, crafts, music and trade demos; and a tour of the battlegrounds with Corbin herself. FREE

Bowling Green – Financial District
Broadway and Whitehall Street
It's hard to imagine that this genteel public park, the first in NYC, was the location of an angry riot back in 1776. Following the first reading of the Declaration of Independence in New York State, Continental soldiers and patriots toppled the park's statue of King George III, and parts were melted down and made into ammunition. In the New-York Historical Society 's Central Park West entryway, there's a cool interactive video wall of the painting "Pulling Down the Statue of King George III" that responds to movement. Stick around until a crowd gathers and you'll be able to help virtually bring down the statue.

New-York Historical Society – Upper West Side
170 Central Park West at 77th Street
Founded in 1804, NYC's oldest museum showcases a host of artifacts from the era. Check out George Washington's inauguration chair, portraits of George and Martha Washington, Alexander Hamilton and Thomas Jefferson, and the New York Rising exhibition, which includes tons of relics from the period like musket balls and British coins. Of course, the New-York Historical Society is well known for its family programming so be sure to check the calendar to find out what's going on. Its Living History Days are particularly engaging.

The Old Stone House – Park Slope
336 Third Street between Fourth and Fifth Avenues
A reconstruction of the 1699 Vechte-Cortelyou House, this museum sits in Park Slope's Washington Park, where part of the 1776 Battle of Brooklyn was waged. Learn about this bloody battle through displays of period relics like clothes, uniforms and ammunition, along with an informative diorama detailing the multiday fight. Keep an eye out: every August the battle is reenacted in Brooklyn, usually at the Old Stone House, which also hosts occasional family events. Open to the public weekends only.

Green-Wood Cemetery – Sunset Park
500 25th Street at Fifth Avenue
The famed Battle of Brooklyn included a deadly fight on Battle Hill, the highest point in the borough, now part of the historic cemetery. Green-Wood commemorates the fight every August with a living history event featuring period demos, parades and sometimes even reenactments. FREE

Fort Greene Park – Fort Greene
Myrtle Avenue to DeKalb Avenue between Washington Park and St. Edwards Street
Brooklyn's first official park was once the site of Fort Putnam, a Revolutionary War-era fort that's honored in the Fort Greene Playground. Kids can romp on a fort-like double-decker play structure, check out 13 pillars that represent the original American colonies and spot the patriotic bald eagle weather vane atop the bathroom. Fort Greene Park also commemorates and houses the remains of thousands of civilians held as British prisoners on ships in its Prison Ship Martyrs Monument.

Historic Richmond Town – Staten Island
441 Clarke Avenue
The sole living history museum in NYC, this 100-acre attraction contains elements of multiple eras, not just Colonial times. Here you can visit one of the borough's oldest homes, municipal buildings, trade shops, farms and explore Staten Island's history.

Fort Wadsworth – Staten Island
210 New York Avenue
Strategically located at the entrance to New York Harbor, Fort Wadsworth was captured by the British during the Revolutionary War and remained under their control until the conflict's end. Today, visitors can take tours of the decommissioned military base's underground tunnels and bunkers, and enjoy its great views of Manhattan and Brooklyn.

The Conference House – Staten Island
298 Satterlee Street near Hylan Boulevard
In 1776, Benjamin Franklin, John Adams and Edward Rutledge met with Sir William Howe, the Commander-in-Chief of British forces, at the Conference House in an unsuccessful attempt to broker peace. The museum recreates this historic event every September. One of the few remaining 17th-century manor houses in NYC, the building is open year-round for guided tours.

Van Cortlandt House Museum – the Bronx
Broadway at West 246th Street inside Van Cortlandt Park
Not only is this the oldest house in the Bronx, it's also the first historic house museum created in NYC. Located in the southern portion of Van Cortlandt Park, it was built by the wealthy Dutch Van Cortlandt family in the 17th century. During the Revolutionary War, George Washington used the house as his home base at least twice. The museum is open for guided tours throughout the year.
Click Here to Sign Up!