Things to Do in Fort Greene Park with Kids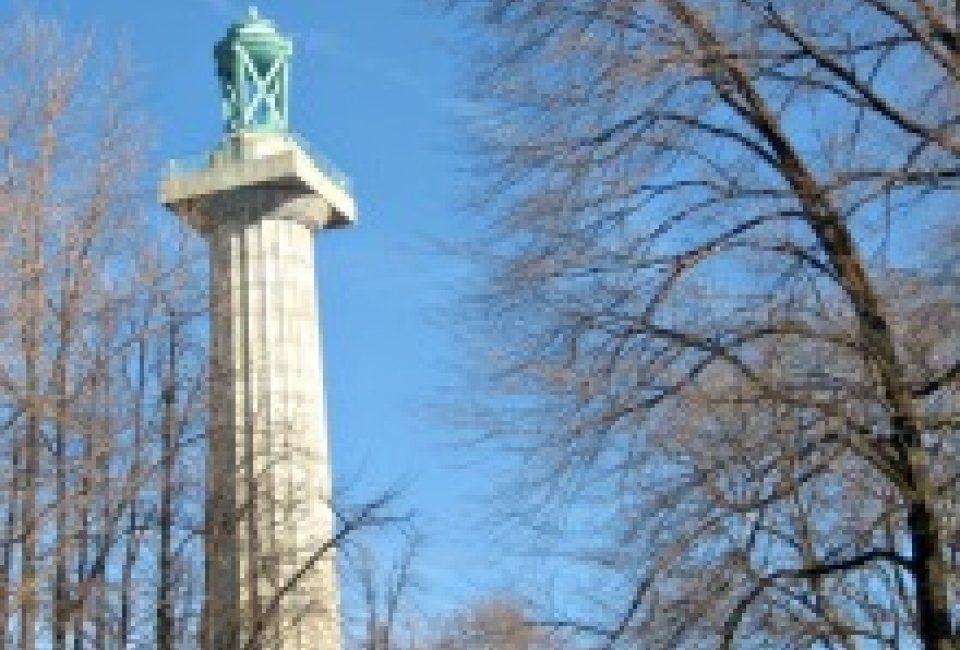 2/10/13
- By
Stephanie Ogozalek
One of New York City's oldest green spaces, Ft Greene Park is like a mini-Central Park, jam-packed with fun activities and loads of history. Originally the site of a Revolutionary War and War of 1812 fort, it became Brooklyn's first public park in the mid-19th century, and in 1867, Frederick Law Olmsted and Calvert Vaux (the masterminds behind Central Park and Prospect Park) redesigned it into the 30-acre layout we know today.

A true neighborhood hub, Ft Greene Park features two playgrounds, a nature center, amazing old trees, tennis and basketball courts, great hills for sledding and the hilltop Prison Ship Martyrs Monument, a memorial to the thousands of Americans who died in captivity aboard British prison ships during the Revolutionary War. Ft Greene Park also has a wonderful conservancy that organizes popular events, including annual family favorites like the Halloween Festival and the summer Music In the Grove kids' concert series.

We continue our month-long focus on Fort Greene Clinton Hill, Brooklyn with a tour of this stunning park and a look at all of the things there are to do here.
Explore the Nature Center
While you'll find some cool nature displays like critters, creatures, rocks, shells, skeletons, pelts and a live turtle named Charlie, the modest-size center also offers a local history lesson. Two cannons are on view along with old maps and other military memorabilia, and multiple state flags hang overhead. Be sure to visit the bathroom to see the fantastic murals of the park painted by neighborhood school kids. Also, check the calendar to see if the Urban Park Rangers are hosting any special programs, like birding or nature-themed crafts.

Romp in a Playground
There are two standard playgrounds: a small oval-shaped one for tots near the corner of DeKalb Street and Washington Park, and a larger one near the St. Edwards Street entrance that has sprinklers, baby swings and a fort-like double-decker play structure. The park's rich history is apparent here: The playground is surrounded by 13 pillars, one for each of the original American colonies, and there is a very patriotic bald eagle weather vane atop the bathroom.

Stroll the Fort Greene Tree Trail
The park has amazing winding paths lined with majestic old trees—39 different varieties! A great way to see them all is to walk the park's Tree Trail, which starts outside the nature center and meanders throughout the green space. Info signs share facts about each species.

Play Basketball or Tennis
The park has basketball and tennis courts. For b-ball, you can swing by to see if you can join a game but leagues and groups are required to reserve a court in advance. For tennis you also need to reserve a spot.

Enjoy a Picnic
In warm weather, hit one of the lawns for a picnic lunch or barbecue at the designated grilling area along Myrtle Avenue between North Portland Avenue and St. Edwards Street. Didn't bring any food? You can pick up supplies at the nearby Greene Grape Provisions or if you visit on a Saturday, drop by the year-round Fort Greene Park Greenmarket.

Go Sledding
Ft Greene Park has four hills that are perfect for sledding, including one gentler one. Don't be tempted to sled down the stairs of the Prison Ship Martyrs Monument! It may look smooth, but people have been injured.

Look for Public Art
Like many NYC parks, Ft Greene is often home to temporary public art displays. If you visit before August, 2013, check out Akihiro Ito's whimsical sculpture Tomorrow, a giant abstract wooden baby located near Washington Park and Myrtle Avenue.

Check out the Prison Ship Martyrs Monument
Architect Stanford White's iconic monument sits atop the park's central hill. The 149-foot column was erected in 1908 to commemorate the 11,500 people who died as hostages on British ships in the East River during the Revolutionary War, and there's even a crypt that holds some of their remains. Kids love climbing up the massive staircase leading to the hilltop plaza, which offers a lovely panoramic view of the neighborhood.

Hit a Festival, Concert or Other Special Event
Every year, the Fort Greene Park Conservancy organizes fantastic special events. The annual Halloween Festival features hayrides, face painting, stilt walkers, pumpkins to decorate and a spooky cemetery, and the summertime Music In the Grove kids' concert series showcases popular local kids' bands like AudraRox, Suzi Shelton and Rolie Polie Guacamole.

Read all of our posts about things to do with kids in Fort Greene Clinton Hill, Brooklyn.
Places featured in this article: