NYC on a Budget: Cheap Things To Do and Money Saving Tips for Families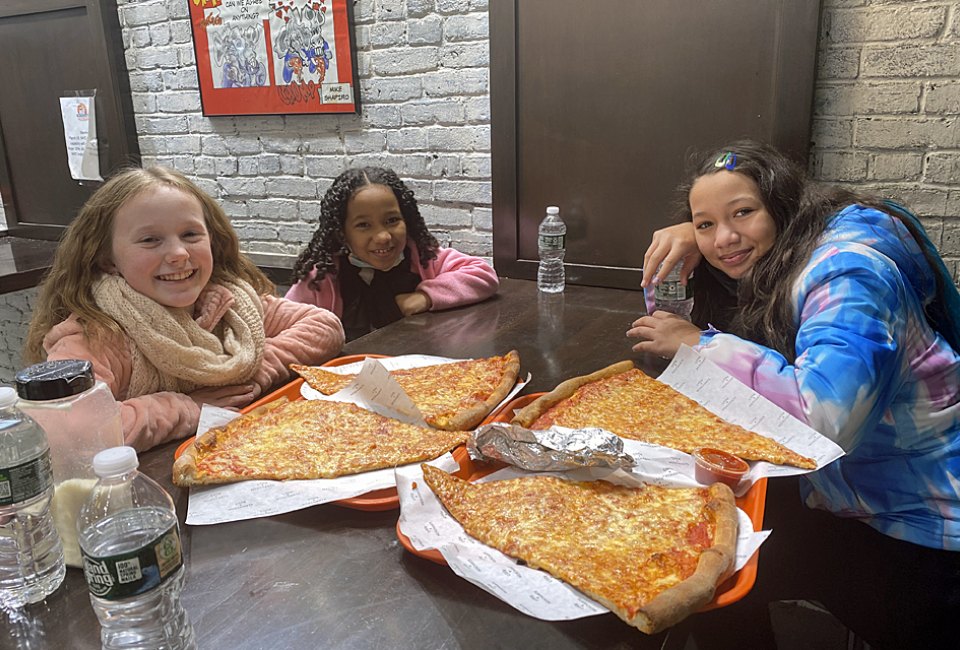 1/19/23
- By
Diana Kim
NYC is notoriously expensive, but there are plenty of cheap things to do if you know where to look. We've done the legwork to bring you our best NYC money-saving tips, including how to save on everything from museum outings to Broadway tickets, kid gear, and where to score the best cheap eats.
Whether you're a local or a tourist visiting the Big Apple, here are our top tips for cheap things to do in NYC. If that's not enough, we've got an entire list of 100 FREE things to do in NYC with kids, and our Guide to Free, Fun Things To Do in NYC contains more parent-tested tips, tricks, and outings. While there's no doubt New York is an expensive place, there are also lots of free and cheap activities if you know where to look, and that's where this list of 42 cheap things to do in NYC comes in.
Subscribe to our newsletters to get stories like this delivered directly to your inbox.
Score Money Saving Tickets and Discounted Admission in NYC
1. Free Museum Hours
Many of NYC's top museums offer FREE admission days or hours and are worth knowing about—and booking tickets well in advance when necessary.
2. Pay-What-You-Wish Admission Prices
Did you know that some of NYC's biggest museums offer suggested admission, so the price you pay is up to you? The Met, American Museum of Natural History, Brooklyn Museum, Museum of the City of New York, and MoMA PS1 all fall into this category, though some residency restrictions apply.
RELATED: How To Get Free Stuff, Save Money, and Reduce Waste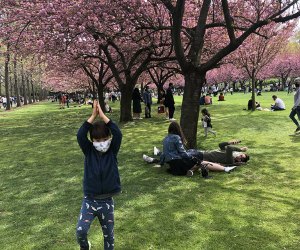 The Brooklyn Botanic Garden offers free admission on select days and times.
3. Seasonal Admissions Deals
Winter might not be your first choice for visiting the Brooklyn Botanic Garden or the Queens Botanical Garden, but you can visit them in the offseason free of charge. We love stepping into the tropical oasis of the BBG's conservatory buildings to beat the winter chill.
4. Go City Pass
Whether you're a tourist or want to play one for a few days, take advantage of the Go City Pass, which offers a variety of money-saving options to hit many top attractions at a discount.
5. Museums That Are Always Free
Some spectacular museums are FREE to all visitors all the time, while others admit kids under a certain age admission-free. Top picks for completely FREE cultural outings include the Bronx Children's Museum and its neighbor, the Bronx Museum, plus the Museum at the Fashion Institute of Technology, and the Museum of American Folk Art.
6. Today Tix
The popular Today Tix app is full of Broadway tickets selling at significant discounts.
RELATED: 22 Free Indoor Places To Play in NYC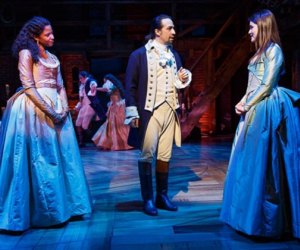 Score cheap tickets to the smash hit Hamilton among many others. Photo by Joan Marcus
7. Broadway Week
Tickets to a Broadway show don't have to cost an arm and leg during this bi-annual promotion, you can score discounted Broadway tickets.
8. TKTS Booth
Those giant red steps in Times Square hide a money-saving secret: Step up to one of the ticket windows underneath to net last-minute deals at the TKTS Booth. There's a second location at Lincoln Center's David Rubenstein Atrium.
9. See a Show at Julliard
While tickets to a New York Philharmonic performance are often steep, tickets to a performance at the Julliard School cost less than $40, and are often FREE. Attend performances in music, dance, and drama from some of the most talented musicians and performers without breaking the bank.
RELATED: Where to Find Free Classes for Kids in NYC at Stores and Public Spaces

Nab a free pass to The Met via the Culture Pass program. Photo by Sara Marenette
10. Culture Pass
Plan in advance and take advantage of your library card to reserve Culture Pass tickets to tons of local attractions like Wave Hill, the Children's Museum of Manhattan, the Intrepid Museum, and many more. No matter where you live in the city, library cards are FREE and offer a key to cheap fun citywide, never mind the variety of story times and in-house programs you can enjoy at local branches, too.
11. NYC Art Galleries
If you want to see cool art without spending a dime, consider venturing out to a local art gallery. You'll find tons of cool spots in family-friendly Chelsea and other neighborhoods throughout the city.
12. Go Off-Broadway
If you don't mind skipping big-name Broadway productions, see a show at one of many off-Broadway theaters, where tickets are significantly cheaper.
RELATED: How to Get Free Baby Stuff: Free Diapers, Formula, Baby Gear, and More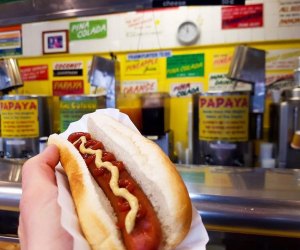 You can't beat a hot dog and tropical drink at Gray's Papaya. Photo courtesy of the restaurant
Cheap Eats in NYC
13. Hot Dogs
A New York hot dog is a great value meal, costing you just a few bucks at Gray's Papaya or from one of the ubiquitous carts on street corners and in city parks.
14. MealPal
MealPal offers a subscription meal service that lets you get lunch or dinner from a ton of local restaurants for a fixed monthly fee. For example, with the 10-12 meal plan for 30 days, lunch comes out to about $6 per meal. It's great to save money and sample lots of different cuisines. Another perk: You can skip the line to pick up your food. As busy parents, we're big fans of saving time and money!
15. Too Good To Go
The Too Good To Go app helps prevent food waste by letting consumers claim delicious, unsold food from participating restaurants and cafes at great discounts. It's a bit of a guessing game because you never know quite what will be in your to-go bag but the mystery is part of the allure, too.
16. Seated
If you can't pass up a night out, the Seated app gives you cash rewards for dining out. Choose a restaurant with a high cashback percentage and use those rewards for dining, shopping, or even gift cards.
17. Street Cart Eats
For delicious food that's cheap and fast, head to one of NYC's many food carts. You'll be able to savor an array of international cuisine from Korean tacos and Greek food to Middle Eastern fare for less than $10. A few standouts are the Halal Guys, King Souvlaki, Wafels and Ding, and Kimchi Taco. For vegetarians, you can't meet beat NY Dosas. To find a food truck near you, check out this site.
18. Dine at a Food Hall
Our favorite local food halls are another great way to sample a variety of cuisines while being easy on the wallet. Food peddlers include unique vendors and artisans. And since it's basically self-serve, there's no up-charge for tips and wait staff.
19. Govinda's Kitchen
Looking for a vegetarian lunch on the cheap? We hear rave reviews about the kitchen at Hare Krishna temple in Brooklyn, which serves a hearty, healthy vegetarian meal each weekday.
20. Bagels
No matter which corner of NYC you're in, you can find a bagel with a schmear for $3-5.
21. Pizza
Dollar slices haven't succumbed to inflation just yet, but even a slice at one of NYC's best shops will run you just a few bucks.
22. Dumplings
Dumplings are also another great way to fill up without spending too much. You'll find some authentic and affordable dumplings in Manhattan's Chinatown. Flushing in Queens, Sunset Park in Brooklyn, and Manhattan's Koreatown are also good bets for these savory bites.
23. Kids Eat Free
If you know where to look, a lot of restaurants in NYC allow kids to eat for FREE.
RELATED: Free Summer Sports and Outdoor Programs in NYC for Kids

Keep an eye out for STEAM Matters annual free summer and spring break camps, including those held at WCS parks. Photo by Julie Larsen Maher/courtesy of the WCS
Money Saving Tips for Kid Essentials
24. Free and Cheap Camp Options
We publish an annual list of free and cheap summer camps for kids; likewise, we've also got a guide to low-cost after-school programs. Another favorite annual program is the STEM Matters program which offers both cost-free summer camp and spring break camps at local culture spots. The catch here: It's lottery-based, so you have to keep an eye on registration deadlines and cross your fingers!
25. Buy Nothing Groups
Kids need lots of things...and they grow out of them quickly! Our local Buy Nothing Group—search Facebook for one near you—has been a boon to pass on gently-used items my kids have outgrown or to pick up new-to-us items they need.
26. Local Parenting Groups
Like the aforementioned Buy Nothing Groups, it's worth joining a local neighborhood parenting group to learn of fun, hyper-local things to do, plus joining gives you a network of families to share gear and goods with, learn about daycare and preschool co-ops, and search for money savers like nanny shares!
RELATED: Where to Donate Clothes, Toys, and More in NYC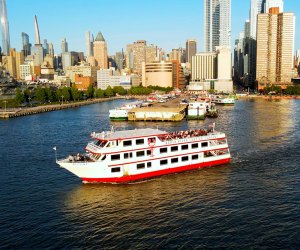 Take a $10 cruise with the North River Lobster Company. Photo courtesy of the company
Top Cheap Things To Do in NYC for Family Fun
27. North River Lobster Company
The North River Lobster Company offers hour-long cruises up and down the Hudson for just $10 plus the cost of food. Be forewarned, you'll probably want to join in and nosh on delicious seafood.
28. NYC Ferry
The NYC Ferry is a great, cheap way to see the waterfronts of iconic NYC neighborhoods and a unique mode of transportation to boot.
29. Roosevelt Island Tram
Possibly the coolest mode of public transportation in the city, the Roosevelt Island Tram costs a single MetroCard swipe and offers breathtaking views of the East River and Midtown skyline, plus there are plenty of fun things to do once you exit.
30. Staten Island Ferry
The Staten Island Ferry is free and offers great views of the New York Harbor including the Statute of Liberty.
RELATED: Free Boat Rides in the City: Where To Go Canoeing, Sailing, and Kayaking in NYC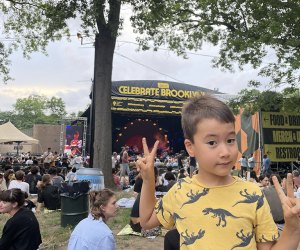 The Prospect Park Alliance holds free concerts at the Prospect Park Bandshell during the summer.
31. Catch a Free Show
Summer is the season of free in NYC, and we love taking in the numerous outdoor festivals and music performances that take place, including the New York Philharmonic Concerts in the Park, the BRIC: Celebrate Brooklyn series, and, of course, Summer Stage.
32. NYC Winter Outing
Take advantage of that pleasant season when the holiday decorations have been removed and the tourists have departed by booking a Winter Outing. This annual discount promotion goes far beyond Broadway Week to include NYC's Winter Restaurant Week, Must-See Week, and even NYC Hotel Week.
RELATED: 100 Things To Do in NYC With Kids Before They Grow Up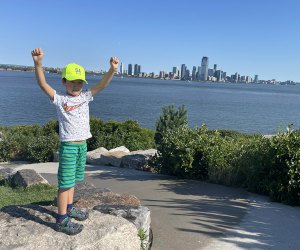 Head to Governors Island for a fun-filled day of family fun, for FREE.
33. NYC Parks
While parks are free to visit, some are a cut above the rest in terms of programming and play opportunities. One of our favorite places is Governors Island, which is a family haven with playgrounds, art exhibits, food trucks, and events year-round. We also love The High Line with its unique views of the west side, great public art, and lots of areas for kids to run around. For something less well-trodden, check out the Socrates Sculpture Park in Queens with its amazing views of the East River and Manhattan, plus public art, and awesome family-friendly programming and events.
34. Destination-Worthy Playgrounds in NYC
If the kids are craving less green space and more romping spots, bookmark this list of the city's best playgrounds, which are all FREE and plenty of fun!
Money-Saving NYC Newsletters to Subscribe To
35. Mommy Poppins
If you're reading this, we hope you already know Mommy Poppins is an invaluable resource for families, and we always highlight FREE activities and cheap things to do in NYC. Subscribe to our newsletters so you can stay on top of all the activities and events we cover.
36. NYC Parks
If you can't get enough nature, the NYC Parks Newsletter is full of fun things to do in local green spaces and an excellent way to learn about FREE programming from Urban Park Rangers camping trips to FREE learn-to-swim classes, and more.
37. Library Newsletters
We mentioned our library love before, and it bears repeating. Sign up for the New York Public Library Kids E-newsletter, the Brooklyn Public Library Newsletter, and the Queens Public Library mailers to keep up to date on in-house programs.
Money Saving Apps Worth Downloading
38. Goldstar
Goldstar offers tons of money-saving deals on everything from local attractions to off-Broadway tickets and even discounts on Broadway shows.
39. Groupon
Nab discounts through this popular app for experiences ranging from attraction tickets to discounted dining and even warehouse club memberships.
40. Pulsd
Spa treatments, happy hours, and more await at Pulsd, which can help parents save some dough during downtime.
41. Nearly Free City
This constantly updated list of nearly free things to do is aptly named, and includes some picks mentioned above—like Seated and pay-what-you-wish museum days—plus fresh picks, including some you can take on the road to other cities when you visit.
42. Regal Cinema
If you're a cinephile, it's worth having the Regal Cinema app on your phone to capitalize on discounted movie days where you can pay as little as $7 to see a flick—yes, even in NYC.
Unless noted, photos by the author
Click Here to Sign Up!
i