Where to Donate Clothes, Toys, and More in NYC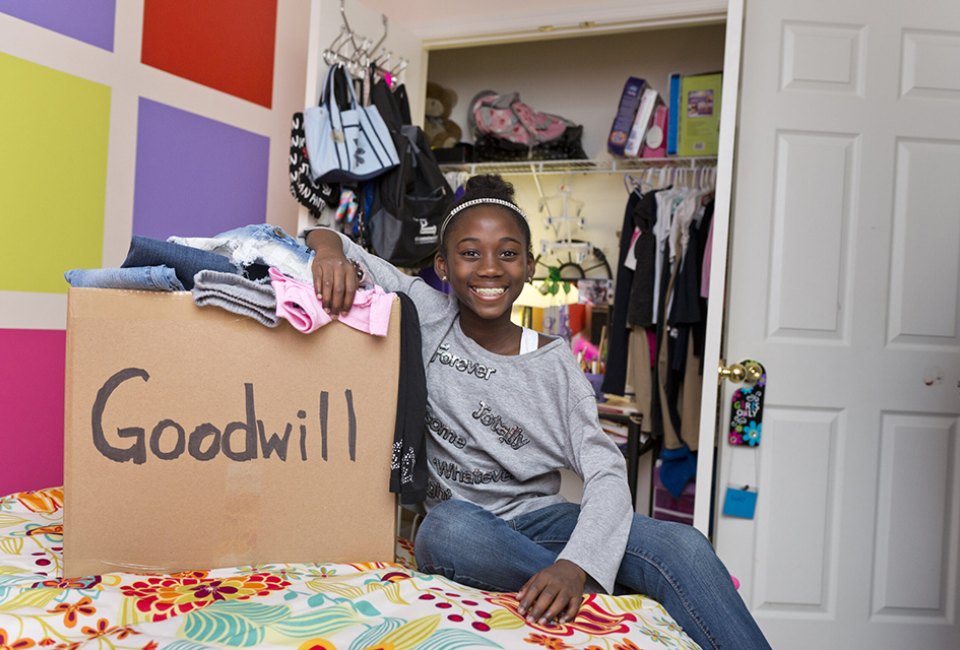 1/16/23
- By
Alina Adams
The end of the holiday season always has me looking for places to donate clothes, toys, and other goods in NYC. With two adults and three kids in my family's typically small NYC apartment, the holiday season stresses me out. Not because of all the things I need to do, but because of all the extra "stuff" that I know is about to flood our home. That's why this is my favorite time of year to donate my kids' gently (or sometimes never!) used clothes, toys, books, and other items so we can free up some space, support worthy charities, and get the whole family in a giving mindset.
While you may have donated to Toys for Tots before the holidays, local charities can use your support all year round. We've gathered details on several organizations where you can donate clothes in NYC. Be sure to contact the charities directly to confirm what they accept and how best to drop off.
Subscribe to our newsletters to get stories like this delivered directly to your inbox.
Where To Donate Clothes and More in NYC
This organization accepts gently used clothing for children and adults, as well as housewares, and more (no stuffed animals or used toys). Sales in its thrift shop help support Hour Children's mission of aiding incarcerated women and their children in maintaining strong bonds throughout prison stays and as they re-enter society. Services aim to help break the cycle of incarceration and poverty. The thrift shops also provides recently released mothers with a workplace to earn money and life skills to begin the rebuilding process.
Visit the website to find a donation center near you.
Goodwill accepts clean, gently used adult and children's clothing and household items. The organization will also take toys and games, provided all the pieces are intact. Proceeds from stores help to provide job training and other services for local community members in need.
RELATED: Mission Trips for Teens: 7 Summer Service Programs That Help Kids Give Back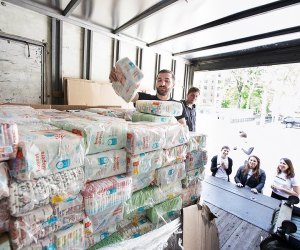 NYC Mammas Give Back distributes donated items.
This organization began when one mother reached out to a homeless mother-to-be and mobilized her network to set the needy mother up with the gear and support she needed for her new baby. As of this writing, only financial contributions are being accepted due to a change in warehouses, though you can visit its donation page for an up-to-date list of needs.
This unique organization provides essentials for babies born to families living in poverty and continues to monitor their progress every three months until the child turns 3. Room to Grow NYC accepts baby gear, clothing, toys, and other essentials for kids up to that age. Donations can be dropped off at the South Bronx location (please call ahead), picked up by a messenger for a tax-deductible fee, or shipped to its warehouse.
The Bowery Mission accepts new or gently used clothing for men and new clothing for women. Personal hygiene items are always welcome to create the Mission's Practical Care Kits. Food is also accepted, including fresh fruits and vegetables, canned and non-perishable items, or pre-packaged snacks. You can find a list of in-demand items and donation hours on its website, though children's clothing and toys are not accepted.
RELATED: Thanksgiving Volunteer Opportunities in NYC for Kids and Families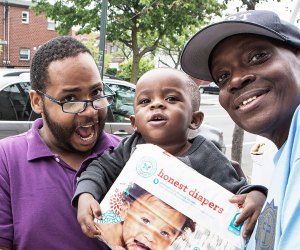 Donate clothing, gear, and diapers to Little Essentials.
This nonprofit accepts donations of goods for local families in need year-round. Accepted items include diapers and wipes, infant car seats, strollers, baby carriers, and in-season clothes for children up to age 5. Donations may be dropped off at the warehouse in the Brooklyn Navy Yard by appointment. Check its website for a full list of acceptable items.
Visit the website for locations.
The Salvation Army Thrift Stores support citywide Adult Rehabilitation Centers and accept everything from children's and adult clothing to major appliances and furniture. The organization offers a value guide for tax-deduction purposes and will pick up large items. You can even schedule a pickup online.
This shop is operated by the charitable organization Hearts of Gold, which aims to help homeless mothers get back on their feet and transition into permanent housing. The store helps in two ways: First, it provides these mothers with on-the-job training as they staff the "designer thrift shop." Second, all revenue goes to fund Hearts of Gold's missions. The shop takes new and gently used clothing for men and women. Please note that it has closed its children's shop, but it does accept new toy donations that are then passed on to local shelters and directly to HoG children.
RELATED: How to Get Free Baby Stuff: Free Diapers, Formula, Baby Gear, and More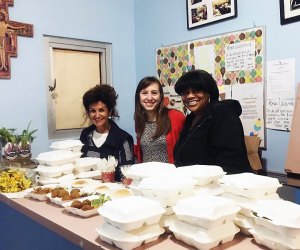 CHiPS provides nearly 350 meals a day and relies on donations.
9. CHiPS – Park Slope, Brooklyn
While this local charity isn't a spot to donate clothes, it does have a pair of Amazon wishlists that help keep its soup kitchen and on-site shelter running. There are a variety of other ways to give back, including food donations and family-friendly volunteer opportunities.
See the website for locations.
Housing Works is a fantastic citywide chain that accepts donations of all kinds. Check out its website for additional details, but keep in mind they don't like to accept children's clothing unless it is new with tags. If you have a furniture donation, fill out a request for pickup on its website. All other donations can be dropped off at its store locations during regular business hours.
This article first published in December 2013 and is updated annually.
Photos courtesy of the organizations