Teens Can Apply Now for Summer Internships in NYC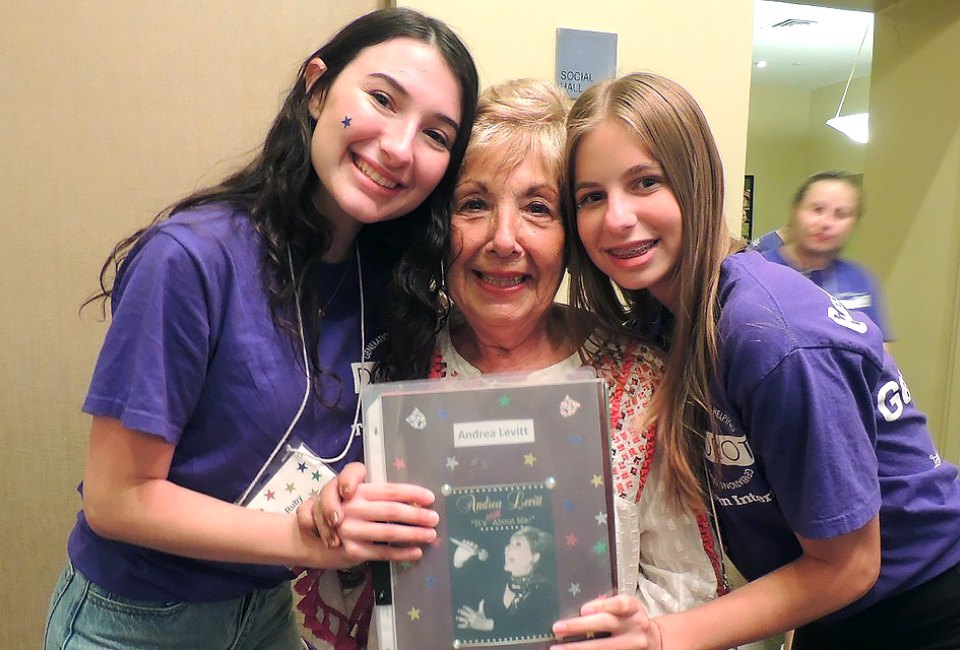 1/31/23
- By
Alina Adams
Summer internships can make your average, high-achieving, New York City kid really stand out from the rest of the equally high-achieving pack when it comes time to apply to colleges. In an era when applications have become increasingly competitive—leaving schools to look for more than good grades, great SAT scores, an outstanding essay, and a list of after-school activities—these summer internships in NYC offer kids hands-on, real-world experience, and some even include leadership opportunities.
Fortunately, because not all kids have the same interests, NYC summer internships come in various formats, paid and unpaid, regular and intermittent, educational and creative, with some also offering school or volunteer credit. The primary thing summer internships in NYC for teens tend to have in common is the due dates to apply are usually long before most teens have started thinking about their summer—or college—plans.
To make sure your teens don't miss out on any opportunities, we've rounded up 14 great summer internships in NYC for teens.
Find more teen-friendly happenings in our Tween and Teen Guide to NYC.
Subscribe to our newsletters to get stories like this delivered directly to your inbox.
Editor's Note: While we've confirmed information as of the publishing date, please click the links to the individual internships below to confirm the details and application deadlines.
14 Summer Internships in NYC for Teens
Ages: Rising 10th and 11th graders
Application due: April 23, 2023
Interns are introduced to a range of museum careers, from behind-the-scenes to public-facing activities. Over six weeks, students engage in collaborative work with museum staff, local designers, and other arts professionals. Interns are paid $15 per hour and receive a MetroCard.​ Program dates for 2023 are Tuesday, July 11-Friday, August 18.
RELATED: 15 Teen Activities For New York City's Ultra-Cool Big Kids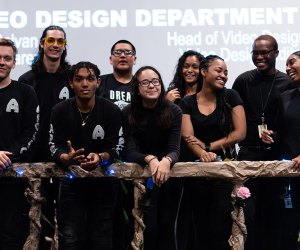 Teens have the opportunity to explore careers in the arts and entertainment industries at the Apollo Theater.
Ages: Rising 12th graders
Application due: TBA but last year applications were due in mid May
The renowned Apollo Theater offers high school seniors summer internships in technical theater production and arts administration. These summer internships are paid and take place for six weeks in July and August. Students experience hands-on training in a real-world work environment and attend career development workshops. There is also the opportunity to connect with industry professionals in the arts and entertainment fields.
3. DOROT – Multiple Locations
Ages: Rising 10th to 12th graders
Application due: Applications are accepted on a rolling basis until spots are filled.
During four-week sessions, summer interns work together to give back to the community by volunteering with older adults, delivering meals, helping with technology, and socializing with homebound senior citizens. The internship is unpaid but offers 100+ hours of community service credit, and stipends are available for travel costs. Manhattan, Long Island, and Brighton Beach programs are available.
Ages: Rising 11th and 12th graders
Application due: January 27, 2023
Though the 2023 deadline has passed, the Futures and Options Internship Program is worth putting on your radar. It provides New York City students with critical work-readiness training and the opportunity to gain first-hand experience as interns with a dynamic range of business partners. Futures and Options interns work in paid, mentored summer internships that best match their skills and interests. Interns must attend three orientations, five work-readiness workshops, and one career exploration field trip, most of which are in-person. There may be a limited virtual option. Summer interns are expected to work 20-30 hours per week.
RELATED: Summer Jobs for Teens: How to Help Your Kid Find a Summer Gig

The Icahn School of Medicine at Mount Sinai offers a summer internship for science-minded teens.
Ages: High school students who attend a public or charter school
Application due: March 15, 2023
The Center for Excellence in Youth Education High School Summer Program offers courses for low-income and underrepresented minority students in the fields of medicine and science. For summer 2023, the program offers courses in bioinformatics and medical and scientific exploration.
Ages: Rising 10th to 12th graders
Application due: Spring 2023; exact deadline TBA
Interns work as teaching assistants in a K-4 classroom under the supervision of a head teacher. Interns may manage small groups or work with students one-on-one to help with academic skills and model good behavior. Interns also participate in professional development to hone community leadership skills. The internship is unpaid, but service learning credits are offered. Interns demonstrating financial need may apply for a stipend.
Ages: Current 10th to 12th graders who live in or attend school in Manhattan
Application due: March 1, 2023
Interns help out in one of three different district attorney's offices and participate in special presentations and field trips while taking part in mock trial competitions. Applicants must commit to attending all six weeks of the program in person.
Ages: Rising 11th or 12th grades
Application due: TBA; deadline was late March in 2022
The Met High School Internship Program offers paid opportunities for students who either reside in or attend a high school or home school in New York, New Jersey, or Connecticut. The program allows students to connect with arts, museum, and creative professionals as they develop professional skills, network, and gain work experience. Interns are paid a stipend. Programming usually runs from mid-July through mid-August. Students attend Career Labs and have bi-weekly mentor check-ins.
RELATED: Mission Trips for Teens: 7 Summer Service Programs That Help Kids Give Back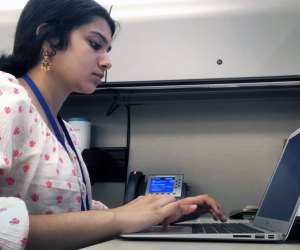 The Human Oncology and Pathogenesis Program is designed for high school students interested in biomedical science careers.
Ages: Rising 10th to 12th graders
Application due: February 10, 2023
This eight-week program gives motivated, self-directed students a chance to conduct their research in a state-of-the-art lab under the guidance of a grad student, post-doc fellow, or research technician, and then publicly present their results. A stipend is awarded upon completion.
Ages: Rising 10th to 12th graders or college freshmen
Application due: TBA
This four-week program allows interns to deep-dive into the daily activities of a city historic site, including researching life and artifacts from the 19th century, supporting summer programming, exploring NYC history, and posting to social media accounts. The program may be in-person, virtual, or hybrid. The program is unpaid, but school credit or community service hours may be earned.
Ages: Rising 10th, 11th, and 12th Graders
Application due: TBA in February 2023
Students in this internship program work collaboratively with professional historians to conduct their research in American history. In 2022, the theme was Frederick Douglass' America. Students develop public speaking and leadership skills, learn about careers in museum, library, and history fieldwork, and share their scholarship through digital projects.
Ages: Rising 11th or 12th graders
Application due: March 1, 2023
The Applied Research Innovations in Science and Engineering (ARISE) program is geared toward academically motivated New York City students with a demonstrated interest in science, technology, engineering, and math. This seven-week program includes a high-level, hands-on, authentic research experience in NYU labs, plus instruction in expository writing and scientific methods.
Ages: Rising 12th Graders
Application due: February 1, 2023
The High School Division of the Sonia & Celina Sotomayor Judicial Internship Program aims to recruit a diverse group of high school students from across NYC to pursue law careers. A select group of high school students participate in four weeks of judicial internships in state and federal courts and take educational workshops. Students intern with a state or federal judge located in one of the five New York City boroughs. Students also attend professional development workshops.
Ages: 16-21 years old
Application due: TBA; in 2022, the deadline was in early May, though applications are evaluated on an ongoing basis and students are encouraged to apply early.
This program prepares NYC students ages 16-21 for the future by teaching them various career-ready, hard and soft skills, then placing them in a paid, six-week internship with a local business.
NASA also has various internships for high-school students, including one at the Goddard Institute for Space Studies in NYC at Columbia University. The summer session deadline is TBA.
Photos courtesy of the organizations
This post is updated annually; Sonia Gonzalez contributed additional reporting.