Upper East Side with Kids: Top 50 Things to Do, Eat, and See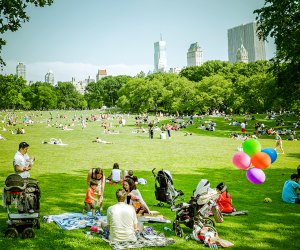 5/3/19
- By
Alina Adams
Like the Upper West Side and Park Slope, the Upper East Side is one of those neighborhoods where you can barely go a block without passing some kind of kid-centric business or attraction.
Despite its somewhat snooty reputation, the 'hood has lots of fun (and often affordable!) activities for kids of all ages, from toddlers to teens. From unique play spaces to world-class art museums, lush landscaped parks, lovely independent toy stores, and afternoon tea complete with fairy wings, the Upper East Side has all that plus mansions, parades, public art, towering temples and churches, athletic complexes, and some of the priciest real estate in town.
Explore the neighborhood and see the best it has to offer NYC families with our top 50 things to do with kids on Manhattan's family-friendly Upper East Side.
(Note: For the purposes of our post, our geographical boundaries are 59th to 96th Streets between Fifth Avenue and the East River.)
1. Admire art or make your own masterpieces at the free Museum Mile Festival, held the second Tuesday evening in June, rain or shine.
2. Drop in to one of the many awesome, year-round family programs at Fifth Avenue's iconic museums, like Start With Art at the Metropolitan Museum of Art, kiddie concerts and art workshops at the Jewish Museum, and the Guggenheim's after-school classes and school break camps.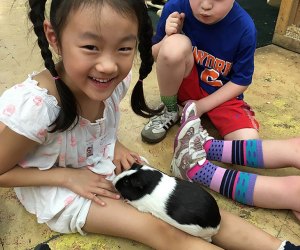 Cuddle with a ball of fluff at The Art Farm in the City. Photo courtesy of the Art Farm
3. Meet and feed a bunny or other critter, then sketch your new furry pal at The Art Farm in the City, NYC's only indoor petting zoo.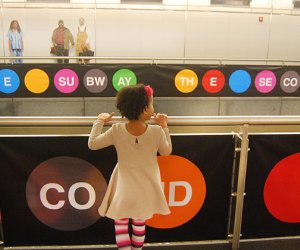 Explore the Second Avenue Subway. Photo by Sara Frazier.
4. Take your train fan for a jaunt on the city's newest line: the Second Avenue Subway.
5. Learn how to sew, spin, knit, and crochet in Loop of the Loom's after-school kids' classes.
6. Put on your best pink frock and make like the Plaza's most famous resident at the fabulous Eloise at the Plaza shop, where kids can try on outfits, enjoy storytime, and even try afternoon tea.
7. Cheer on marchers at the annual Puerto Rican, Irish, Israel, or other cultural parades that march down Fifth Avenue.
8. Fill up on nostalgic, novelty, and pop-culture-themed candy under the watchful eye of a giant chocolate bunny at Dylan's Candy Bar.
9. Get hands-on experience working with dogs and learning how to care for them at Frolic.
10. Indulge in an egg cream, malt, or root beer float at Lexington Candy Shop, which looks like it hasn't changed in 70 years.
11. After surviving the inevitable line, relax with a frozen hot chocolate as big as your head at Serendipity3.
12. Borrow a pair of fairy wings, get a sprinkling of fairy dust, and then take tea for two (or 20) at Alice's Tea Cup.
13. Pregnant or have a newborn? Satisfy your changing needs at the wide variety of mom-friendly stores spanning the neighborhood.
14. Got older children? Outfit everyone, from toddlers to teens, at kids' clothing megastore Lester's.
15. Peruse the jam-packed schedule of family programs and classes at the 92nd Street Y, which offers everything from dance to cooking to art and swimming.
16. Try on all kinds of cool and crazy outfits at Let's Dress Up!, NYC's only play space dedicated to dressing up and one of our top recommendations for a princess-themed crawl in the city.
RELATED: Best Playgrounds Around New York City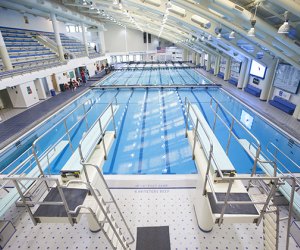 Take a swim class at Asphalt Green's Olympic-sized pool.
17. Sign up for soccer, basketball, flag football, martial arts, or swimming classes at massive athletics center Asphalt Green, which boasts an Olympic-size pool and was the training home of Olympic medal winner Lia Neal.
18. Kids more into mental challenges? Enjoy free games of chess, checkers, dominoes, or backgammon at Central Park's Chess & Checkers House.
19. Run around the block-long St. Catherine's Playground—although it's based on a holy spot in Rome, it's open to your little devils.

Speed down the long steep slide at Billy Johnson Playground. Photo by Jody Mercier
20. Do a playground tour of Central Park: Notable East Side romping spots include the Egypt-themed Ancient Playground near the Met, the "big slide playground" aka Billy Johnson Playground, the oldest playground in the park, Heckscher, and the newly-remodeled East 72nd Street Playground.
21. Enter the lottery for free summer swimming lessons at John Jay Park's 145-foot outdoor pool.
22. Go gaga for Israel's version of dodgeball at the Gaga Center, the only spot in NYC dedicated to the popular game.
RELATED: Best Indoor Play Spaces in Manhattan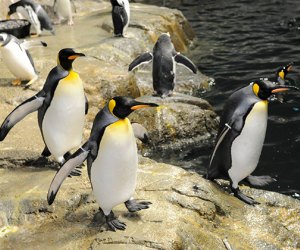 Check out the penguins at the Central Park Zoo. Photo by Julie Larsen/WCS.
23. Feed the goats, alpacas, sheep, and cows in the Tisch Children's Zoo before heading to the Central Park Zoo's main grounds to see the sea lions, grizzly bears, penguins, exotic birds, and other wild animals.

Take a spin on the ice at the beautiful Wollman Rink. Photo by Janet Bloom
24. Go ice-skating in a winter wonderland at Central Park's Wollman Rink.
25. Come back in the summer when the rink is transformed into Victorian Gardens, an amusement park full of rides for the pint-sized.
26. Take a spin on the Central Park Carousel, but be prepared for speed: It's noticeably faster than NYC's other merry-go-rounds.
27. Play name that flag: The consulates of France, Pakistan, Italy, India, and Russia are all located in the neighborhood.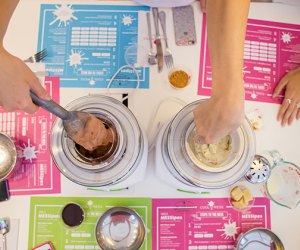 Make your own ice cream at Cool Mess.
28. Create your own unique flavor of ice cream—and eat it too—at Cool Mess where table top ice cream makers and tons of toppings let you whip up your dream dessert.
29. Enjoy free movies, live music, and children's book readings at the 96th Street Library.
30. Catch a grown-up movie with your infant in tow (without being shushed) at City Cinemas East 86th Street's Cry Baby Matinees.
31. See the mayor's house by touring Gracie Mansion. All tours are FREE and offered on Mondays.
32. Trick-or-treat door-to-door on Halloween at decked-out brownstones on East 92nd, East 95th, and East 78th Streets.
33. Explore Carl Schurz Park, a 15-acre waterside green space featuring a popular playground and lots of annual family events, including a community Christmas tree lighting, harvest festival, and Easter egg hunt.
34. Kid need a cut? The UES boasts a pair of childrens-only hair salons, Sharkey's Cuts for Kids and Cozy's Cuts for Kids, where young customers sit in whimsical chairs, watch cartoons, and leave with balloons, lollipops, and dry eyes.
RELATED: 100 Things to Do in NYC Before Your Kids Grow Up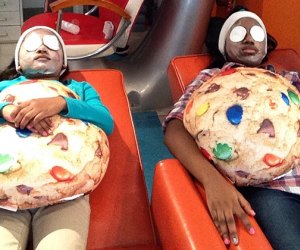 Pamper yourself at Milk & Cookies Kids Spa.
35. Need more extensive grooming services? Check out Milk & Cookies Kids Spa for pampering services geared toward "Cool Gals" and "Cool Dudes." The sweetest part of the treatment? The post-service snack of the spa's namesake goodies.
36. Speaking of sweets, grab a free sample cookie or biscotti at the scrumptious Two Little Red Hens Bakery—they're on the plate by the register.
37. Say "En garde!" and get your epée on at Sheridan Fencing Academy.
38. Try your hand at a variety of other sports from baseball to football to basketball and beyond. Neighborhood staple Yorkville Youth Athletic Association serves kids of all ages and offers after-school programs and birthday parties, too.
39. Skip Chinatown's crowded parade and ring in the Chinese New Year on the UES at the Asia Society, which hosts an annual celebration.
40. Go on a Central Park statue hunt. Kids will love climbing the iconic Alice in Wonderland mushroom sculpture, posing with Balto, hearing free stories on summer Saturdays at the Hans Christian Andersen statue, and watching the animals of the Delacorte Musical Clock turn round on the half hour.
41. Head to the nearly new NYC Fun Zone for an indoor playdate.
42. Peruse wooden, educational, and artsy toys at the independently-owned shop, Mary Arnold Toys.
43. Tweens and teens will enjoy a visit Jan's Hobby Shop for some decidedly old-school, DIY fun.
44. View the Upper East Side from above by taking the Roosevelt Island Tram.
45. Paint ceramics at The Craft Studio.
46. Hit the Park Avenue Malls to see what public art display is on view.
47. Read and play in the large children's section of Barnes & Noble's 86th Street location, or visit on a Saturday for free family performances and activities.
48. When the flakes fly, flock to Central Park's many hills for some of the most popular sledding spots in the city.
49. Have some educational fun at one of these STEM learning centers.
50. Get a break from your apartment by stepping out to one of the kid-friendly indoor play spaces in the nabe and let someone else clean up for a change.
This post, originally published in September 2012, has since been updated.