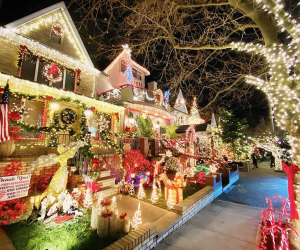 12 Must-Do Holiday Activities and Christmas Events in NYC for Kids in 2021
There may be a week of Kwanzaa, eight nights of Hanukkah, and 12 days of Christmas, but New Yorkers know the holiday season really lasts from early November through New Year's Eve. That's almost two months of only-in-NY holiday experiences and special Christmas events. After missing out on some big annual favorites in a pandemic-dampened 2020 holiday season, it's shaping up to be an extra festive holiday season filled with Christmas activities and Hanukkah happenings.
Of course, not all Christmas events are created equal. That's why we've rounded up the absolute best ways to get into the spirit of the season. Here is our 2021 New York City holiday bucket list, detailing a dozen Christmas events and holiday activities sure to give your family the best gift of all: happy memories.
Find more family-friendly seasonal celebrations in our Holiday Guide and Activity Calendar.
If an event piques your interest, be sure to click through to our listing for all the details, including address, time, pricing, and COVID-safety requirements. And keep in mind: In NYC, really cool seasonal happenings often get booked up quickly. So buy your tickets ASAP, or, in the case of FREE events, arrive as early as possible to try to beat the crowds.
Subscribe to our newsletters to get stories like this delivered directly to your inbox.
OUR LATEST VIDEOS
Balloon inflation: Wednesday, November 24; Parade: Thursday, November 25
We definitely don't need to sell you on this world-famous NYC tradition, which turns 95 this year! After a viewer-free rendition in 2020, the parade marches again, and the balloon inflation is also on, with some added safety precautions. The only thing that isn't family-friendly about this procession of pop-culture-inspired floats and giant balloons is the fact you need to arrive around 6am to stake out your spot. Unfortunately, there is no secret to snagging a good viewing location unless you're willing to splurge on a hotel room overlooking the route (and by now, they're probably sold out!). Plan to arrive early or watch from way in the back. You'll still see something. Or find a friend (or a friend of a friend) who lives on the route. Wherever you watch from, expect a thrilling lineup of celebrities, marching bands, colorful floats, kooky clowns, and massive balloons, from old favorites such as Hello Kitty and the Pillsbury Doughboy to new additions like Baby Yoda and Ada Twist, Scientist. FREE
RELATED: Awesome Things to Do in New York City in November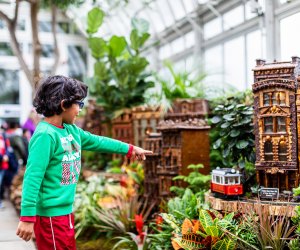 More than 25 model trains chug through an NYC landscape at the New York Botanical Garden Holiday Train Show. Photo courtesy of NYBG.
Saturday, November 21-Sunday, January 23, 2021
While there are other holiday train displays in and near NYC, none compare to the NYBG's annual show, which celebrates its 30th anniversary this year with a brand new model of the LuEsther T. Mertz Library building taking its place alongside about 150 other well-known NYC landmarks. More than 25 model trains, including Thomas the Tank Engine, go whizzing by the botanical architectural wonders painstakingly crafted from acorns, twigs, bark, berries, and leaves. Book your tickets for this Christmas activity in advance—and take note, if you time it right, you can enjoy the enchanting outdoor holiday lights exhibition NYBG Glow which returns for its sophomore season.
RELATED: Holiday Lantern Shows and Christmas Lights Displays in NYC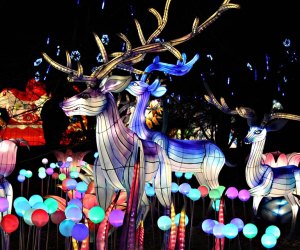 See the NYC Winter Lantern Festival on Staten Island. Photo courtesy of the festival
Fridays, Saturdays, and Sundays through Sunday, January 9, 2022
Eight acres of Snug Harbor Cultural Center and Botanical Garden are lit up by 40 LED installations that stretch up to 30 feet tall. The lanterns are accompanied by interactive light projections, a DJ, children's activities, and a gift shop (beware!). New this year is the option to add on a wish lantern, which can be plucked from a field of lights, decorated at the art table, and brought home as a reminder of the experience and the wish you hope to see come true. Queens families take note: Illuminate the Farm is a brand-new lantern festival from the same organizers taking over the grounds of the Queens County Farm Museum from Thursday, November 25-Saturday, January 8, 2022.
RELATED: 20+ Christmas Towns and Villages That Absolutely Sparkle

The Rockettes are back on stage at Radio City Music Hall. Photo courtesy of Radio City
Through Sunday, January 2, 2022
For pure Christmas magic, this iconic Radio City show starring the world-famous Rockettes is a must-see at least once. Between the high-kicking dance scenes and the soaring living nativity, there is plenty of holiday joy. Christmas carols, dancing Santas, a petite ballerina, and plenty of New York scenes punctuate the 90-minute show. The 2021 production reintroduces the Rockettes "Snow" number and transforms the stage into a winter wonderland, no matter the weather outside.
RELATED: 13 Picture-Perfect Holiday Day Trips Near NYC

Macy's Santaland is a holiday tradition for tourists and natives alike. Photos by Mike Coppola
Friday, November 26-Thursday, December 24
Yes, there are lots of places to hang with Kris Kringle in the Big Apple. But for an immersive seasonal spectacle, you can't beat Macy's Santaland. The famed store mounts a 13,000-square-foot North Pole Christmas village complete with live elves, an enchanted forest featuring animatronic toys, and a train display, and at the end, you get to visit with the one true Santa. There will be no lap sitting in 2021, instead expect a socially distant chat across Santa's desk Visits with the big red guy are by reservation only, so be sure to go online to choose a time slot up to five days in advance. FREE unless you buy a photo package (and who can resist?).
​Thursday, December 2
Sure, that midtown tree by the skating rink is big...but it doesn't float! Central Park ups the ante with a flotilla of lit trees drifting gloriously across the Harlem Meer, at an evening celebration of the season that includes a meet-and-greet with Santa, an ice carving demonstration, caroling, hot chocolate, cookies, and plenty of cheer. FREE
Select dates from Friday, December 10-Sunday, January 10, 2022
The fact that the beloved New Victory Theater is finally flinging its doors open this month is a Christmas gift to all of us, and we can't wait to get back inside to see this beloved holiday tale from the genius of Jim Henson. Based on Henson's 1977 made-for-TV special, and featuring puppets from Jim Henson's Creature Shop, plus a score from the well-known composer Paul Williams, the show tells the heartwarming story of Emmet Otter and his Ma, both going to great lengths to make sure the other's Christmas dreams come true.
RELATED: Christmas and Hanukkah Guide for NYC Families

Hit the ice for Chanukah on Ice at Wollman Rink. Photo courtesy of Chabad Lubavitch
Monday, November 29
Celebrate the second night of Hanukkah with a twirl on Wollman Rink alongside a life-size dreidel. See the giant menorah—carved from ice—come alive during the festival of lights. Traditional holiday goodies, including latkes, doughnuts, hot drinks, and kosher treats, are included with admission. Jewish music streams through the evening air.
Friday, December 24
Celebrate Christmas Eve under the Washington Square Arch and surrounded by the glow of twinkling Christmas lights. The Rob Susman Brass Quartet leads a festive evening of song, as the sweet sounds of communal Christmas carols return to the city streets following a pandemic-induced hiatus.
RELATED: Polar Express and Christmas Trains Near NYC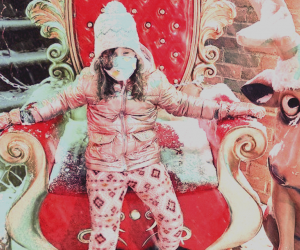 At Christmastime in NYC, nothing beats the extravagant holiday displays in Dyker Heights. Photo courtesy Dyker Heights Christmas Lights
10. Dyker Lights – Dyker Heights, Brooklyn
Friday, November 26-Sunday, January 2, 2022
If you want a slice of small-town Christmas in the big city, Dyker Heights has got to be your go-to destination. This South Brooklyn neighborhood mounts block after block of over-the-top holiday decorations annually. What started as one festive display has grown over the years to encompass an entire neighborhood of one-upmanship. The lights generally go on the weekend after Thanksgiving and run through New Year's and are turned on from 5pm-9pm nightly. In the past, weekends tend to draw huge crowds, so try to visit on a weeknight if you can. And remember, you're trekking through an NYC neighborhood, so be respectful of the homeowners, their properties, and fellow New Yorkers as you enjoy the sites.
RELATED: The Most Spectacular Christmas Light Displays in NYC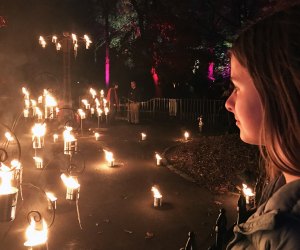 Gaze into the stunning light displays at the Brooklyn Botanic Garden's Lightscape. Photo by Rosalind Muggeridge
Friday, November 19-Sunday, January 9, 2022
The Brooklyn Botanic Garden takes on a new life after hours this season, with an enchanting, walk-through, holiday lights display. Traverse a winding one-mile path through the garden and watch as its natural canvas takes on brilliant hues thanks to 18 different light installations from local and international artists. Highlights include the towering Winter Cathedral Tunnel, a mesmerizing Field of Lights, and a stunning, real flame-filled Fire Garden.
RELATED: How to Find Free Toys This Christmas and Holiday Season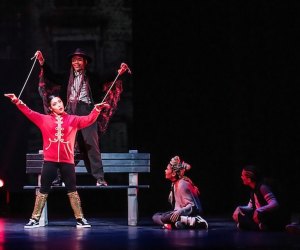 The Hip Hop Nutcracker comes to Brooklyn for one night only. Photo courtesy of the production
Sunday, December 19
Want to introduce the brood to The Nutcracker but worried they won't stay awake for the big one at Lincoln Center? Well, start dancing like a Sugar Plum Fairy because we've got a great alternative for you. Tchaikovsky's iconic ballet is given a modern urban makeover in this high-energy show at the beautiful Kings Theater. Set on New Year's Eve in Washington Heights, this Nutcracker features a dozen hip-hop dancers, digital scenery, a DJ, and the legendary Kurtis Blow as a special MC doing an opening set of old-school classics. What Hamilton did for musicals, this Nutcracker is doing for ballet.
A version of this post was first published in 2015; it is updated annually.