12 Must-Do Holiday Activities and Christmas Events in NYC for Kids in 2022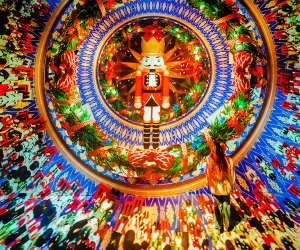 11/11/22
- By
Jody Mercier
When it comes to holiday activities in NYC, locals know that even though there's a week of Kwanzaa, eight nights of Hanukkah, and 12 days of Christmas, the holiday season in NYC really lasts from early November through New Year's Eve. That's almost two months of only-in-NY holiday activities and special Christmas events.
Of course, not all Christmas events and holiday activities are created equal. That's why we've rounded up the absolute best ways to get into the spirit of the season. Here is our curated list of must-do holiday activities and Christmas events in NYC in 2022. Consider this seasonal bucket list our gift to you. Below, we're detailing a dozen Christmas events and holiday activities sure to give your family a season of happy memories.
Our picks for New York City's top holiday activities are a mix of classic favorites, like the star-studded Macy's Thanksgiving Day Parade, and newcomers, including the dazzling, Amaze Light Festival set to debut at Citi Field. You'll find plenty more family-friendly seasonal celebrations in our New York City Holiday Guide, which includes picks for everything from holiday lights drive-thrus near NYC to the best Nutcracker ballets for kids and more sweet seasonal treats.
If an event piques your interest, click through to our listing for all the details, including address, time, and pricing. And keep in mind: In NYC, really cool things to do often get booked up quickly. So buy your tickets ASAP, or, in the case of FREE events, arrive as early as possible to try to beat the crowds.
Subscribe to our newsletters to get stories like this delivered directly to your inbox.
Friday, November 18-Sunday, January 8, 2023
Nestled in the Chelsea Market, which always gets decked out for the holidays, you'll find the cavernous, multi-story, interactive art space Artechouse, which is unwrapping a holiday show for guests in 2022. Through projections and music, guests are transported to a world of wonderful imagination. Be whisked away by a candy cane carousel, see yourself surrounded by nutcrackers, and float among a chorus of jingle bells. Further the experience by using the Artechouse XR app to assemble gifts in the gallery. Take note: New York and New Jersey residents can present their ID for $5 off weekday admission.
RELATED: American Christmas in Mount Vernon Opens Santa's Village to Visitors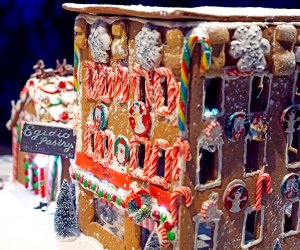 Sweet confections and splendid smells await at the Gingerbread NYC: The Great Borough Bake-Off exhibit at the charming Museum of the City of New York. Photo by the author
Friday, November 11-Sunday, January 8, 2023
If you can't get enough Christmas cookies or find yourself drawn to the Holiday Baking Championship, follow your nose to the third floor of the enchanting Museum of the City of New York, where you can find this fragrant, freshly baked display of gingerbread artistry. Seven bakers ranging from amateur cooks to pastry pros have re-created NYC in gingerbread form. From basic brownstones to an awe-inspiring frosted Flatiron Building and even an edible Staten Island Ferry, there's plenty to marvel at in these mini-masterpieces. When you're done ogling the gingerbread, be sure to check out the rest of this museum, which is seriously underrated in our eyes.
Balloon inflation: Wednesday, November 23; Parade: Thursday, November 24
We definitely don't need to sell you on this world-famous NYC tradition, which turns 96 this year! The only thing that isn't family-friendly about this procession of pop-culture-inspired floats and giant balloons is the fact you need to arrive around 6am to stake out your spot. Unfortunately, there is no secret to snagging a good viewing location unless you're willing to splurge on a hotel room overlooking the route (and by now, they're probably sold out!). Plan to arrive early or watch from way in the back. You'll still see something. Or find a friend (or a friend of a friend) who lives on the route. Wherever you watch from, expect a thrilling lineup of celebrities, marching bands, colorful floats, kooky clowns, and massive balloons, from old favorites, such as Baby Yoda and the Pillsbury Doughboy, to new additions, like Bluey and Stuart the Minion. FREE
RELATED: 15 Picture-Perfect Holiday Day Trips near NYC

Twinkling lights transform the Citi Field parking lot into the largest holiday light show in the country when the Amaze Light Festival comes to town this Christmas season. Photo courtesy of the festival
Wednesday, November 23-Sunday, January 8, 2023
Lantern festivals have been enjoying a holiday heyday in NYC, and this year Amaze Light Festival pops up in the Citi Field parking lot, bringing with it the largest holiday light festival in the country. A story-driven experience, guests travel a path with millions of sparkling lights and larger-than-life holiday displays while following the story of characters Zing and Sparky. You'll see singers, dancers, and a glittering light show as you explore five distinct lands within the Amaze Light Festival. Sparky's Sweet Spot promises a real-life candy land, and beyond the displays, guests can book ticket add-ons to include run down Zings Thrill Hill tubing run or climb aboard the Artic Express train ride. Of course, photo-ops are included at every turn, so come ready to snap a special holiday photo or a super sparkly selfie.
Wednesday, November 30-Sunday, December 18
The Abrons Arts Center stages this rags-to-riches story just in time for some feel-good holiday fun. Based on the story of London mayor Richard Whittington, but reset on NYC's Lower East Side, this tall tale tells the story of a young immigrant who raises himself up with the help of his feline friend. There's plenty of song, dance, and slap-stick comedy in this original piece, based on the panto style popularized in Britain. But make no mistake: This production is made for the Lower East Side by an artistic team that calls the eclectic neighborhood home.
RELATED: Best Holiday Lights Drive-Thrus and Christmas Light Shows near NYC in 2022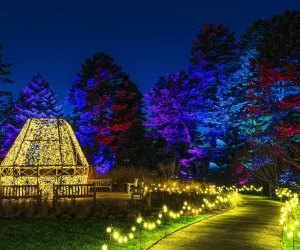 Discover the beauty of the landscape and historic buildings after dark at NYBG's Glow. Photo courtesy of NYBG
Train show: Saturday, November 19-Sunday, January 22, 2023; NYBG Glow: Select dates from Friday, November 18-Saturday, January 14, 2023
While there are other holiday train displays in and near NYC, none compare to NYBG's annual show, which celebrates its 31st anniversary this year with a brand new model of the LuEsther T. Mertz Library taking its place alongside about 150 other well-known NYC landmarks. More than 25 model trains, including Thomas the Tank Engine, go whizzing by the botanical architectural wonders painstakingly crafted from acorns, twigs, bark, berries, and leaves. Book your tickets for this Christmas activity in advance—and take note, if you time it right, you can enjoy the enchanting outdoor holiday lights exhibition NYBG Glow which returns for another season and sets the grounds ablaze in an enchanting light display that plays off the beautiful architecture and landscape of this NYC landmark.
Sunday, December 18
The lovely Museum at Eldridge Street is a destination for Jewish culture built inside an old Lower East Side synagogue. If you haven't visited before, it's a lovely spot to introduce your children to Jewish culture. It marks the first day of Hanukkah with this interactive education program that introduces children to the Hanukkah story and includes a craft project that allows you to take home a colorful, one-of-a-kind handprint menorah to help you celebrate.
RELATED: Polar Express Train Rides and Christmas Trains near NYC in 2022

The PaleyLand Holiday Extravaganza enjoys a long holiday season run with tons of varied pop-culture programming. Photo courtesy of PaleyLand
Wednesday, November 16-Sunday, January 8, 2023
This Midtown museum has had a big fall following the debut of its inaugural Paley WKND in October and builds off that success with an earlier-than-ever debut of its holiday installation. What can you expect when you visit? Plenty of photo-ops with everyone from Santa to costumed characters, plus plenty of holiday cheer in the screening room where holiday classics are played on the big screen. Enjoy holiday arts and crafts and interactive programming, plus gawk at The Paley Express train display. It's a lovely combination of holiday diversions and children ages 11 and younger enter for FREE.
RELATED: Brunches, Cruises, and Breakfasts With Santa in NYC for Kids in 2022

A visit to Macy's Santaland is a holiday tradition for tourists and natives alike. Photo by the author
Friday, November 25-Thursday, December 24
Yes, there are lots of places to hang with Kris Kringle in the Big Apple. But for an immersive seasonal spectacle, you can't beat Macy's Santaland. The famed store mounts a 13,000-square-foot North Pole Christmas village complete with live elves, an enchanted forest featuring animatronic toys, and a train display. At the end, of course, you get to visit with the one true Santa. Similar to 2021, Santa greets visitors from behind his desk. Visits with the big red guy are by reservation only, so be sure to go online to choose a time slot up to five days in advance. FREE unless you buy a photo package (and who can resist?).
Friday, December 9-Sunday, January 1, 2023
The holidays are seemingly synonymous with the circus in NYC, and Circus Abyssinia gets the nod for our must-watch show this season. This tumbling troupe of circus artists from Ethiopia hits the stage at the New Victory Theater for the first time since its jaw-dropping run in 2018, and we're excited to see what they have in store. This iteration of its show honors Ethiopian runner Derartu Tulu's 1992 gold medal performance with speed, sport, and skill spread across, above, and all around the New Vic stage. Expect aerial acts, plenty of juggling, and feats of athleticism worthy of an Olympic medal. It's one of our top shows to watch at the New Victory this season.
RELATED: How to See the Dyker Heights Christmas Lights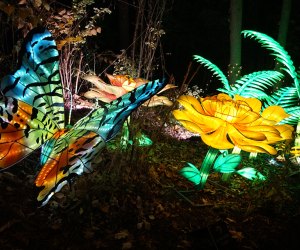 The Forest of Color is one of the eye-popping trails to explore during a visit to the Bronx Zoo Holiday Lights. Photo by the author
Friday, November 18-Sunday, January 8, 2023
See the Bronx Zoo in a whole new light when the Bronx Zoo's holiday lights return for another after-dark safari. We love this charming holiday display that's a mix of colorful, oversized lanterns, twinkling tunnels, and one spectacular animated tree on Astor Court. Special extras like s'mores kits, hot cocoa, and an enchanting train ride make an evening out at the Bronx Zoo a perfect holiday tradition to start now. Don't sleep in the ice-carving demos, either! It's so fun to see these artisans at work and how quickly they can transform a simple block of ice into a magnificent creature.
Saturday, December 31
Ringing in the new year in Times Square is not for the faint of heart—or locals! Leave the hullabaloo and tourists behind and head to the picturesque Prospect Park, which is bringing back its famous midnight fireworks display for the first time since 2019. The sky above Grand Army Plaza comes to life with a sparkling display of fireworks. The best viewing locations include Grand Army Plaza, inside the park along West Drive, and along Prospect Park West from Grand Army Plaza to 9th Street. FREE but RSVP is requested.
Saturday, December 3
How's this for a holiday bonus? We had so much fun celebrating Halloween and making new friends, that we're ready to rock again with this FREE Holly Jolly Holiday Party. Don your holiday's best and shimmy on over for this festive fete. We've got tons of fun on tap for the event, including a holiday photo booth, Christmas cookie decorating, games, and more. Of course, yummy eats are always within easy reach at The Hugh, one of our favorite local food halls. Pro tip: Our Halloween event sold out, so book your tickets in advance or risk being left out in the cold! We can't wait to see you there.
A version of this post was first published in 2015; it is updated annually.