Macy's Thanksgiving Day Parade 2022: Where to Watch, What's New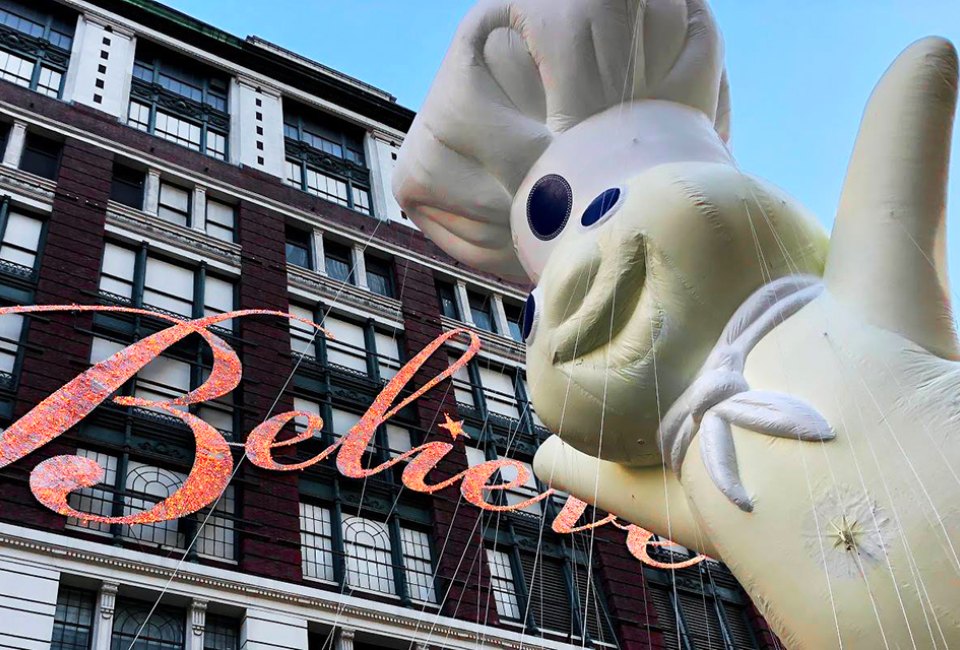 11/1/22
- By
Jody Mercier
The Macy's Thanksgiving Day Parade celebrates its 96th anniversary this November, taking over the streets of Manhattan on Thursday, November 24, 2022, exhilarating the city with its boisterous marching bands, extravagant floats, and giant balloon characters.
If you're planning to attend the Macy's Thanksgiving Day Parade with kids (and millions of others!), read on for the most up-to-date information on the Macy's Thanksgiving Day Parade route, best viewing locations, and other highlights. Looking for what time and where to see the Macy's Thanksgiving Day Parade 2022 on TV instead? Read on for that, too. You'll find more holiday inspiration in our Thanksgiving Fun Guide.
Enthusiastic paradegoers know the family fun actually begins the day before as the trademark giant balloons receive their annual helium injections—in fact, it's included in our list of 100 things to do with your kids in NYC. Check out our in-depth Macy's Thanksgiving Day Parade inflation post for an overview of the Wednesday night festivities.
Sign up for our FREE newsletters to get posts like this delivered to your inbox.



Grogu, aka Baby Yoda, and the rest of the giant balloons start taking shape at midday on Thanksgiving eve. Photo by Anthony Quintano via Flickr
This popular—and crowded—Thanksgiving eve event has become a tradition of its own, See our in-depth post on the Macy's Thanksgiving Day Parade balloon inflation for more info and pictures.
The viewing gallery is generally open from noon-6pm. In years past, tens of thousands have crowded the streets surrounding the American Museum of Natural History as annual favorites like Snoopy, the Pillsbury Doughboy, Spongebob, Ronald McDonald, and more come to life along with new additions.
Experienced balloon watchers know not to expect a leisurely stroll Wednesday night. Instead, you'll be herded into a procession that favors older kids. Preschoolers might find it overwhelming. Beware: It is hard to push a stroller through the gallery.
If you want to attend with friends, travel to the site together or meet a few blocks away. It can be impossible to connect once you're in the fray. If this all sounds too challenging, consider watching the post-parade balloon deflation on the side streets around 34th Street and Sixth Avenue.
RELATED: 26 Restaurants Open on Thanksgiving in NYC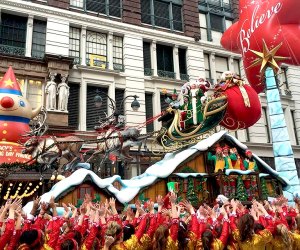 Santa always brings up the rear of the Macy's Thanksgiving Day Parade ushering in the start of the Christmas season in NYC.
Thursday, November 24, 2022, 9am-noon
The Macy's Thanksgiving Day Parade is total holiday madness, but incredible fun for families and an NYC holiday bucket-list must. Where else can you see clowns, floats, giant balloons, and Santa Claus all at once? You'll see everything from Sesame Street characters to cheerleaders, and (my favorite!) Santa's sleigh!

Bluey takes flight as one of the new giant Macy's Thanksgiving Day Parade balloons in 2022.
Each parade brings a mix of characters old and new, and the Macy's Thanksgiving Day Parade welcomes five new balloons and four new floats. Precious preschool pooch Bluey takes flight for the first time. Despite making his 13th parade appearance, Greg Heffley gets a brand new look—and block of stinky cheese to chase down the city streets. A mischievous Stuart the Minion is set to fly high, too. Sinclair Oil adds two new dinos to the lineup: Dino and Baby Dino are set to take their first flights.
RELATED: Thanksgiving Volunteer Opportunities in NYC for Kids and Families

See Geoffrey and friends make their Macy's Thanksgiving Day Parade debut in float form.
In addition to the new balloons, keep your eyes peeled for five new floats. Following the unveiling of its new shop at Macy's 34th Street store, Toys R Us debuts a Dazzling Dance Party Float, decorated with plenty of recognizable toys. Baby Shark is ready to dance down the street with its undersea-themed float, and Netflix marks the occasion with a larger-than-life bed in its dreamlike Slumberland float. Wonder Bread also debuts a float of its own, The Wondership, which is powered by confetti sure to shower parade watchers all along the route. Macy's adds a float dedicated to Native American culture and traditions as well.
All told, the lineup features 16 giant character balloons, 28 floats, seven balloonicles including a brand new US Soccer star, more than 700 clowns, 12 marching bands, 24 star-powered performers, and 10 performance groups, including the Radio City Rockettes, Broadway stars from Funny Girl, The Lion King, and more. The star of the show, as always, is the one-and-only Santa Claus, who takes up residence at Macy's Santaland following his parade appearance.
The 2022 Macy's Thanksgiving Day Parade follows the traditional route, stepping off from 77th Street on Central Park West, traveling south to 59th Street, east on 59th to Sixth Avenue, where it heads south to Macy's flagship 34th Street store.
Wisdom says to arrive early if you want to secure the best parade-watching sight lines. However, some experienced paradegoers prefer a leisurely stroll across town to a comfortable vantage point closer to the parade's kick off, knowing the giant inflated balloons are visible from a block away.
RELATED: 8 NYC Hotels with Views of the Macy's Thanksgiving Day Parade

Tom Turkey and the Rockettes are iconic symbols of the Macy's Thanksgiving Day Parade.
While my family and I have been lucky enough to watch from some indoor vantage points over the years, nothing compares to the magic of being at street level. The energy is electric, from the clowns and confetti to the marching bands booming along the route. It truly is worth the early morning stakeout at least once. I even braved 2018's coldest-since-1901 parade and didn't regret it—neither did my daughter, who has requested a return visit this year, even if it's that cold again.
There is no secret, uncrowded place from which to watch. It's best to avoid Sixth Avenue between 34th and 38th streets and the grandstand area (usually near Columbus Circle); both are closed to the public. Be prepared for other street closings, and make sure to comply with any NYPD directions.
For an unobstructed view, stake out your spot around 6am, perhaps earlier. In that case, consider the west side of Central Park West in the 60s or 70s. The east side of Central Park West is not open for viewing. However, if you enter Central Park north of 86th Street and meander south you can catch a peek from a hill or playground.
A few final tips: The farther you are from Herald Square, the lighter the crowds tend to be. Also, Macy's doesn't distribute grandstand tickets to the public.
The parade route is as follows: The parade begins at 77th Street and Central Park West, then travels downtown to Central Park South (59th Street). It then heads east to Sixth Avenue, and south along Sixth Avenue to 34th Street/Herald Square. The Macy's website has a detailed map of the route, as well as the full details on the parade rundown and characters. If you can't handle the cold and crowds, stay home and watch the Macy's Thanksgiving Day Parade on NBC along with 50 million other Americans. It airs from 9am to noon.
This article, originally published in November 2009, is updated annually.
Unless noted, photo courtesy of Macy's Inc.
Click Here to Sign Up!
i