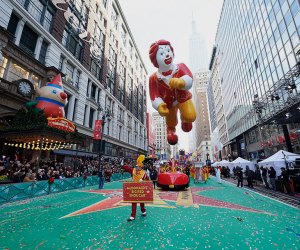 Macy's Thanksgiving Day Parade 2020: Where to Watch, What's New
Editor's note: The Macy's Thanksgiving Day Parade will not march in 2020. Instead, organizers are staging a made-for-TV spectacle in the streets surround Macy's Flagship Herald Square store, the traditional endpoint of the parade. Read the full details on the changes to the 2020 Macy's Thanksgiving Day Parade here.
The Macy's Thanksgiving Day Parade celebrates its 93rd anniversary this November, taking over the streets of Manhattan on Thursday, November 28, 2019, exhilarating the city with its boisterous marching bands, extravagant floats, and giant balloon characters. Every year brings a mix of old and new characters to the parade, and 2019 is no exception, with five new balloons and as many floats set to make their NYC debuts.
Enthusiastic paradegoers know the family fun actually begins the day before as the trademark giant balloons receive their annual helium injections—in fact, it's included in our list of 100 Things to Do With Your Kids in NYC. Check out our in-depth inflation post for an overview of the Wednesday night festivities.
If you're planning to attend the parade with the kids (and millions of others!), read on for the most up-to-date information on the route, best viewing locations, and other highlights. Looking for what time and where to see the Macy's Parade on TV instead? Read on for that, too. You'll find more holiday inspiration in our Thanksgiving Fun Guide.
Sign up for our FREE newsletters to get posts like this delivered to your inbox.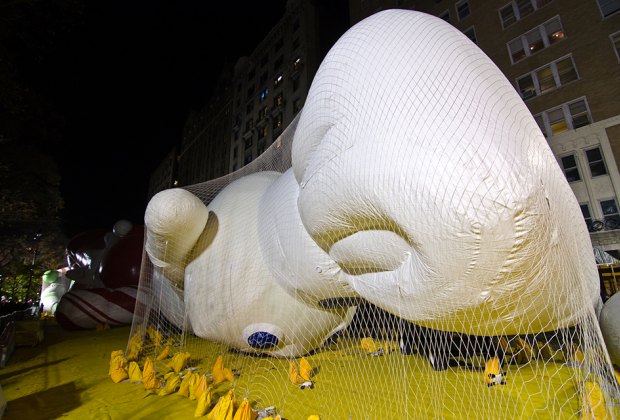 Watch the balloons come to life at the balloon inflation held on Thanksgiving eve.
Wednesday, November 27, 1-8pm
The Macy's balloon inflation has become a holiday tradition of its own. Tens of thousands crowd the streets surrounding the American Museum of Natural History as annual favorites like Olaf, the Pillsbury Doughboy, the Grinch, the Elf on the Shelf, and more come to life along with new additions.
Experienced balloon watchers know not to expect a leisurely stroll Wednesday night. Instead, you'll be herded into a procession that favors older kids who can better deal with crowds. Preschoolers might find it overwhelming. Beware: It is hard to push a stroller through the gallery.
If you want to attend with friends, travel to the site together or meet a few blocks away. It can be impossible to connect once you're in the fray. See our in-depth post on the Macy's balloon inflation for more info and pictures.
If this sounds too challenging, consider watching the post-parade balloon deflation on the side streets around 34th Street and Sixth Avenue.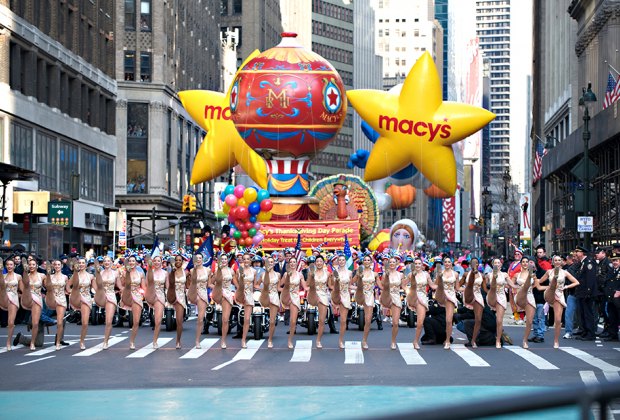 The Rockettes are always a fabulous sight!
Thursday, November 28, 9am-noon
Starts at 77th Street and Central Park West, ends at Herald Square
The parade is total holiday madness, but incredible fun for families and a NYC holiday bucket-list must. Where else can you see clowns, floats, giant balloons, and Santa Claus all at once? You'll see everything from Sesame Street characters to cheerleaders, and (my favorite!) Santa's sleigh!
Joining old favorites in 2019 are five new balloons and five new floats. A re-designed Snoopy takes flight as an astronaut; SpongeBob gets a makeover and brings his pal Gary along for the ride; the Ham-mobile from Green Eggs and Ham reaches new heights; Smokey Bear rejoins as a heritage balloon, and artist Yayoi Kusama contributes a brightly colored, polka-dotted, smiling face as the latest balloon in the BlueSky Gallery collection.
Preschoolers will likely go ga-ga over the Blues Clues & You float, while a glammed up T-Rex from Coach represents the first entry from a luxury brand in the parade. A part-dragon, part-turkey "Brick Changer" is the star of a new Lego float, and Cracker Barrel Old Country Store and New York Life both enter true-to-their brand floats, too.
Wisdom says arrive early if you want to secure the best parade-watching sight lines. However, some experienced paradegoers prefer a leisurely stroll across town to a comfortable vantage point closer to the parade's kick-off, knowing the giant inflated balloons are visible from a block away.
RELATED: November GoList: Best Family Events in NYC All Month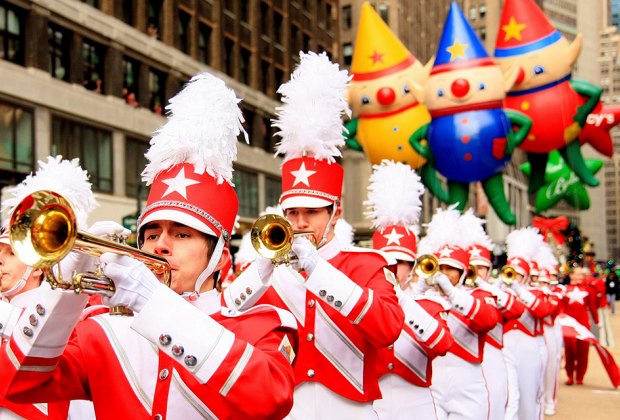 Boisterous marching bands are just as awe-inspiring as the gigantic floats.
While my family and I have been lucky enough to watch from some indoor vantage points over the years, nothing compares to the magic of being at street level. The energy is electric, from the clowns and confetti to the the marching bands booming along the route. It truly is worth the early morning stakeout at least once. I even braved 2018's coldest-since-1901 parade and didn't regret it, hand warmers and all!
This year the parade again travels its traditional Sixth Avenue route. There is no secret, uncrowded place from which to watch. It's best to avoid Sixth Avenue between 34th and 38th streets and the grandstand area (usually near Columbus Circle); both are closed to the public. Be prepared for other street closings, and make sure to comply with any NYPD directions.
For an unobstructed view, stake out your spot around 6am, perhaps earlier. In that case, consider the west side of Central Park West in the 60s or 70s. The east side of Central Park West is not open for viewing. However, if you enter Central Park north of 86th Street and meander south you can catch a peek from a hill or playground.
A few final tips: The farther you are from Herald Square, the lighter the crowds tend to be. Also, Macy's doesn't distribute grandstand tickets to the public.
The parade route is as follows: The parade begins at 77th Street and Central Park West, then travels downtown to Central Park South (59th Street). It then heads east to Sixth Avenue, and south along Sixth Avenue to 34th Street/Herald Square. The Macy's website has a detailed map of the route, as well as the full details on the parade rundown and characters.
If you can't handle the cold and crowds, stay home and watch the Macy's Thanksgiving Day Parade on NBC along with the 50 million other Americans. It airs from 9am to noon.
This article, originally published in November 2009, is updated annually.
Unless noted, photo courtesy of Macy's