Christmas in New York: 49 Holiday Activities To Do in NYC Before Your Kids Grow Up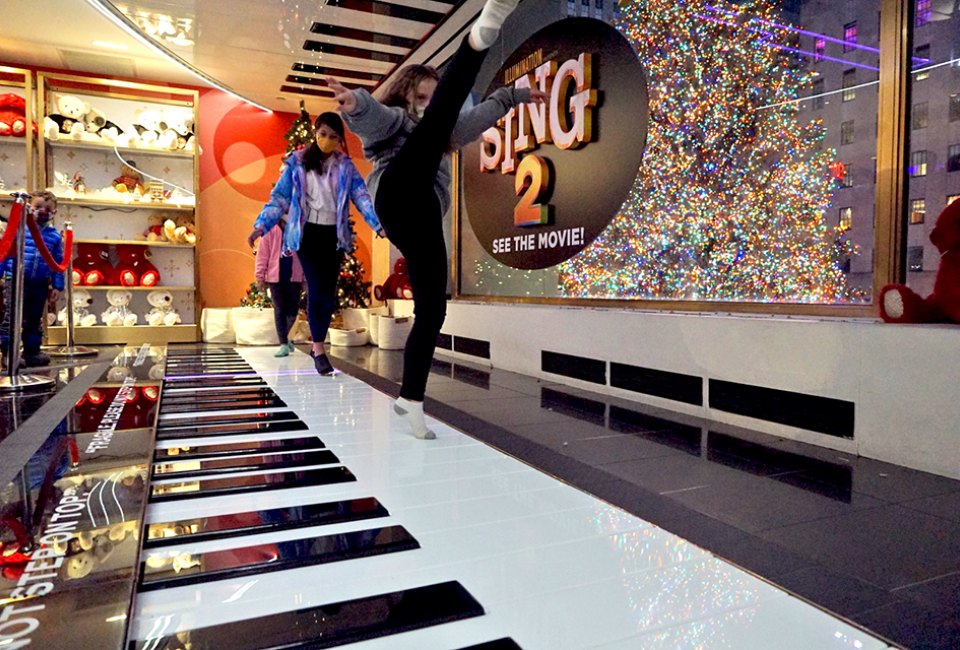 12/11/22
- By
Jody Mercier
2. Macy's Thanksgiving Day Parade Balloon Inflation
Catch a sneak preview of the Macy's Thanksgiving Day Parade's giant balloons as they're inflated outside the American Museum of Natural History. FREE
RELATED: See the Stunning Christmas Window Displays in NYC: Bloomingdales, Macy's, and More

Santa ushers in the start of the holiday season when he arrives at the Macy's Thanksgiving Day Parade. Photo by the author
3. Macy's Thanksgiving Day Parade
Get up at the crack of dawn to stake your spot along the Macy's Thanksgiving Day Parade route, or splurge on a hotel room overlooking the parade (book now for next year)!
4. Radio City Christmas Spectacular
Splurge to see the high-stepping Rockettes do that famous kick line, and enjoy the live nativity finale during a production of the Christmas Spectacular Starring the Radio City Rockettes.
5. Winter Village at Bryant Park
This outdoor winter wonderland is filled with holiday magic. Where else can you hit the ice for FREE, sip on hot chocolate, and peruse a charming selection of open-air shops?
6. Have High Tea
Get the kids dressed up to enjoy a holiday high tea at one of these swanky spots.
RELATED: Amaze Light Festival Brings Sprawling Holiday Lights Display to Citi Field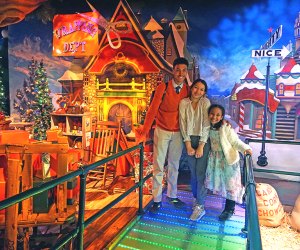 You're never too old to feel the magic of Christmas at Macy's Santaland. Photo by the author
7. Macy's Santaland
Visit with the "real" Santa at Macy's magical, elf-filled Santaland. Reservations are required. FREE if you can resist the photo package.
8. The Nutcracker
Delight in a sumptuous show at the impressive Lincoln Center and see the famed New York City Ballet's Nutcracker.
9. The Metropolitan Opera
Catch the annual holiday production from the Met Opera, which offers The Magic Flute this season.
10. Alvin Ailey Family Matinees
Enjoy a modern dance performance courtesy of the famed African American dance company, and stick around after the performance for a special Q&A with performers.
RELATED: Christmas Cookie Crawl: Best Bakeries in NYC for Seasonal Sweets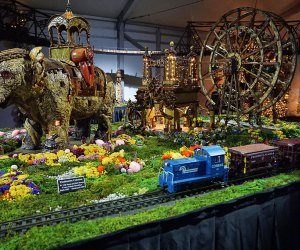 See NYC in miniature at the NYBG Holiday Train Show. Photo by the author
11. NYBG Holiday Train Show
Marvel at the miniature trains and NYC landmarks made from botanical materials at the New York Botanical Garden's Holiday Train Show.
12. NYBG Glow
Time your visit to the New York Botanical Garden for after dark and catch NYBG Glow on select nights to start a new, favorite holiday tradition.
13. Make Music New York
Make a joyful noise in honor of the winter solstice at the annual Make Music New York lineup of events, which bring music to the streets in a communal celebration.
14. FAO Schwarz
Salute the life-sized toy soldiers and play that famous dance-on piano at iconic toy store FAO Schwarz, which has returned to Rockefeller Center and makes for a unique tree photo-op!
RELATED: 100 Things To Do in NYC with Kids Before They Grow Up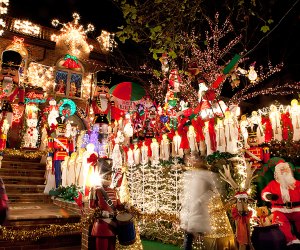 Take a trip to Dyker Heights, Brooklyn, to see the decked-out houses. Photo by Marley White for NYCGo
15. Dyker Lights
Gawk at the spectacularly decorated homes in Brooklyn's Dyker Heights neighborhood. FREE
16. Unsilent Night
Join Unsilent Night, an NYC-born offbeat holiday procession of boom boxes (held by participants) that travels from Washington Square Park to Tompkins Square Park on Sunday, December 18. FREE
17. Twas the Night Before Christmas
Get into the holiday spirit at NYC's oldest Christmas tradition: Listen to Clement Clarke Moore's 'Twas the Night Before Christmas read aloud at the Church of the Intercession on Sunday, December 18. The writer is buried nearby. FREE
18. Rolf's Restaurant
Dine at Rolf's, the tiny German restaurant in Gramercy that goes all out with its Christmas decor.
RELATED: NYC Restaurant Guide for Families

The Rockefeller Center Tree Lighting is a must-do at least once! Photo courtesy of Tishman Speyer
19. Rockefeller Center Tree Lighting
While we caution against the packed crowds, brave them at least once to watch the Rockefeller Center tree being lit for the season. FREE
20. Go Caroling in Washington Square Park
Ring in the holiday by caroling around the Christmas tree near the historic Washington Square Arch on Christmas Eve. FREE
21. Luminaries
Take in the breathtaking Luminaries, a shining interactive art installation at Brookfield Place.
22. See a Menorah Lighting
Make plans to see larger-than-life menorahs get lit during the Festival of Lights. You can catch World's Largest Menorah lighting in Manhattan, or Brooklyn's Largest Menorah at Grand Army Plaza.
RELATED: Where to Take Pictures With Santa in NYC in 2022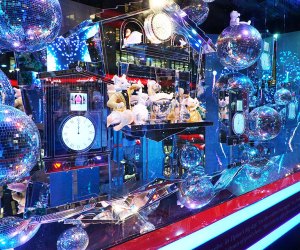 The Macy's holiday windows are a must-see sight each season. Photo by author
23. Holiday Windows Walk
Pack a thermos of hot cocoa for the kids and a couple of candy canes and stroll the Midtown streets looking at the spectacular holiday windows and streetside decorations. FREE
24. Christmas in Historic Richmond Town
Take a step back in time at Historic Richmond Town as it celebrates the season with a Dickens-style village complete with historical interpreters, old-school crafts, yummy treats, and horse-and-carriage rides.
25. Holiday Nostalgia Rides
Christmas shopping is even more fun when you catch one of these old-fashioned subway trains parading through the underground.
26. Broadway Under the Stars
See the glittering light show at The Shops at Columbus Circle and catch some Broadway stars crooning on select seasonal evenings.
RELATED: 35+ Free Holiday and Christmas Events in NYC for Kids

Hanukkah on Ice offers a fun take on the Festival of Lights. Photo courtesy Chabad Lubavitch
27. Hanukkah on Ice
Celebrate Hanukkah on Ice at Wollman Rink. Skate to live Jewish music, nosh on kosher food, and watch as the giant, hand-carved, ice menorah is illuminated.
28. Big Apple Circus
The big top sets up shop for the season annually in Damrosch Park. In 2022, catch Nik Wallenda's gravity-defying act—and more—in Dream Big.
29. See a Holiday Show
NYC's kid-theater scene never lacks variety, and we've found a ton of awesome, all-ages family shows playing at theaters all across town this season.
30. Holiday Express
Head to the New-York Historical Society to see its Holiday Express display, featuring toys and trains from its Jerni Collection dating back to the early 1900s.
RELATED: Toys for Tots Donation Spots in NYC and More Places to Donate Toys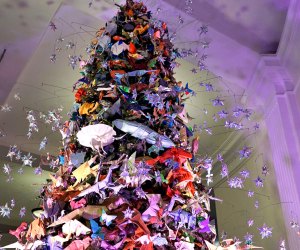 This magical origami tree is back at the American Museum of Natural History. Photo by the author
31. See the Origami Tree
Pose for a photo at one of the many magical-looking Christmas trees around the city. We love the American Museum of Natural History's origami-festooned tree. FREE
32. Or the Angel Tree
The Met's ode to the season is a towering tree bedecked in angels with an 18th-century Neopolitan nativity scene at its base.
33. All Aboard the Polar Express
Some things are worth leaving the city for, and these Christmas trains near NYC are cool enough to get us into the 'burbs for a seasonal excursion.
34. North Pole Express
If you're car-free and can't get away, the double-decker bus tour dubbed the North Pole Express is an excellent substitute within city limits! You'll be wined and dined by energetic elves, enjoy an above-the-crowds peek at Midtown's fabulous displays, and enjoy a meet-and-greet with Santa aboard a festively decorated TopView Sightseeing bus as you sing carols all the way.
RELATED: Where to See The Nutcracker in NYC in 2022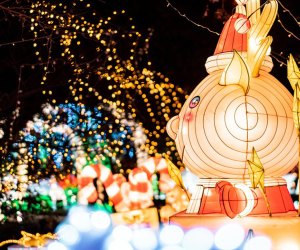 SIUH Park hosts the NYC Winter Lantern Festival. Photo courtesy of the festival
35. See a Lantern Show
The Bronx Zoo takes visitors on an after-dark safari, while the NYC Winter Lantern Festival lights up SIUH park and Illuminate the Farm takes over the Queens County Farm Museum, giving you a trio of ways to indulge in this new winter tradition.
36. Santa Rescue
New York's strongest are on the case when Santa gets stranded up on the rooftop of the New York City Fire Museum. Watch the FDNY rescue Santa—and cement their status on the nice list—from street level.
37. Dine with Santa
When a short visit isn't quite enough to get your requests in, consider booking one of these brunches, cruises, or Santa teas for yummy eats and plenty of face time with jolly old St. Nick.
38. Celebrate Kwanzaa
The Brooklyn Children's Museum celebrates the seven principles of this holiday with an action-packed week of programming that includes vibrant performances, art, workshops, and more.
RELATED: Best Holiday Lights Drive-Thrus and Christmas Light Shows near NYC in 2022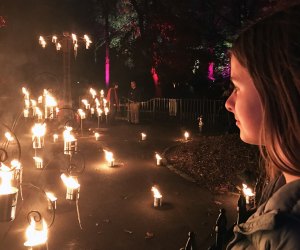 Enjoy the glow of the Fire Garden at Brooklyn Botanic Garden's Lightscape. Photo by Rosalind Muggeridge
39. Lightscape
The Brooklyn Botanic Garden shines brightly with its twinkling display and the cathedral of lights is a jaw-dropping backdrop for a photo!
40. See Spectacular Holiday Houses
While the Dyker Lights offers a concentration of spectacularly lit holiday houses, we've found a few more over-the-top homes worth visiting at least once. Many of these stunning displays give back to the local community, too.
41. New Victory Holiday Show
If your kids aren't quite ready for a big-time production at Lincoln Center or Radio City, consider booking tickets to this kid-friendly spot, which stages the athletic Circus Abyssinia for a high-energy performance this season.
42. Harlem Meer Christmas Tree Flotilla
Why go to one Christmas tree lighting when you can see a whole flotilla come to life on the Harlem Meer? If you missed the community-minded lighting, it's still worth stopping by to snap a picture of the sparkling trees during the season.
RELATED: Rockefeller Center at the Holidays: 17 Fun Things To Do This Season

Hudson Yards goes all out with its Holiday Lights display. Photo by the author
43. Hudson Yards Holiday Lights
This sky-high micro nabe shines brightly during the holiday season when more than 2 million twinkling lights and glittering hot air balloons fill the multi-level mall and public square with sparkling seasonal cheer.
44. Gingerbread Lane
This world-record-holding gingerbread display has found a new home at the Essex Market. Gawk at the display or register for a gingerbread house class.
45. Shop Small
We love the holiday markets that pop up during the Christmas season. Visit them to support some small businesses while you shop for the perfect gift.
46. Enjoy a Cathedral Service
Celebrate the holiday with a religious service at the Catholic St. Patrick's Cathedral or the Episcopal Cathedral Church of St. John the Divine.
47. Hit Times Square
If you've crossed off everything else on this list, it's time for the true test of holiday fortitude: Can you bear the crowds at Times Square on New Year's Eve? We did it once and can report that was (more than) enough.
48. Prospect Park Fireworks
For a more low-key New Year's Eve experience, consider heading out to Brooklyn's Prospect Park to see the sky light up with a brilliant fireworks display as the clock strikes midnight.
RELATED: 27 Best Holiday Events and Christmas Activities for Preschoolers in NYC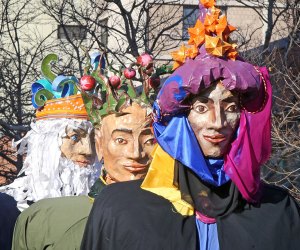 Line up with live camels, colorful puppets, parrandas, music, and dancing at El Museo del Barrio's Three King's Day. Photo courtesy of the museum
49. Three Kings Day Parade
Embrace the tradition of celebrating this post-Christmas holiday with a parade through East Harlem, complete with live camels and larger-than-life puppets of Gaspar, Melchior, and Balthazar.
A version of this post was published in 2017; it is updated annually. Stephanie Ogozalek contributed additional reporting.
t Click Here to Sign Up!