NYBG Holiday Train Show 2022: What To Know Before You Go with Kids
11/17/22
- By
Jody Mercier
Subscribe to our newsletters to get stories like this delivered directly to your inbox.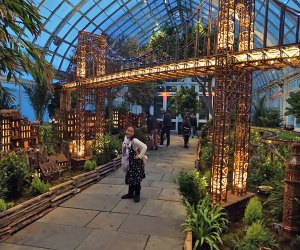 Strike a pose under a soaring model of the George Washington Bridge, newly created for the 2022 show.
NYBG Holiday Train Show: A Holiday Tradition
The annual New York Botanical Holiday Train Show is staged in the stunning Enid A. Haupt Conservatory each holiday season, running from Saturday, November 19, 2022-Sunday, January 22, 2023. More than 25 G-scale model trains and trolleys hum along nearly a half-mile of track past re-creations of iconic sites from all five boroughs of New York City, the Hudson River Valley, and other famed locations in New York State. American steam engines, streetcars from the late 1800s, and modern freight and passenger trains travel underneath overhead trestles, through tunnels, across rustic bridges, and past waterfalls that cascade into flowing creeks.
New to the 2022 show is a beautiful interpretation of the George Washington Bridge, which took more than 1,000 hours to create. Great detail was paid to get its intricate lighting just right and it's a particularly stunning site after dark. The new bridge joins old favorites, like a stunning cityscape of Midtown skyscrapers, a spinning Wonder Wheel, a cool incarnation of the old Yankee Stadium—lean close to hear Lou Gehrig's famed Luckiest Man speech—and, a kid-pleasing Thomas the Tank lumbering along with Annie and Clarabel close behind.
RELATED: 15 Picture-Perfect Holiday Day Trips near NYC

Repeat visitors are always excited to see what's displayed in the reflecting pool. No matter the pick, it's always a showstopper.
Best Ages for a Visit to the NYBG Holiday Train Show
Though officially an all-ages attraction, we'd suggest saving a visit to the NYBG Holiday Train Show until your kids are at least preschool age. Strollers are not allowed inside the conservatory, and much of the display is low to the ground. Even well-behaved toddlers might be tempted to touch the delicate designs. It's also a costly ticket, so you're best served to save this splurge for when your kids can truly appreciate the experience. The sweet spot for kids is really ages 5-12. I toured with my 9-year-old who was still enthralled by the display, though my 13-year-old declined my invite! Older kids who are enamored with nature might be swayed by the addition of the interactive Bloomberg Connects app, which provides in-depth insight into the botanical materials that make up the display pulled directly from the NYBG's own living library. Be sure to download the app before you enter so you're ready to explore.
RELATED: Polar Express Train Rides and Christmas Trains near NYC in 2022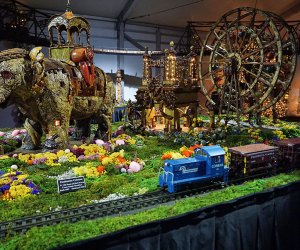 See NYC attractions past and present at the annual NYBG Holiday Train Show.
Tickets to the NYBG Holiday Train Show
If you want to catch these tiny trains zooming by, timed-entry tickets should be booked online in advance. This perennially popular show regularly sells out during popular times, including the holiday break, so book your tickets well in advance. Special tickets for the NYBG Holiday Train Show, which also include grounds admission, are $35 for those ages 13+; $20 for children ages 2-12; children under age 2 enter for FREE.
How Long Does it Take to See the NYBG Holiday Train Show?
The answer here really depends on your attention span or that of your children! Allow at least 45 minutes to wander through the display, though that time could easily double if your child is enamored with trains or you can't get enough of the intricate displays. We often find ourselves waiting by the track as Thomas makes multiple rounds or trying to spot a favorite train, like Ladybug Trolley, scooting by. It's also fun to spot favorite landmarks and try to decipher what plant pieces have been used to create these mini masterpieces.
RELATED: Best Holiday Lights Drive-Thrus and Christmas Light Shows near NYC in 2022

The New York Botanical Garden's Glow installation lights up the grounds on select evenings all holiday season long.
More Holiday Activities at the NYBG
NYBG Glow
While the New York Botanical Garden's Holiday Train Show is the main attraction during the holiday season, it's not the only one. NYBG Glow is the New York Botanical Garden's holiday light display. After a 2020 debut, it celebrates its third year this season. Running on select nights only, see a series of choreographed music-and-light installations set throughout the garden, which cast a tantalizing, colorful scene over the grounds. We got a sneak peek of the installation and found it enchanting. We particularly loved Luminous Lake, which is set in the Native Plant Garden and is a new addition to this year's show. Glow Row, located just outside the Everett Children's Adventure Garden is a kid-pleaser, too!
When you book your NYBG Glow tickets, which cost $39 for adults; $24 for children, you can opt to add on the NYBG Holiday Train Show for an additional $15. Having seen the train display both in the daylight and after dark, I'd say it's worth the splurge to catch an evening viewing. The buildings and bridges look brilliant against the backdrop of the dark sky, with twinkling lights really bringing the details to life.
RELATED: Brooklyn Botanic Garden Shines Brightly with Lightscape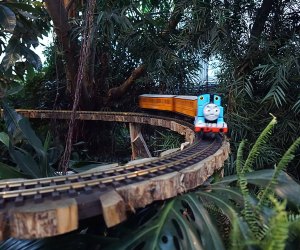 See Thomas, Annie, and Clarabel on the tracks and the stage at the New York Botanical Garden Holiday Train Show.
All Aboard with Thomas and Friends
If seeing just a passing glimpse of Thomas isn't enough for your little train lover, consider holding off on booking your NYBG Holiday Train Show tickets until after the holidays when All Aboard with Thomas and Friends comes to town on Fridays, Saturdays, Sundays, and holiday Mondays. Catch a 30-minute show led by Driver Sam and snap a photo with Thomas after the show.
Family-Friendly Restaurants near the New York Botanical Garden Holiday Train Show
During the daytime hours, the NYBG is home to two restaurants. The Pine Tree Cafe offers quick bites with kid-pleasers like wood-fired pizzas, paninis, pastries, and more in a casual atmosphere. The sit-down Hudson Garden Grill is a more formal spot for farm-to-table fare that highlights local growers in the Hudson Valley with its seasonal menu.
On nights when NYBG Glow is shining, find a selection of eats from fan favorites at the Bronx Night Market. We noshed on jerk chicken from Treat Yourself Jerk, Mexican-flavor-infused homemade Perros Locos sausages, and Cuzins Duzins' scrumptious, crowd-pleasing doughnuts during our visit.
Looking for something different? Consider heading to the nearby Arthur Avenue for authentic Italian eats before or after your NYBG Holiday Train Show visit.
RELATED: American Christmas in Mount Vernon Opens Santa's Village to Visitors

The Enid A. Haupt Conservatory plays a starring role in the indoor NYBG Holiday Train Show and the outdoor NYBG Glow.
How to Get to the New York Botanical Garden
The NYBG is easily accessible by MTA subway, bus, and the Metro-North rail. There is limited parking available on-site for a fee as well. Visit the NYBG website for full details and directions no matter which way you choose to commute.
Originally published in 2019.
Photos by the author
Places featured in this article:
---
New York Botanical Garden
Click Here to Sign Up!
i